The future of fintech may well be in Africa.
Lucidity Insights recently published a Special Report titled "The Future of Fintech in Africa", which was published in partnership with Entrepreneur Middle East and Nigerian Fintech player NowNow. The fintech opportunity in Africa is detailed by both data-driven analysis and insightful features which interview some of the most prominent key opinion leaders and stakeholder in Africa's emerging fintech landscape.  
Fintech has come a long way from its emergence, just 25 years ago. It was 1998 when PayPal was established as one of the first modern-day global payments companies. As of the end of 2022, there exists well over 26,000 fintech companies globally of which 312 are unicorns, each worth over US $1 billion. Whether you're moving money between accounts on your banking app, sending money to friends to split the dinner bill, trading stocks online, or paying for your coffee with one-tap of your phone – all of this and more, falls under the fintech, or financial technologies, umbrella.  
The growth of fintech and its global adoption has been steadily gaining over the years, and there have been many drivers. A significant turning point was the 2008 global financial crisis, which dramatically shifted consumer trust, perception and behavior, and increased demand for alternatives to the traditional financial banking system – fueling fintech innovations, including blockchain technology and digital currencies.  
The general acceleration of smartphone ownership and the digitization witnessed across industries, sectors and markets over the past decade has also significantly contributed to more demand for fintech. Large fortune 500 companies that were operating as traditional brick-and-mortar businesses a decade ago pushed for plug-and-play fintech and e-commerce solutions that would take their businesses online. This trend was only accelerated by the pandemic, forcing even smaller businesses that had never contemplated online sales to digitally transform overnight. As a result, fintech has exploded.  
Kareem Aziz, Global Head of Digital Payments Investments at the IFC says, "We're really at a pivotal point in history, where for the first-time in human history, financial services is morphing from a vertical sector, to becoming an omnipresent horizontally integrated solution that will become an underlying infrastructure across every sector imaginable." 
Fintech funding hit its record high in 2021, when the sector attracted US $131.5 billion in funding, accounting for 21% of the total global VC funding pie. Despite an overall shrinking of VC funding in 2022, fintech was remains the most funded category claiming 18% of total funding dispersed (US $75.2 billion).  
Though African fintech startups only account for 2% of global fintech funding today, there are a number of drivers pointing towards Africa becoming the next great frontier of fintech. One tell-tale sign is that one-third (>34%) of all scaleups in Africa are fintechs. Another is that out of the 7 unicorns birthed out of Africa to date, 6 are fintechs. Interswitch, OPay, and Flutterwave from Nigeria, Fawry from Egypt, Wave from Senegal, and Chipper Cash have all shown that unicorns can be born out of addressing financial inclusion on the African continent. Egypt's Fawry has even blazed a trail for what a successful IPO might look like.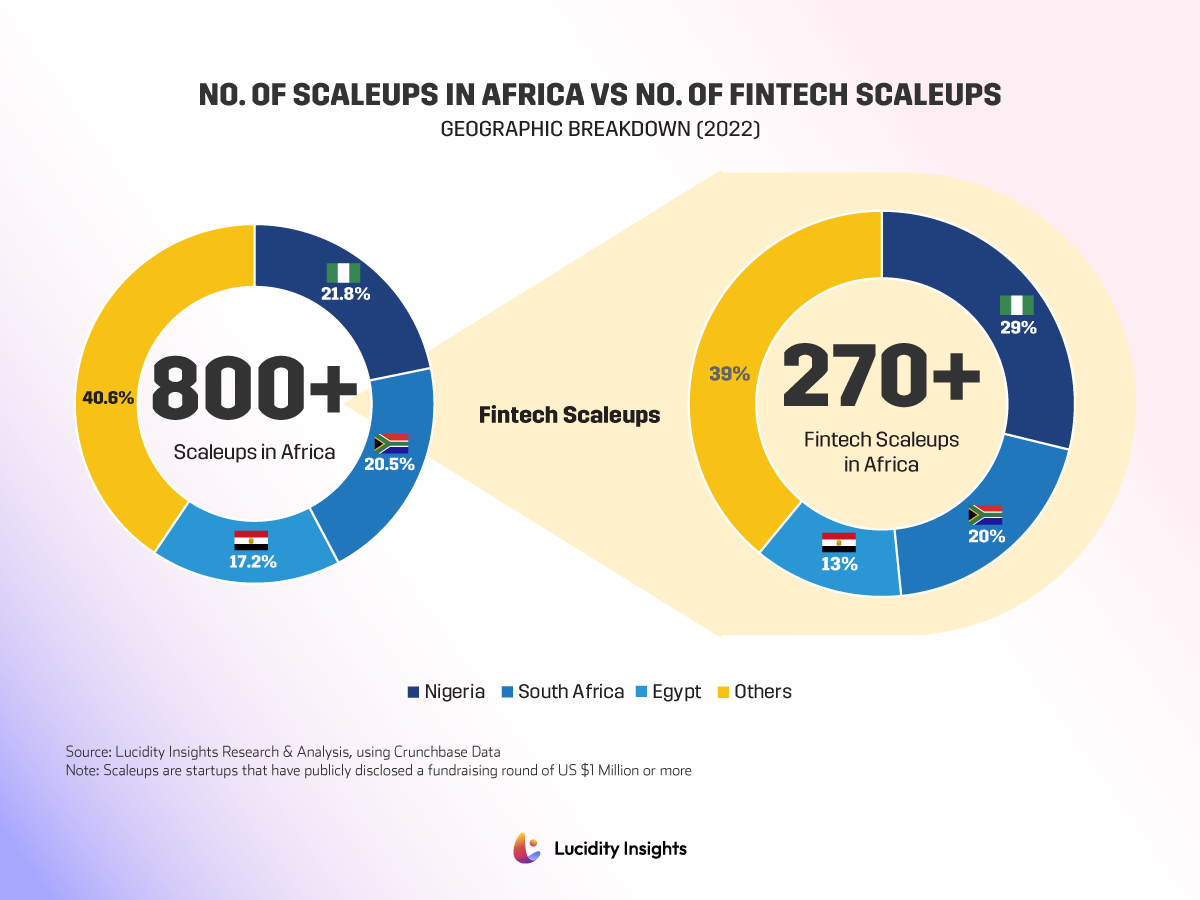 One of the world's most valuable privately held companies is fintech unicorn Stripe, currently valued at over US $95 billion; Stripe's US $200 million acquisition of Nigeria's payments platform PayStack in 2020 has largely been credited for turning international investors' attention towards fintechs in the African entrepreneurial ecosystem.  
The special report details how African fintechs not only have one of the largest total addressable markets in the world; but is also critical in achieving global financial inclusion and empowering previously unbanked populations. The potential for real-world impact of a successful fintech operating in Africa seems to be unmatched by anywhere else in the world. Olayinka David-West, Associate Dean of Lagos Business School and inclusive finance advocate says, "Show me a fintech that will cater specifically to the rural farmer, or a merchant trader, or a bus driver, and I will show you a fintech that will not only do well, but truly do some good."  

 Africa is home to 1.4 billion people, or nearly 1/5th of the world's population. 70% of Africa's economy or GDP is fueled by micro, small, and medium-sized businesses (MSMEs) and entrepreneurs. In fact, 80% of jobs on the continent are created by this MSME segment. Despite the continent being built and fueled largely by micro-entrepreneurs, less than half of these business-owners have access to financial services such as bank loans to help them scale their businesses. Though significant strides have been made in the last decade towards onboarding millions of unbanked individuals through mobile banking and other fintech solutions – still 57% of the general African population remains unbanked.  
But herein lies both the challenge and the opportunity. Of those that are "unbanked", it seems fintechs are paving the way to reach them. The incumbent banks are doing little to stop them, and fintechs seem more agile and better equipped to innovate financial products designed around individual use cases. As Walter Akpani, Managing Director and CEO of Providus Bank says, "It is our view that Fintechs have come to stay as significant players in the financial services ecosystem. They solve real problems that incumbents are too slow to address, and they are quick at responding to customers' changing preferences."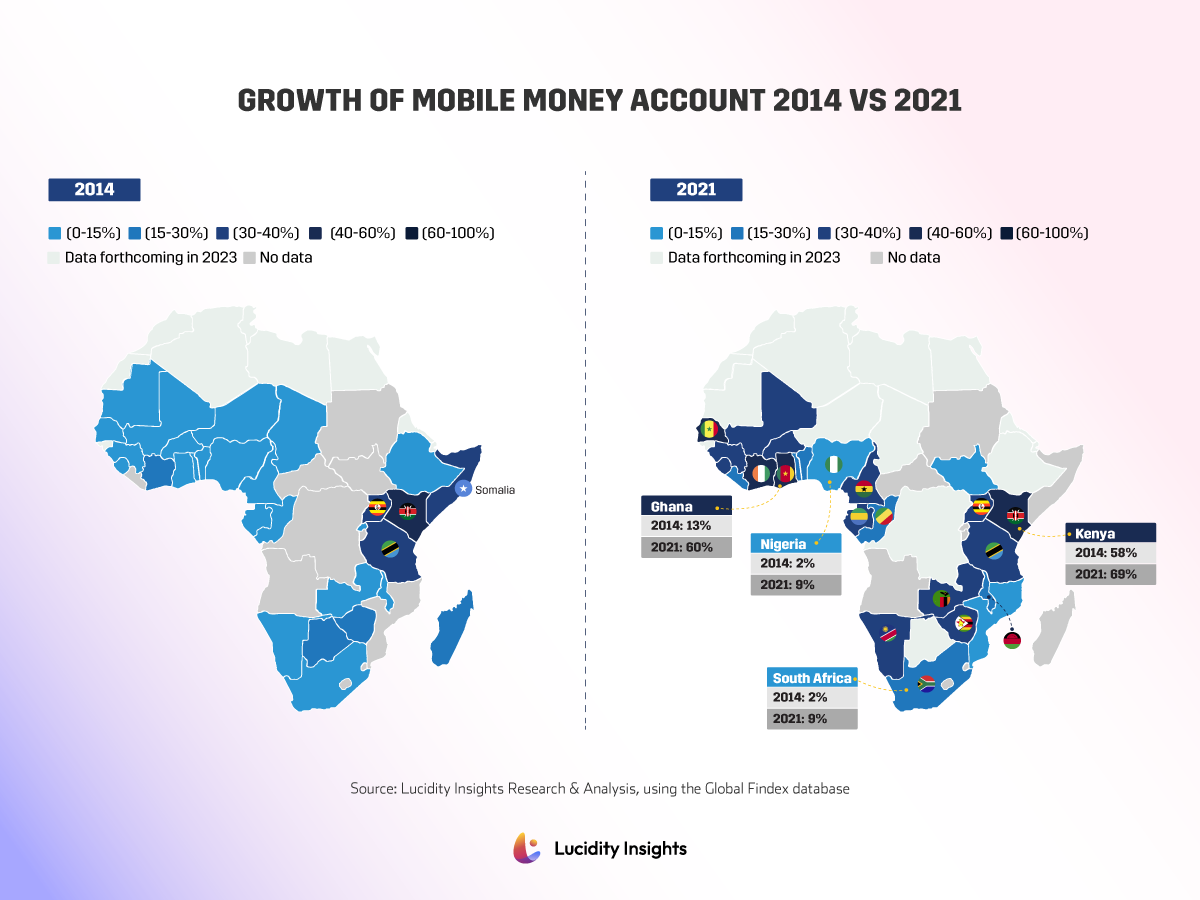 Today, 11 sub-Saharan African countries have more adults in possession of a mobile money accounts than a financial institution account. This trend is expected to continue according to Mark Elliott, Division President of Sub-Saharan Africa at Mastercard. "Development in infrastructure is important and the deployment of 5G in markets like South Africa, Nigeria, Kenya and Botswana – though still in its infancy – bodes well for the continent's future fintech progress." The hope is that further fintech expansion can occur when internet becomes more affordable and accessible to more segments of Africa's population.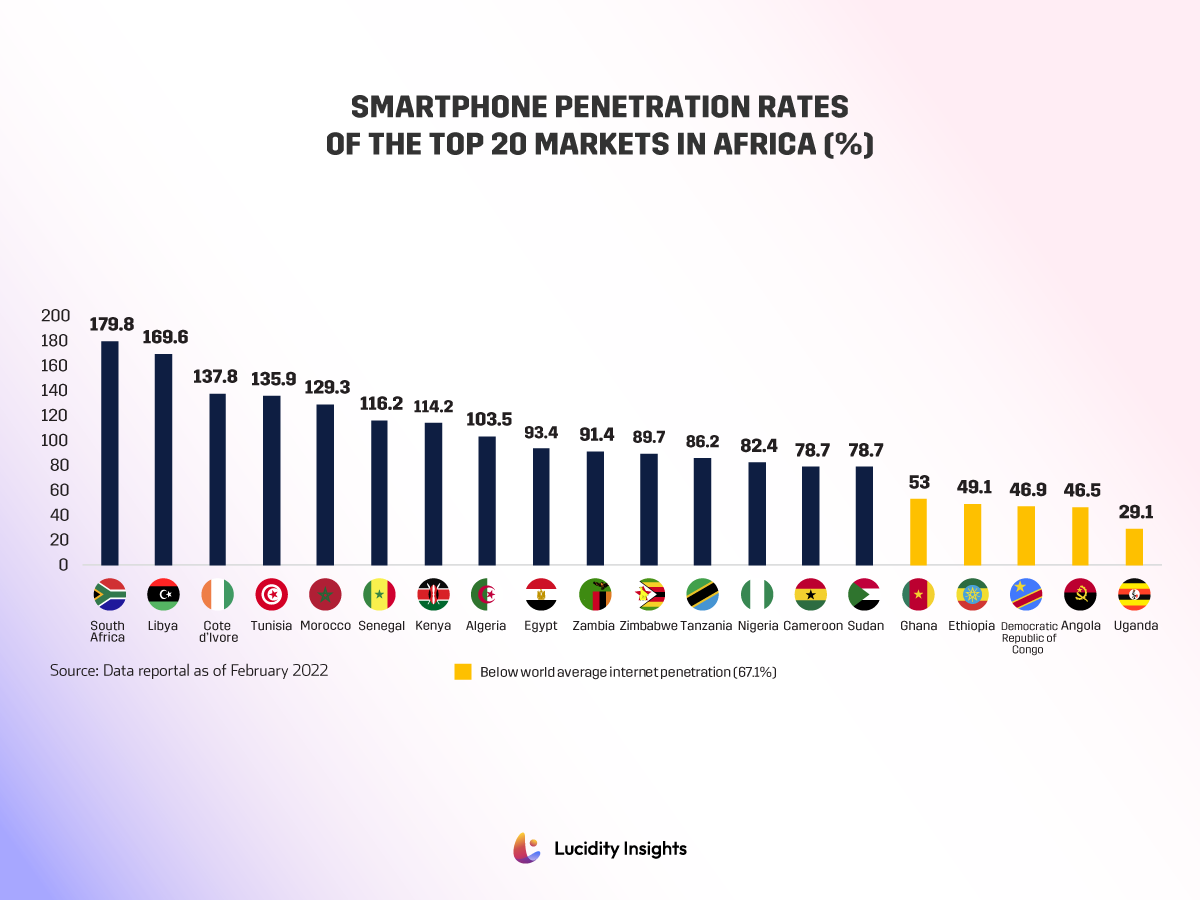 The special report identifies Africa's three dominant fintech hubs: namely Nigeria, South Africa and Egypt; these three countries are home to 62% of all fintech scaleups in Africa – scaleups are startups that have raised US $1 million or more in funding. These three countries also command nearly half (over 46%) of the entire continent's GDP. Kenya and Ghana round out the continent's Top 5 fintech markets.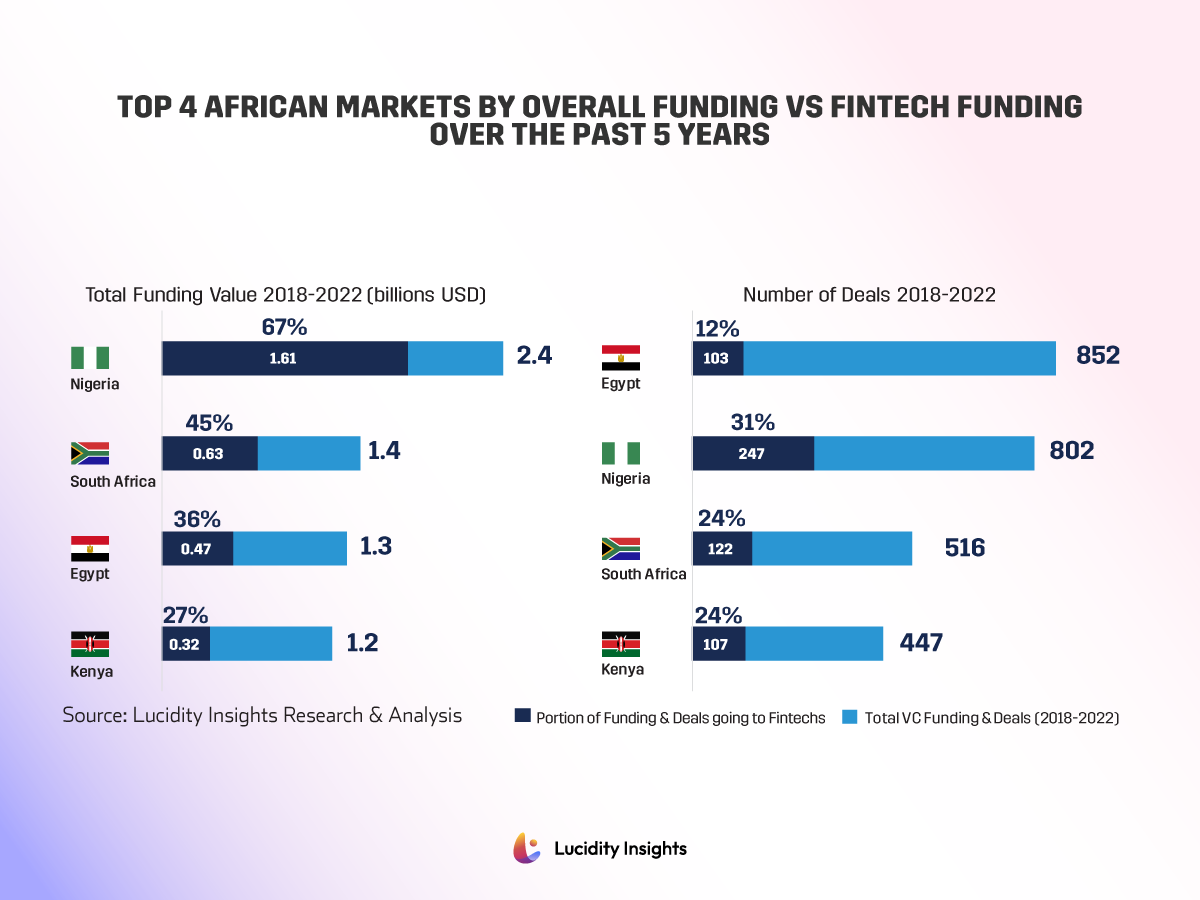 In 2020, Africa's total financial services market revenue totaled US $150 billion. By 2025, that figure is expected to reach over US $230 billion. No matter how you cut it, that's no small pie. Building a fintech solution that can onboard even a fraction of the >780 million unbanked or underbanked African population can make big business. Capturing just 1% of this market would garner you 8 million customers.  
And there are many fintech success stories coming out of Africa, and some are even expanding globally beyond the continent. Ladi Delano and Jide Odunsi, co-founders of a mobility fintech startup called Moove are just one example. "Moove was born out of the urgent need to solve the problem of mobility entrepreneurs in Lagos who, despite working for years, still didn't own their cars (which they drove for Uber and other mobility platforms) due to a lack of access to credit," says Delano.  
Odunsi adds, "we subsequently discovered that this problem was faced by millions of other mobility entrepreneurs around the world, preventing them from moving up the socioeconomic pyramid." Moove's mission is to financially empower every mobility entrepreneur in the world by welcoming them into the global financial system using Moove's proprietary credit scoring products and fintech platform. "We think Moove's success demonstrates that there is still tremendous potential for growth and investment on the continent," says Odunsi. 
Sahir Berry and Mahesh Nair are co-founders of Nigerian fintech NowNow, a digital bank focused on providing consumers and merchants with fintech solutions tailored to their needs.  "Meeting the needs of the SMEs is critical on a macroeconomic level," says Berry. "SMEs and micro-businesses are enormous drivers of economic growth across Africa, but the majority lack access to the tools and financial services they need to thrive."  
"Managing working capital within small businesses are challenging. If we can offer MSME owners an opportunity to pay for their inventory in installments, it could be a game-changer," explains Nair. 
Beyond the current opportunity that already exists today, is the incredible pace of growth presented by Africa. Nigeria alone is home to over 213 million people, and economists believe that Nigeria will become the second most populous country in the world by the turn of the century – reaching nearly 550 million by 2100; falling in line just behind India, and surpassing China's shrinking demographics. Today, Nigeria is already Africa's largest economy, and the 27th in the world in terms of purchasing power parity. Nigeria's economy is roughly the same size of that of Austria's, and is already the number one fintech market in Africa, attracting the most venture capital funding and producing the most fintech startups and unicorns on the continent. 
Matthew Francis, Chief Strategy and Investment Officer at NowNow says, "We see more and more investors getting excited about the fintech opportunity in Africa. Ultimately, we think the African fintech opportunity is too big to ignore." 
To read more about the drivers, barriers and the opportunity of fintech in Africa, as well as strides made towards financial inclusion – read the full report here.