Mastercard's Role in Fostering Fintech in Africa
We sit down with Mastercard's Division President for Sub-Saharan Africa, Mark Elliott. Mark has been leading the charge on Mastercard's strategic focus on innovation and financial inclusion on the sub-continent for the past 12 years. "During my time at Mastercard, I've seen the company evolve into becoming a technology company, selling services rather than simply products, and broadening engagements beyond banks to governments, retailers, telcos and fintechs." Mark continues, "the last 5 years in particular have seen Mastercard broadening our offering beyond the card rails to other rails such as account to account, remittances and crypto." 
Plugging 1 Billion People into the Digital Economy
Mark tells me that the big hairy problem in Africa remains cash and digitizing ecosystems to solve for this. Africa's fintech landscape is accelerating at an extraordinary speed to bring more people into the digital economy. He says, "at Mastercard, we are helping to fuel this acceleration by co-creating solutions and offering access to our partners, expertise, technologies, markets and customers so fintech start-ups can build, launch and grow. From our best-in-class APIs and data assets to our trusted ecosystem of partners, Mastercard provides the services and tools fintech innovators need to iterate at each stage of their journey, transform bold ideas, and achieve scale at pace to bring more people into the digital economy." 
Inclusion is critical for economic growth on the African continent, and Mastercard sees fintech companies as the disruptors who are committed to change the status quo. Over the past decade, Sub-Saharan Africa has made remarkable progress in financial account ownership and usage, driven primarily by mobile money. Account ownership more than doubled from 23% in 2011 to 55% in 2021. Today, all 11 African economies that have more adults in possession of a mobile money account than a financial institution account are in the Sub-Saharan African region. 
Despite this massive growth, Mark is quick to say that there is still lots more to do in terms of closing the financial inclusion gender gap, and driving wider access to financial services and products with increased value for users. The World Bank's Findex 2021 shows that Sub-Saharan Africa is still among the bottom three regions globally in terms of actual account ownership and usage.
 "Fintech companies have the potential to be the torchbearers for financial inclusion in Africa," says Mark. "especially when it comes to the connection of small businesses into the financial ecosystem, given that SMEs employ the vast majority of Africans." Given adoption and usage of mobile services in Africa, there is an opportunity for the expansion of mobile banking and the continued integration of innovation behind ecommerce, micro-loans, bill payments and remittances. 
"At Mastercard, we are curating a global network of innovators to support a more inclusive, sustainable digital economy, aligned to our mission to connect one billion people to the digital economy by 2025."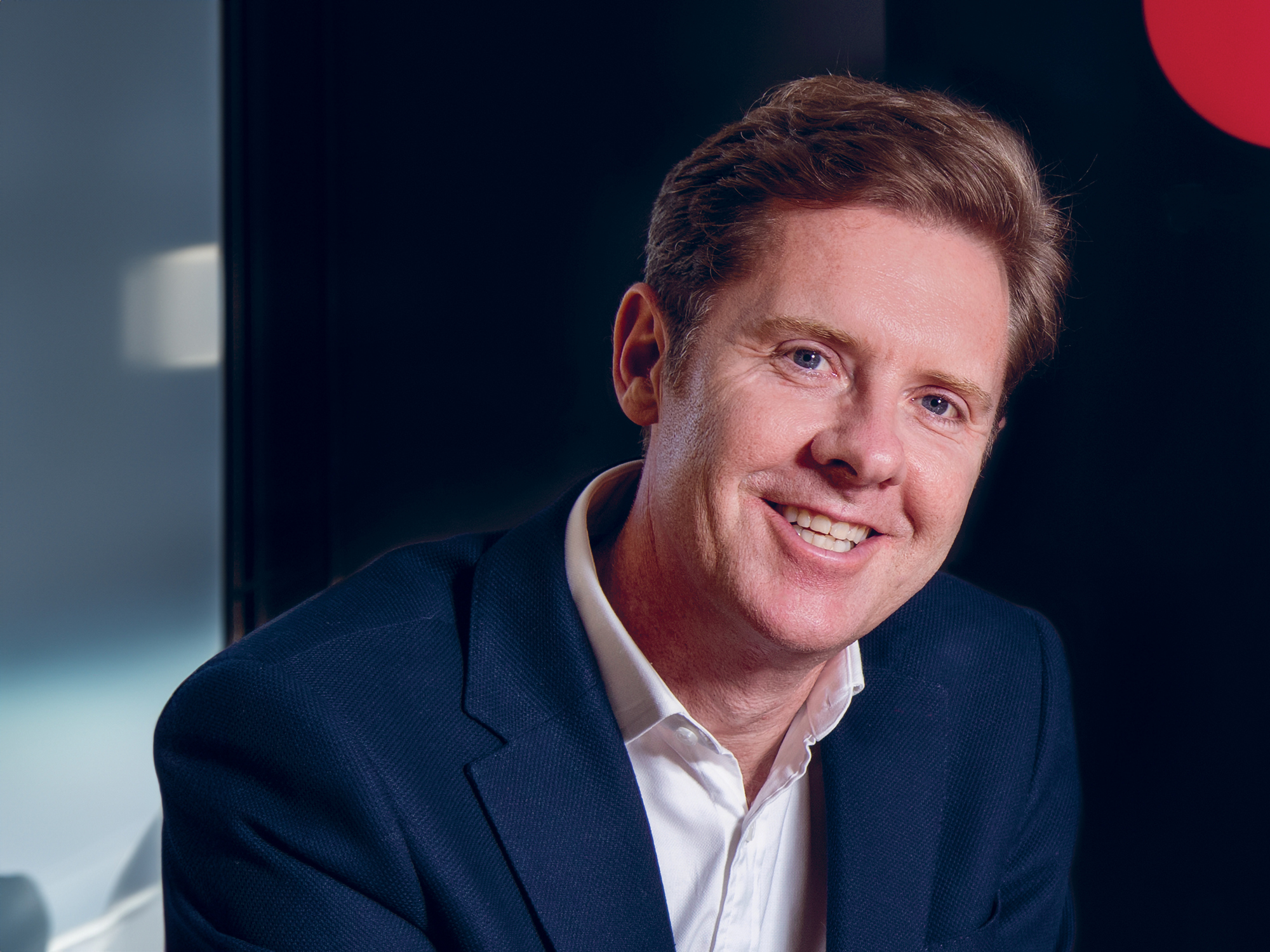 Mark explains that everyone thrives when fintech companies have access to the technology they need to reach scale and democratize finances. Currently, Mastercard works with fintechs in many African countries to power innovation and deliver seamless experiences that enable a more financially inclusive future for all. 
"As the trusted technology provider of choice that connects fintechs to their customers, we can iterate with fintechs at each stage, transform together and achieve scale at pace. We know that fintech companies are contributing to the rapid digital transformation that makes consumers' lives more convenient, simpler, and rewarding. And as an experience-centric company, we're supporting this creative disruption." Mark continues, "the result is a superior digital experience which drives greater consumer choice and wider financial inclusion for people across Africa." 
"Today, 11 Sub-Saharan African economies have more adults in possession of mobile money accounts than financial institution accounts."
Mastercard's formal commitment to financial inclusion can be traced back to 2015, but it was in 2020 when the company expanded their original goal with a commitment to connect one billion people to the digital economy by 2025. Through their technology and partnerships, Mastercard also aims to empower 50 million SMEs with the digital tools and insights they need to succeed, with a direct focus on reaching 25 million women entrepreneurs. "We're on track to achieve this," Mark explains, "having activated over 350 innovative programs across 80 countries, and hundreds of partnerships with fintech innovators, mobile network operators, financial institutions and governments."
Mastercard's Fintech Programs 
Mastercard also collaborates with fintech companies via their Mastercard Engage program, a free global program that identifies qualified technology partners to help build and deploy solutions for fintech companies, making it quicker and easier to work together. 
Mastercard is employing a Developer First mindset. That means setting out to provide a best-in-class developer platform, ensuring all APIs are published to a high standard for easy integration into partner solutions, and enabling more consumer choice. "We're facilitating interoperability between our products and rails in a way that is inclusive, sustainable, and digital – providing one point of connectivity for multiple applications," Mark explains. Mastercard Fintech Express is another program designed for both established fintechs wanting a direct license from Mastercard, as well as fintechs with the ambition to innovate through collaborating with ready-to-go Mastercard Engage partners. The program is split into three cord modules: Access, Build, and Connect. Tech-savvy startups can be connected with traditional players such as banks. It also supports digital payment innovators by making it simple to collaborate with Mastercard and its partners to launch new products, add payment solutions, embed fraud tools, access consulting services, and innovate through collaboration. 
Finally, there is also the Mastercard Start Path program, where Mastercard engages with later-stage start-ups that are looking to scale and raise capital. The 6-month startup engagement program is designed to provide value to the participating start-ups, supporting their growth for scale. The program also is designed to help identify collaborative commercial opportunities between Mastercard and the start-ups in the program. Over the past five years, Mastercard has engaged with 12 African fintech startups who have been selected for the Mastercard Start Path in sectors varying from agritech and transport, to education and healthcare. Here are just a few examples of the Mastercard Start Path participants from Africa:
NowNow Digital Systems
NowNow Digital Systems is a Nigerian digital banking startup that provides financial services technologies to SMEs, agents and consumers to drive financial empowerment. 
Related: NowNow Reimagining Fintech in Africa
Karri 
Karri is a South African digital payment startup that helps make fast and easy payments to schools and community organizations, providing a convenient way to help parents manage their children's finances. 
Kwara in Kenya leverages a credit union operating system and provides a neobank experience for its members, essentially transforming credit unions into modern, digital banks. 
Ukheshe
Ukheshe is a digital-first financial services enabler which was originally developed as an SMME focused digital platform to improve financial inclusion in South Africa, but realized it could make an even bigger impact as a digital-first fintech enabler. 
NetPlus
NetPlus has worked with Mastercard to introduce a secure e-commerce solution that removes the need for consumers to carry cash for online purchases.
From Card Company to Technology Company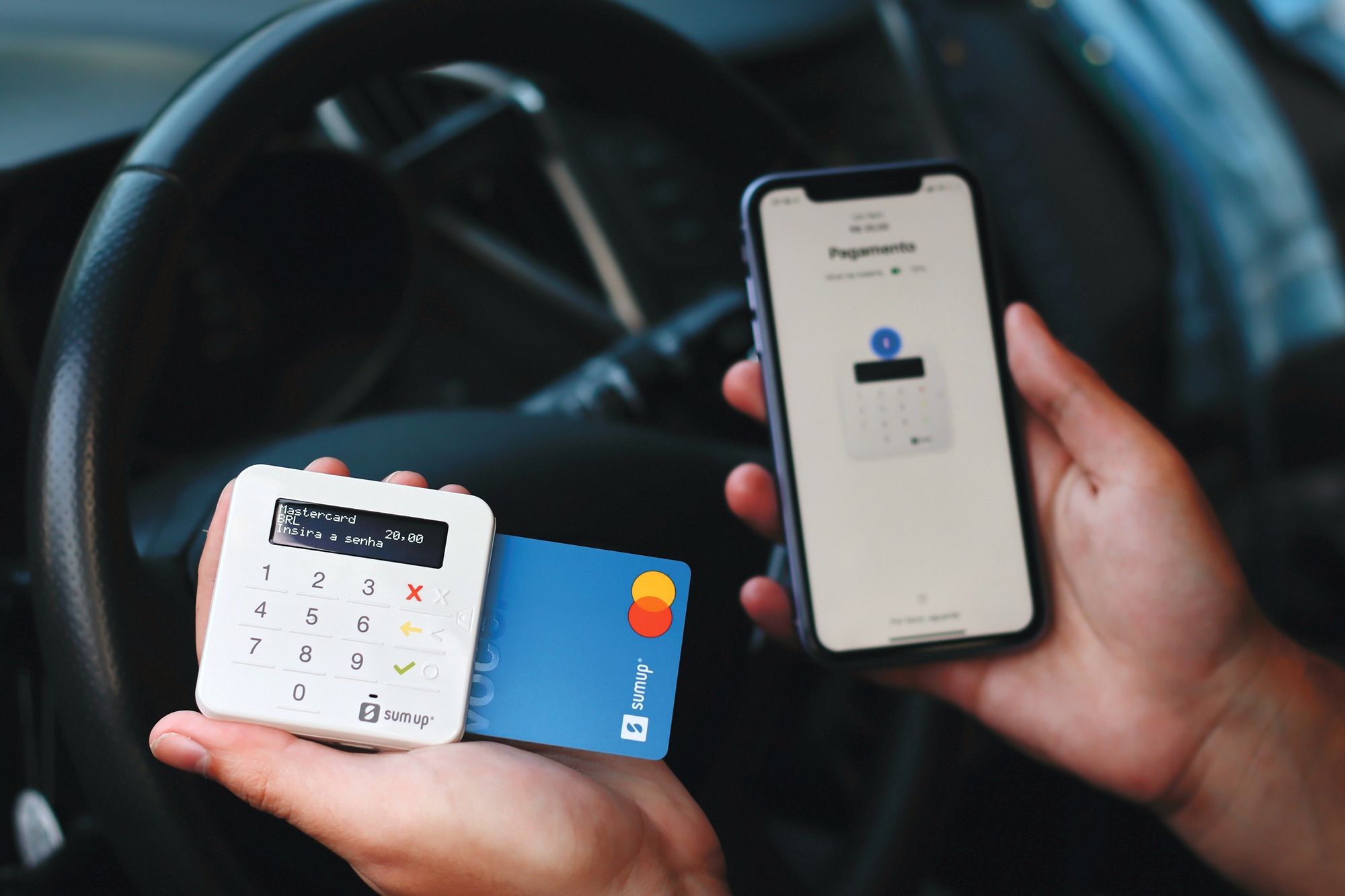 Today, Mastercard's logo is visible in many places: on mobile feeds, electronic checkout screens, in merchant windows – and yes, also on physical and virtual payment cards. But Mastercard is not merely a card company. They are adamant that they are a technology company first, and Mark tells me that this technology is fueling commerce in many different places and spaces, in multiple ways, through various channels and for many different stakeholders. 
"We are using our technology to push forward innovation across all digital payment rails, enabling people and organizations to send and receive money – how, where and when they choose. Our multi-rail strategy keeps us on track to provide solutions that are seamless, affordable, safe, secure and simple to use." 
The way Mastercard sees it – it's all about how value is moved in many different ways; from cards being used in shops, phones being tapped, e-commerce buttons being clicked, QR codes being scanned, and USSD codes being sent. Technology is also helping merchants to understand their business and marketplace better, to tailor-make offerings for customers and to stay cybersecure.
"Mastercard is on a mission to connect one billion people to the digital economy by 2025."
Cybersecurity in Africa 
Cybercrime remains a key challenge for businesses all around the world, and also in Africa. For example, the Nigerian Communications Commission reckons that Nigeria loses an estimated US $500 million yearly due to cybercrime. SMEs are a huge target for cybercriminals as they typically do not have the resources to defend themselves or act accordingly once they have been breached. Mastercard is countering attacks of cybercriminals by using technologies such as biometrics, tokenization and AI – and they are sharing these best practices with their partners, while also learning from others. This process helps Mastercard instill trust, and to protect people's data in the growing digital economy. 
"To help SMEs reduce the risk of cyberattacks, Mastercard has partnered with NowNow, a Nigerian digital payments startup, to bring the Mastercard Trust Centre to local SMEs. NowNow also supports SMEs with regular web application penetration tests to ensure that applications are not vulnerable to any cyber threats," Mark says. "It is currently available in Nigeria and Angola and is expanding into several other markets soon." 
The Mastercard Trust Centre is also another digital resource to help SMEs to defend their critical assets, business, and reputation by providing online access to trusted cybersecurity research, curated education, resources and tools from Mastercard and trusted external resources. Recognizing that each business has unique needs, the Mastercard Trust Centre provides a tailor-made approach, whether they are entrepreneurs starting to learn about cybersecurity or business owners expanding their knowledge or mastering cybersecurity. 

Investing in Africa 
Investing in Africa is an opportunity to not only provide the much-needed solutions to local people and businesses but also to empower marginalized communities, create social cohesion and build strong economies that contribute towards the prosperity of Africans. Every market has its own challenges and its own opportunities.
Mastercard's approach to investment occurs through the lens of how it aligns with the companies overall corporate strategy. Mastercard analyzes market trends against their corporate strategy pillars to define clear product and market strategies. On this, Mark says, "our strategy-led approach means Mastercard will make investments to enable our product or distribution strategy, to support partners in the fintech and payment ecosystem that are driving penetration of e-commerce or creating financial inclusion and enabling an ecosystem that is vibrant and safe for all consumers and businesses."
"The Nigerian Communications Commission reckons that Nigeria loses an estimated US $500 million yearly due to cybercrime. SMEs are a huge target for cybercriminals as they typically do not have the resources to defend themselves."
Mark also explains that Mastercard selectively invest in companies either when they have engaged with the company and identified ways in which Mastercard and their partner can jointly bring innovation at scale to Mastercard's customers. He also explains that the diversity of sectors that fintech covers is also growing, from cryptocurrency, NFTs and open banking to data intelligence, B2B and identity solutions. This will further widen interest in funding solutions for new use cases. Financial innovation has seen many fintech success stories across the spectrum of peer-to-peer lending, highfrequency trading, big data and robotics. 
"The focus on user-led experiences and customer expectations remains front and center," says Mark. "the greatest fintech innovations are those that eliminate pain points and reduce friction, bringing effortless convenience to our fingertips. Development in infrastructure is important and the deployment of 5G in markets like South Africa, Nigeria, Kenya and Botswana – though still in its infancy – bodes well for the continent's future fintech progress." 
As the fintech sector continues to evolve, it seems Mastercard will remain focused on being agile and able to adapt, move fast and successfully deliver for their customers. Their focus remains on accelerating time to market and deepening engagement with fintech customers and partners through their core programs like Engage, Fintech Express, and Start Path, as well as new product development and innovation.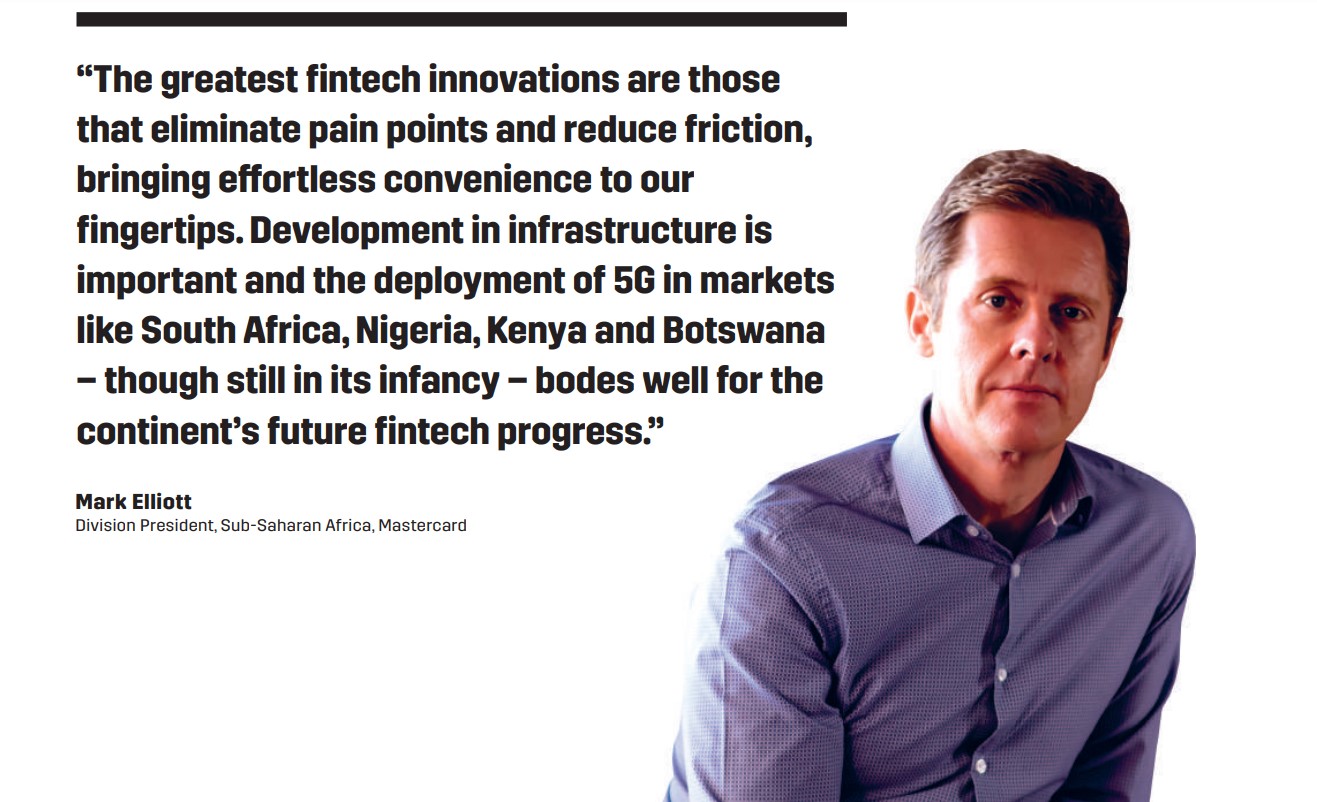 To read more about the drivers, barriers and the opportunity of fintech in Africa, as well as strides made towards financial inclusion – read the full report here.