Archireef: Using 3D Printing to Save the Coral Reef Ecosystem
Archireef offers climate solutions for restoring degraded marine ecosystems. The company does so by combining expertise in marine biology and the latest technologies in 3D printing techniques, and material science, using terracotta, to create artificial habitats that are best suited for threatened marine life. Its product is a 3D-printed reef tile to aid coral reef restoration. What is interesting is that while coral reefs cover only less than 1% of the ocean floor, they act as home to more than 25% of marine life.
Archireef and other firms have benefitted from being part of the Hub71 tech ecosystem as they gain access to partnerships, talent, capital, and state of the art infrastructure. Hub71 provides an optimal environment to maximize success, produce outstanding tech innovations and scale globally from the UAE's capital.
Origin Story
The company started as a biological sciences PhD research project for Vriko Yu, co-founder of Archireef. Vriko grew up in Hong Kong's countryside and always had easy access to the ocean. She started diving at a young age and recalls being impacted significantly when she suddenly witnessed the disappearance of a small patch of coral she used to regularly dive to, within a period of just two months. She later met Dr. David Baker, a self-professed multi-disciplinary marine ecologist focused on coral reef species, who also came on to become co-founder and Archireef's Chief Scientist. Together Vriko and David invented the reef tiles, after spending 7 years on research. The third co-founder is Deniz Tekerek, a seasoned entrepreneur and 3x founder, whom Vriko met on an accelerator program called iDendron. "He was the commercial advisor we needed, bringing his startup scaling experience to the table," said Vriko on meeting Deniz.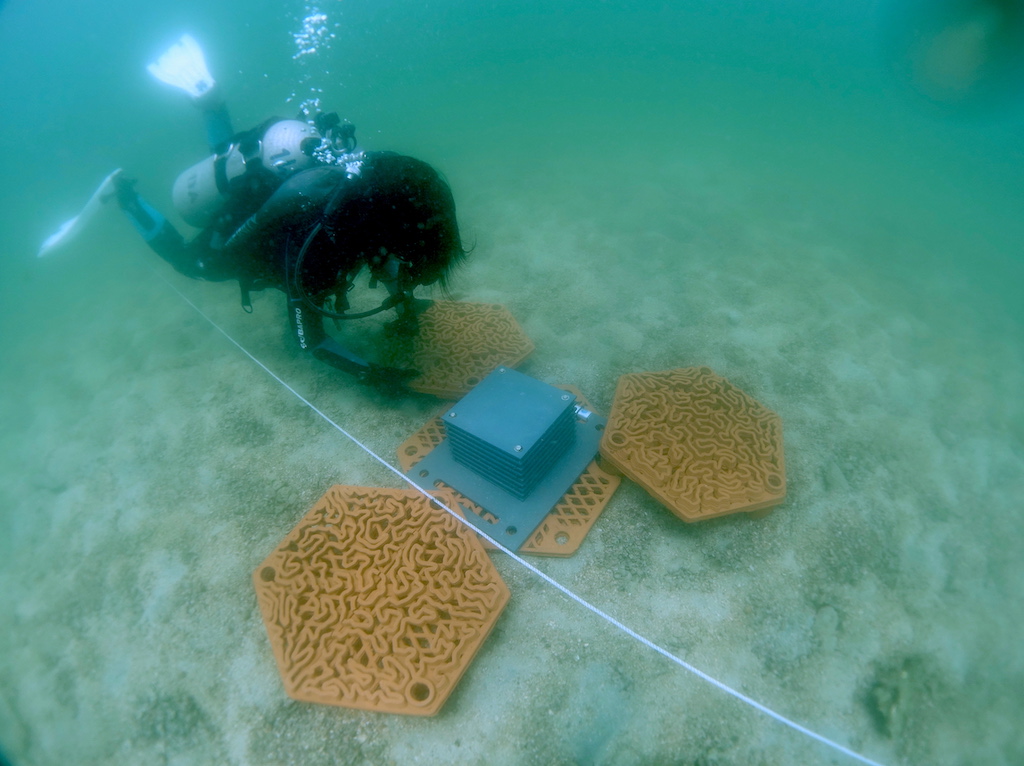 The Problem
Coral reefs are currently on track to lose 90% of their global coverage by 2050 due to stress from coastal development, climate change, declining water quality and a myriad of other localized issues. According to the Nature Conservancy, coral reefs are worth $36B to reef tourism, helps provide food for 1.2 billion people, and protects coastal communities from the likes of tsunamis, potentially saving them from damages of more than $270B.
The Solution
Archireef uses terracotta in coral restoration, as the material is not toxic to the ocean, while providing the perfect texture to facilitate coral growth and settlement. The reef tiles are made up of two core layers - the bottom layer serves as the base with structural support and ensures that sediment build-up is limited. The top layer is the intricate part, as it is based on biomimicry, i.e. a pattern that would be aligned with the natural environment. This top layer is designed by taking into account local water conditions and then feeding the information to the 3D-printer, creating tiles which would be suitable for that location. These tiles are expected to last for at least 60 years.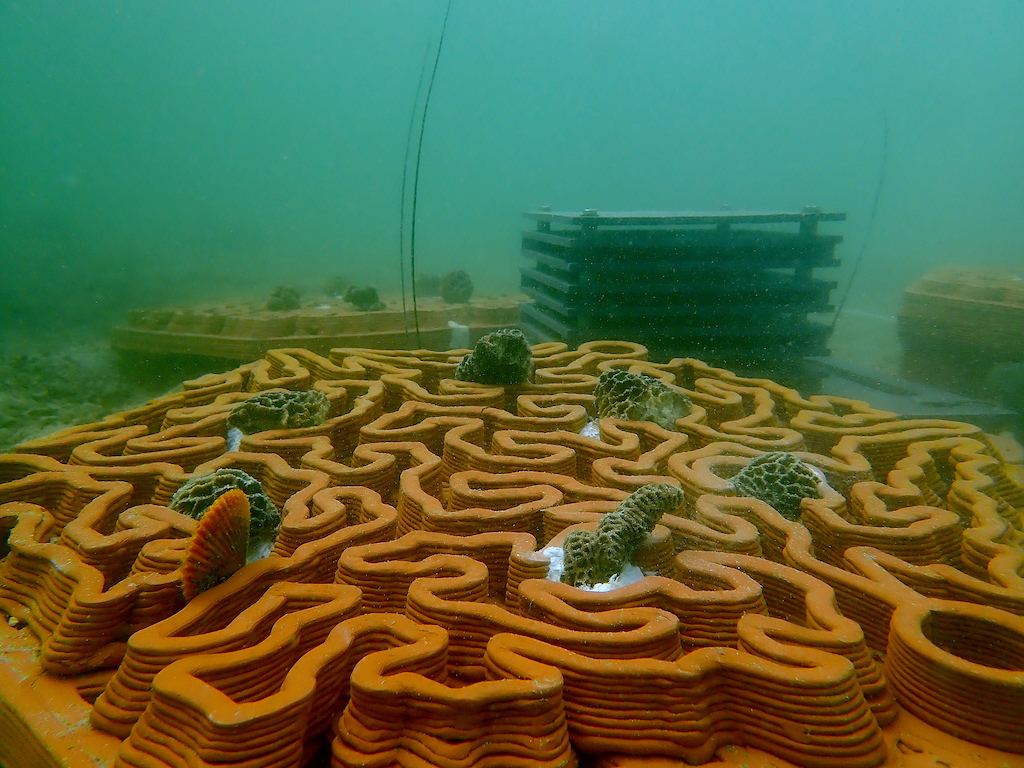 Shift to Abu Dhabi
The company received investment by ADQ and thereafter decided to setup operations in Abu Dhabi, in May 2022. This is where Archireef got exposed to Hub71 and the founders decided that this was a perfect fit for further expansion across the Middle East. The company's production facility is based at Khalifa Industrial Zone in Abu Dhabi, integrated now under the newly formed KEZAD Group (Khalifa Economic Zones Abu Dhabi Group).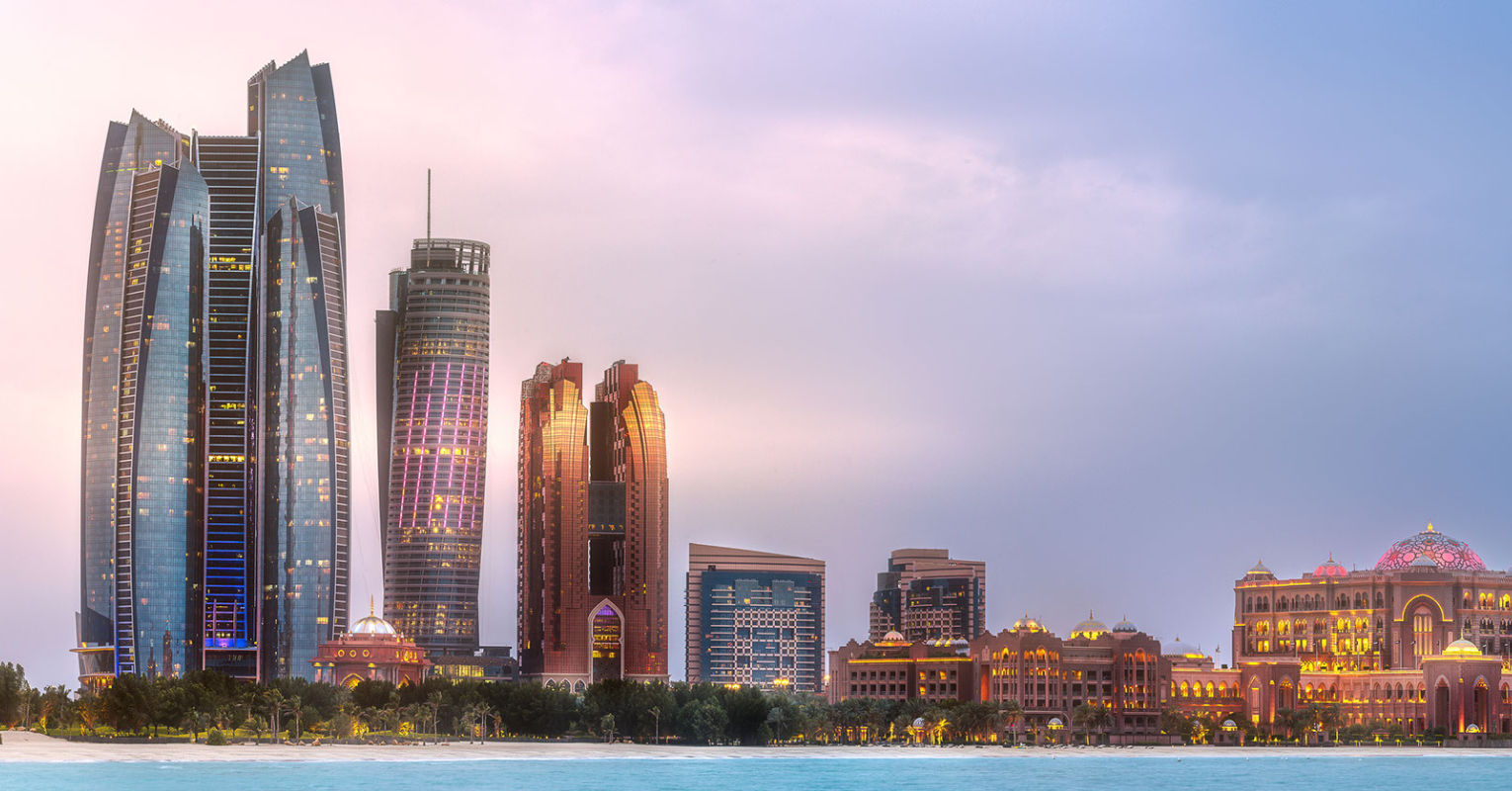 The Future
The company wants to create coral highways and help save and recover coral reefs around the world. The company also wants to apply its eco engineering knowledge to other marine ecosystems, creating more modular methodologies to help recover ecosystems like intertidal coastlines, mangrove forests, and more.
In the medium term, Archireef wants to scale its technology across the Middle East (Arabian Gulf & Red Sea in particular), Asia, and MesoAmerica (extending from Mexico down Costa Rica). On an immediate basis through 2023, the company already has plans to install its first seawall structures in Abu Dhabi, showcasing a completely new way of protecting the biodiversity of coastlines in Abu Dhabi.