Hub71's Impact through Cleantech Investments
Cleantech is a term that was popularized in the early 2000's, as an umbrella term to describe the 'green and clean' technologies coming to market then. At this time, venture capital investors were turning to cleantech investments in increasing numbers as the next big thing in tech-investing, after the dot-com bubble burst in 2001.
Unfortunately, with the onset of the 2008 global financial crisis (GFC), cleantech experienced its own collapse. Thanks to cheap oil, low public interest, and slow-to-react governments around the world, cleantech investments did not experience much of a recovery for some time. However, in the past five years, we have started to witness an uptrend in climate tech investments. Climate tech is a sub-segment of cleantech, in that it focuses on technology specifically working to reduce GHG emissions. There seems to have been a shift from a 'nice-to-have' to a 'must-do' attitude in the past decade by both the general population and the investor population. The growing awareness has also mushroomed new firms and therefore attracted VC interest. As per PwC's State of Climate Tech 2022, over US $260 billion in VC money has been injected into climate tech companies since the start of 2018; and in 2022, more than a quarter of total global VC funding is going towards climate technology, thus far.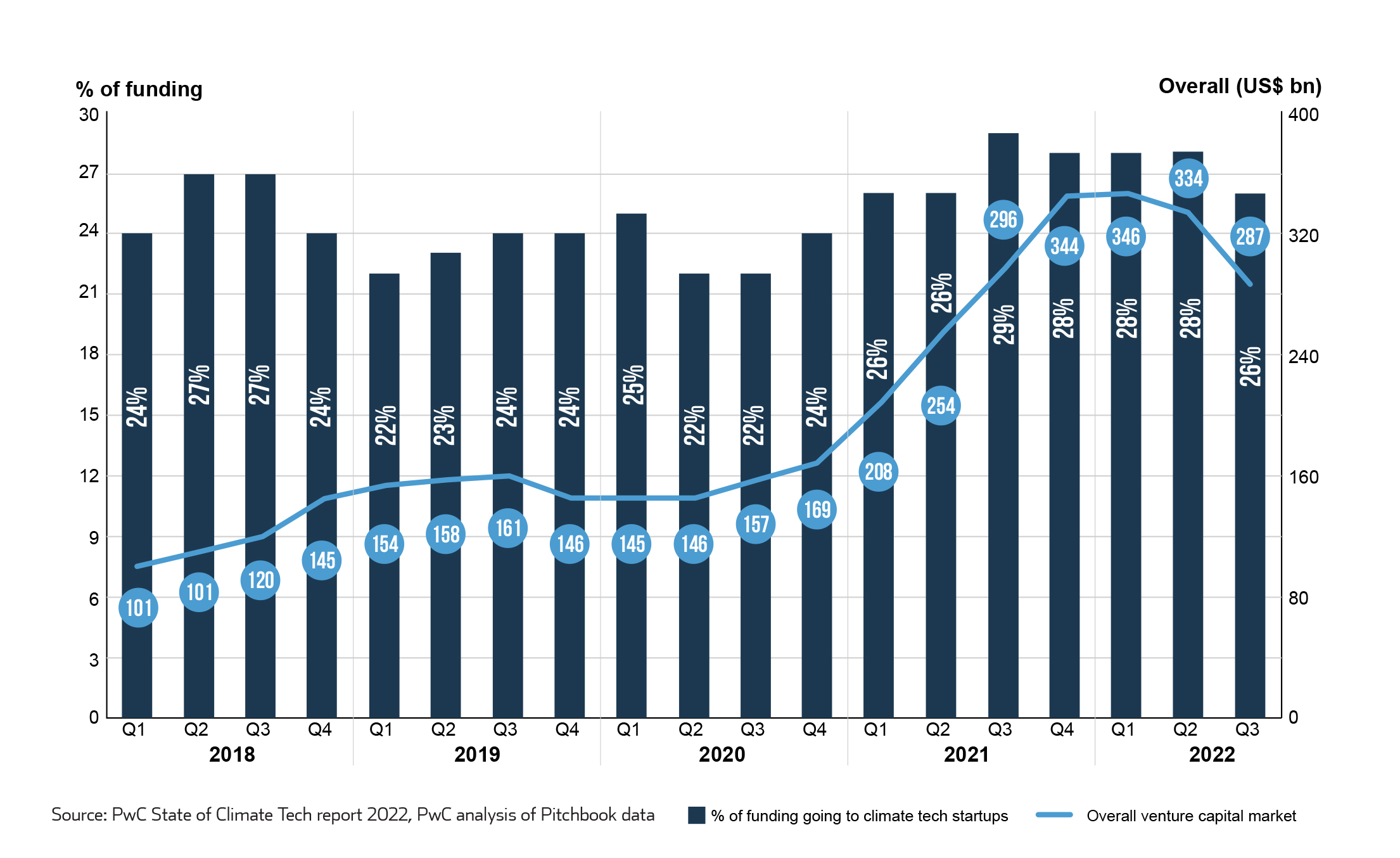 Abu Dhabi's and HUB71's Role in Sustainability & Cleantech
Championing the success of its founders, Hub71 is a global tech ecosystem that enables tech startups to scale globally from the UAE's capital. Backed by the government of Abu Dhabi and Mubadala Investment Company, Hub71 has impact built into its DNA; in Hub71's case, its vibrant ecosystem of venture capital funds, global and local tech companies, accelerators, and academic institutes, is leading Abu Dhabi's digital transformation by investing in change, innovation and disruptive technologies. Hub71 helps startups succeed by facilitating access to funding and commercial opportunities, in turn enabling breakthrough technologies and disruptive propositions to scale from Abu Dhabi. Today, the ecosystem is home to over 200 startups operating in sectors of strategic importance and contributing to the diversification of Abu Dhabi's economy.
In line with the country's broader 2071 Centennial Vision, there is a focus on the economic sustainability of the UAE, which includes a keen focus on building strong digital economies of the future. The future vision of the United Arab Emirates, and Abu Dhabi as its capital, is to be home to entrepreneurs, tech talent, and global digital companies. Hub71 is part of that vision for Abu Dhabi, by fostering a vibrant tech ecosystem within the city. To date, the tech ecosystem that Hub71 has fostered in Abu Dhabi has helped create over 800 jobs, with its funded ventures generating revenues of Dhs 2.7 billion. Since inception, Hub71 has attracted over 200 startups across 20 sectors with the majority being in FinTech (20%) and HealthTech, CleanTech, EdTech and FoodTech (13%). It has become an ecosystem of choice for local and international founders and is truly prioritizing success for them. This support can be illustrated through the 'Hub71 Flexible Incentive Program' – which is designed to support founders on their journeys in scaling their startups, by alleviating the cost of setting up and growing their tech company in Abu Dhabi.
Hub71 also supports its startups fundraise to scale. Recently, Hub71 launched a new platform called Tech Barza, which targets regional family offices for exclusive access to Hub71's community of startups and deal flow. Since Hub71's launch in 2019, the firm has supported startups in its ecosystem raise over Dhs 3.7 billion and anticipates that to grow significantly in the coming years.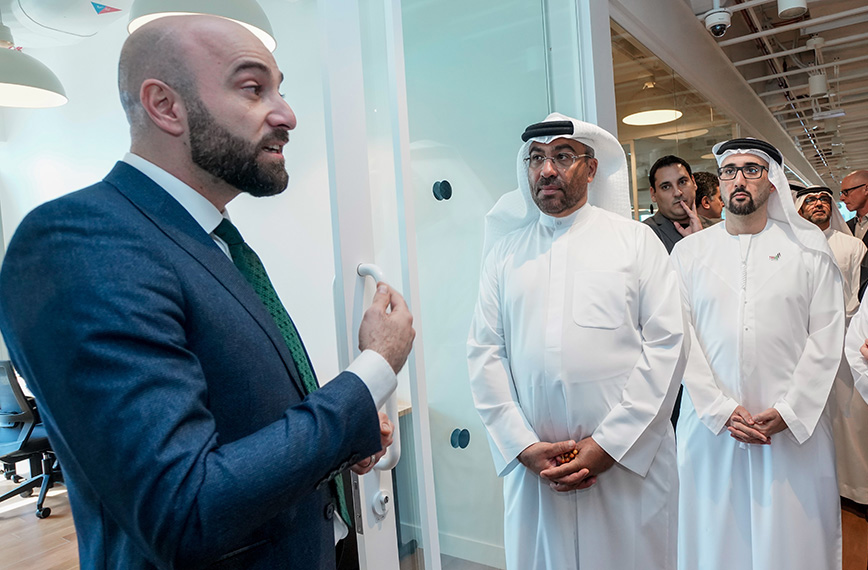 Beyond Hub71 working towards building a more sustainable tech-focused and entrepreneurial economy in Abu Dhabi, the ecosystem facilitates access to knowledge, funding, and commercial opportunities through its network of local and international partners.
One category of interest for Hub71 is CleanTech where multiple startups have joined the Hub71 ecosystem. Hub71 is aligned with Abu Dhabi's vision towards a more diversified, knowledge-based economy and CleanTech is a key priority in this context. Given that the UAE is set to host COP28 in 2023, the country is reinforcing its commitment towards achieving net-zero by 2050. Hub71 is building an ecosystem that will support the nation's ability to drive investments in green infrastructure and clean energy projects both locally and globally.
Hub71 recognizes the impact of technology on the sector. The powerful combination of technology and entrepreneurship raises its ability to address global challenges. It will continue to focus efforts to attract leading cleantech and climate tech startups to establish a presence in Hub71, with a focus on reducing emissions and promoting a low carbon economy.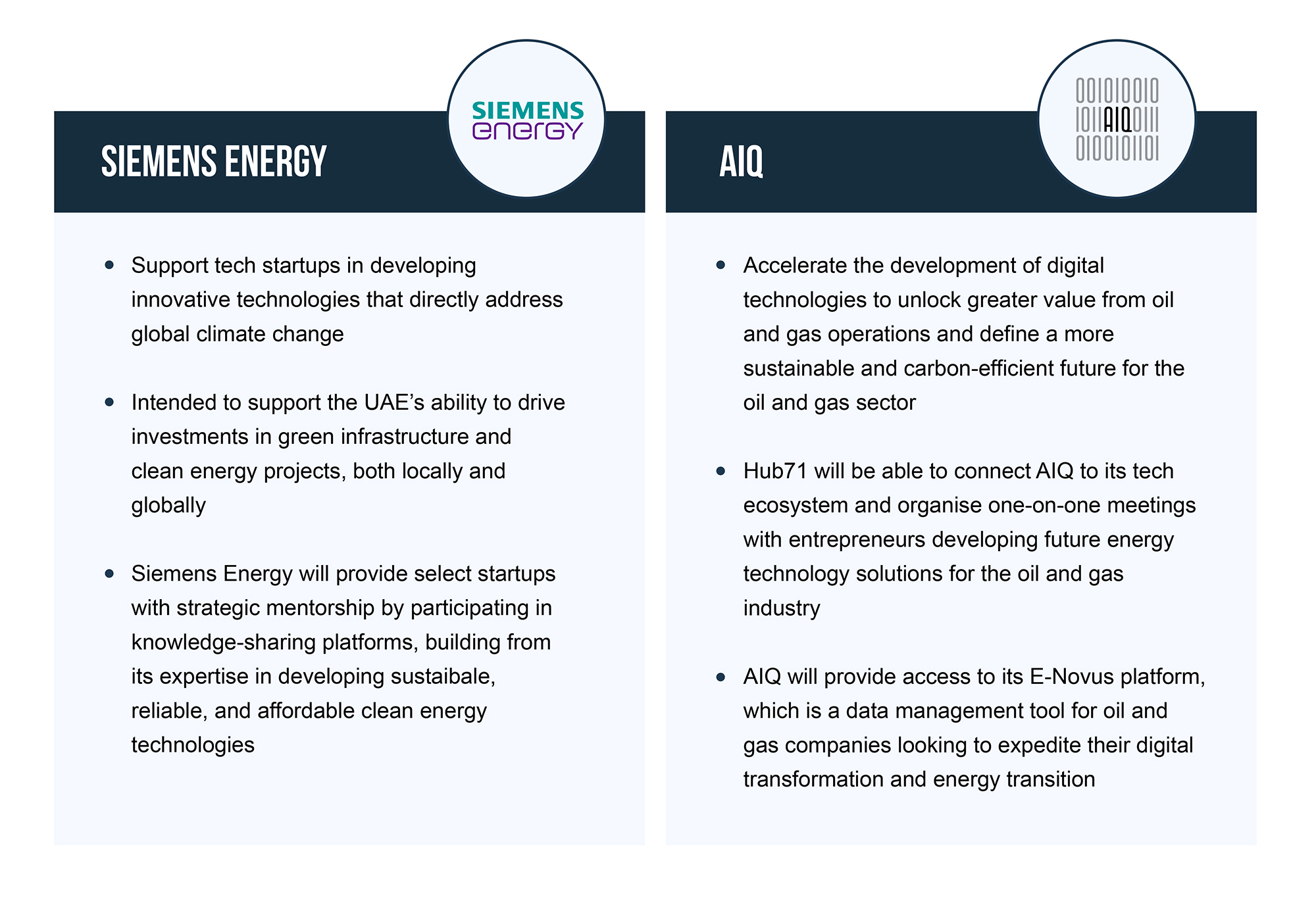 Accordingly, Hub71 has two significant partnerships in this space to increase its deal flow and maximize its impact in the cleantech sector and to promote corporate ventures in driving a sustainable future for the planet; one is with Siemens Energy, which signed a partnership in September 2022, to identify key cleantech and climate tech startups. The partnership is geared towards identifying investment opportunities that can drive the clean energy transition. Another partnership is with AIQ, ADNOC's artificial intelligence joint venture with G42 to explore the development of new AI solutions that support a sustainable energy future.
Hub71 selected its latest cohort of 21 tech startups in November 2022, which hail from six countries. Nine of the startups are from the UAE, while twelve have relocated to Abu Dhabi. This further reinforces the UAE capital's ability to attract high-quality companies that continue to build on the global diversity of Hub71's community. The startups range from various sectors including FinTech, HealthTech, CleanTech to EdTech, FoodTech and Logistics. To date, Hub71's cleantech startups include 44.01, Archireef, FortyGuard, Green Future Project, ACX, Caddie Engineering, Sensgreen, and The Concept.