STCpay | Saudi's first Unicorn
STCpay is an interesting fintech player in the Saudi Fintech Ecosystem. It's a fintech born within the walls of one of the largest telecommunications players in the Kingdom, and one of the largest companies in the Kingdom: Saudi Telecoms Company (STC). STC is ranked 3rd in Forbes Middle East's "Top 100 Companies in Saudi Arabia" list, which takes into account market capitalization, revenue, profit, and assets. STC is a heavy-weight that posts $15 billion USD in annual revenues, and over $2 billion USD in profits each year.
STCpay's origin story is that of a large, powerful, and asset-heavy company (STC) giving birth to a small, nimble, and asset-light company (STCpay) that would be easy to scale - in hopes that these two businesses together can become a formidable and unstoppable force. In 2017, from inside an STC boardroom, a $26 Million USD investment was pledged to the STCpay project, as part of STC's revenue growth and diversification strategy. In essence, STCpay is STC's answer to future-proofing its business. Had this have been an externally fundraised Seed Round, instead of a Corporate VC fund, this would have been the largest seed investment made to date for a fintech in the region, and by a long mile; the current record for a Seed Round set in the region is $6 million USD for Tamara in 2021, less than a quarter of what was seeded into STCpay). STCpay was officially launched to consumers in October 2018 as a secure digital wallet, allowing customers to pay at merchants and restaurants – either via QR code or swipe of the smartphone app over a terminal. Today, the app has grown in the solutions it provides, including allowing customers to split and settle bills amongst friends, make transfers to friends and family worldwide, send money to Western Union locations, and all possible without customers having to carry around their wallets. 
Upon launching, STCpay quickly signed on key partners such as Hypermarkets, Pharmacies, Gas Stations, and even other fintech players such as Foodics (offering digital payment solutions to Foodics' restaurant management app), and other fintech payment solutions providers such as Hyperpay and Paytabs, in order to corner the market. A critical early partnership was with Visa in December 2018, to allow customers to complete international payments. A partnership with Mastercard soon followed. In 2019, STC invested an additional $90 million USD to further develop its product offerings. In February 2019, STCpay was officially announced as one of the first fintechs to be inducted into the Central Bank's regulatory sandbox. In the same month, STCpay partnered with Western Union to launch an international remittance service, which allowed customers to transfer money anywhere in the world, and provide the option for recipients of the funds to pick-up the cash at any of the 525 Western Union locations in 200 countries across the world. This Western Union service was immediately immensely popular amongst Saudi Arabia's expatriate population, which comprise 35% of Saudi's population. According to a 2020 World Bank report, the Kingdom of Saudi Arabia is the 3rd largest source of remittances globally, having transferred $35 Billion USD.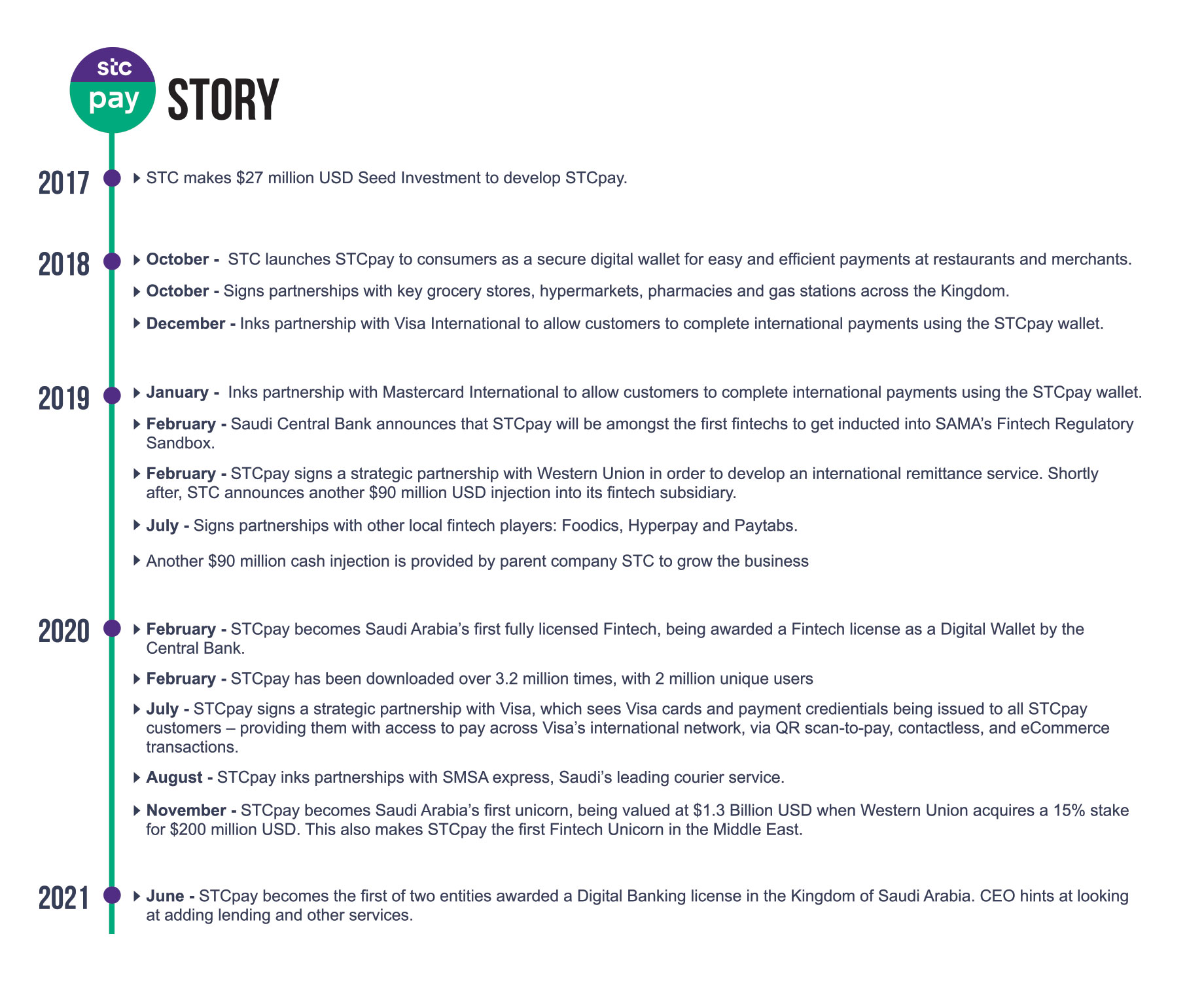 In February 2020, STCpay became the first fully-licensed fintech in Saudi Arabia, being awarded a non-bank financial institution (digital wallet) license by the Central Bank, after successfully completing testing periods in SAMA's Regulatory Sandbox. By February 2020, the app had been downloaded over 3.2 million times across 2 million customers. In July 2020, STCpay entered into a multiyear strategic partnership with Visa; the partnership involves the issuance of Visa cards and payment credentials to all STCpay customers, allowing customers to use their digital wallet for contactless, Scan-to-Pay (QR code), eCommerce transactions, and international remittances. Visa card holders would be able to pay at merchants who are not STCpay customers and would also be able to pay at all international outlets that accept Visa cards – making STCpay's reach far and wide beyond its home country's borders. 
In November 2020, STCpay raised $200 million USD when selling a 15% stake to Western Union. The company becomes Saudi Arabia's first unicorn, valued at $1.3 billion USD. This also makes STCpay the first fintech unicorn in the Middle East region. Soon after reaching unicorn status, there were rumblings across the GCC about STCpay speaking with regulators across the Gulf region to expand its footprint and offer its services to customers in markets such as the United Arab Emirates, Kuwait and Bahrain, and there are no signs of easing growth plans. STCpay was most recently awarded a Digital Banking license from the Saudi Council of Ministers in June 2021, becoming the first of two companies to be awarded such a license in the Kingdom. This gives STCpay's customers, nearing 5 million today, access to cross-border financial services, and gives STCpay an opportunity to get into digital lending and other more valuable service offerings. Whether you consider STCpay a start-up or not, it is a major entrepreneurial success story for both the Kingdom of Saudi Arabia as well as the Fintech Ecosystem across the region as a whole.