NOMAD: When It's Fashionable to Be Environmentally and Socially Responsible
Fast fashion refers to the rapid mass production of cheap clothing inspired by catwalk trends to meet consumer demand. The term originated in the 1990s when the New York Times used it to describe Zara's business model that displayed a new garment after only 15 days of design. Online shopping, ease of access and rapid trend cycles gave rise to fast fashion, which has detrimental environmental and social costs.
Environmental & Social Impacts of Fast Fashion
When it comes to some of the social impacts, the industry doesn't have a good reputation either. Less than 3% of garment workers earn a living wage. Many garment workers are young single females in low-income countries – predominantly in Asia – who are often let go when they get married or become pregnant; they work in tough conditions, sewing for anywhere between 10-18 hours a day, getting paid by finished piece, rather than the hours they put in. Often, the factories in which these women are working in are not in good condition. In 2013, an eight-story building in Bangladesh collapsed, killing over 1,100 garment workers for major fashion labels. It was a wake-up call to the fashion industry and really shed light on unsafe working conditions.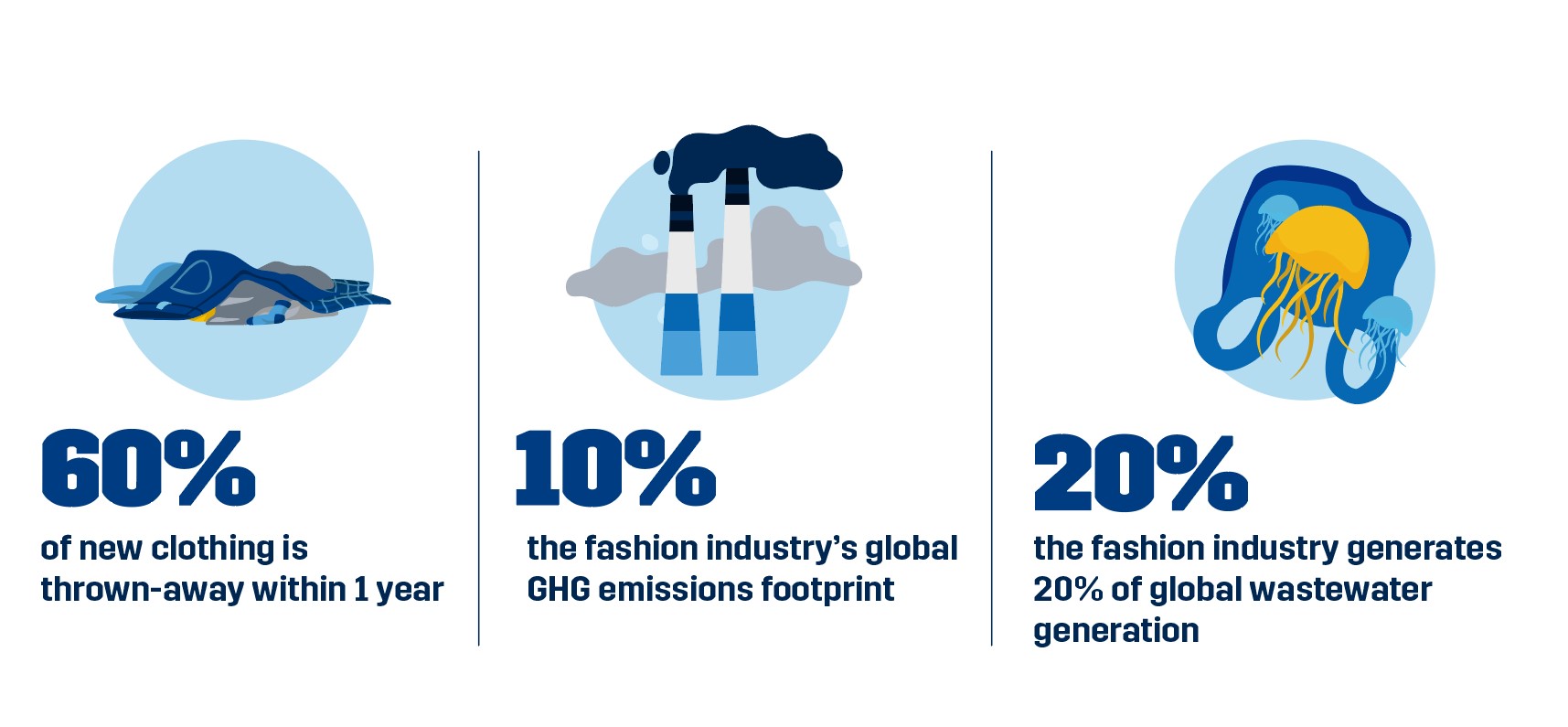 It's incidents like these that have brought awareness to the industry that have been attributed to the rise of sustainable fashion, an improvement in working conditions as well as the reduction in the industry's waste, pollution and contribution to greenhouse gas emissions. New business models such as recycling, resale, rental and repair have emerged. Some brands have been using natural and organic materials that don't use as much water or require pesticides. However, sustainability isn't only limited to the materials used and focuses on the manufacturing process, supply chain, and transparency as well.
The United Nations Alliance for Sustainable Fashion was designed to take action in the industry, through projects and policies, to ensure that the fashion value chain meets Sustainable Development Goals (SDGs). It's important to note that the clothing and textile industry is a major economic powerhouse, and contributes US$2.4 trillion to global manufacturing and employs 300 million people across the value chain, many of whom are women. It's an industry that has the potential to uplift and support many livelihoods and be a force for good in the world. Unfortunately, fast fashion is built on unit economics that ensure maximizing profits while pushing for low wages and stressful work conditions that can only be upheld in low-income countries with few laws to protect their citizens from exploitation.
Unfortunately, despite these realities, fast fashion seems to be growing in popularity still. Shein, a Chinese fast fashion e-commerce company, surpassed Amazon in 2021 and became the most downloaded shopping app in the US and the fastest growing e-commerce company in the world, expanding by 250% in 2020. It was valued at US$100 billion during a fundraising round, more than Zara and H&M combined. Shein delivers fastchanging styles for low prices and is able to do so through its use of fossilfuel based synthetic materials such as plastics. Plastics include polyester, nylon and acrylic which release microplastics when washed or worn, and form around 60% of all clothing material today. Microplastics from such textiles account for 9% of annual microplastic losses to the ocean.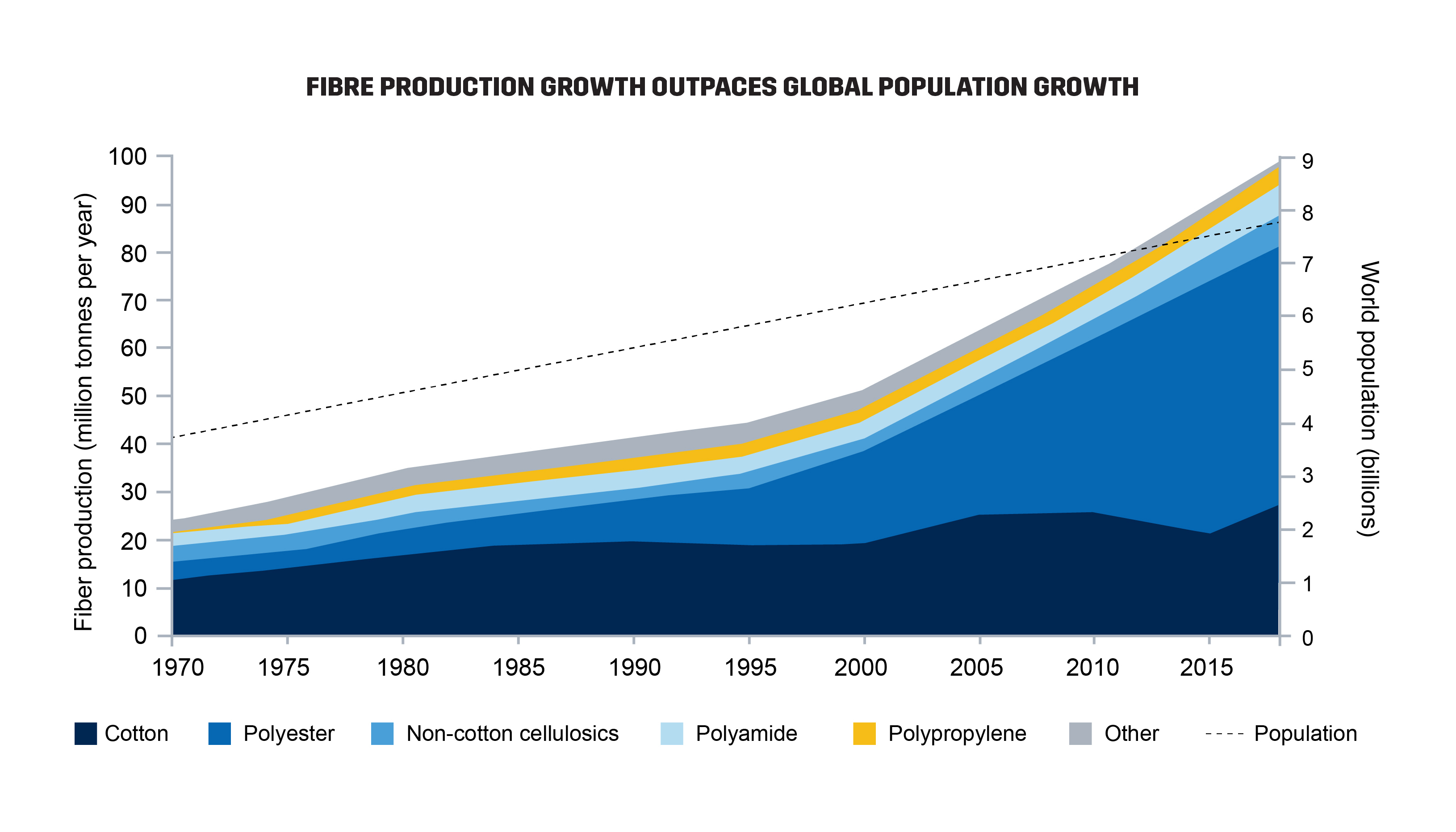 For most of human history, fibre production around the world grew at a similar rate to population growth. But by the turn of the 21st century, textileproduction growth began to outpace world-population growth, largely driven by the rise of cheap manufacturing and fast fashion retailers.
Sustainable Fashion
"Sustainable fashion is an all-inclusive term describing products, processes, activities, and actors (policymakers, brands, consumers) aiming to achieve a carbon-neutral fashion industry, built on equality, social justice, animal welfare and ecological integrity."
The Importance of Supporting Local Sustainable Fashion
One of the ways in which consumers can act with their wallets, is to buy sustainable clothing, locally. Buying sustainable clothing refers to buying clothing that is locally sourced and produced using environmentally-friendly raw materials, employs safe working conditions and pays fair wages. Ideally, sustainable fashion also has transparency across the supply chain with traceability of work processes and raw materials to confirm the sustainability in the value chain.
Buying from a local shop, especially one that designs and manufactures clothes locally, comes with it many benefits.
The first of which is the dramatic reduction in the environmental impacts of that product, from reduced carbon emissions, reduced water waste, and reduced general waste. By buying locally made and locally procured products, the carbon emissions used to transport that good is dramatically reduced; it's the difference between a short truck drive within the city you live in, versus being shipped across continents. Secondly, buying locally helps those dollars (or dirhams) spent locally, get circulated back into the local economy. Third, buying locally helps support local entrepreneurs, designers, and garment workers – and is more likely to ensure good working conditions as well as good working wages are provided, more so than if products were purchased from a sweatshop in South Asia somewhere. Last, but certainly not least, buying locally often provides access to localized fashion heritage and knowledge, fit for the local climate.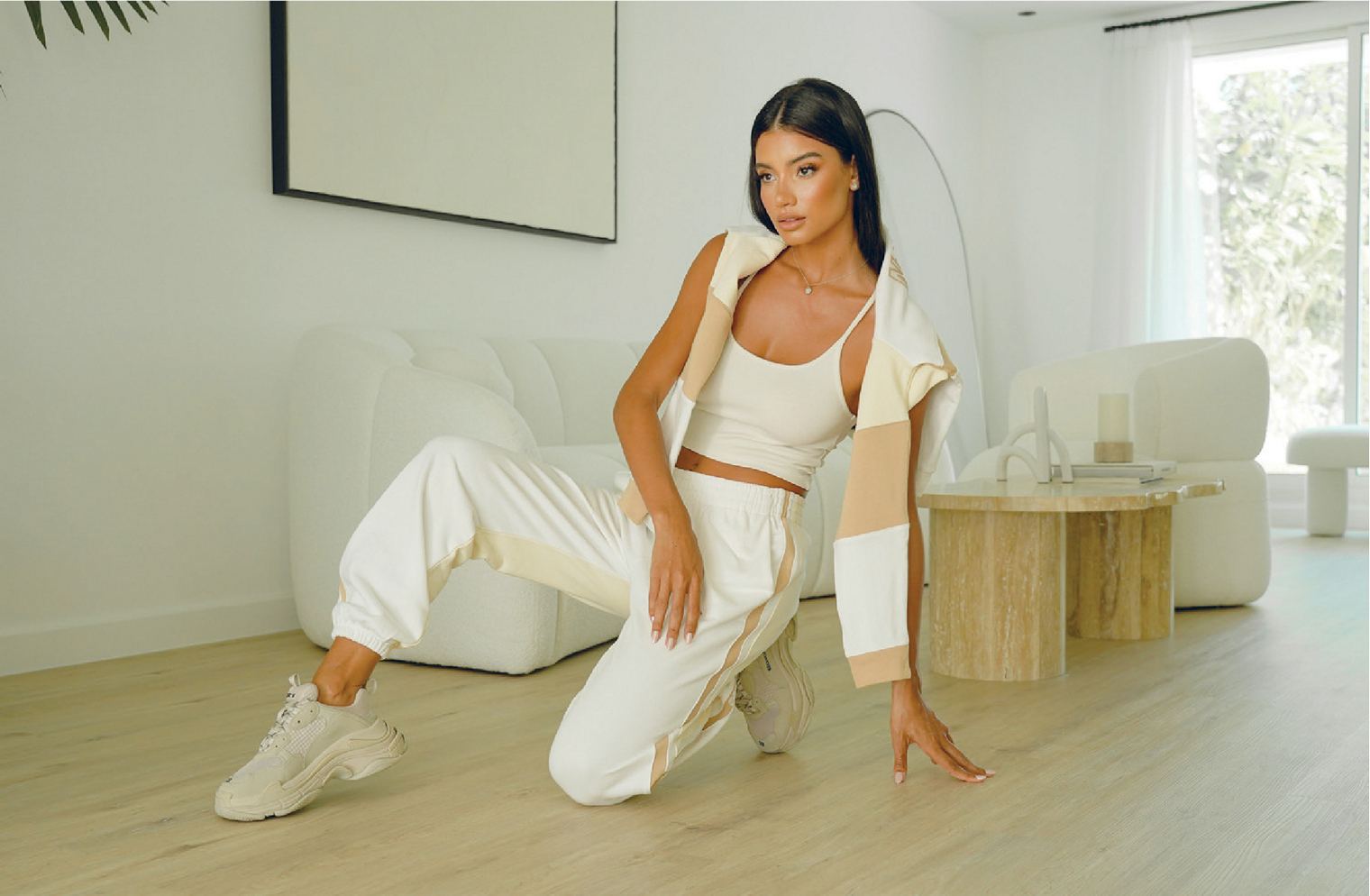 NOMAD: Sustainable Fashion in the UAE
The Middle East's fashion heritage is rich and diverse. In the Arabian Peninsula, the purpose of traditional garments remained constant for centuries, serving as protection against heat and dust. As a semi-nomadic group and the oldest inhabitants of the Arabian desert that survived harsh climate, the Bedouins led a simple life, and made do with the few natural resources they could find. Bedouins are known to treat their environmental surroundings with respect and reverence. It is this Bedouin culture that inspired traditional clothing in the UAE. The UAE is a young country that has witnessed many changes, even in garments, but one thing that has remained consistent is the material used to design them. Traditional fabrics used in the UAE has remained natural cotton, linen and wool, and sometimes luxurious silks.
One clothing brand that has taken inspiration from such a community and extended its tradition is Nomad, a UAE-based female-owned and operated swimwear and apparel brand that manufactures locally made garments with sustainability at its core. Nesa Rassouli, Nomad's founder, explains, "there was a noticeable gap in the market for a homegrown brand that covered women's wear that wasn't activewear or loungewear. There were a few brands that offered sustainable or eco-friendly women's wear, but they were typically off-trend and had less commercial look and feel."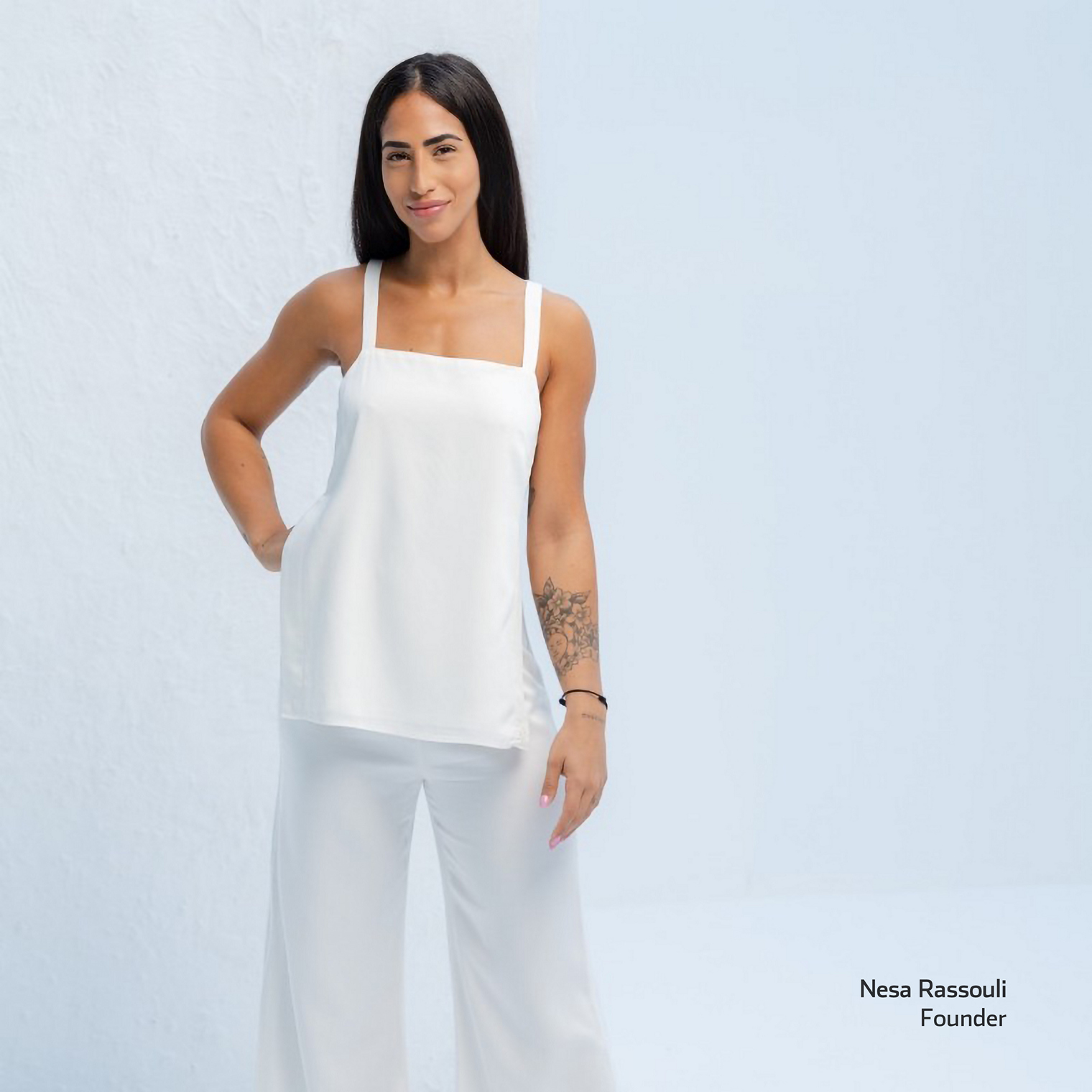 Nomad's supply chain is sustainable and takes pride in its slow fashion. They manufacture small quantities in small batches, leading to less waste and allowing for their customers to become owners of limited-edition pieces. Its locally sourced fabrics are made of cotton, linen-cotton blends, Tencel (cellulosic fibres), organic cotton rib, and recycled polyester. These fabrics are eco-friendly and biodegradable, and recycled polyester has the same properties as virgin polyester except it has significant environmental gains and takes 59% less energy to produce. Nomad has collaborated with The Surpluss, a UAE-based climate tech startup that helps business share their surplus resources to promote sustainability. Nesa stated "This partnership has enabled us to close our circular economy loop by sourcing secondary, surplus materials, and we are the first ones to really take this to market.
We want to show people that there is a huge amount of surplus fabrics and textiles out there that go to landfill every day; and that consumers can contribute by buying clothes that do not source virgin materials – which have a huge environmental footprint. At Nomad, we believe that you can support the local economy and also have stunning clothes."
Nomad manufactures its products in the UAE in Sedex-certified and LEED ecofriendly-certified facilities. Sedex is an organization that provides companies with tools and services to implement responsible and sustainable business practices, and Leadership in Energy and Environmental Design (LEED) is the most widely used and internationally recognized green building rating system in the world. Nesa added that "COVID-19 was a big wake-up call for global supply chains to understand how interconnected we are – this is why it's important for us to shorten our supply chain and emphasize "slow" production which is why we only create bespoke lines with 60 pieces or less of each style."
Besides its environmental contributions, Nomad donates $2 from every item bought to social causes, charities, organizations, activists and initiatives. Today, the list of charities they support include the Emirates Red Crescent, Al Noor Foundation, and the Dubai Foundation for Women and Children, with hopes to expand that list further in the coming year. Nesa shared "We want to carefully curate and represent a wide variety of approved charitable organizations with a proven track record of social impact. This is a very important factor for us, as we want to give back as much as we can. We also provide the option for our customers at checkout to select where their donation will go for each purchase in order to give them the opportunity to donate to the organization that resonates with them the most."
In the fast-paced world of fashion, there have been exciting new players that stand in the face of environmental and social irresponsibility. Brands such as Nomad not only design high-quality on-trend pieces, but also aim to leave their positive mark on the environment and local community. Nomad reminds us that we can be fashionable, and sustainable; who knew being responsible could look so good?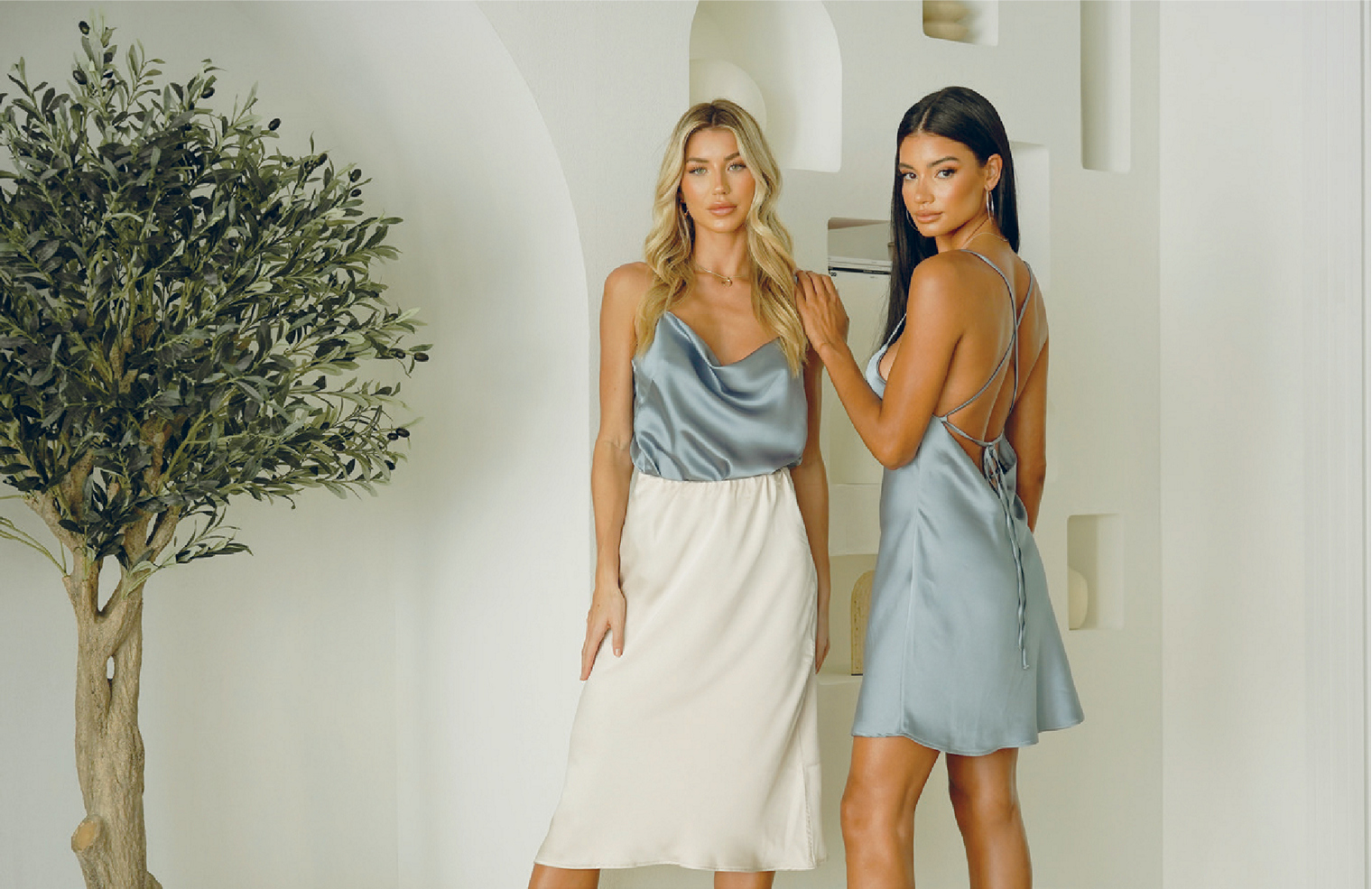 Other Players in the Local Sustainable Fashion Arena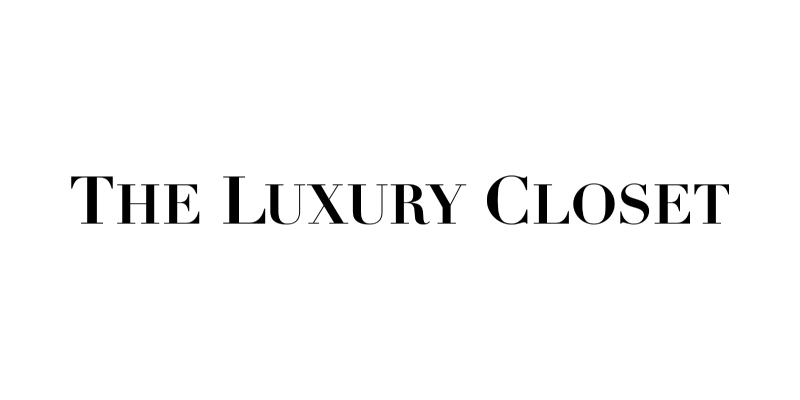 The Luxury Closet
theluxurycloset.com was created in 2012 out of Dubai, as an online marketplace for the re-sale of pre-loved luxury items. It disrupted the consumer luxury fashion market by being amongst the first to introduce the concept of luxury goods re-sale to the region, and thereby has become one of the top luxury e-commerce platforms worldwide. From a sustainability lens, The Luxury Closet is re-homing un-used luxury products, extending their lifecycle and reducing the impact on the environment (while making space in sellers' closets, and providing greater access to luxury products to more people).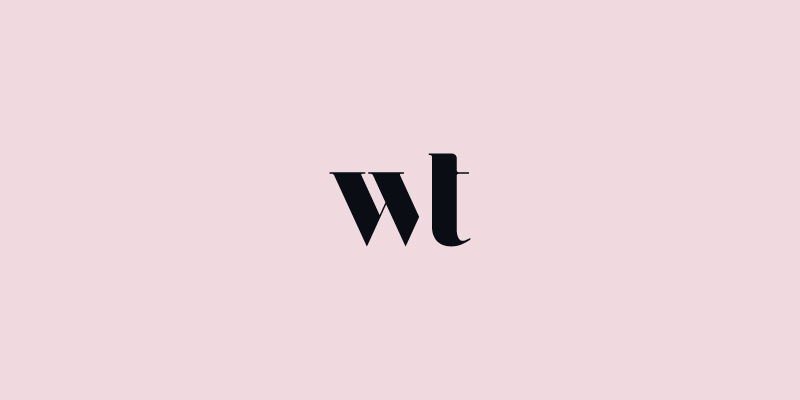 wearthat.me
wearthat.me is a 3-year-old startup born and raised out of Dubai, led by founder and CEO, Heidi Shara. Heidi says the Wear That's mission is to provide access to styling services to everyday women, with the help of the new digital economy. When we ask Heidi about sustainability in the fashion industry, and what she's prioritizing in her business, she had some interesting insights to share.
"At Wear That, we work on consumer trends, not on fashion trends; that means we allow women to elevate or change their style by guiding them on how better to style products, rather than buying new products." Heidi also says they are growing the number of fashion brands that have sustainability missions. For example, Farm Rio is a fashion brand that plants a tree for every purchase made, in partnership with FARM Brazil. Never Fully Dressed are committed to using recycled textiles throughout their body-positive collections and packaging. Sanctuary's advanced wash process saves 95% of the water used to create denim jeans. "It's these brands, and more, that have helped our consumers buy 5x more sustainable fashion products, compared to three years ago."
Wear That also sends their styled collections to their consumers in a re-used and recycled cardboard box. In 2023, Wear That plans on introducing more electric vehicles into its delivery fleet – in order to reduce its carbon footprint, and looking for more sustainable partners across its business from product to operations.
Read more about Sustainable Innovations and Startups in the MENA region in our comprehensive report here.