Dubai-Based Startup Seafood Souq Asks, 'Is Your Fish a Fraud?'
More than 3 billion people in the world rely on seafood as their primary source of protein and 600 million people rely on the fisheries and aquaculture sector for their livelihoods. Seafood is among the most traded food commodities internationally, alongside coffee, sugar and cocoa, and its trade has increased immensely through the decades. In 2019, fish trade amongst the world's 38 OECD countries alone rose to US $78 billion. Global fish production has already doubled since 1998, and is expected to roughly double again by 2050.
Also Watch Video: Exclusive Interview With Seafood Souq's Sean Dennis On Solving Industry Challenges With Digital Revolution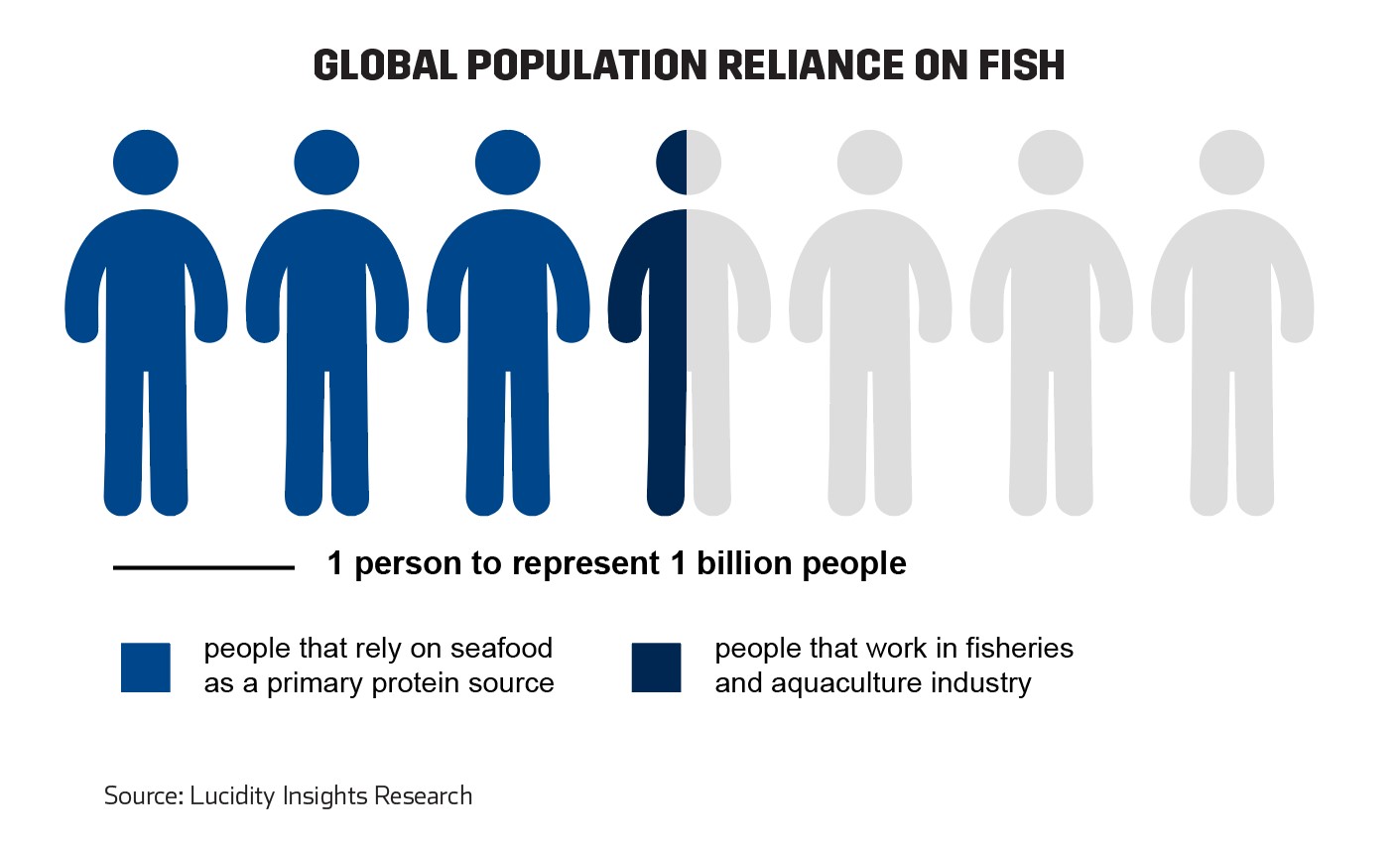 With the dramatic increase in seafood trade and consumption, numerous supply chain issues have come to light, including unsustainable fishing and fish farming practices, cases of fraud, and mislabelling for export and sales. How do you know that the red snapper you ordered at a restaurant wasn't something else? Recent studies have shown that fish ordered at a restaurant is more likely to be mislabelled than fish bought at a grocery store. Cheaper, imported fish are often mislabelled as expensive local catches, and farm-raised fish are often advertised as more expensive wild caught fish.
Oceana is a US non-profit organization that is focused on ocean conservation through implementing policies on a national level and is also the largest international organization focused exclusively on protecting and restoring the oceans. In 2019, it conducted a study that found 20% of the 449 fish samples purchased from shops and restaurants in the US were mislabelled. The most commonly mislabelled fish were the sea bass and snapper. In the US, several strict policies addressing illegal, unreported and unregulated (IUU) fishing have been successfully implemented, however most of the seafood is imported from seafood-exporting countries with weaker policies. The study also showed that fish fraud covers up and propagates illegal fishing; the World Economic Forum says that illegal fishing accounts for a third of the fish taken from the oceans, and costs the global economy upwards of $23.5 billion as of 2019. Though seafood mislabelling studies have largely been conducted in the US, this is a global issue. In 2021, Oceana revealed that 46% of seafood samples tested were mislabelled in Canada. The Guardian analyzed 44 studies that found that 36% of seafood samples in more than 30 countries were mislabelled.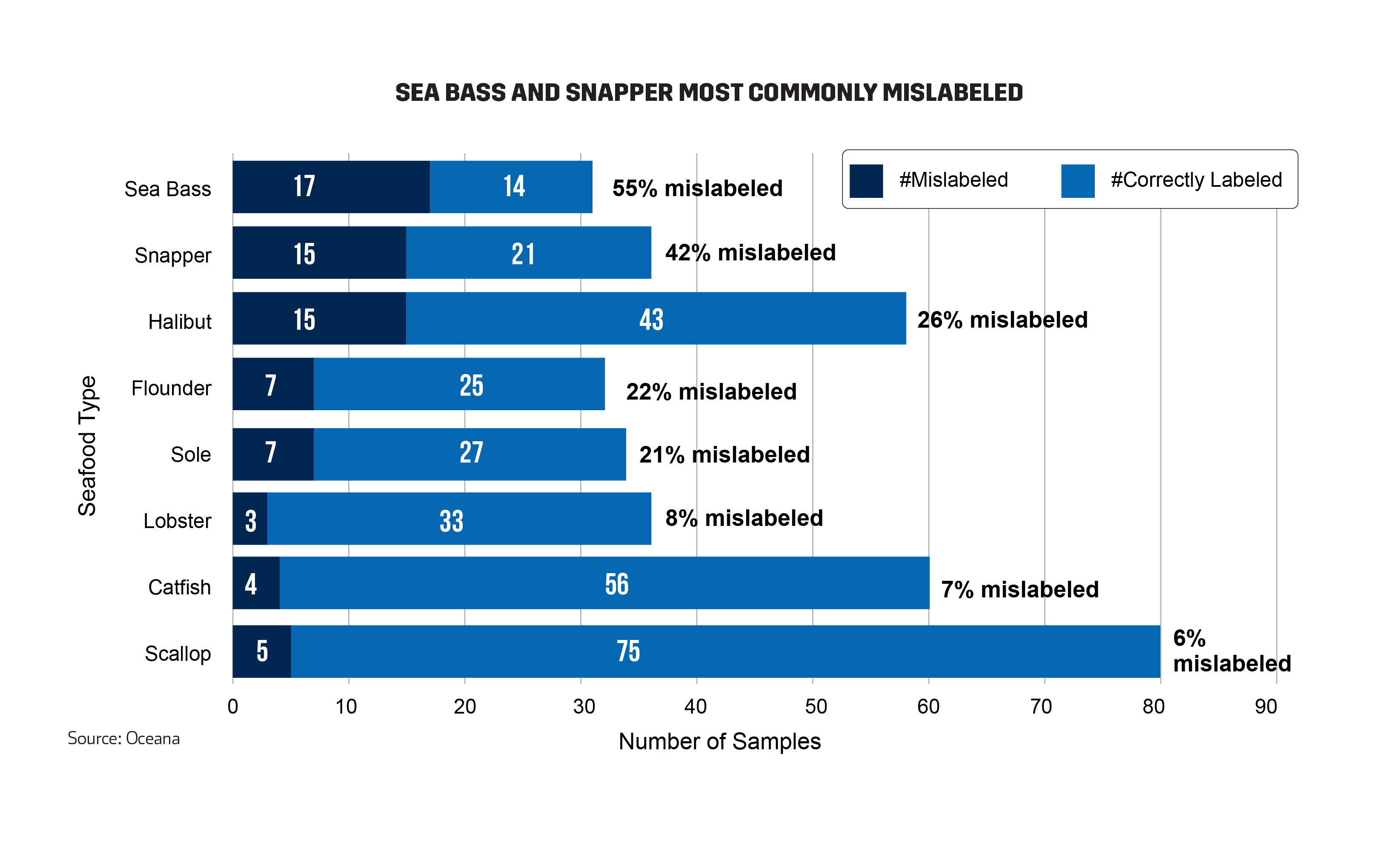 The UN's Sustainable Development Goal 14 is to conserve and sustainably use the oceans, seas and marine resources for sustainable development. This includes ending overfishing, illegal, unreported and unregulated fishing and destructive fishing practices. Seafood fraud makes illegally caught seafood easy to launder and creates a market for destructive fishing. Conservation and protective measures for areas and animals in need are typically violated by vessels breaching international conventions formed to prevent overfishing, catching more fish than the allowed quota, or fishing during closed spawning seasons without a permit. Seafood fraud also undermines consumers' ability to make an informed decision about sustainable seafood purchases as well as getting rippedoff for paying for a pricier fish but getting served a lower valued imposter.
Seafood Souq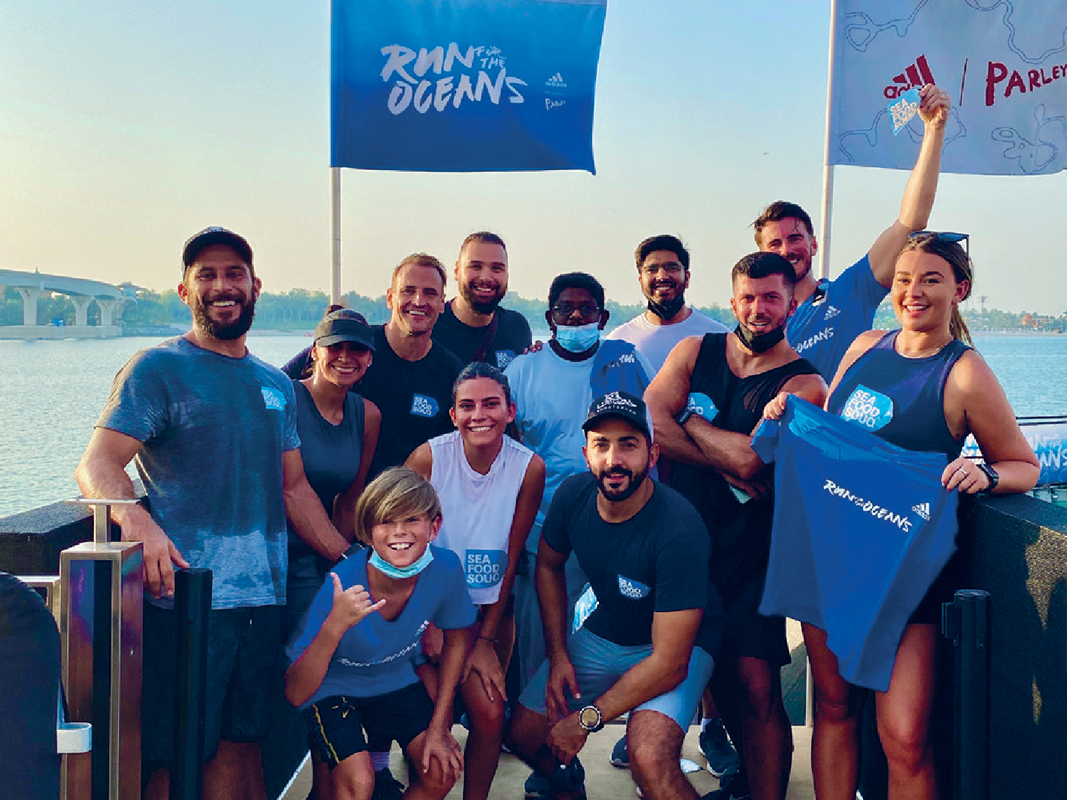 In the UAE, 90% of seafood is imported from other countries. One local tech startup has stepped in to solve a widespread issue in the industry: lack of data in the supply chain. Seafood Souq is a UAE-based startup that traces mislabelled seafood, tackles fraud and serves as an e-commerce marketplace that connects restaurants and retailers to suppliers while tracking every point in the supply chain. The co-founders Sean Dennis and Fahim al Qasimi grew up fishing, sailing, diving and surfing in the UAE, and their passion for the ocean and the life it provides drove them to create Seafood Souq and make an impact on the environmental and socio-economic aspects of the seafood industry through digitization.
Sean has 15 years of background in e-commerce and blockchain for enterprise-use, and was interested in putting this technology and his particular skill-set in practice to solve the supply chain issues across the fisheries industry. He explains, "collectively, worldwide, we are continuing to put unsustainable pressure on our fish stocks while continuing to operate inefficient supply chains where wastage can be as high as 40-45% in developing countries and 20-25% in developed countries. We can do better." He believes that digitization is the key to ensuring sustainability in the industry, and to collect and authenticate information that would minimize supply chain disruptions, support food security, and strengthen supply chains.
Seafood Souq operates three companies, each with its own unique product: SFS Trade, SFS Trace, and SFS Pay:
SFS Trade is a B2B marketplace and digital trade desk, linking wholesale level seafood buyers and suppliers through a digitized trade environment for simplified communication, search, transaction and financing - currently selling into 25 countries with plans of expanding. SFS Trade works with a number of different seller profiles, whether it is aquaculture, large scale fisheries or artisanal fisheries. Sean elaborates, "where we've been able to support the biggest transformations and contribute to the United Nations SDG's is through our work with artisanal fishermen like in Oman for example where we partnered with IPNLF to provide training to local fishermen of Masirah Island for Yellowfin tuna. This included cold-chain training to reduce wastage and improve product quality to achieve a better price for fishermen, lower impact to the environment and marine life and a solution to fishing less."
SFS Trace was initially created as a traceability tool for seafood trade within the Seafood Souq B2B marketplace only, but was later developed as a solution for each stakeholder in the seafood supply chain that would have a much larger impact on creating a sustainable future for our oceans and their food source. SFS Trace is now a separate entity operating under SFS Technologies that provides a full traceability system that collects, verifies and displays information from sea to serving. It is present on retail packaging on products in supermarkets in Europe, and is gearing up to launch in the US soon as well. SFS Trace is currently working with distributors in the UAE; and has signed sustainability partnerships with hotels in the region such as Atlantis, Mandarin Oriental and Jumeirah.
SFS Pay is a product that enables financing the blue economy. Seafood trade and inventory face a financing gap in the seafood supply chain that prevents trade, in particular between developing country suppliers and developed country buyers. To tackle this challenge, Seafood Souq have partnered with major institutions to create a product that enables financing requirements. SFS Pay is a digital product that addresses the trade finance gap and empowers sustainable fishing practices in emerging markets. SFS Pay will fund or provide financing for only sustainable seafood sellers with full visibility in the supply chain through their digital ecosystem for global seafood trade.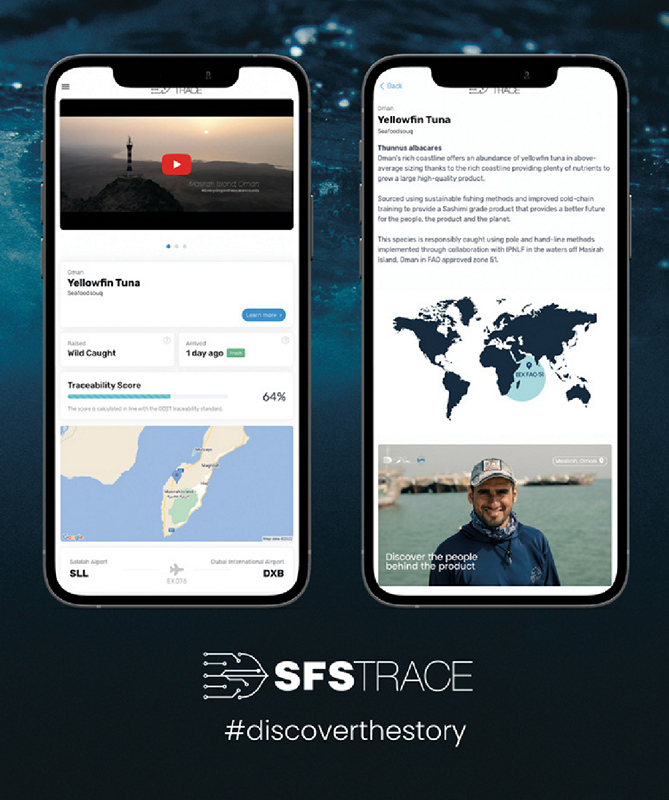 Seafood Souq operates in 25 countries, with over 427% growth in revenue in the last 12 months, 3,152% growth in annual volume of seafood traded which is equivalent to 2.5 million plates of traceable seafood served. It is launching its SFS Trace Impact dashboard exclusively with Atlantis Dubai to support them in their long-term strategy of driving sustainability and transforming operations inside the resort which will allow them to have a clear overview of their seafood sourcing which includes traceability scores with the GDST standard (Global Dialogue on Seafood and Traceability), seasonal sourcing, carbon footprint and more. Sean adds "We're excited to be providing traceability to Atlantis Dubai not just to enhance the guest experience but to provide detailed insights into sourcing to support responsible procurement decisions. We'll be launching Version 1.0 of this dashboard with Atlantis followed by a collaboration on development of Version 2.0 with the Atlantis team to customize metrics to support their specific sustainability goals."
"Buyers in developed markets require payment terms; on the other hand suppliers, often in emerging markets require cash sooner for their operations, which creates a critical trade finance gap in the seafood supply chain that SFS Pay aims to address."
- Sean Dennis, CEO & Co-founder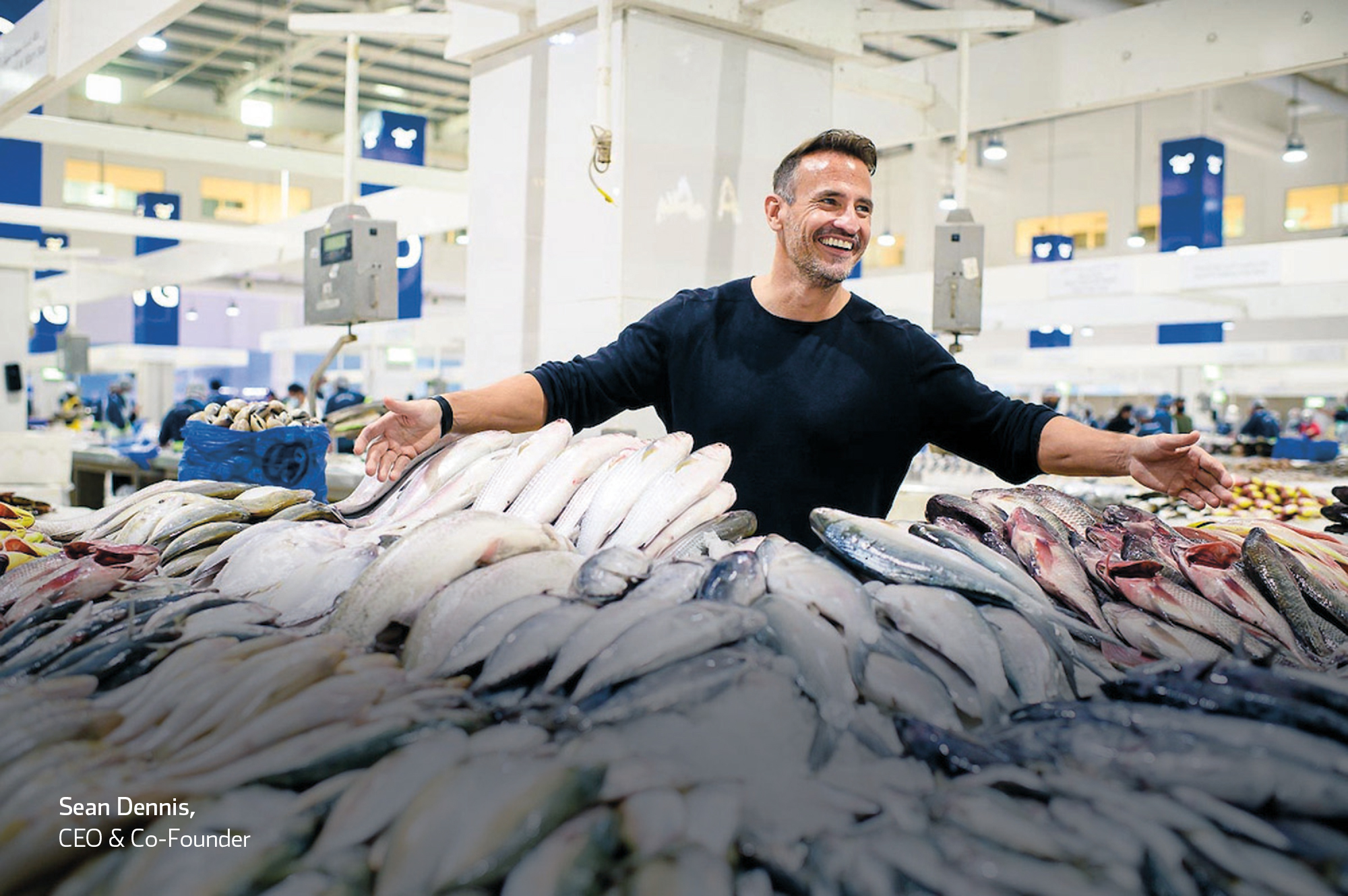 Watch the full interview in this video, or read more about Sustainable Innovations and Startups in the MENA region in our comprehensive report here.