Delivery Hero Scoops Up HungerStation, Continues Global Food Delivery Domination
Hold onto your hats, foodies! The food delivery world just got a little bit smaller, or bigger – depending on how you look at it... but in the best way possible. Delivery Hero, the Berlin-based giant in the online food ordering and delivery space, has just gobbled up the remaining shares of HungerStation, Saudi Arabia's leading food delivery service. 
If you've been keeping track, this is the 28th addition to Delivery Hero's rapidly expanding portfolio of acquisitions. Yep, you read that right, they've swallowed up 28 companies since their humble beginnings back in 2011. Talk about an insatiable appetite! 
In 2015, Delivery Hero expanded its influence into the Middle East with a US $589 million purchase of Turkey's Yemeksepeti. This platform was processing over 3 million orders each month across over 35,000 member restaurants, and is now present in 70 cities across Turkey and Northern Cyprus, representing a major win for Delivery Hero's growth ambitions. Today, they process north of 500,000 orders per day. 
2016 was also a pivotal year for Delivery Hero as it acquired Foodpanda, a major player in the Asian food delivery market. This acquisition was a game-changer as it expanded Delivery Hero's reach to 20 additional countries, many across Asia, Eastern Europe, and the MENA region. 
Perhaps the most significant deal of all, though, was the 2020 acquisition of South Korean giant Woowa Brothers. This massive deal, worth around $4 billion, represented a strategic move specifically into the booming Asian food delivery market. Woowa Brothers had been handling over 100 million orders per month at the time of the acquisition, providing Delivery Hero with another even more extensive foothold in Asia.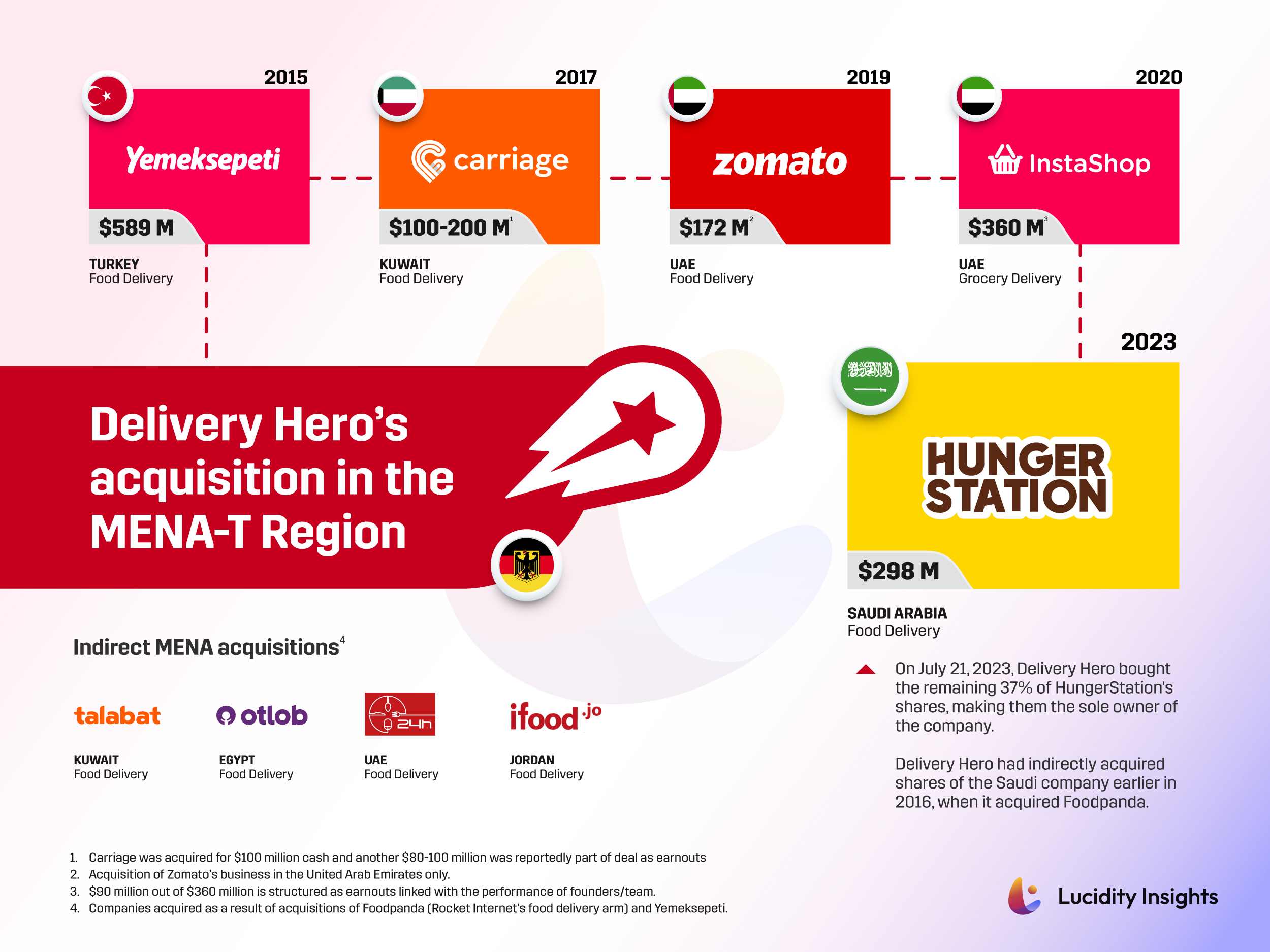 Today, Delivery Hero operates in over 70 countries, and partners with more than half a million restaurants. And, as if food delivery wasn't enough, they've branched out into all forms of quick commerce, or Q-Commerce for short. Think small batch orders, to your door, in under an hour. They even reported a whopping 791 million orders in Q3 2021 – a 52% increase from the previous year. 
Delivery Hero's portfolio in the MENA region is extensive. Talabat, Carriage, Zomato, InstaShop, ifood and Otlab are just some of the players in its regional portfolio. Breaking News this past week was announcement of Delivery Hero's complete acquisition of Saudi Arabia's HungerStation for a whopping $298 million.  
Founded in 2012, HungerStation is a market leader for food delivery in Saudi Arabia and Bahrain. In 2022, HungerStation's revenue growth was a hearty 36%, raking in $672 million, and even turning a more than decent EBIT of $55 million. Back in 2016, the majority of the company's shares were acquired by Foodpanda, so when Delivery Hero bought Foodpanda later that same year, it got a big piece of HungerStation, too. With their fresh $297 million deal, Delivery Hero has polished off the rest, securing total ownership of the app. 
Niklas Östberg, CEO and Co-Founder of Delivery Hero, had only positive things to say about this new chapter. "We believe in the Kingdom of Saudi Arabia's 2030 vision, ambition, and potential, and are committed to contributing to its ongoing success through HungerStation. I look forward to continuing to build great products and delivering an amazing experience for our Saudi customers." 
With this latest acquisition, Delivery Hero can dig even deeper into its global ecosystem as it adds HungerStation to its vast network. Sharing experience, integrating tech, and, of course, delivering more meals to hungry customers around the world- we can't wait to see what tasty developments are on the menu for Delivery Hero next. 
Read Special Report: The Middle East & North Africa's M&A Landscape 2017-2022