Women in Saudi's Venture Capital Ecosystem
The issue of underrepresentation of women in tech has been a long-standing issue around the world. When I was in Silicon Valley studying at Stanford's Graduate School of Business in 2017, it was at the forefront of conversation amongst prominent VCs and tech companies as the #MeToo movement gained momentum across the US. Despite more women graduating than men from STEM degrees like biological sciences, far less graduated from computer sciences (18%) or engineering (20%) degrees, according to a 2015 study by National Girls Collaborative Project.
Saudi Arabia is also keen to increase female participation in the venture capital (VC) and start-up ecosystem; though in its nascent stages, there is some very promising data, and perhaps some surprising data for some, coming out of the Kingdom. For a start-up ecosystem still in its infancy, and for a country that traditionally had very few women in the general workforce to begin with – it's remarkable how far the country has come in such a short period of time.
Increasing Female Participation in Saudi Arabia's Tech Sector: An Analysis of Recent Data
For starters, one of the first 2030 targets that were met by the Kingdom, was the target of 30% female participation in the workforce across the country, which was surpassed ten years before target. Today, female workforce participation is still rising and hovers at around 34%, more than double the 16% rate recorded in 2015. This influx of women entering the workforce has penetrated the tech ecosystem as well. In 2019, the Ministry of Communication and Information Technology (MCIT) set a target to increase the participation of women in the tech sector by 50% by 2023 from 2018 figures. The female participation rate in the tech sector has more than doubled from 11% in 2017 to 28% in the third quarter of 2021, 10% higher than the European average of 17.5% according to an analysis of start-ups registered in the capital city of Riyadh. It was also noted that female founders were most evident in the e-commerce sector.
Furthermore, interesting data has been released by Monsha'at at the end of Q2 2022, which shows an increasing trend of women-led SMEs over the past 5 years. In 2016, the same year when Vision 2030 was launched, only 2 out of every 10 registered businesses were women-led. Today, 45% of all registered small and medium enterprises are led by women. This led to the World Economic Forum (WEF) recognizing Saudi Arabia among the 5 most improved countries globally in closing the gender gap. Between 2021 and 2022, Saudi Arabia saw the highest increase globally.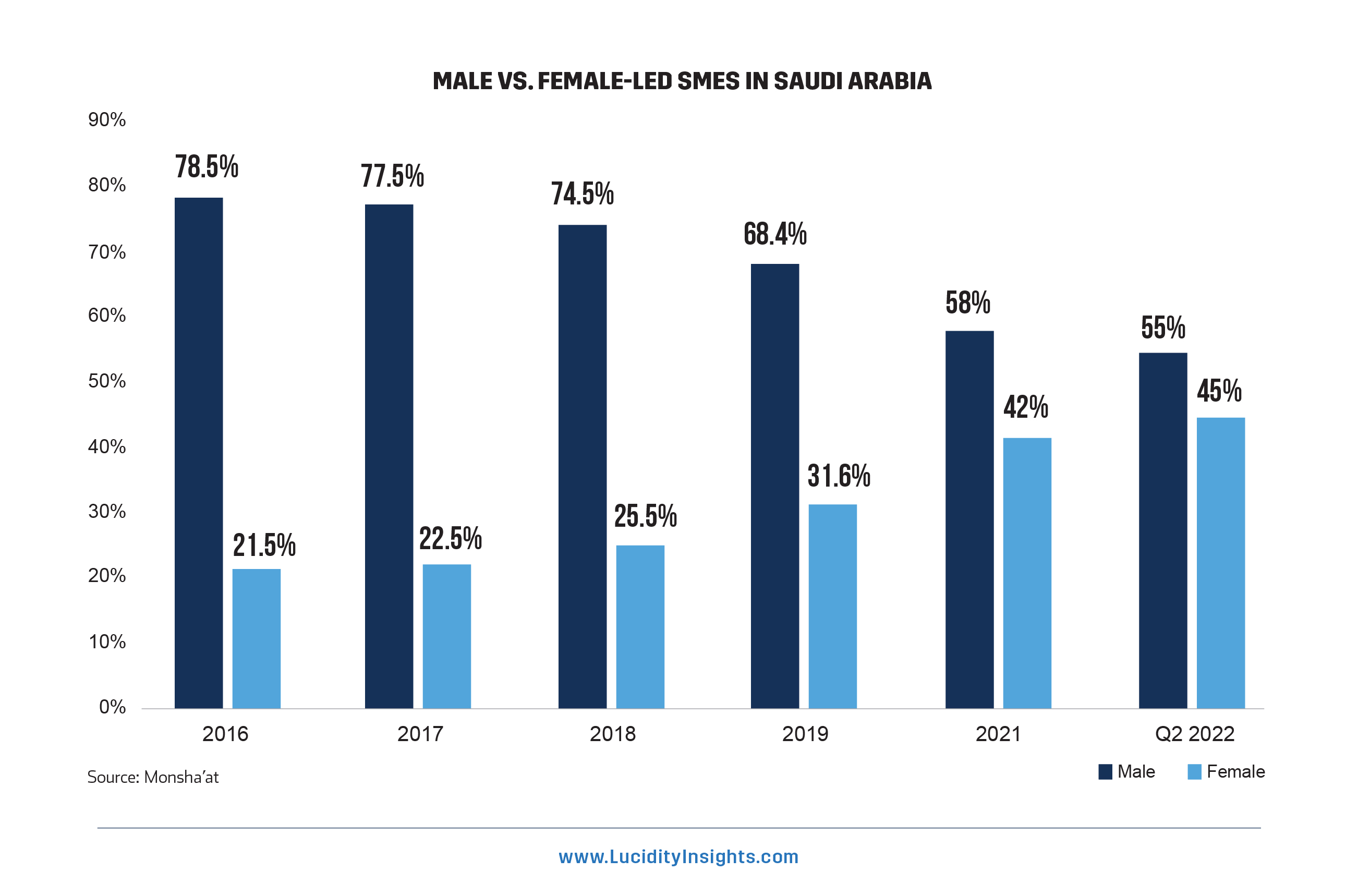 The growing number of female-led SMEs in Saudi Arabia, source: Monsha'at data
Despite this formidable growth, the unanimous sentiment amongst the male and female stakeholders we spoke to across the start-up ecosystem was: we need more women in this space; we need more female investors, and we certainly need more female founders. We want to see more of them, and the potential is there for more representation.
Women in Saudi VC Speak Up on the Future of Women in Tech and Entrepreneurship
Basmah Alsinaidi, Partner at Riyadh-based Impact46 shares, "I've recently started to see more female founders or at least women on the leadership teams of start-ups coming out of Saudi Arabia, specifically in the e-commerce, retail-tech and fintech space." 
Nora Alkadi, Partner at Graphene VC, told us that it's still rare for them to see female founders from Saudi Arabia, but that might also be because of Graphene's positioning and investment thesis. Graphene VC was founded in Silicon Valley solely by a Saudi born entrepreneur who had an initial mission to invest mainly in US start-ups, with an eye to bring back some of that know-how to the Kingdom, as and when it might fit. Graphene only started to focus on funding Saudi start-ups in 2020, when they saw the dramatic shift in the Kingdom's start-up ecosystem. It was at this time that Graphene decided to allocate roughly 30% of their current active fund towards international early-stage start-ups, including those in the Saudi market. Alkadi added, "another reason why we might not see as many female founders as others is because our investment focus is on the B2B space. Even though we are sector agnostic, some of the verticals we are interested in include supply chain tech solutions, PropTech, Agtech, and B2B SaaS – all of which tend to be male-dominated industries, globally."  
Amal Dokhan, a General Partner at 500 Global, sees hundreds of MENA start-ups go through their accelerator programs in Riyadh. She remarked, "We go out of our way at 500 Global to try and source more female founders into our deal-flow and accelerator programs. I've personally observed in recent months that there are more solo-founded women-led start-ups, while I have seen more men working on start-ups they have co-founded with others in the Kingdom." When I ask her what might be the meaning we could glean off this observation, she shrugs with a smile. "Women are perfectionists?" We laugh, but the question lingers for a few days and has me wondering why there are more solo female founders in Saudi Arabia. During my time in Silicon Valley, I had heard the opposite phenomenon from many of the VCs I spoke to. Many female founders in the West would wait for months or years to find the right co-founder, so they wouldn't have to go about the entrepreneurial journey alone. 
Latifa BaNasr, Investor at STV and former CEO of OQAL - Saudi Arabia's largest angel investors network said, "The speed at which female participation in the entrepreneurial and venture capital ecosystem has evolved. In 2018, I remember going to a major tech conference in Saudi, and the only female speaker was Her Royal Highness Princess Reema Bint Bandar, and female founders were hard to come by. This year, we saw at least 20 women featured in the media for leading tech startups in MENA, and we keep noticing the trend of more commercial registers issued to women in Saudi. Although there are more today, I tend to think we still have considerable room for growth." BaNasr elaborated, "At STV, we are proud to have partnered with great women founders, such as Latifah AlTamimi - founder of gathern, and Afnan Sherbeeni - co-founder of Sabbar. On STV's latest insights report, we projected that MENA will be poised to output around 45 unicorns by 2030, and I am certain that women founders and investors will play an instrumental role in that."
I spoke to Hattan Ahmed, the Head of KAUST Entrepreneurship Center, to comment on women in the Kingdom's start-up ecosystem. Ahmed remarked, "We're currently seeing a fascinating phenomenon at KAUST. As a university and entrepreneurial ecosystem that is deep tech and research-focused, we are proud that 38% of our student body is female. As deep tech is an even more specialized subset of the tech industry, it generally suffers from lower participation rates amongst women." Ahmed continues, "Interestingly, we're witnessing very high participation rates amongst women in our entrepreneurial programming at KAUST, that is open to and attended by participants from Saudi Arabia and across the MENA region. For example, 60% of our hackathon participants are Saudi women; and 49% of the startups that go through our flagship accelerator program, TAQADAM – which is open to both local and international startups – have female founders." This is remarkable in the deeptech entrepreneurial scene, as recent data released by the European Commission shows that only 15% of deeptech startups in the EU have women founders onboard.
When I ask Ahmed and his team why they think more women are interested in entrepreneurship at KAUST than their male counterparts, he responds, "I don't know. But it's fascinating, and someone should study it!"
Addressing the Gender Gap of Women Investors
When I ask the women why they think we don't see more female investors in Saudi Arabia, it's clearly a difficult question to answer. Sarah AlSaleh, Partner at Outliers VC, was born and raised in Saudi Arabia. Being an exGoogler, attempting a start-up in 2011, and joining a Fintech unicorn in New York before leading at a MENA tech company, she's no stranger to the tech ecosystem. But she says her career path into venture capital wasn't planned. "I was and still continue to be an operator at heart. I love to dig deep into the product vision and detailed product metrics." AlSaleh continues, "I didn't naturally gravitate to investing early in my career, but once I made the switch, it was clear that VC is not only about financial transactions. It's also a tool to realize the future and materially unlock new value in the world. This is where diversity, be it in gender, ethnicity, background, or thinking process matters. We see it as a prerequisite to success both within our team and in our investment decisions." 
For Alkadi, it was a scholarship to complete her MBA in San Francisco that altered her path. She had been in corporate finance for the 10 years prior, first at KPMG as a financial analyst, and then at the Capital Markets Authority (CMA) in Saudi Arabia in their IPO and M&A division. "Moving to San Francisco and being surrounded by entrepreneurs and immersed in the tech ecosystem here, I caught the bug. With my finance background, venture capital was the most logical step for me to follow my new passion." She added, "as a Saudi woman myself, it's incredibly important to empower more women in Saudi Arabia, especially as many of us didn't grow up seeing women in leadership positions."
Dokhan echoed the sentiment, "500 Global is serious about diversity, and it's apparent in our leadership. Our Global CEO and COO are both women, and many of our Managing Partners across the world are women. I think seeing that modelled in the firm's leadership played a big part in my deciding to join the 500 Global team."
Dokhan has been around the Saudi entrepreneurial ecosystem since 2013, having had stints at KAUST co-designing their TAQADAM Accelerator program, Global Entrepreneurship Network, and as an active Angel Investor. When I asked her about her journey towards venture capital, she replied, "I didn't really realize that venture capital could be a career option for me until I saw an American woman and founding partner of an all-woman VC come give a talk at KAUST in 2013. A seed was planted right then and there, but it took me 7 years until I made the jump. Now that I meet with female founders across the region, I see that this might be a trait more common in women than men. I've noticed that many women hesitate, and want to 'be better prepared' before they start anything. Today, my biggest piece of advice is to just start. The real learning only starts when you commit, and start to build on your idea." 
Perhaps more than anyone, Nora Alsarhan, Chief Investment Officer at SVC, has the most venture-groomed resume. After studying Computer Information Systems at Prince Sultan University, Nora spent five years at Ernst & Young as part of their transaction advisory services team. She then completed her MBA and immediately joined the Saudi Venture Capital Investment Company as an investment associate. Off the back of Vision 2030 being announced, Nora then joined the Small & Medium Enterprise Authority (Monsha'at) as a founding team member of their Equity Team. She spent several years working with government to build the infrastructure to support the development of a VC and PE investment ecosystem and spur on SME funding in the Kingdom. Becoming Chief Investment Officer at SVC seemed to be a logical next step in her career. 
When I ask Nora about this issue around Women in tech and VC, she says, "I can only be objective if I let the numbers speak." She continues, "at SVC, women are represented on the board and two executive directors are women leading the investments and legal, the core business of the company. Overall, women represent 40% of our staff at SVC - and we're proud of the fact. We're also proud of the women that are leading many of the funds we invest in. There are more than 11 women partners in several funds in the Kingdom, including but not limited to the women highlighted here - but also at Endeavor, Nuwa, Global Ventures, and VSQ." Nora also explains to us that an analysis of the underlying startups that have been funded through the VC's SVC has supported - approximately 46% of total startup employment in the Kingdom are female.
STV's BaNasr adds, "I think women need to start recognizing the value of our voice, and the value we bring when we take a seat at the table. Women have a unique perspective that is a tremendous asset to any company, startup, or investment firm. We should stay curious, and commit."
Next Read: Woman to Woman: Advice from Saudi Investors to Those Aspiring to Enter Venture Capital
Learn more about the perspectives from some of the most prominent market leaders in Saudi's VC and startup ecosystem, in the most comprehensive report on the topic to date, The Evolution of Saudi Arabia's Start-Up Ecosystem 2010-2022.