Wa'ed Ventures: Empowering an Entrepreneurial Ecosystem in Saudi Arabia
Closing 2022 with a cumulative total of 63 deals inked since establishing in 2011, and a portfolio of 43 Saudi-centric portfolio companies, Wa'ed Ventures, the venture capital arm of Aramco, has cemented its position as the most active investor for Saudi startups, providing crucial funding and support to the Kingdom's emerging tech scene.
Wa'ed Ventures is a $500 million venture fund investing in the next generation of transformative startups which are taking advantage of disruptive technologies. The firm seeks to partner with passionate entrepreneurs disrupting traditional industries through revolutionary ideas. Today, it is one of the most active investors in the region, with $100+ million deployed in 2022 alone.
Being one of the earliest players in the Saudi venture space, Wa'ed Ventures quickly outpaced the rhythm of the market when it came to adopting a risk-tolerant and thematic investment approach. The fund aims to drive local economic growth and diversification by becoming the partner of choice for founders, by building long-term partnerships where Wa'ed Ventures actively participates in follow-on funding rounds. Wa'ed Ventures invests in startups from the early seed stages to the mid and late growth stages with a ticket size of up to $20 million.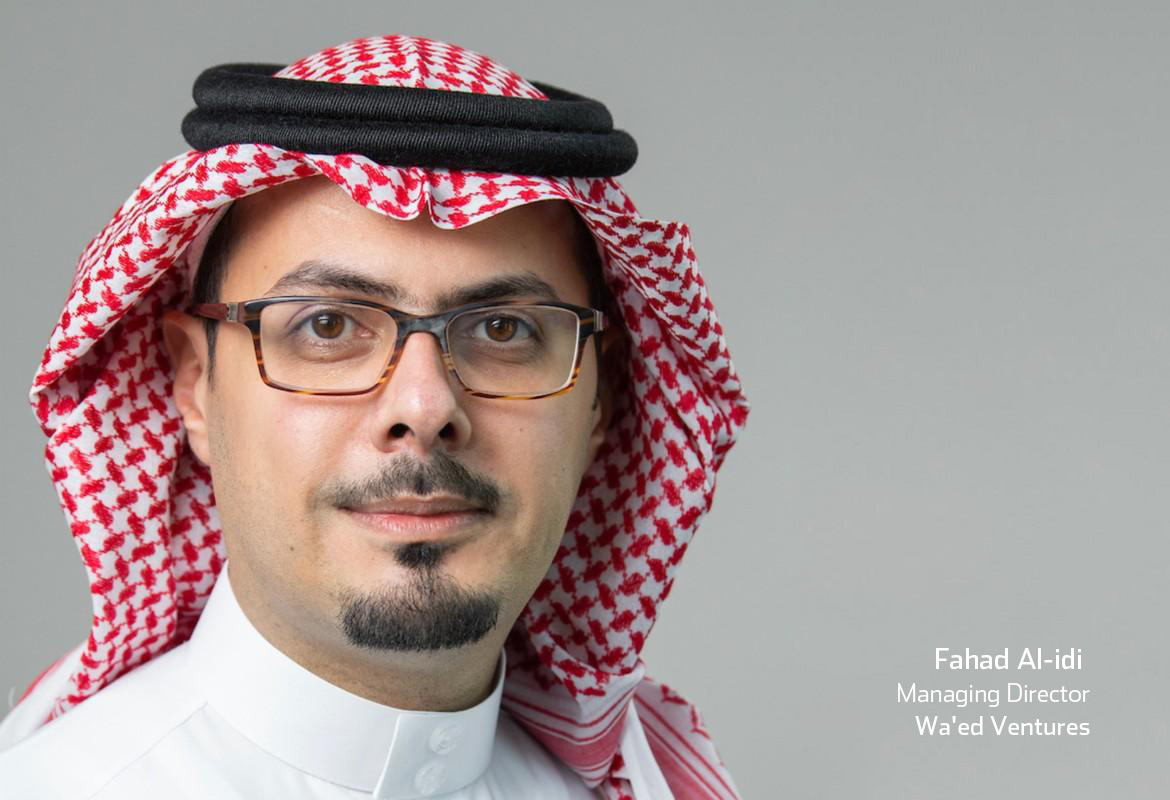 When asked about Wa'ed Venture's origins, Fahad Alidi, Managing Director, shared that Wa'ed Ventures - as the Venture Capital firm that it is today, was birthed from Aramco's entrepreneurship centre that originally provided end-to-end support to early-stage entrepreneurs in the early 2010's. "In the early days, there were only a small number of founders who attempted to build tech ventures and who understood the fundamentals of the entrepreneurship sector. As a result, Wa'ed became one of the first supporters who existed primarily to support this new economic wave."  He said, "To these entrepreneurs, Wa'ed provided mentorship, skills transfer, and business planning and strategic support."
When it was first established in 2011, Wa'ed initially did not provide monetary support. "It wasn't until after the first years of operations that Wa'ed identified this need for venture financing in the local market. We slowly began by investing in technologies that we believed were ground-breaking - fintech, cloud computing, robotics." Today, Wa'ed Ventures is a VC firm that writes cheques up to US $20 million across geographies, stages and sectors.
Wa'ed Ventures identifies themselves as a sector-agnostic fund; however, as a tech-focused investor, technology remains the key factor behind the startups it bets on. Specifically, the firm seeks technologies that present wide applications, geographical adaptability, and strategic relevance to the Kingdom, as well as to Saudi Aramco.
Wa'ed Ventures believes in the importance of active post-investment support to startups. The fund provides tangible operational support and resources, as well as an extensive network of customer and partner relationships to its portfolio companies. To ensure that entrepreneurs with drive, passion, and focus reach their goals, Wa'ed Ventures provides mentorship, advisory, and access to industry experts and savvy investors that help create significant value.
Aramco, being the sole backer of the fund, provides Wa'ed with matchless insight and decades of experience in different domains, including nascent technologies like Artificial Intelligence, quantum computing, and blockchain. This is why Wa'ed Ventures was the earliest investor in advanced technologies such as Artificial intelligence and supercomputing when the region was still more focused on e-commerce and platform business.
When asked to comment about the evolution of the Saudi startups ecosystem from his perspective, Alidi recalled, "The start-up ecosystem really began to see significant change after the launch of Saudi Vision 2030 in 2016. Between 2016 and 2018, we see incredible growth and infrastructure development for the Saudi startup ecosystem. Monsha'at - also known as the Small and Medium Enterprises General Authority was formed to specifically support the growth of local SMEs and start-ups, SVC was formed to help develop the VC ecosystem, and later the Saudi VC & PE Association (VCPEA) was also formed. Saudi Fintech and other private and governmental support organizations arose during this time to support specific sub-sectors. VCs popped up across the Kingdom, and attracted regional VCs as well. The ecosystem's funding deployment capacity has grown exponentially."
Alidi also discussed how Wa'ed Ventures has adapted to changes in the industry by extensively expanding its investment mandate in 2021, which included identifying a gap in the market for funding later stage ventures. To address this, Wa'ed has increased their ticket sizes to US $20 million from US $5 million, allowing them to participate in a wider range of investments and support the growth of the tech ecosystem in Saudi Arabia.
Today, Wa'ed Ventures assumes an expanded responsibility when it comes to its role as one of the larger and most active venture funds in the region. The fund has diversified its strategy to include a global-inbound investment mandate whereby target companies are mandated to localize their operations in real terms. Startups backed by Wa'ed Ventures must relocate part of its core operations to Saudi Arabia, including tech teams and R&D functions. The focus will stay on emerging and underserved technologies that will act as a catalyst to fill the technological gaps in the local ecosystem. Read about Wa'ed Venture's investment in the European spacetech startup, OQ Technology, and how this partnership is supporting the development of a new era of spacetech in Saudi Arabia. 
Wa'ed Ventures' long-term vision and commitment provide local founders with the tools, networks, and infrastructure to ensure success.
Read Next: Meet the Most Active Investors in Saudi Arabia
Learn more about some of the most prominent VCs in Saudi's startup ecosystem, in the most comprehensive report on the topic to date, The Evolution of Saudi Arabia's Start-Up Ecosystem 2010-2022.