Turtlemint on Using Dubai as Its Launchpad for Global Expansion
Founded in 2015, Turtlemint is a digital platform designed to empower financial advisors and help them give the right advise to their customers. Their digital solution helps financial advisors match customers with products that are suitable for them, share quotes and sell online, easing the burden of paperwork for maximum efficiency while facilitating transactions.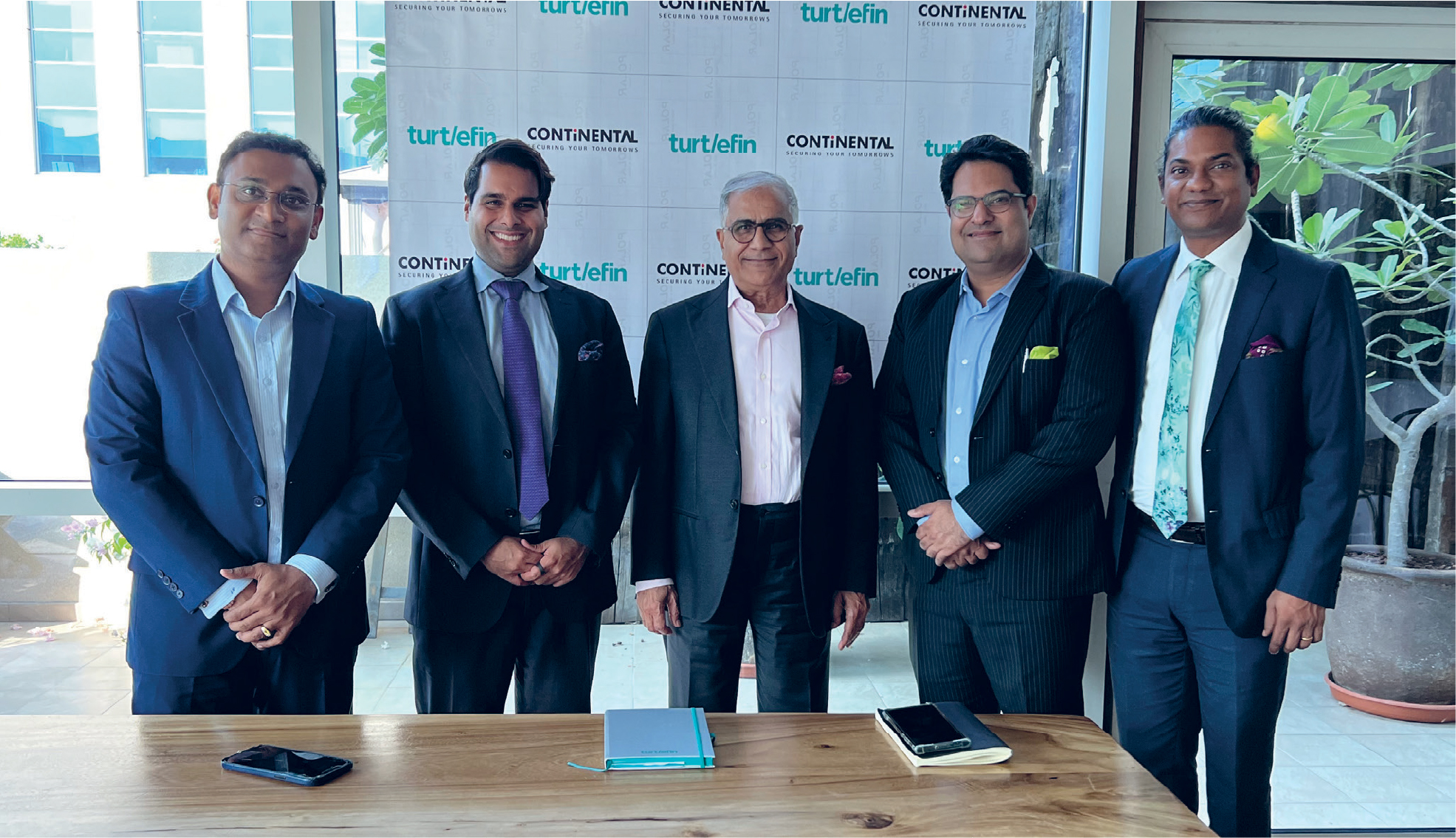 From Left to right: Laxmikant Pawar, Senior Director - Turtlefin, Akshay Sardana, Director & Vice President - The Continental Brokers, Ashok Sardana, Founder & Managing Director - The Continental Brokers, Amreesh Kher, Chief Partnership Distribution Officer - Turtlefin, Anselm Mendes, Executive Director, Sales & IT - The Continental Brokers.
As the world's second largest population with over 1.2 billion inhabitants, India is still largely underinsured with an insurance penetration of around 4% as of 2021. Turtlemint's vision is to ensure that customers are able to get the right insurance and financial products for themselves & their families. They do this by empowering advisors in even small towns & cities of India. The advisors can use their platform for selling, accessing learning content, providing end to end support to their customer including claims. Their services are offered in India's 8 major languages, helping advisors conduct their business in a language they are comfortable in, while also educating the Indian population on financial entrepreneurship and security. With an approach uniquely different from that of major rivals, Turtlemint has a major share of customers present in cities beyond the top ten metros in India.
Turtlemint announced its most recent series E funding round earlier this year, which raised $120 million under Amansa Capital and Jungle Ventures among other previously signed investors as well as newly participating Vitruvian Partners and Marshall Wace. The latest of its 6 rounds brings the company's total funding to US$190 million with 13 investors since its initial launch. This grants the insurtech start-up a "slightly less than unicorn" status, as their cofounder Dhirendra Mahyavanshi puts it. Turtlemint's current plans for its latest investment funds include expanding its executive team, entering new markets, including the Middle East through its newly minted operations in Dubai, and improving its product offering. Turtlemint works with over 45 insurers and more than 10 million policies have been sold through its platform so far. More than 400 thousand users use the platform to share marketing content, create and manage leads, and sell insurance products as it also provides a salesforce upskilling tool with 150+ hours of in-house content.
Their enterprise suite of products is called Turtlefin, where they offer SaaS and API solutions, to enable digital insurance distribution for enterprise customers. Turtlefin currently works with 400,000+ financial advisors & 25 enterprises across banks, non-banking financial corporations, conglomerates, fintech and new-age startups in India and MENA.
Their cloud-based insurance distribution platform has end-toend policy issuance capabilities. Key features include a lead management system, product suitability analysis and recommendation engine, quote & product comparison, and payment gateway integration. The adviser app allows empaneled advisers to provide a range of insurance products to their customers, including health, life, PA (personal accident), and vehicle insurance, as well as subscription software to insurers and banks. The platform is further complemented by a learning and certification module to help enterprises continuously upskill their advisors on the go. More importantly, however, the company encourages advisers to develop key client relationships by integrating a platform for customers to share content and quotations on. Turtlefin's technology has been empowering some of the biggest autotech, pharmatech, retail, and telecom enterprises in India.
Their recent funding falls in place with the company's anticipated expansion into the Middle East. The team announced the launch of its first UAE-based office in Dubai in 2022. The MENA region is known for its quickdeveloping tech market, and they aim to become one of the main providers in this tech-savvy ecosystem. Laxmikant Pawar, Senior Director at Turtlefin, leads their operations in the UAE. Turtlefin told us that they see a massive opportunity in the Middle East market to assist banks, insurers, and financial institutions in becoming digital-first by facilitating a combination of legacy systems and new insurtech capabilities in order to offer seamless digital experiences for clients. The interaction of Turtlefin's One API offering, with Mashreq Bank's insurance providers through APIs, built specifically for the MashreqPad platform, has put the company in communication with over 100,000 SMBs (small to medium sized businesses) in MENA. The startup recently also announced its partnership with Continental Brokers, one of the largest insurance brokers in the UAE. 
When asked to comment on their experience expanding to Dubai, Amreesh Kher, Chief Partnership Distribution Officer at Turtlefin, said "Dubai has a flourishing business ecosystem aided by policies that are favorable for enterprises to thrive, such as visas for entrepreneurs or zones that offer special benefits to startups. Government projects, the benefits of private-public partnerships, as well as the strong presence of venture capitalists and forward-thinking investors contribute to Dubai being our first choice to support our growing venture." He added "What has been really exciting for Turtlefin is the encouraging responses and enthusiasm from banks and enterprises in going digital and providing customers with their seamless digital experience."
The UAE has been at the forefront of establishing entities that help new startups and well-established companies to set up offices quickly and get access to the market. "We feel that the environment in Dubai is extremely welcoming for startups like us to innovate and disrupt the ecosystem." Laxmikant says entities like Dubai Chambers have been providing support and guidance on setting up a branch or a new company in the UAE, and Dubai Chambers' membership includes access to forums and gatherings where businesses can exchange ideas and broaden networks.
"There is enormous opportunity for us in the UAE's insurtech space," says Laximikant. "Considering the number of enterprise customers available." He's referring to the thousands of insurance brokers, banks, and insurers with insurance distribution networks in the country, that provide the perfect market for Turtlefin's SaaS solutions to help create a fully digital insurance ecosystem.
Learn more about Dubai's Expanding Digital Startup Ecosystem in our latest special report here.