In Conversation with Dubai Future Foundation
What is the role of Dubai Future Foundation in developing Dubai as a great place to live and work?
His Highness Sheikh Mohammed bin Rashid Al Maktoum, Vice President and Prime Minister of the UAE and Ruler of Dubai once said: "The future belongs to those who can imagine, design and execute it. It is not something you await, but rather create." This sums up what we do. We imagine, inspire and design Dubai's future in collaboration with our public and private sector partners.
We instill forward-thinking mindset across Dubai through foresight, capacity building, knowledge sharing, global collaborations and innovative initiatives and projects that enable Dubai to become the leading city of the future. We keep one step ahead of the fast-paced advances in technologies and innovation system.
We build an innovation ecosystem to design a future-ready city powered by well-equipped future leaders and disrupters. Our research is a source of insights on the possible future scenarios for Dubai and the world. Moreover, we encourage the testing of new ideas by providing agile regulations that enable innovation and startups to thrive.
In short, we are aware of the need to remain agile and resilient, and to be ready to capture the opportunities that the future brings to the table and transform any future challenges into valuable opportunities.
The most important point that will make Dubai one of the most future-proof cities in the world, is to maintain a balance between its heritage and modernity. This unique blend makes the city one of the best places to live and work in the world. Dubai's population is expected to grow to 5.8 million within the next two decades compared to its current population of 3.3 million.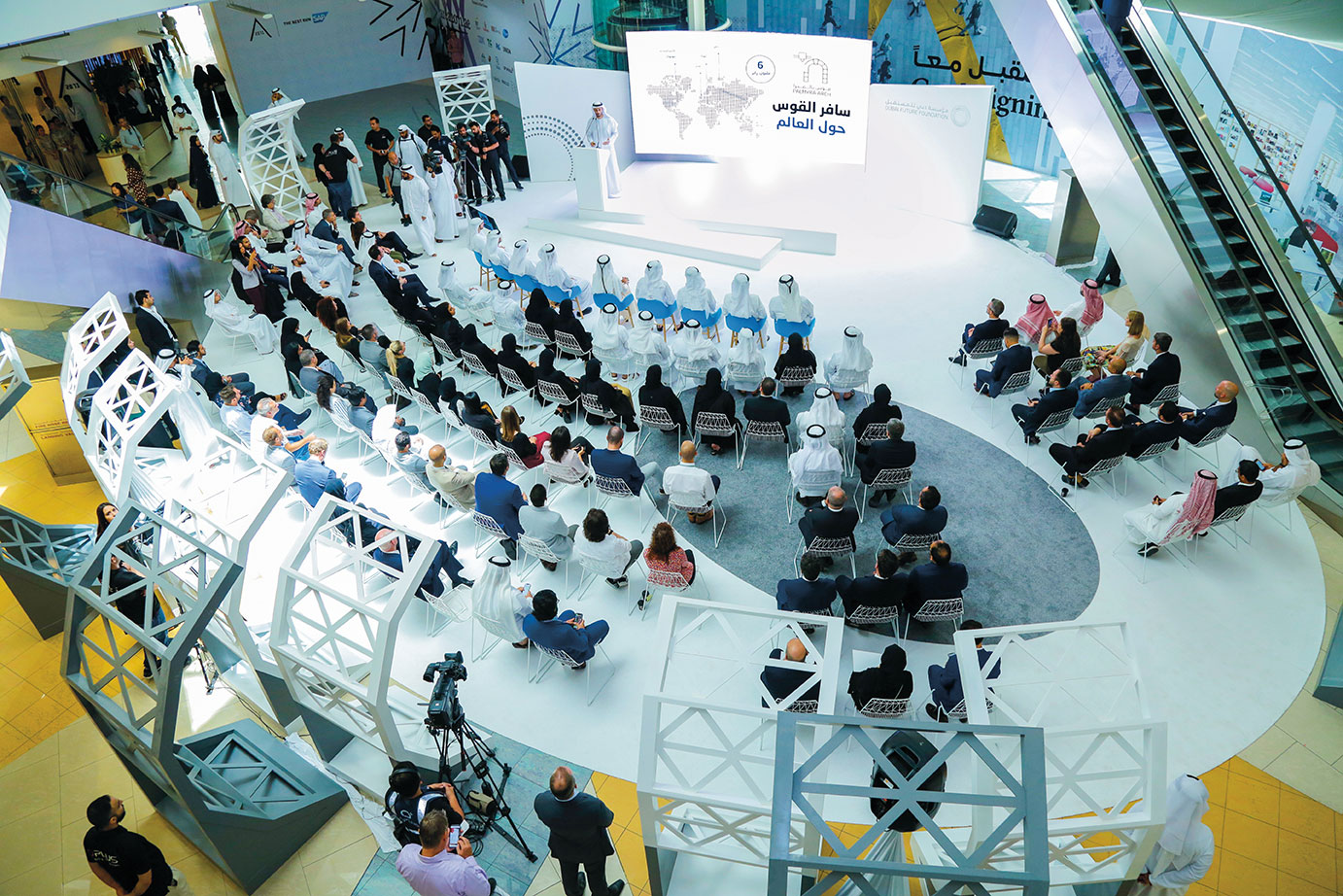 Why is Dubai a great place to work?
Dubai is one of the globe's most connected cities and one of the world's leading cities for business – whether that be for SMEs, startups, large-scale companies to homegrown businesses or entrepreneurs starting their business venture.
With its forward-thinking focus, the emirate fosters an ecosystem of collaborative innovation and future-proofed business models.
The city boasts a thriving network of startup incubators and accelerators, as well as regulatory sandbox schemes for the development and testing of new tech business models.
Dubai ranks first globally in attracting foreign direct investments (FDIs) for AI and robotics in the global Smart Service Index.
Dubai Future Labs (DFL) runs state of the art Robotics and AI applied research projects. The DFL identifies critical local and global industry challenges and technological gaps in key sectors and develops Robotics and AI programs to fill these gaps with global and commercially viable solutions, services, and systems.
Currently, SMEs account for 95% of the enterprise population in Dubai and are responsible for 43% of the total workforce and 40% of the total value added in the emirate.
Dubai Future Foundation programs connect government entities with leading startups, ideators, researchers, and entrepreneurs to create a thriving business hub that collectively makes Dubai the best destination for business and investment.
How is Dubai Future Foundation addressing the future of work and creating opportunities for Dubai and the region?
The world of work is dramatically changing with disruptive transformations that forced companies and governments to re-evaluate several aspects of work and focus on innovation. A lot of plans, ideas and projects that were considered too ambitious before the pandemic, suddenly became essential for our survival.
Companies are rethinking 'Productivity' through 'Efficiency' with the use of advanced technology. In other words, Covid-19 crisis accelerated existing trends, such as remote work, virtual transactions, and adoption of automation and Artificial Intelligence, in addition to unlocking the potential of the metaverse game-changing and totally new virtual world that can change the world as we know today.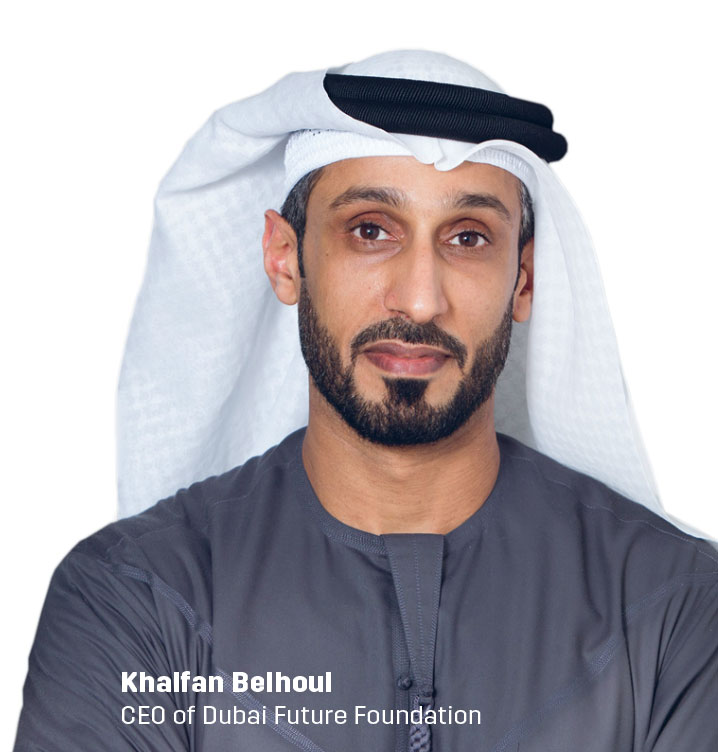 Telemedicine, virtual schooling and learning, e-commerce (eruption) are examples of how business can thrive beyond the business-as-usual models, and how agile business models are key for business continuity.
Work will witness new HR policies and systems, comprehensive changes to business models and workplace concepts with a focus on productivity and efficiency unlocking the power of data and new disruptive technologies.
This will have greater impact on the global mix of jobs than what was estimated before the pandemic. Some jobs will be lost, and many others created. For instance, the newly launched Dubai Metaverse Strategy that targets supporting as many as 40,000 additional virtual jobs, adding USD 4 billion to the city's GDP, and increasing the number of blockchain companies by five times in five years. Dubai is already home to over 1,000 companies in the metaverse and blockchain sector, which contributes USD 500 million to the national economy.
Reports say there is a 25% increase of workers who need to switch occupations compared to the pre-pandemic estimations, and that jobs with the highest physical proximity are likely to be the most disrupted.
Because growth in labour demand is expected to be in high-income jobs, a considerable percentage of workers in areas expected to be of low demand in the future – due to the tremendous shift and new trends - needs to require different skills to remain employed. However, businesses and policymakers can help employees migrating between occupations by providing learning and training opportunities and expanding their digital infrastructure.
One of very own unique ecosystems and dynamic innovation hubs in the region, AREA 2071 attracts talents and entrepreneurs from around the globe. It is a vibrant innovation space that connects and empowers talent, youth, governments, private sectors, and tech enthusiasts to realise Dubai's vision of becoming a leading city of the future.
To date, 6,377 companies are in AREA 2071's ecosystem representing countries from across the globe. Startups within the ecosystem have managed to raise more than AED 75 million in equity funds and 90% of them have signed contracts in the UAE worth AED 125 million.
Dubai Future Accelerators (DFA) facilitates the dynamic collaboration between startups, private entities and government organisations to work on prespecified challenges relevant to our future. To date, DFA has led to AED 274 million in startups and innovation, AED 1 billion worth of global funding raised by companies, 77 programs, 145 challenges explored, and more than 180 MoUs signed.
Adding on this success, 45 companies have called the UAE their home and established offices in the country resulting in the creation of over 600 jobs. 27% of startups have signed contracts worth 36 million dirhams with Dubai Future Accelerators' partners, while 90% have entered agreements with other entities in the UAE, valued at AED 125 million.
Is the Dubai Future Foundation, exclusively focused on Dubai, or it goes beyond local and national borders?
The Dubai Future Foundation aims to not only future-proof Dubai – or even the UAE, but far beyond our own borders, helping drive forward change in the wider region and world by championing positive change for the humanity.
Dubai – known for being a city of the future – is the hub to incubate solutions to tomorrow's challenges that will impact the world.
Dubai Future Research – the Dubai Future Foundation's research arm - produces insights that enable stakeholders to foresee and better navigate the future.
The One Million Arab Coders (OMAC) helped improve digital literacy rates in the Arab youth. More than one million coders have been trained under OMAC, while AED 4.9 million in funding has been awarded.
The Dubai Future Solutions initiative's challenges are open for everyone worldwide with grand prizes up to USD 10 million.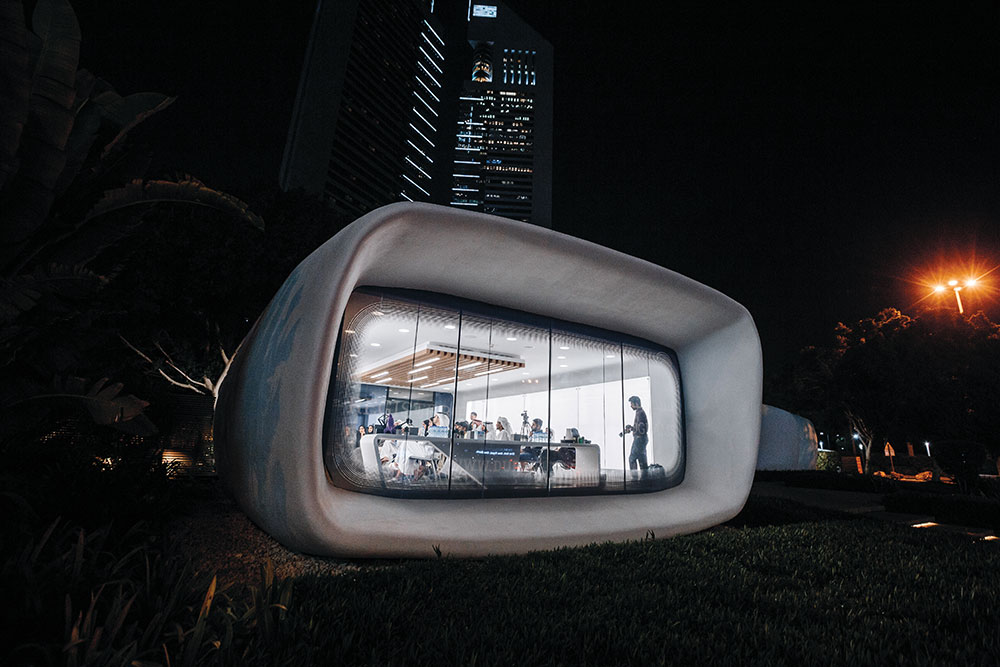 Can you tell us why, in your opinion, so many entrepreneurs come from around the world to work in Dubai? To work at AREA 2071 or Dubai Future Accelerators? What's unique about the city and its' offerings?
Dubai is reputed as a global hub for entrepreneurship and start-ups and known for its thriving business environment driven by a host of favorable policies and initiatives. This is on top of other attractive business incentives including business-friendly policies, digital life and interconnected ecosystems, business incubators and accelerators programmes, the new visa system including the golden, green and remote work visas, financing and low tax environment, free zones, and many more.
All of these are enhanced by the world-class physical and digital infrastructure, making Dubai the right place for startups and the brightest minds in the world.
At Dubai Future Foundation, AREA 2071 and Dubai Future Accelerators build on that ecosystem by highlighting Dubai as a citywide testbed for innovative technology.
How is Dubai Future Foundation attracting talent to Dubai?
By bringing together startups' innovation and agility and the scale of forward-thinking public and private sector organisations.
Dubai Future Foundation plays a pivotal role in cementing the emirate's future workforce through various initiatives.
How is the Dubai Future Foundation differentiating itself from other players which may have similar initiatives across the country?
Dubai Future Foundation works in conjunction and collaboration with all the initiatives across Dubai – with the unified goal of propelling the emirate into being a leading city of the world
What makes Dubai Future Foundation unique is that we are the forward-looking arm that maintains the city's position as a testbed for emerging technologies.
Also, what differentiates us from the rest is our workforce. Yes, we are small in numbers, yet we are fierce, disrupters, driven, resilient and agile, and that to me is the secret behind our strength and successes.