FortyGuard: Proprietary Analytics Enabling Effective Cooling for Cities
With its mission to cool cities, FortyGuard is engaged in providing access to enriched temperature insights for dynamic and personalized visuals. They claim to be "outdoor temperature experts with AI tools to optimize energy & enhance the environment, and passive data access to granular mapping solutions."
The company envisions contributing to targets in keeping temperatures below 1.5°C, not because accurate temperature readings can physically cool the ambient, but because they can empower and enable solutions to do so. Most of the world's energy consumption goes towards cooling residential buildings and communities' common areas, resulting in a significant carbon footprint primarily when sourced by traditional sources of energy.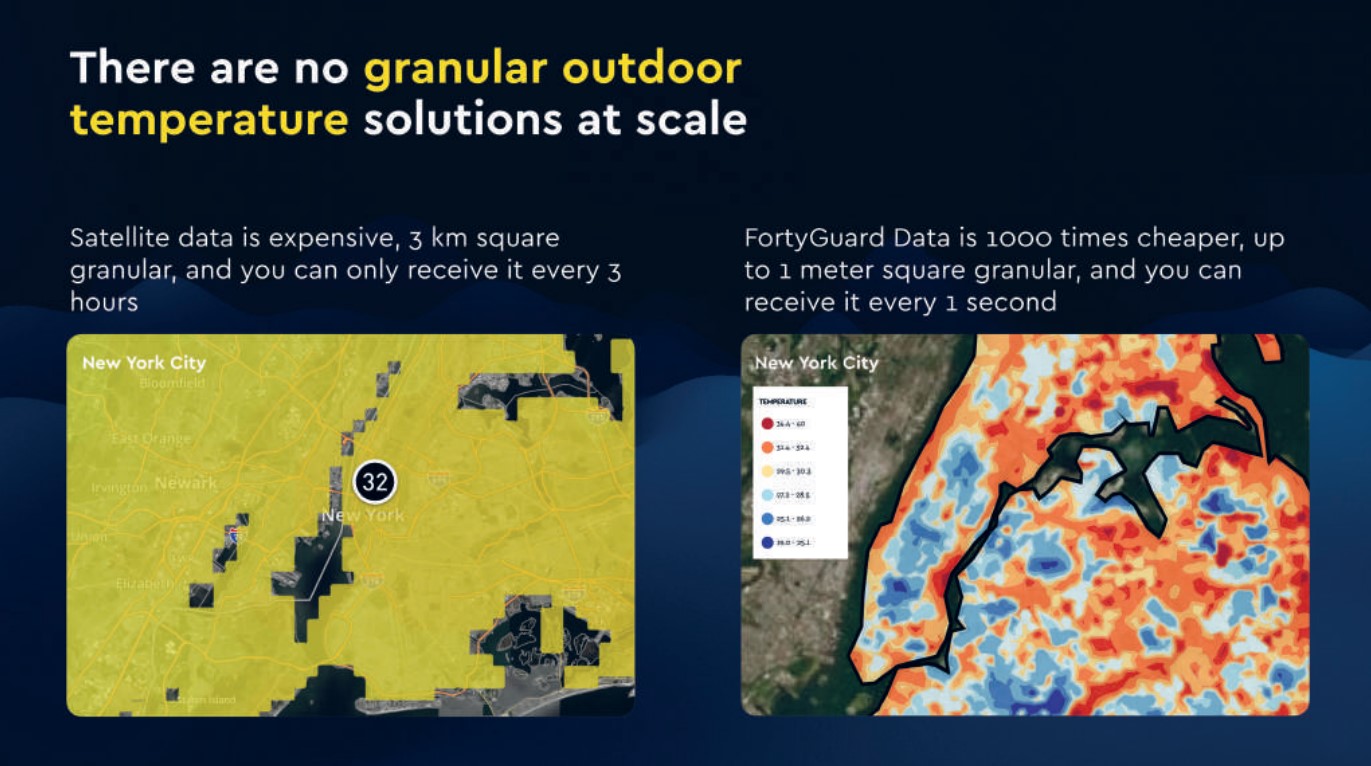 Origin Story
FortyGuard actually started out as a materials science company in 2020, before becoming a data company. Founder and Chief Visionary Officer, Jay Sadiq, took inspiration when Los Angeles painted its roads in white to reduce temperature. Jay initially intended to make asphalt with a colourless solution, so it wouldn't reflect the sun rays on pedestrians. However, when deploying the material solution for asphalt and concrete in areas with elevated temperatures, they realized that clients were more interested in the maps that presented the granularity of temperatures in their developments rather than the material itself. The company then visited the opportunity and immediately agreed to pivot to 'sensing with hardware'.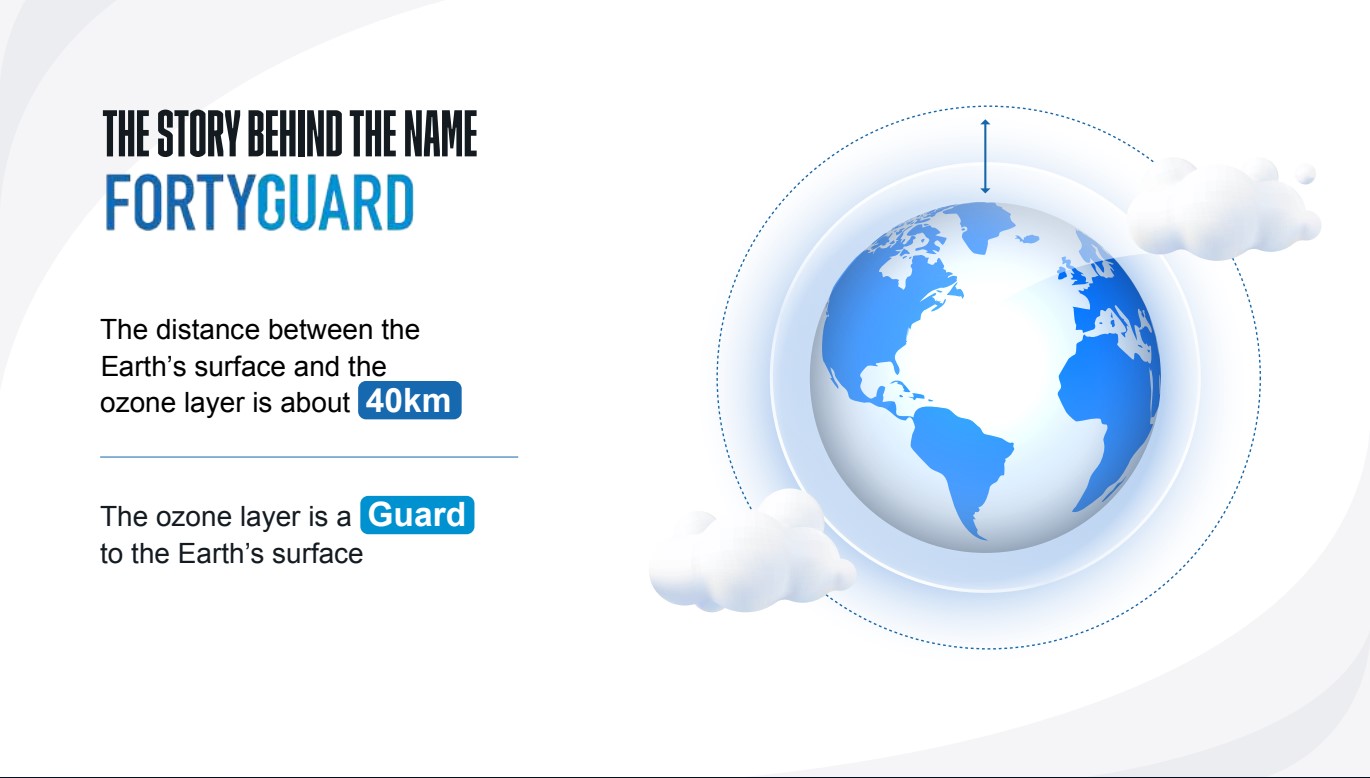 A year later, FortyGuard was mentored by investors who asked them to crack the mission with scalability and by focusing on data. FortyGuard pivoted for the third time to "only data" by working with existing passive data almost available worldwide in urban areas. Today, the startup has "mapped 40 cities around the globe at no cost", says Jay, and the company has done so, using existing passive data while operationally computing all those maps through its small office in Abu Dhabi and with a small team.
The Problem(s)
Extreme Heat being the first!
Heat is the US's number one weather-related killer, and there are countless heat deaths around the world. Climate change's fingerprint is literally rising temperatures, and it's the last thing companies are currently even considering to measure. Heat causes other problems, such as the increasing demand for energy due to cooling requirements, and many other industrial and infrastructure considerations to insulate against the heat. The challenge with heat is that it can bring risks in ways that are often anticlimactic, and the solutions to mitigate heat can be anticlimactic, too. Given that heat is far less 'visible' than other kinds of extreme weather, it has long been challenging to implement cooling solution to fight heat in cities.
Granularity of temperature data is the second!
Satellites are the only source to provide temperature at scale today. They are expensive with 3 km square granularity and data is collected every 3 hours. There are also little-to-no tools to map urban heat in cities affordably at granular levels, even promising thermal imaging solutions cannot provide temperature data coupled with locational information or behavioral data. Incorporating thermal imaging at any granularity with geospatial maps is not feasible, and requires overlaying dynamic layers with enormous computing powers, which is too expensive to commercialize using current technologies.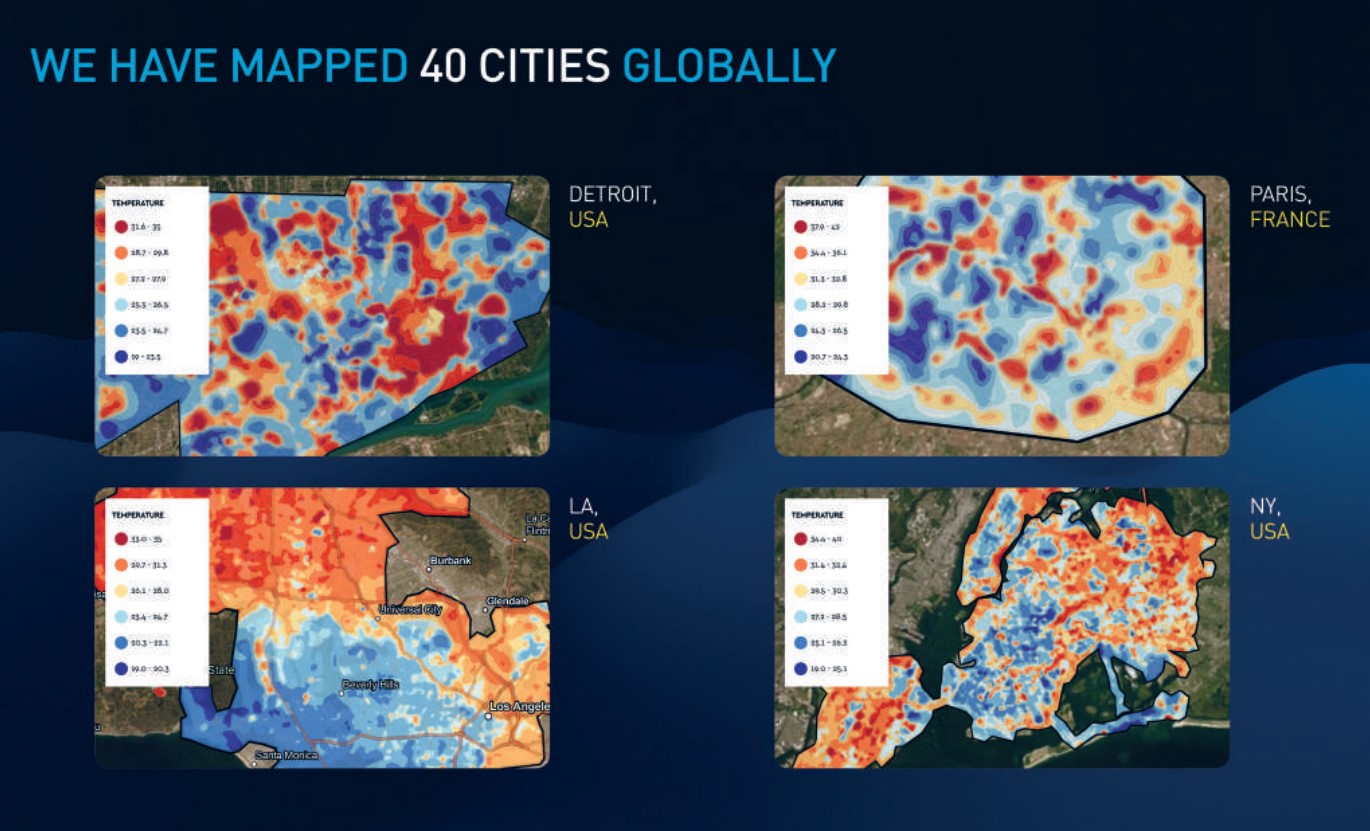 The Solution
Access to affordable and accurate data and insights!
FortyGuard's belief is that 'what gets measured gets improved', and the best solutions come from understanding data. Many solutions, which mitigate the risk of heat and make cities more efficient and resilient, need help to know where to start or even find a reliable and accurate baseline of data that support on-ground decisions, which will enable cooling solutions to impact cities by reducing temperatures for a cooler environment for its citizens.
Through FortyGuard's data, geospatial providers can build better GIS and navigational temperature applications with smart locational and behavioural data. Imagine, as a consumer, if you could:
1. Identify cooler routes instead of shorter ones
2. When is a good time for outdoor activities where the weather is more accommodating
3. Identify cooler zones to buy properties or rent them
4. Predict weather conditions or emergencies more accurately to possibly identify heatwaves and provide information on cooling shelters
5. Predict energy demand to build better infrastructure for cities
The solution is an AI tool that allows customers across sectors to call for their unique queries and receive personalized visualizations and insights in various formats like APIs, dashboards, maps (2D - 3D) & web or mobile apps.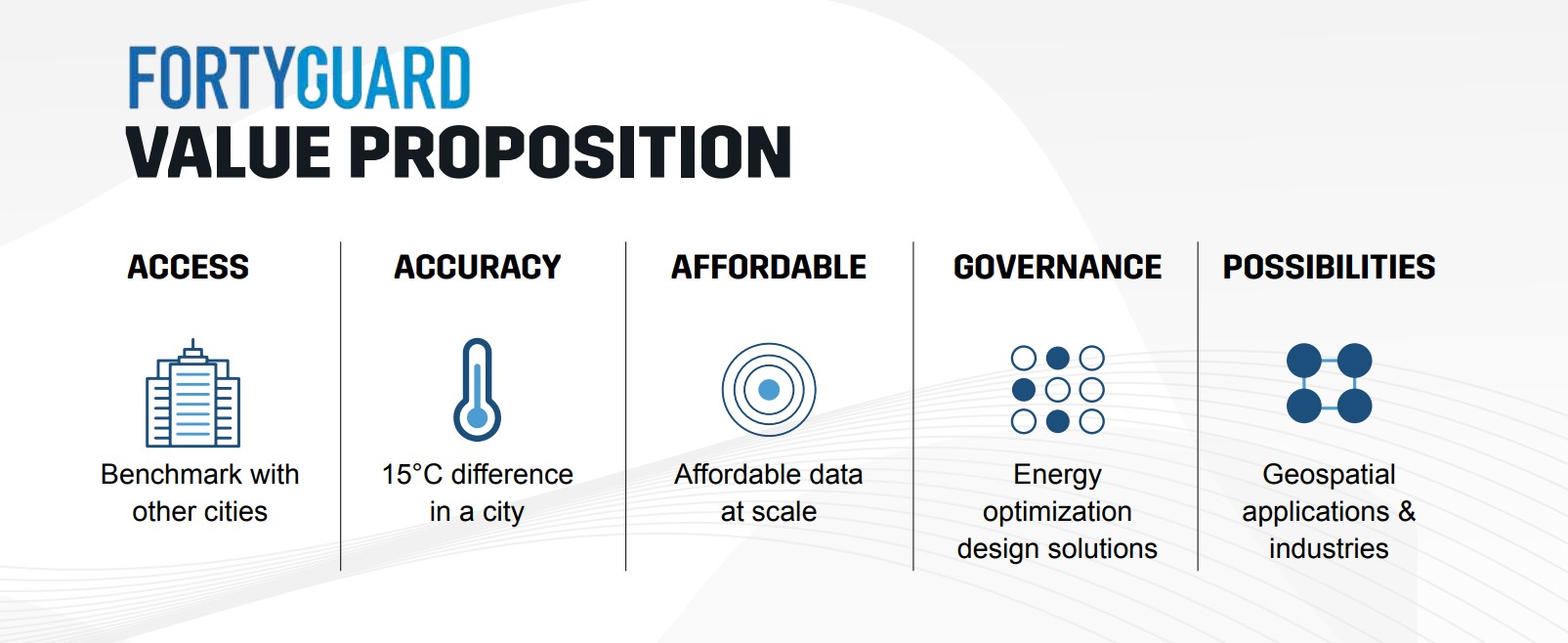 The Technology
FortyGuard has built an AI tool that allows for 1:1000 more accurate temperature data than satellites by leveraging untapped existing data sources, such as connected mobile devices, available every 1 meter square per second globally in urban areas to provide more hyper-local insights.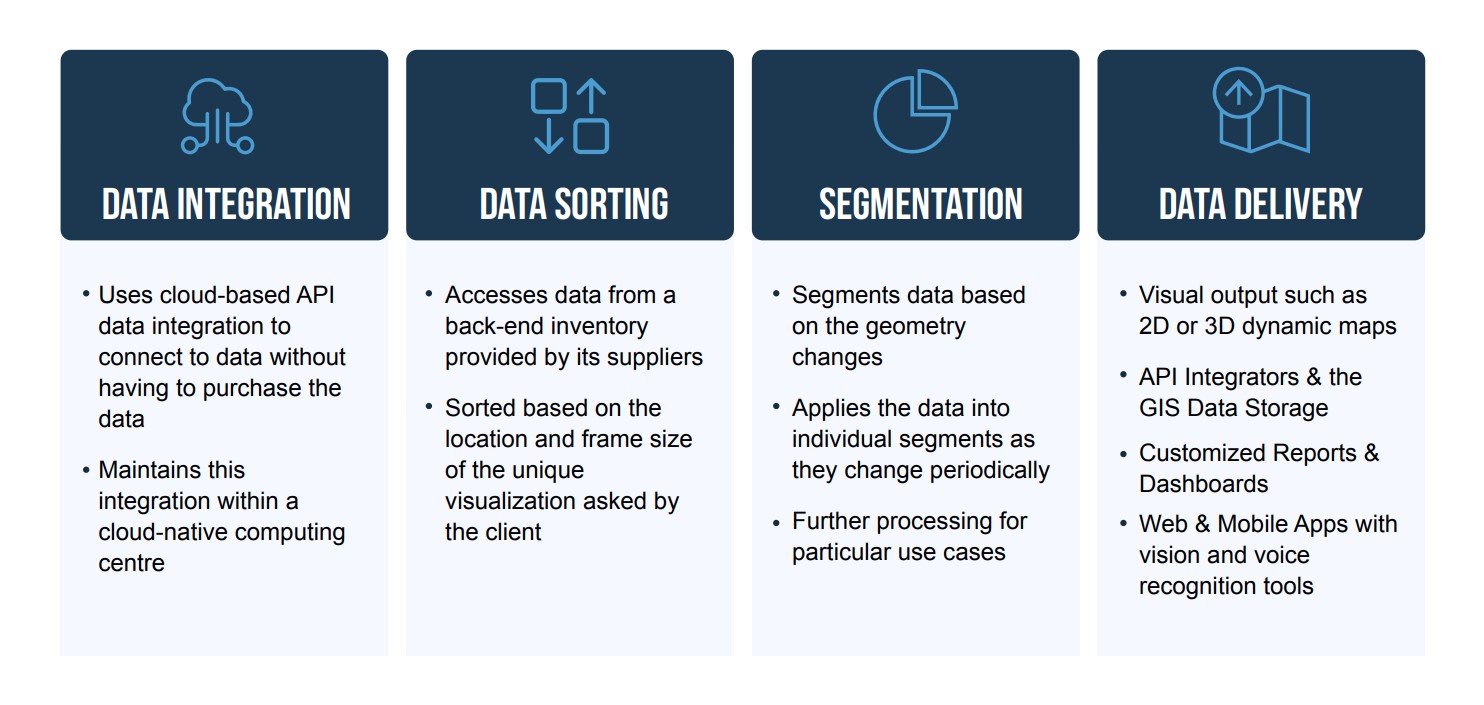 Shift to Abu Dhabi
The company started in 2020 out of Hub71 and considers its Hub71 partnership as critical in the startup's early success. Jay says, "Hub71's team has worked tremendously - like cofounders - to enable our success in the market and has also been a game-changer in our fundraising journey."
FortyGuard already has twelve clients and is commercializing its services to different sectors in 6 locations ranging across urban space, buildings, oil & gas, and hospitality. The company is working with different clients and cities across the globe to provide them with geospatial mapped data solutions and proprietary analytics to make those cities more resilient. Additionally, the startup has multiple partnerships across both corporate and academic institutions such as NYU Abu Dhabi and University of Wollongong in Dubai.
Recently, FortyGuard worked with Masdar City, a planned city project in Abu Dhabi to provide a Thermal Assessment Report. FortyGuard collected millions of data sets including hyperlocal temperature and other environmental data to run analytics and provide cooling insights for the city architects to design cooler urban spaces.
The Future
The startup has ambitious plans and is aiming to work with international tech geospatial providers such as Google Maps and Apple Weather by end of 2023 and wants to reach a point where most of the data comes from people within the next three years, by 2025. The plan thereafter would be to create a circular solution that can use personalized and predictive insights to change people's behavior as they need it. Eventually, FortyGuard hopes that its solutions will enable consumers to make more environmentally conscious choices outdoors.