Cashee-ing in on Financial Literacy in the MENA Region
Cashee, a fintech startup born with an aim to improve financial literacy among the youth, provides access to digital banking and a (pre-paid) VISA card designed for teens, who often don't have access to a bank account in the region, until they are 18 or 21 years old. Cashee is a fintech and edtech application that empowers youth to make their own financial decisions and to learn the value of money.
Brad Whittfield, Cashee's Co-Founder and CFO, shared, "I learned so much from opening a children's savings account back home in New Zealand when I was six years old. There was nothing quite like the feeling of depositing a few coins into the account and feeling a sense of pride about 'saving'." He said he wanted to have something similar in the region that could replicate many of those lessons for his own kids.
Cashee is the UAE's first regional teen-oriented banking solution. Cashee is entirely free to the customer, there is no subscription fee. Cashee is also bank agnostic, which means regardless of where these children's parents bank, children can get a Cashee account. Cashee also provides parents with both visibility and spending controls. The expectation is that controls will reduce as the teen gets older and more independent. Practical money management lessons are likely a strong selling-point for Cashee, as 80% of parents polled found it challenging to teach their kids and teens about money, despite 8 out of 10 parents polled stating that they provided their children with a monthly allowance in the form of cash.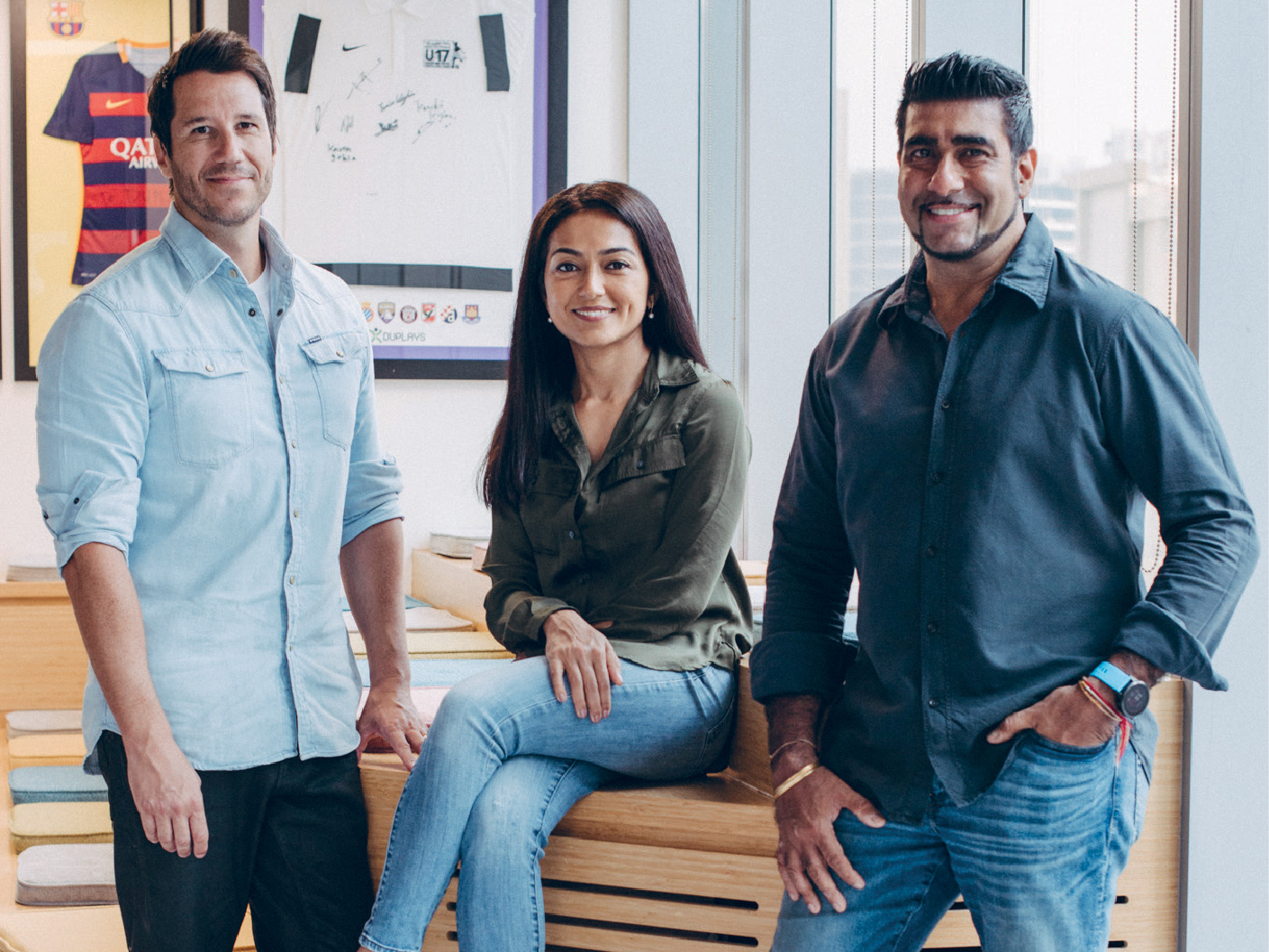 From left to right: Brad Whittfield, Co-Founder, CFO, Smeetha Ghosh, Co-Founder, CEO, Gups Jutla, Co-founder, COO
The startup recently announced its partnership with Arab National Bank in Saudi Arabia (ANB), along with plans to launch in Saudi Arabia by Q1 2023. This partnership not only gives Cashee a direct go-to-market pathway to launch in Saudi Arabia, but also involves direct investment and financing by ANB, who have become a strategic investor into Cashee. ANB acquired an undisclosed stake in Cashee, as their recent Series A funding round closed for USD $3 million. Brad says the funds will go towards Cashee's expansion into the Kingdom as the team makes their solution and products available to another market of teenagers and young adults in the Middle East. COO and Head of ANB, Aiedh Al Zahrani, says their partnership with the platform aligns with the bank's digitalization efforts as they journey into fintech and digital banking solutions.
More importantly, Aiedh hopes the partnership will drive financial education and inclusion in Saudi, which is also one of the primary goals of Saudi Arabia's Vision 2030. ANB is hopeful that digital solutions like Cashee's one-of-a-kind banking solutions for youth will encourage savings among Saudi youth and foster a culture of financial literacy in teens from a young age. Given that the youth market remains untapped, Gups Jutla, Cashee's Co-founder and COO added "In KSA, we are targeting 6-18 years old, which represents over 6 million and close to 18% of the total population."
When Cashee polled hundreds of parents in the Middle East early in its startup journey, Cashee found that parents and families in MENA are providing cash allowances to kids comparable to figures that American parents are providing their children, which averaged approximately 480 AED per month. "This was a point of interest for us," says Brad, "because there are several teen-oriented FinTech startups in America right now that are reaching unicorn status." As families in the region realize the importance of youthoriented banking and financial literacy, Cashee and ANB are positioned well to be the provider of choice for both youth and their parents.
Gups says he expected Cashee to go live in the UAE by the end of the year. When we asked Gups how Cashee's experience of launching in Dubai has been, he replied, "the UAE is a great market to launch a tech start up. With its digitally savvy population and high smart phone penetration, our pre-launch success in the UAE was really a confirmation of the need of such a product for families in this region and helped us accelerate our foray into Saudi." Brad revealed that Cashee originally targeted around US$ 800 thousand for its seed funding round, but thanks to the overwhelming response from the investor community, the team was able to explore and ultimately make the strategic decision to close the seed round at US$ 1.3 million. "We are very thankful we did," expresses Brad, "because navigating the white-water rapids of the fintech ecosystem needs a decent amount of seed funding." Smeetha Ghosh, Cashee's Co-founder and CEO, also told us that Cashee has been accepted into the Ma'an social incubator led by the Authority of Social Contribution in the UAE, a one-of-a-kind opportunity the startup may have missed out on, were it based in any other city. "This incubator focuses on startups which will have a positive social impact in the UAE," says Smeetha, "we couldn't think of a better fit for our social mission at Cashee's to drive financial inclusion and literacy amongst our youth."
Cashee has also signed other strategic partnerships this year, such as Cashee's direct partnership with Visa as part of their Fastrack Fintech Program. Alex McCrea, VP and Head of Digital Partnerships and Ventures in Central Europe, Middle East, and Africa (CEMEA) at Visa, sees access to Visa experts, technology, and resources helping Cashee and other emergent fintech's in the region critical to helping them launch with unprecedented speed. Cashee has also partnered with GEMS Education and many other school groups in the UAE, which has given Cashee access into several schools teaching children about money management in financial education seminars. The team hopes these partnerships along with their app will provide the financial basics and life skills that teens need and deserve.
Cashee now has over 92,000 app downloads and over 41,000 signups in the UAE alone. The app connects parents and children over the topic of money management, encouraging communication on money matters. "We are thinking deeply about how we can help promote concepts such as building savings and building delayed gratification resiliency in our children through the app," says Smeetha. The app offers both parents and children tracking of individual earnings, savings and spending – producing graphs as well as financial advice based on recent activities. For example, the app might ask a user to spend a little less on a particular expense while highlighting their good spending vs earnings ratio for that month.
Customers also testify to the apps' convenience of helping users doing away with carrying cash around. "It's helpful when I travel, as I can just ask my mom to send me money any time instantly and then I am good to go," says 14-year-old, Amenah Almuhairi, an Emirati teen snowboarding athlete, who is also part of Cashee's Teen Board of Advisors. Smeetha hopes the app's many features will primarily cultivate financial literacy and inclusion from a young age in the Middle East while also driving the journey of digitalization towards a cashless society. Cashee is tapping into an untapped demographic which is a population of well over 12 million youth between the UAE and KSA, with 4 million being in their teens. The Middle East region is home to over 37 million teens, making the growth potential vast; and with governments, parents, banks and youth all invested in financial inclusion and financial literacy of the next generation, it would appear a solution like Cashee's would be wellpositioned to succeed in the market.
Learn more about Dubai's Expanding Digital Startup Ecosystem in our latest special report here.