Binance on Working Towards Legitimizing Crypto through Embracing Regulation from Dubai
It's hard to imagine that Binance is only five years old. The company became the world's leading cryptocurrency exchange within a year of establishing itself in 2017, and recorded a whopping $200 million profit at the end of its second ever quarter. It seems Binance founder and CEO, Changpeng "CZ" Zhao, has never looked back since.
The global platform provides people access to a wide network of financial tools, fostering monetary freedom while maintaining the lowest fees in the business. Binance's reach now extends far beyond just cryptocurrency trading services. Binance has launched their own fintech solutions such as their own digital wallets, fintech digital payments apps, their own credit cards, and their own stablecoins pegged to major currencies like the US dollar. Binance has also invested heavily in the general cryptocurrency ecosystem from an educational standpoint, having launched Binance Academy to educate the public on all things crypto for free.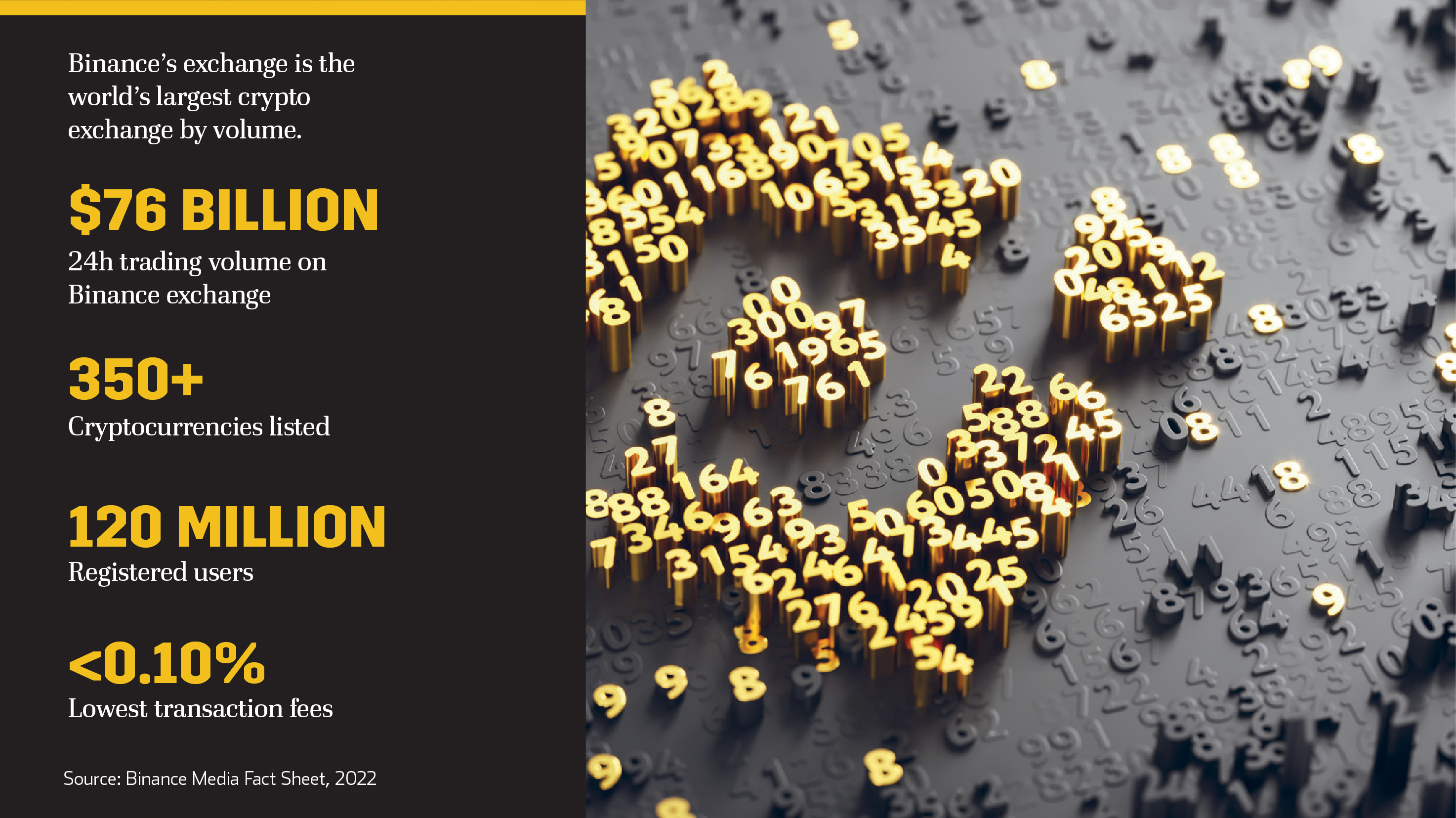 Binance also acquired CoinMarketCap. com which has served as a main crypto price tracking tool for retail investors since 2013. The crypto empire also has active projects and investments in blockchain and infrastructure solutions startups, investment and incubation initiatives for wider Web3.0 applications, as well as social good and charitable programs.
Binance recently moved their leadership to Dubai, which they believe was crucial for their future global growth. As Dubai gears up to become the world's digital assets hub, it only made sense for the world's largest crypto-exchange to find home in the digital economy capital of the world. "There is huge untapped depth in the local as well as regional market for crypto and other digital assets, and we are glad to be among the first movers to ride the growth wave," says Alexander Chehade, General Manager for Binance FTZE in Dubai.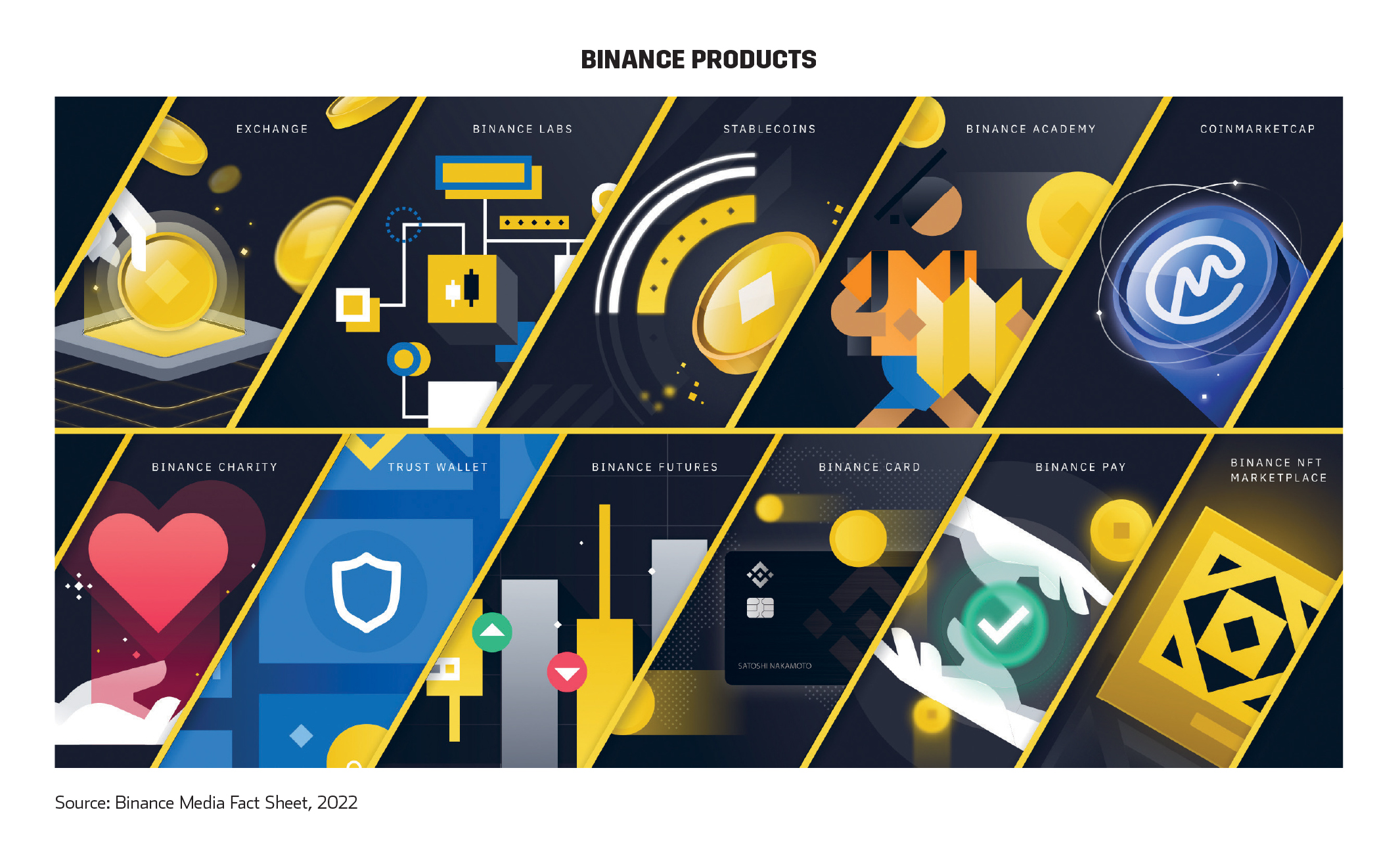 MENA has become an important hub for virtual assets and adoption due to government initiatives that support the industry, particularly cities like Dubai that have made it clear they want to become the blockchain and crypto capital of the world. Greater crypto adoption aligns with many local governments' aims to keep pace with regional and international changes to foster innovation and economic competitiveness. October saw a 49% increase in Binance's user sign up year-to-date across the Middle East as well as the recruitment of 400 employees in Dubai alone, a very proud and significant milestone for the whole team.
In the UAE's well-regulated crypto market, Binance is working with regulatory bodies to obtain the necessary licenses and is helping to shape policies that adequately protect consumers, encourage innovation, cultivate progress, and move the industry forward. The company received its Minimal Viable Product (MVP) license from Dubai's Virtual Asset Regulatory Authority (VARA) in September this year, meaning that they can now offer an approved range of virtual asset related services to suitably qualified retail and institutional investors in Dubai. They also received a Financial Services Permission (FSP) from the Financial Services Regulatory Authority (FSRA) in the Abu Dhabi Global Market (ADGM) and can now offer custodial services to professional clients in and from the ADGM.
The MVP license itself is a major milestone that attests to Binance's desire and commitment to be a regulation-led platform with robust compliance and security controls that has consumer protection and market integrity at its core. Alexander explained, "We appreciate that VARA and any of the government entities in the UAE aim to strike an effective balance between value creation and risk mitigation, enabling open market innovation while assuring protection for users. This fully aligns with our own views on the role of regulation in advancing adoption and trust in our industry, and therefore it is fantastic that Binance is recognized as a select global player committed to responsible industry participation and an active contributor to Dubai's objective of creating a next-gen secure ecosystem for this future economy."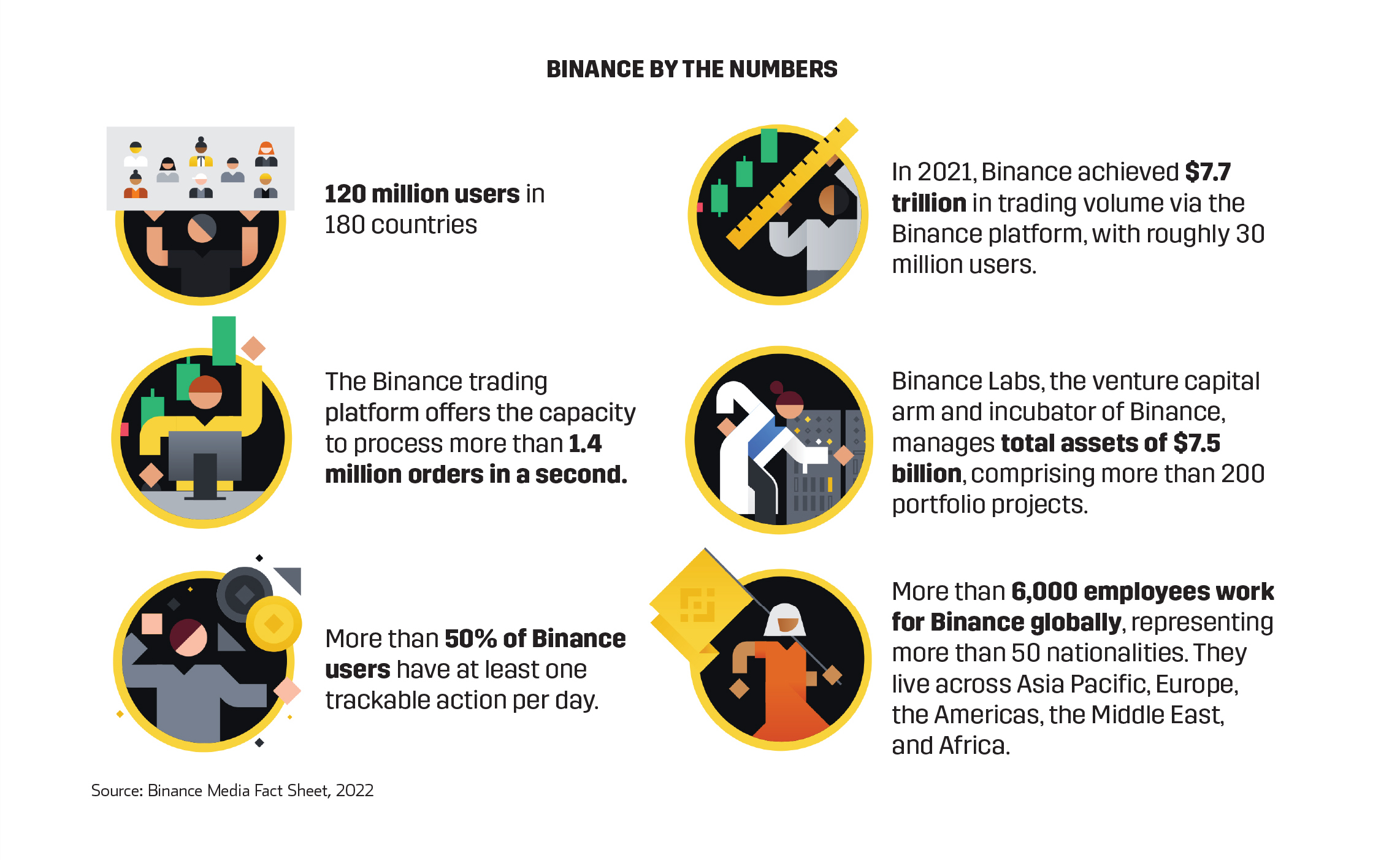 As front runners in the Web3 ecosystem, Binance seems to have taken a collaborative approach with global regulators and government bodies. Binance seems committed to sharing best practices and supporting regulatory formulation of jurisdictions aimed at developing a best-in-class framework to shape the future of regulation. Their work with the UAE and Bahraini governments represents a forward-looking public-private partnership supporting innovation and growth while assuring that risks are thoroughly addressed and consumers are adequately protected. In an interview CZ gave to Entrepreneur Middle East a year ago, he shares, "There are many advantages for us to embrace regulation now. I think that today, most people have probably heard about crypto, but probably less than 2% of them have some kind of crypto and those are the early adopters, who are willing to put, like, their savings into a website that's located offshore, with no office space, no licenses, etc. But the majority of people won't do that – they will trust a platform that's licensed by a government regulator more. As such, having licenses will allow us to access the 98% of the market we can't access today." This sentiment likely explains why Binance has been on a targeted hiring spree as of late, bringing onboard senior Chief Compliance Officers, Chief Regulator Liaison Officers, and CEOs of various global regulatory bodies onto Binance's team here in Dubai.
As for the next area of focus for Binance, it seems to be to drive further B2B crypto adoption. B2B adoption of crypto is certainly growing in interest, but many businesses are still quite early-on in their journeys and buy-in is still in its nascent stages. Binance has taken it upon themselves to coach these businesses on how to do KYC, monitor transactions, list wallets, and the like with a view to pushing safe adoption forward. "The strategy is about making the crypto industry bigger," says CZ. "We are happy to be a facilitator and collaborate with institutions, fund managers, corporates, family offices, and high net worth individuals to share our knowledge and best practices on proper custody."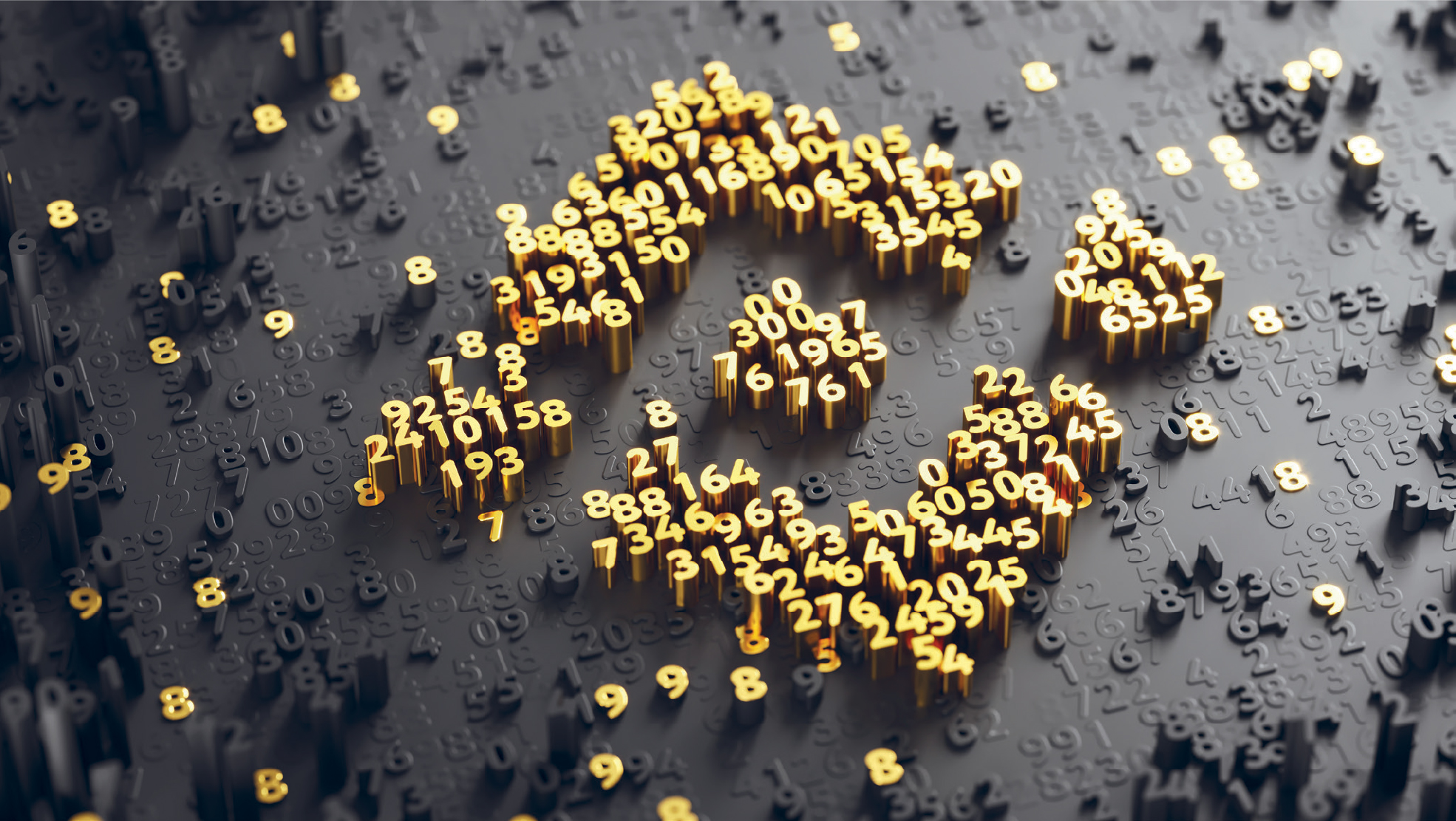 Learn more about Dubai's Expanding Digital Startup Ecosystem in our latest special report here.