The Strategic Drivers for fintech in KSA
Compelling macroeconomics, demographics, tech-adoption rates and user behaviors should get global fintech entrepreneurs and investors curious about Saudi Arabia; but it's the concentrated and coordinated financial, regulatory and structural drive to develop a fintech industry spearheaded by the Saudi government that provides ample food for thought. So what are these strategic drivers propelling Fintech forward in the Kingdom?
What's Driving Fintech in Saudi?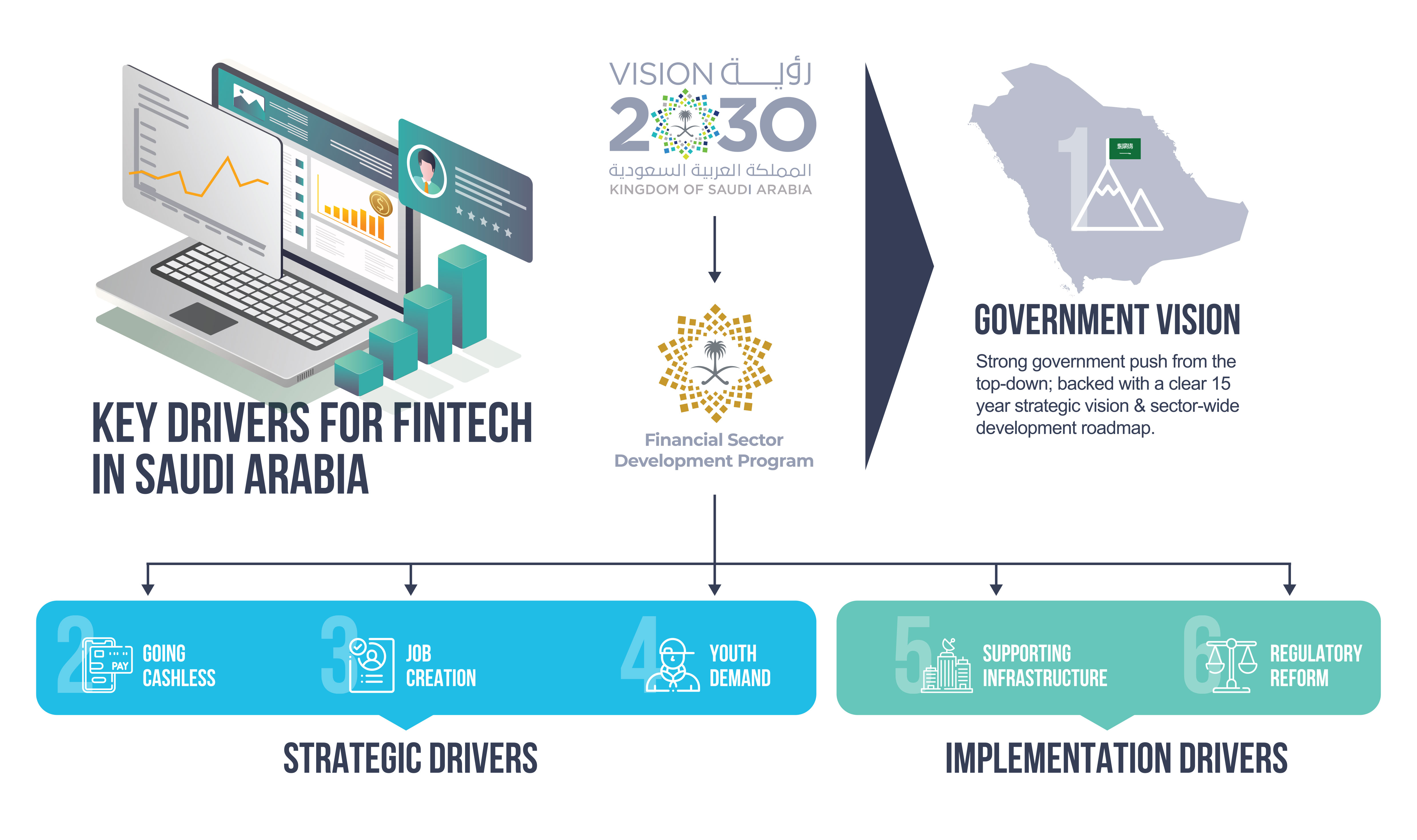 [DRIVER 1] The Saudi Vision 2030: A concentrated Rocket Boost for the Saudi Fintech Industry
The Saudi market was officially primed for Fintech in 2016 when the Kingdom of Saudi Arabia launched the Vision 2030: an ambitious 15-year strategy to diversify the Kingdom's economy away from oil dependency and create a vibrant society and country for people to come and live, work and play in. A key driver for Vision 2030 is economic stability and prosperity, which has led to the Kingdom opening up to foreign investment and entrepreneurship. The Kingdom has been busy cultivating a more supportive business climate for all industries – but considerable effort has been placed on the entrepreneurial and Small & Medium Enterprise (SME) business segment.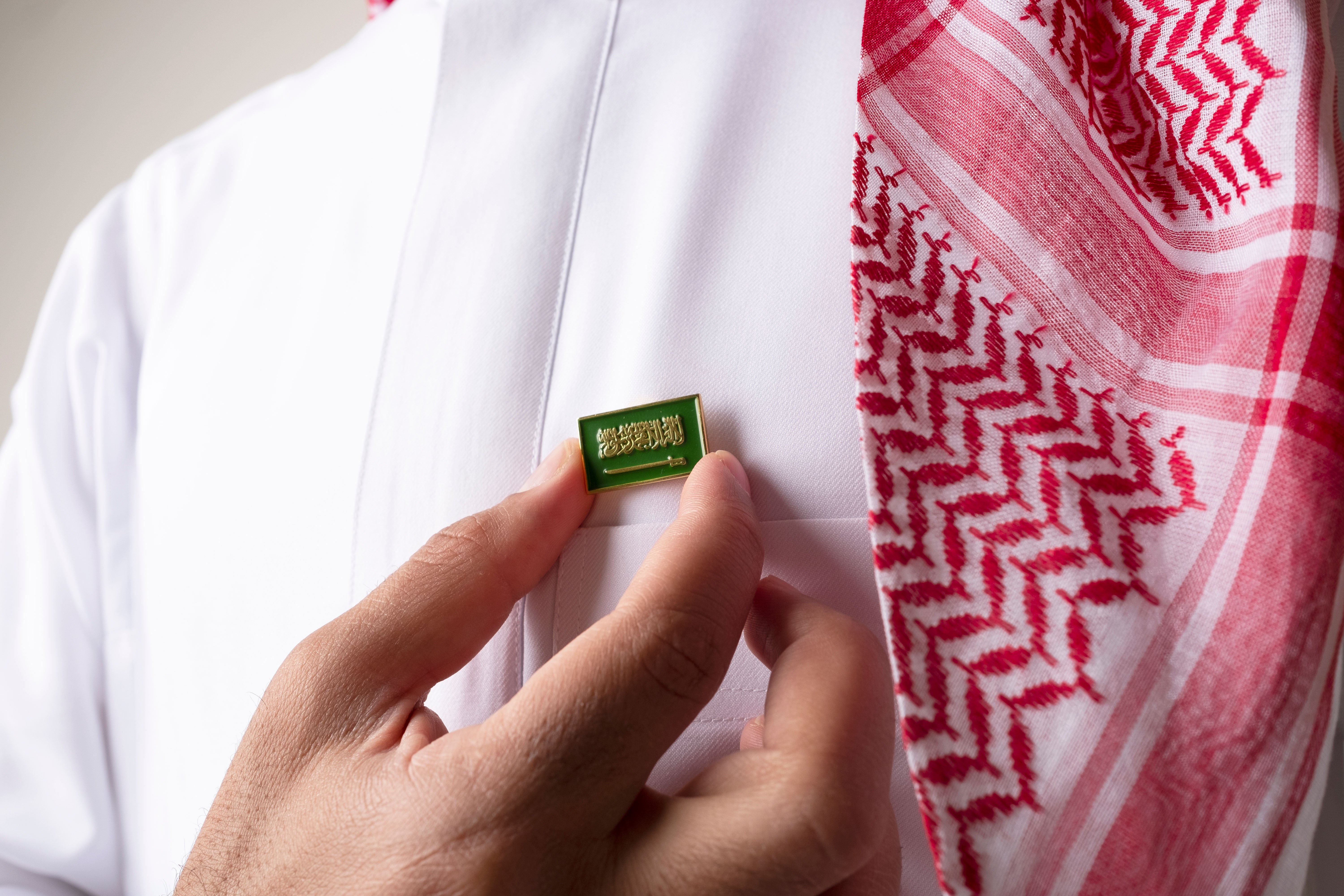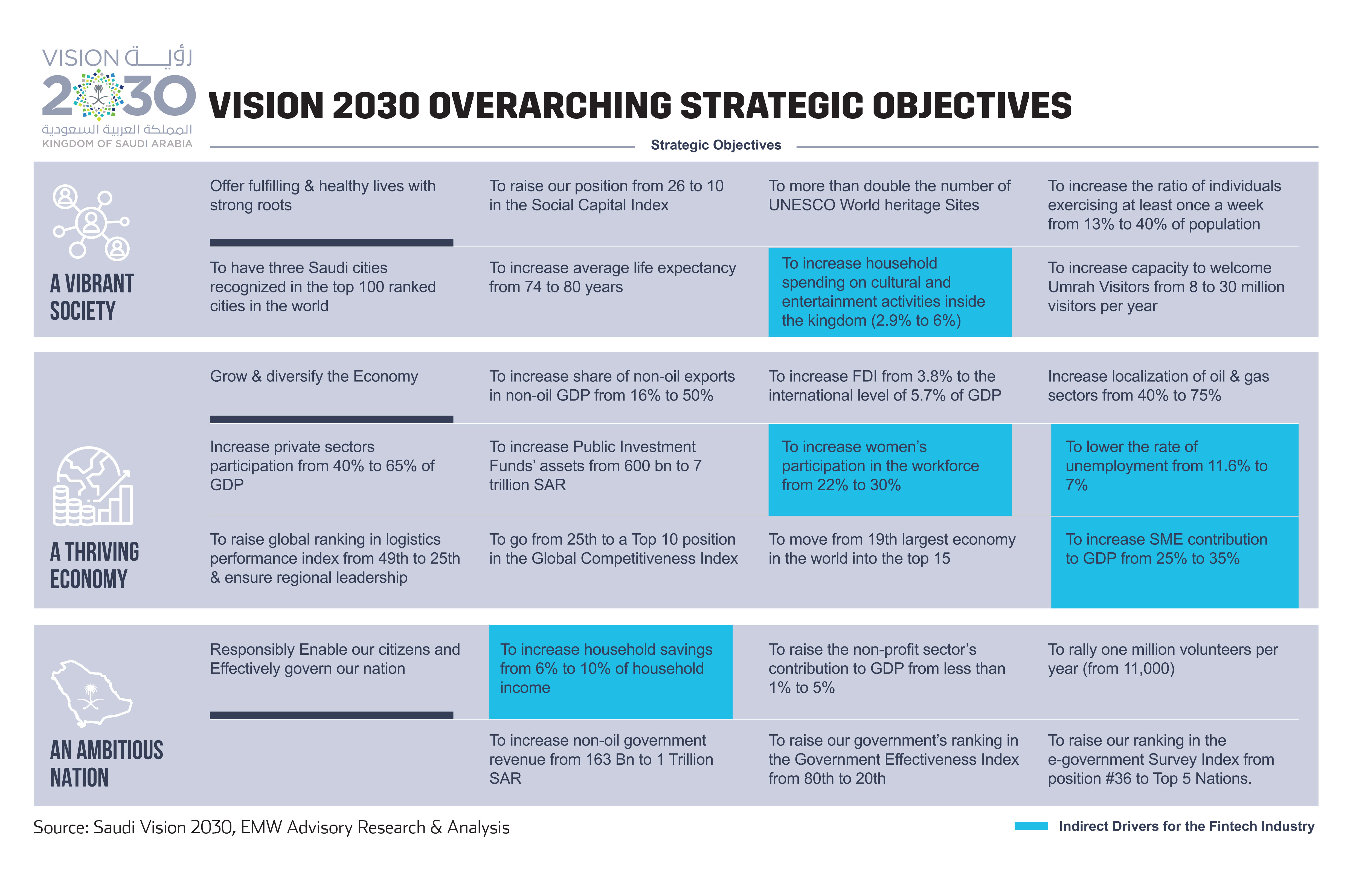 Last year, the Kingdom moved up 30 places in the World Bank's Ease of Doing Business Index 2020, placing overall 62nd out of 190 countries (coming out just ahead of India), making the Kingdom the top improver last year. In the region, Saudi still has some catching up to do with the United Arab Emirates (ranked 16th), and Bahrain (ranked 43rd), but has the clearest strategy out of the GCC in working towards closing the gap.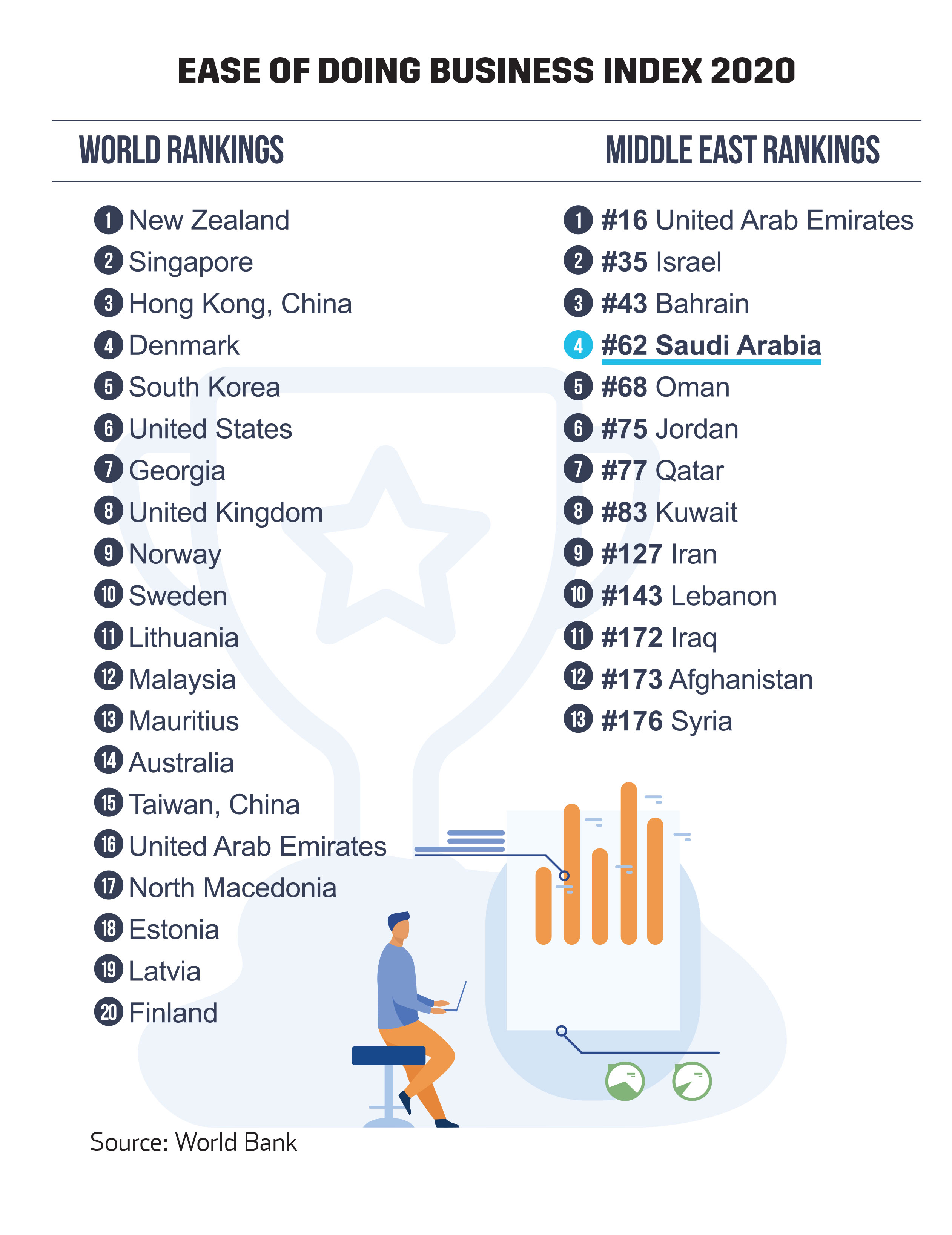 [DRIVER 2] The Kingdom's Cashless Ambitions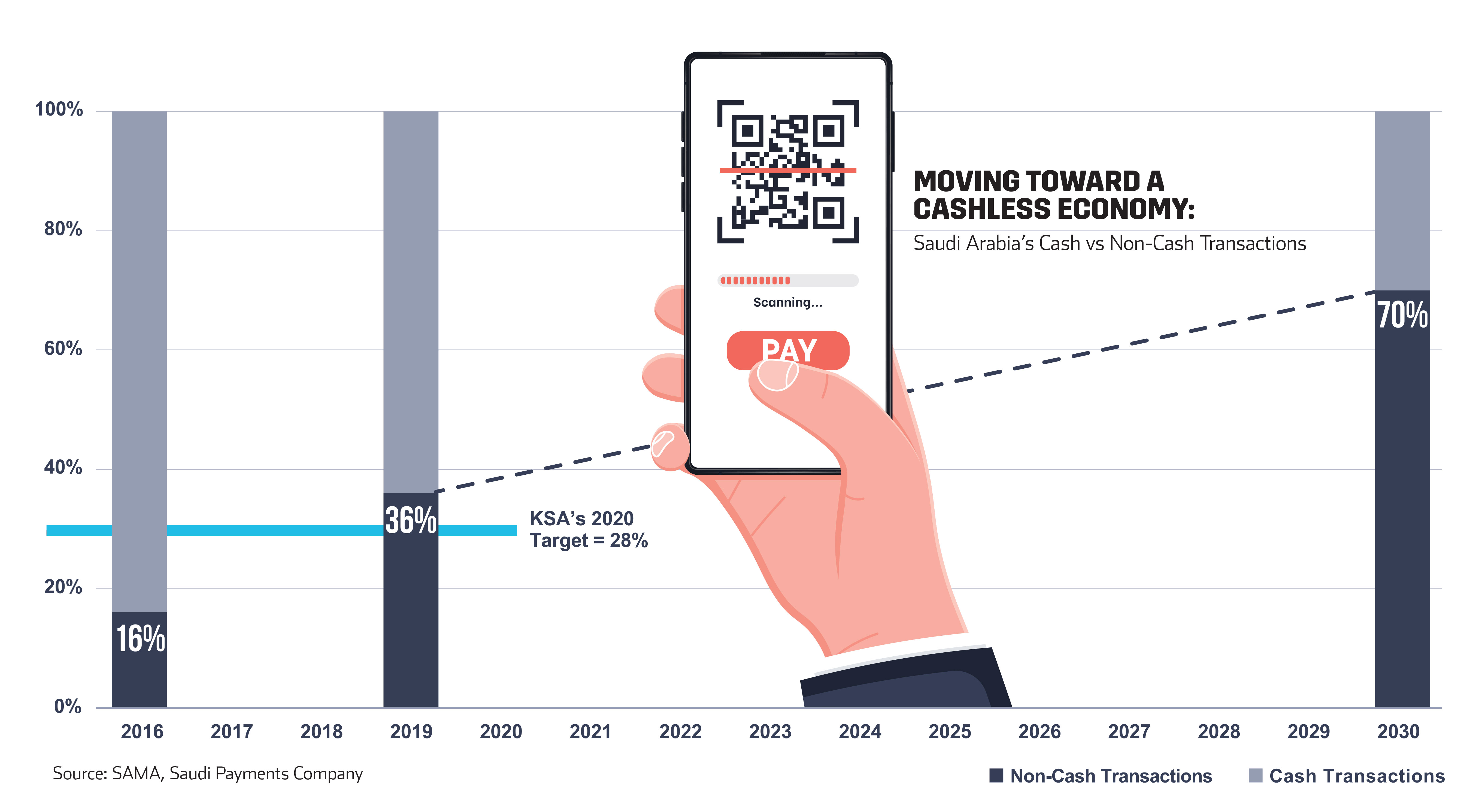 Saudi Arabia moved up 30 spaces from 92nd to 62nd position in 2020 in the Ease of Doing Business Index, making Saudi the most improved country in that year.
Within the robust Vision 2030, the ambition for the Kingdom to become a cashless economy is set out as a key strategic objective of the Financial Sector Development Program (FSDP). The Kingdom aims to achieve 70% non-cash (ie. Digital, Credit Card, etc.) transactions by 2030. In 2016, 16% of all transactions in the Kingdom were noncash. By the end of 2019, 36% of all transactions were cashless transactions14, exceeding set targets. Targets such as these, clearly articulated by the government have been positive rocket-boosters for the Saudi Fintech industry, as it provides a clear roadmap for entrepreneurs to build companies and products that address the key needs and objectives of the Kingdom. In 2021, the Central Bank of Saudi Arabia (SAMA) announced that Saudi Arabia had the highest adoption of NFC contactless payments in MENA; at 94% adoption, this rate was higher than the European Union average and higher than Hong Kong and Canada.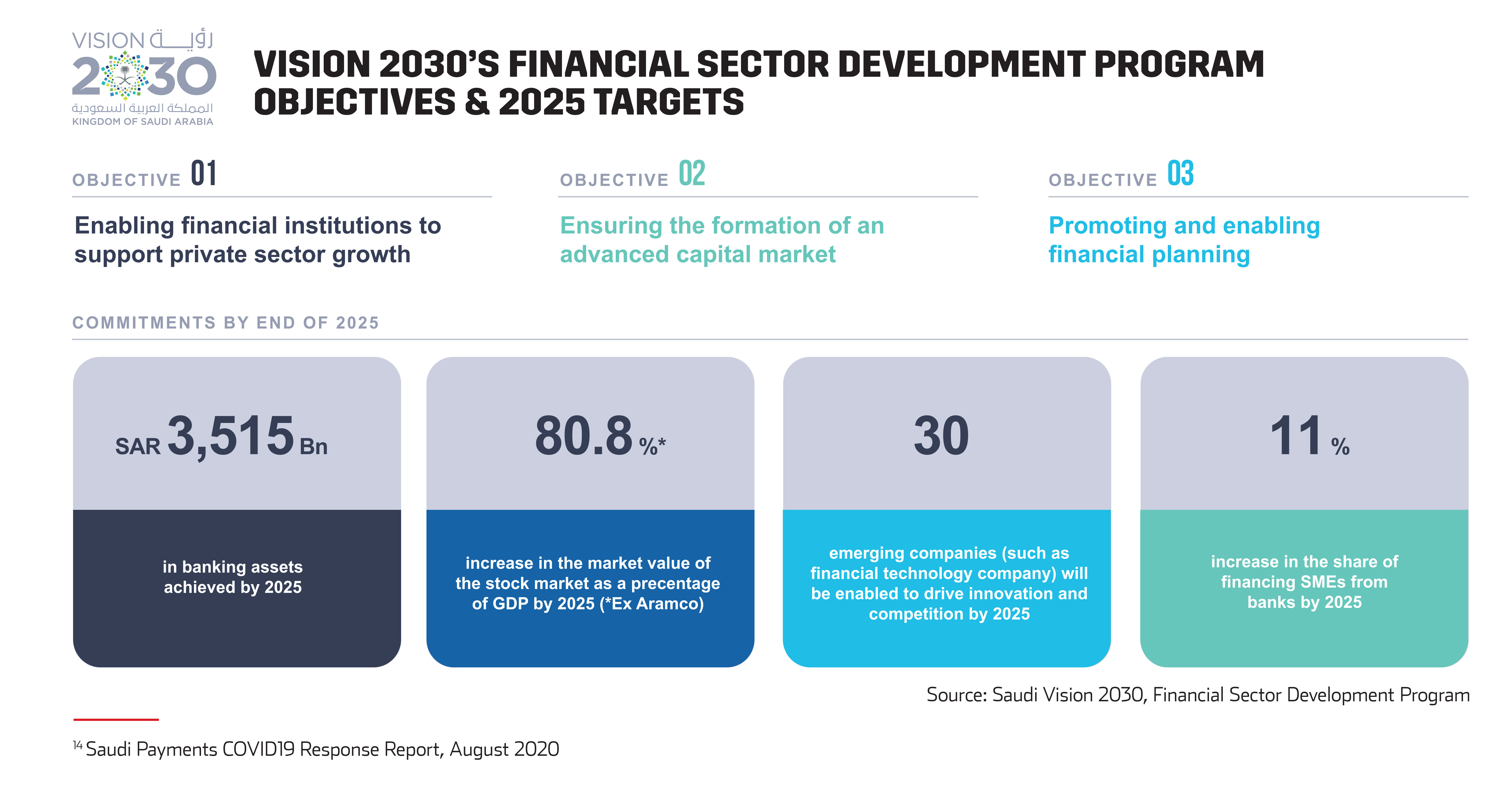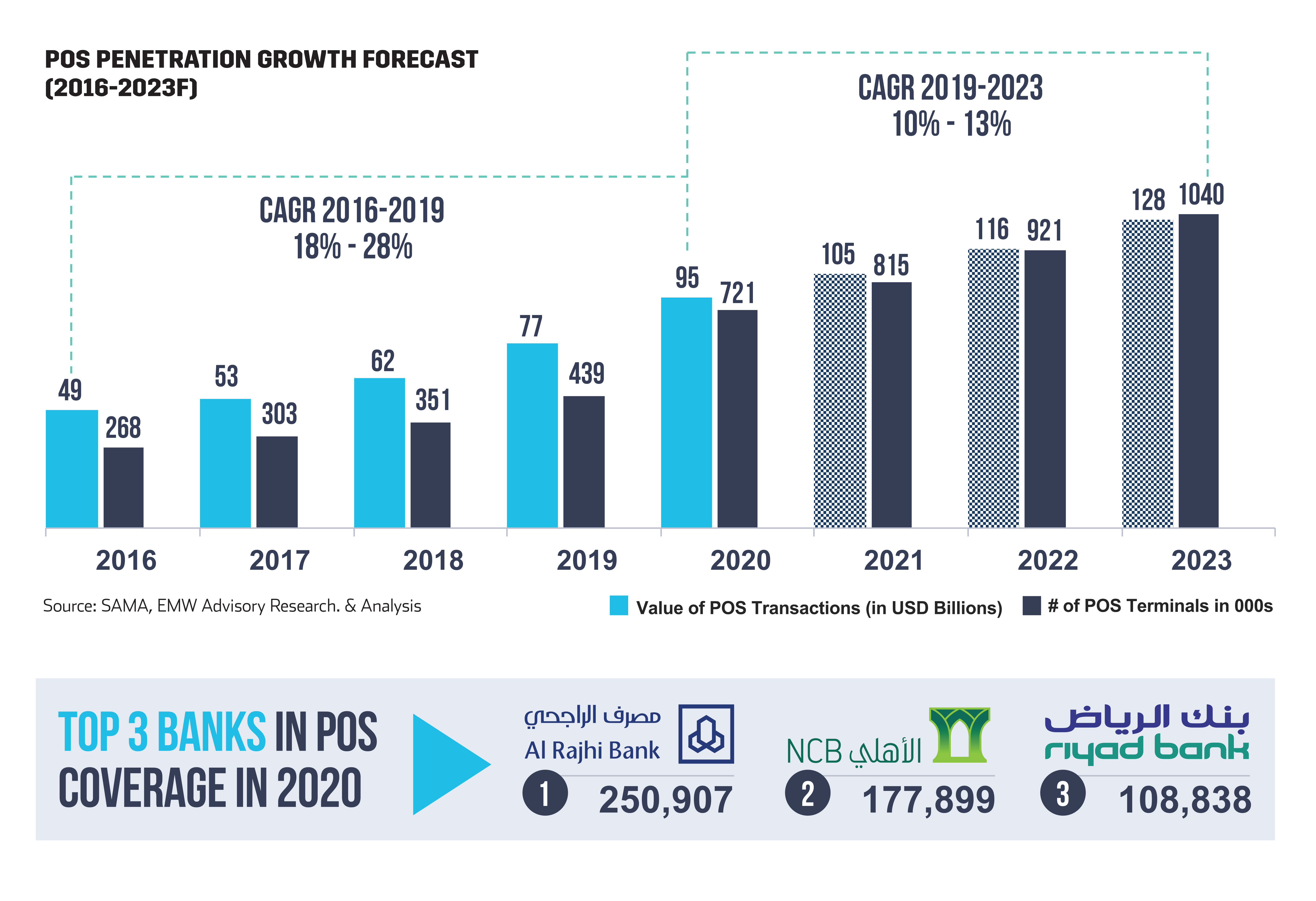 Going cashless is also the most efficient way to tackle challenges such as money laundering and to ensure the efficient collection of taxes. The Kingdom has implemented a 5% VAT for the very first time in the country's history in 2018, along with a few neighboring GCC countries; thus are even more incentivized to digitize transactions for better tracking and monitoring. In late 2019, POS systems were mandated by the government to be installed in all gas stations; further POS system roll outs are to be expected to 2025. 
An independent study in 2018, commissioned by Roubini ThoughtLab and Visa, examined the economic impact of increasing digital payments in the city of Riyadh. This was defined as "the entire population of Riyadh moving towards achievable levels of cashlessness, defined as digital payments usage across the population mirroring the current level of digital payment usage for the top 10% of its users in 2018.": 
A net annual benefit SAR 25.12 Billion
11.6% increase in GDP by 2030
1.2% rise in employment by 2032
Government saves SAR 10.1 Billion from increased economic growth and administrative efficiencies
[DRIVER 3] The Desire and the Need for Job Creation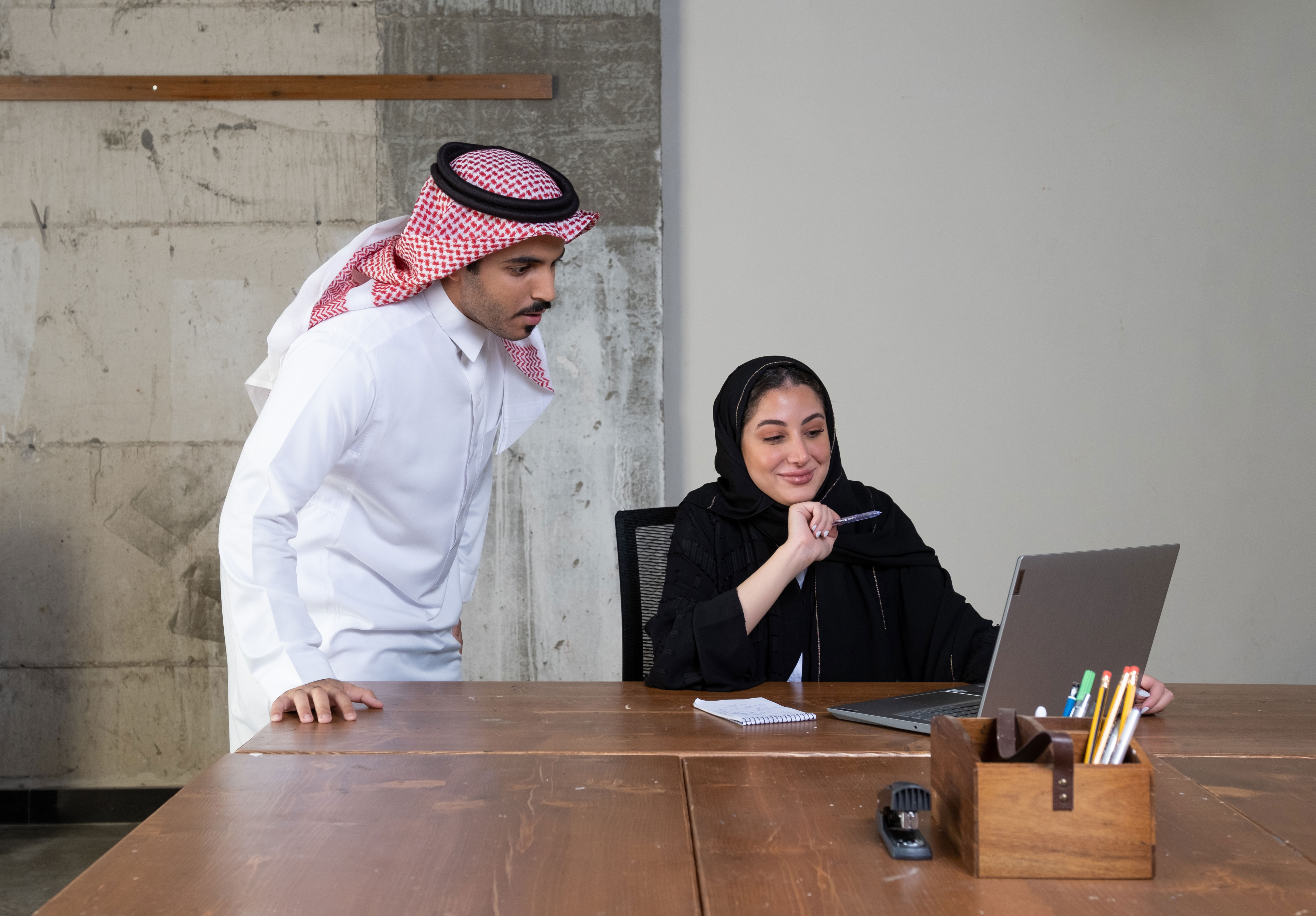 A key requirement for the Kingdom's Vision 2030 is a comprehensive digital transformation across all industries. This can also be seen in the government's drive for the Kingdom to become a largely cashless economy. The hope is that a Kingdom-wide digital transformation will not only speed up economic growth, especially in non-oil sectors, but will also create future jobs in new industries such as tech, lowering unemployment rates which have been hovering between 12% and 13% for the past 5 years15. The COVID19 pandemic also did not help, pushing the Saudi unemployment rate to a high of 15.4% in Q2 2020, before lowering again. Q1 2021 showed signs of positive growth, when the unemployment rate fell down to 11.7%, a 5-year low.
In 2018, the construction sector constituted 45% of all private sector jobs, a sector considered largely unattractive to youth in Saudi. The Vision 2030 was created, in effect, by a youthful Crown Prince with a sense that it is for the youth, by the youth. Not only does the reforms look to bring a more moderate Islam into effect, but the reforms look to modernize the Kingdom by opening up entire sectors that previously did not exist, further creating attractive jobs for Saudi's young population. This includes the opening up of general tourism (on top of growing the existing religious tourism around Hajj and Umrah) with massive investments in developing UNESCO world heritage sites and tourism infrastructure such as hotels and transport infrastructure. Furthermore, entertainment, which was largely banned in a more conservative Saudi Arabia is an entire industry spanning music concerts, large-scale events, amusement parks, cinema, e-gaming and sports – the list goes on; the potential for the Saudi entertainment industry is massive, and forecasts predict that the industry will grow to be worth US $1.2 Billion by 2030, growing at a CAGR of 47.7% between 2020-203016.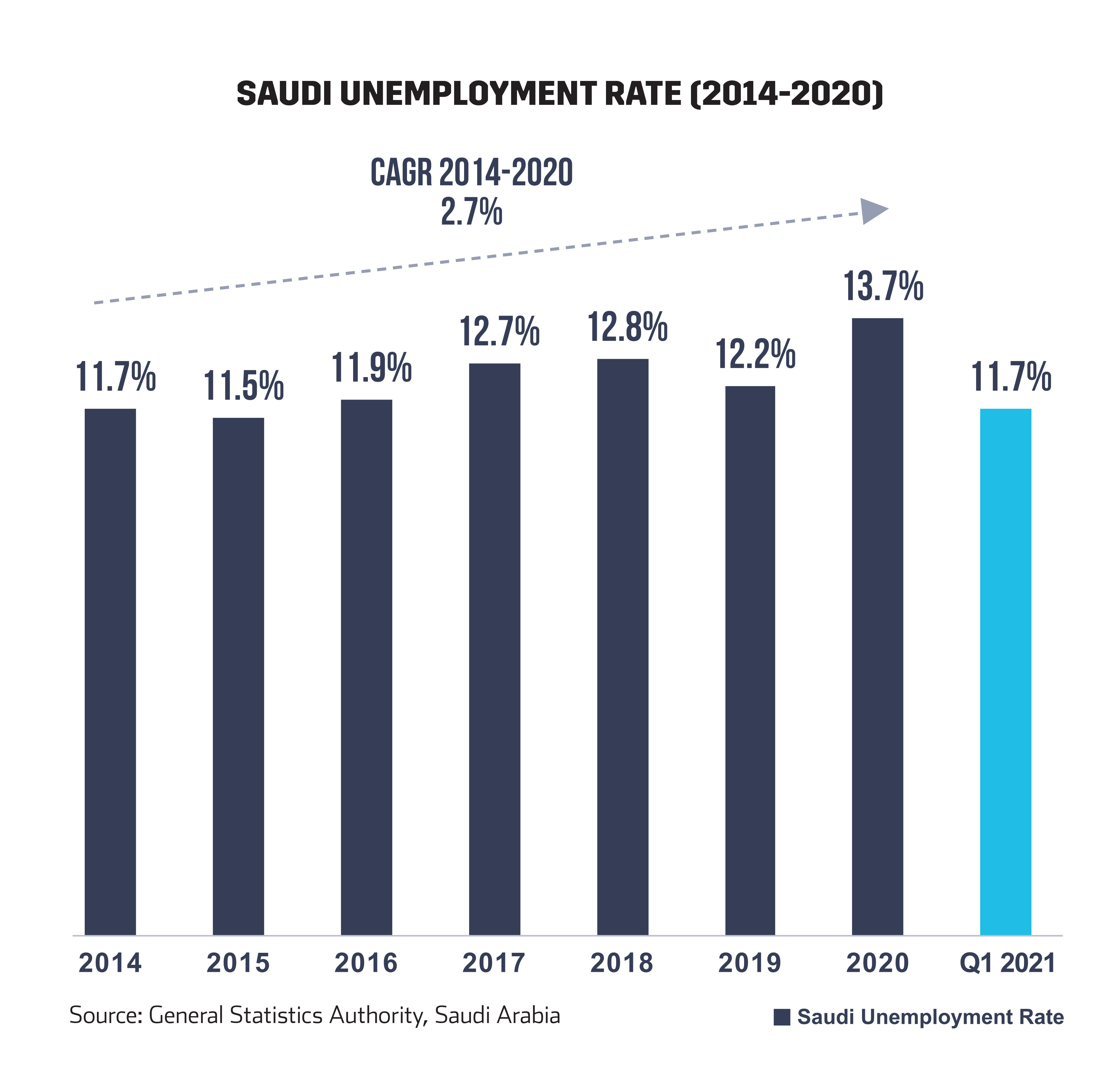 The Kingdom needs to accelerate the creation of these industries and the attractive jobs that come with them, because the supply of eager young Saudi's looking for interesting work is multiplying. With modernization of the Kingdom, there has also been a concerted push by both young Saudi women and the government to increase female participation in the workforce; this has meant that a previously predominantly male-only workforce has turned into an economy where 32% of women are working. Compound this with the fact that the Saudi population is very youthful (67% of the population being under 35 years old) – this means that a growing wave of Saudi men and women will be looking to enter the workforce in the coming years.  
In effect, the Kingdom would have had to dramatically grow the economy to create jobs just to meet the demands of the young graduating population of Saudi men. Add women, and the number of jobs that need to be created nearly double. Thus, the Kingdom must look to at least double, if not triple their economy in the next 10 years to ensure unemployment lowers. This is no small task, and this is why the Saudi Youth are a double-edged sword for the Kingdom. On one hand, the youth are the key driving force behind a modernizing and thriving Saudi population; but, this youthful population must also work in a way that their parents did not. Many Saudi youth will have to create jobs for themselves and their generation via entrepreneurship, and this is why the Saudi government is investing heavily in entrepreneurship, SME infrastructure, and in attractive industries such as Fintech - in order to contribute to the massive job creation task at hand.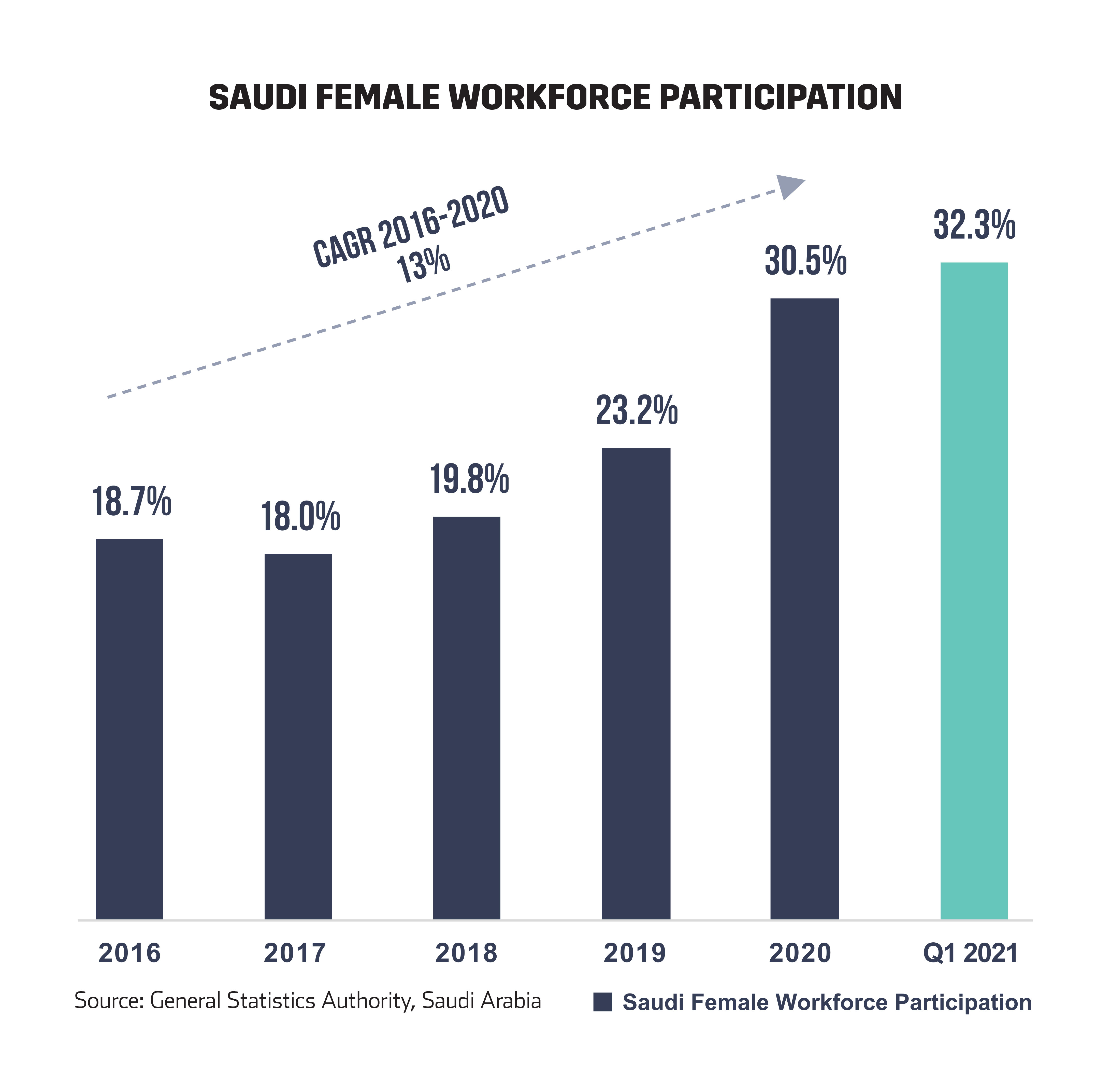 [DRIVER 4] A Youthful Population Demanding Convenience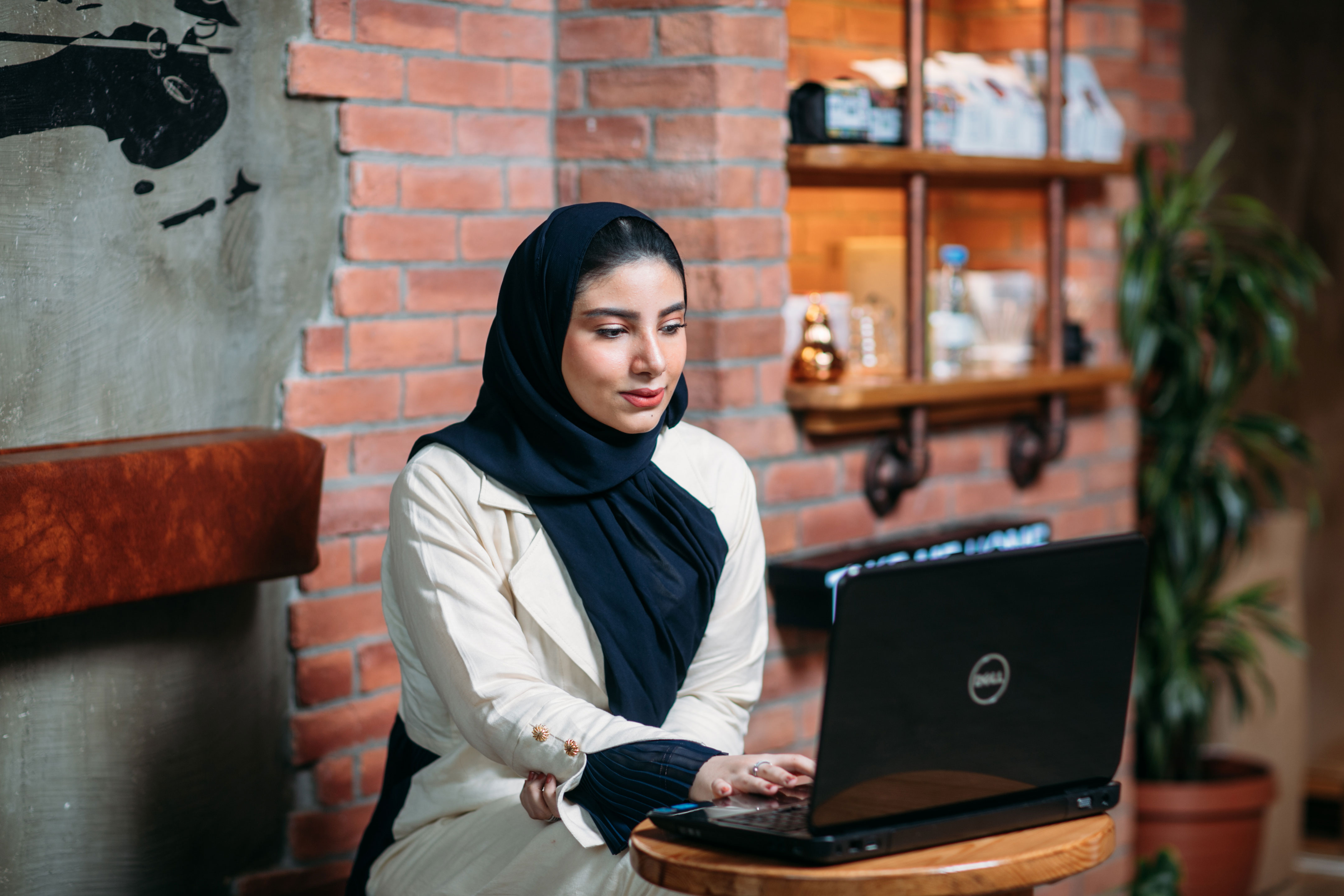 Saudi's young and generally wealthy population is digitally savvy, and convenience hungry. Nine out of ten Saudi consumers are searching for ways to simplify their lives, and 88% are willing to pay money to save time17.  They are the largest consumers of Youtube.com per capita, and crave the technologically advanced products they experience when they work or live abroad. This is fueling the dramatic push for entrepreneurship in the Kingdom, and the government is raising significant funding to back start-ups that already have a proof of concept outside the Kingdom and can be quickly iterated and implemented to fit local Saudi customer needs. 
Apple Pay's success can be largely attributed to the demand expressed by Saudi's youthful population. Three months after launch in February 2019, 92% of all retail merchants had POS devices that accepted Apple Pay due to the strong adoption in the country (See Case Study). When Apple Pay launched in February 2019, the split between ATM cash withdrawals and POS payments was roughly 50-50%. One year later by March 2020, cash withdrawals declined almost 20% while POS transactions increased to take nearly 70% of the total volume. In 2020, the number of POS transactions reached 2.8 billion transactions, a 75% jump compared to the previous year, while cash ATM withdrawals fell by a third.