Tamara is Helping to Solve the Cash-on-Delivery Challenge for Saudi eCommerce Merchants
Tamara is a relatively new kid on the block, amongst MENA fintech start-ups, having only been established in 2020 amid the COVID19 Pandemic; but it's already making some big waves – not just in the Saudi fintech community, but the larger MENA start-up ecosystem. The company is a payment solution provider, which allows customers to split in 3 or 6 easy payments without any hidden fees or interest. It was the first Buy Now Pay Later (BNPL) company to be issued a testing permit in the Saudi Central Bank's Regulatory Sandbox in 2020, and that head-start has given them a leg-up on incoming competitors. Today, Tamara is the MENA region's fastest-growing provider of the Buy Now Pay Later industry, with its user base up ±180% month on month (MoM) and transaction volume growing ±170% MoM on average over the first 6 months of 2021. Tamara's base of over 1,200 merchants at the beginning of 2021 includes major partners like Namshi, SHEIN, IKEA, Floward, Faces, and many more.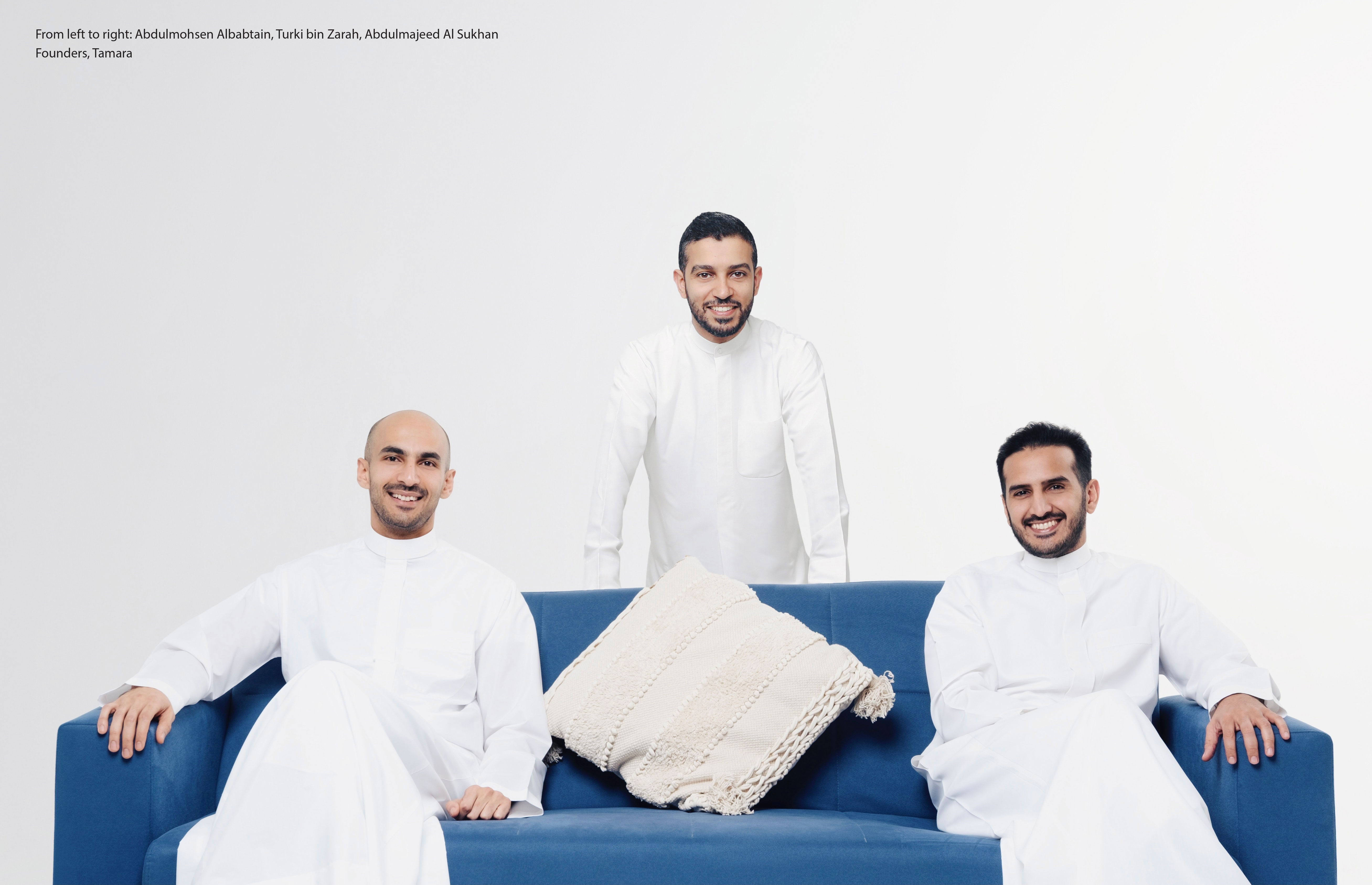 Tamara was founded by three Saudi partners, Abdulmajeed Alsukhan, Turki Bin Zarah, and Abdulmohsen Albabtain. The company's origins started with a seed round of $6 million USD in 2020, which is the largest seed investment in the Kingdom to date, nearly doubling the previous record set by another Fintech player, Lean Technologies, which had raised $3.5 million USD. The $6 million raised was also the largest Seed Round fundraised by a MENA fintech to date. The Seed Round was led by Saudi Venture Capital firm Impact46, but also included investors such as Vision Ventures, Wealth Well, Seedra, Khwarizmi, Hala, Nama, and several Saudi and Regional Family Offices. This Seed funding was raised to help Tamara expand its operations in Saudi Arabia. 
Tamara continued to set records into this spring, when the company fundraised the highest Series A round recorded in the Middle East and North Africa for a Fintech player, raising $110 million USD in April 2021, led by checkout.com. The $110 million USD cash injection, comprised of both debt and equity, will be used to quickly scale the payment solution company, which is currently on a hiring frenzy as they attempt to make a wide-scale Middle East and North Africa play, with a clear focus of expanding into the rest of the GCC markets by the end of 2021, considering they are already live in Saudi Arabia, UAE, and Kuwait markets. The team is expanding their reach, not just organically, but through partnerships with other payment solutions providers such as Salla, which is a payment and logistics service provider to over 10,000 online store owners; Salla facilitates the backend payments for small businesses in Saudi Arabia in a similar model to global giant, Shopify.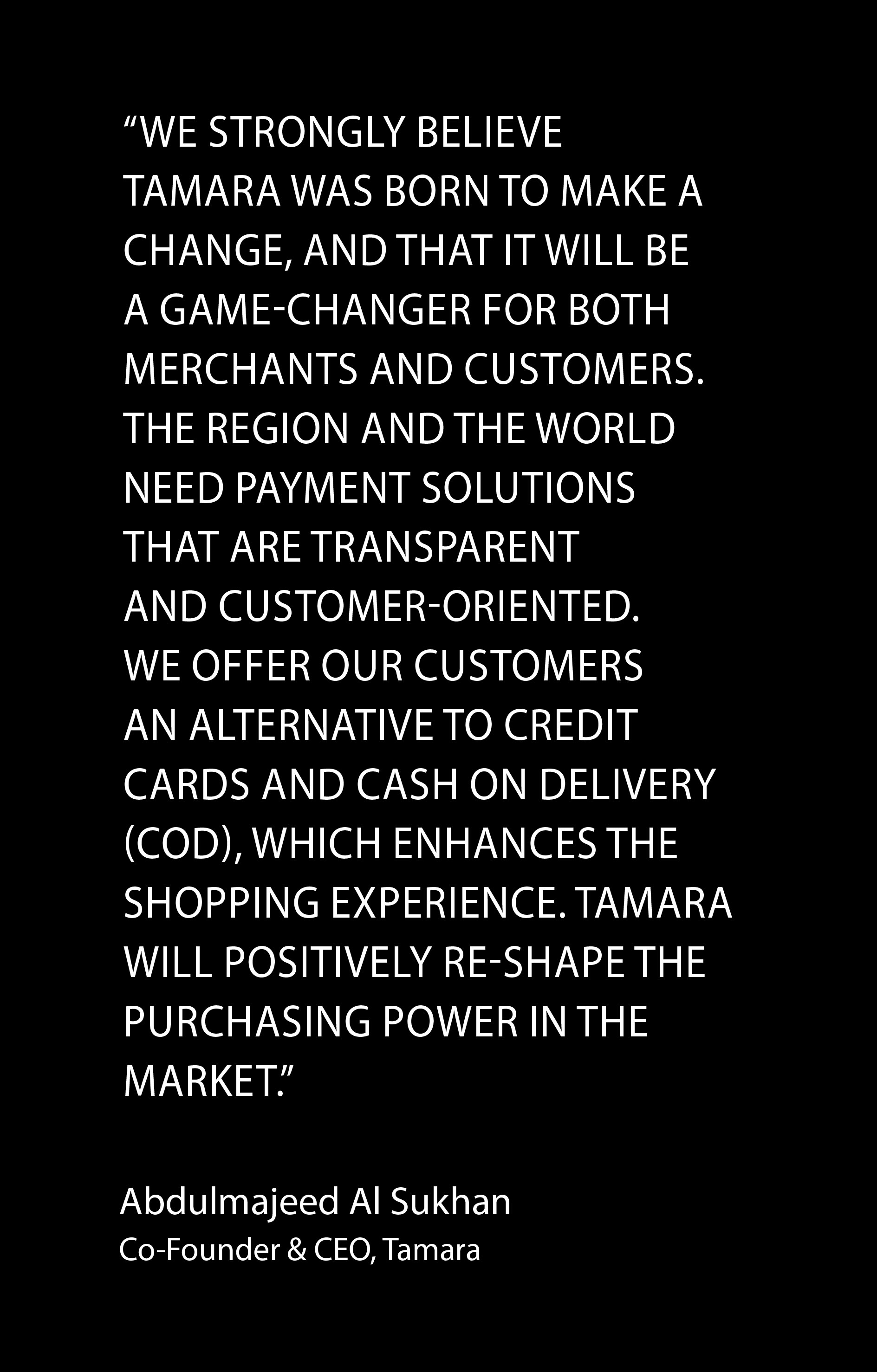 Tamara is able to ride the growth of the eCommerce boom in the region, and merchants seem willing to pay for such a service – not only to provide customers with more payment options or because customers will often spend an average of 41% more in total order value, but because Tamara seems to be solving a critical challenge for eCommerce players: the dreaded Cash-on-Delivery problem. Cash-on-Delivery (CoD) has been a very common method of payment in Saudi Arabia, UAE, and Kuwait which comes with it a host of challenges, especially when customers are not at home when items are delivered, or when customers are home but don't have cash on them. This causes inefficiencies and high logistics costs on the eCommerce and last-mile delivery players, as they often must make trips twice to complete delivery and collect payment. By offering Tamara's BNPL service, Tamara pays the merchant the full cost of the product immediately and directly, removing any collection issues.  It is in fact this pain-point that Tamara is relieving that is a major driver behind the region's largest brands signing up with Tamara, one by one: IKEA, Abdul Latif Jameel, Namshi.com, Chalhoub Group, and the list keeps growing.