How Dubai's First Insurtech Startup, Sehteq, Reimagined Health Insurance to Achieve $47 Million in Revenues in 3 Years
Sehteq comes from the combination of "Seha", Arabic for health, and "teq" for technology. They follow in the footsteps of many startups in MENA that have opted for catchy names that come from the English transliteration of easy Arabic words related to their business (think Talabat and Zbooni to name a few). The digital health insurance startup was launched in 2017 by husband and wife duo, Saif AlJaibeji and Noor AlKamil to provide affordable health insurance plans to individuals, companies, and SMEs in the UAE.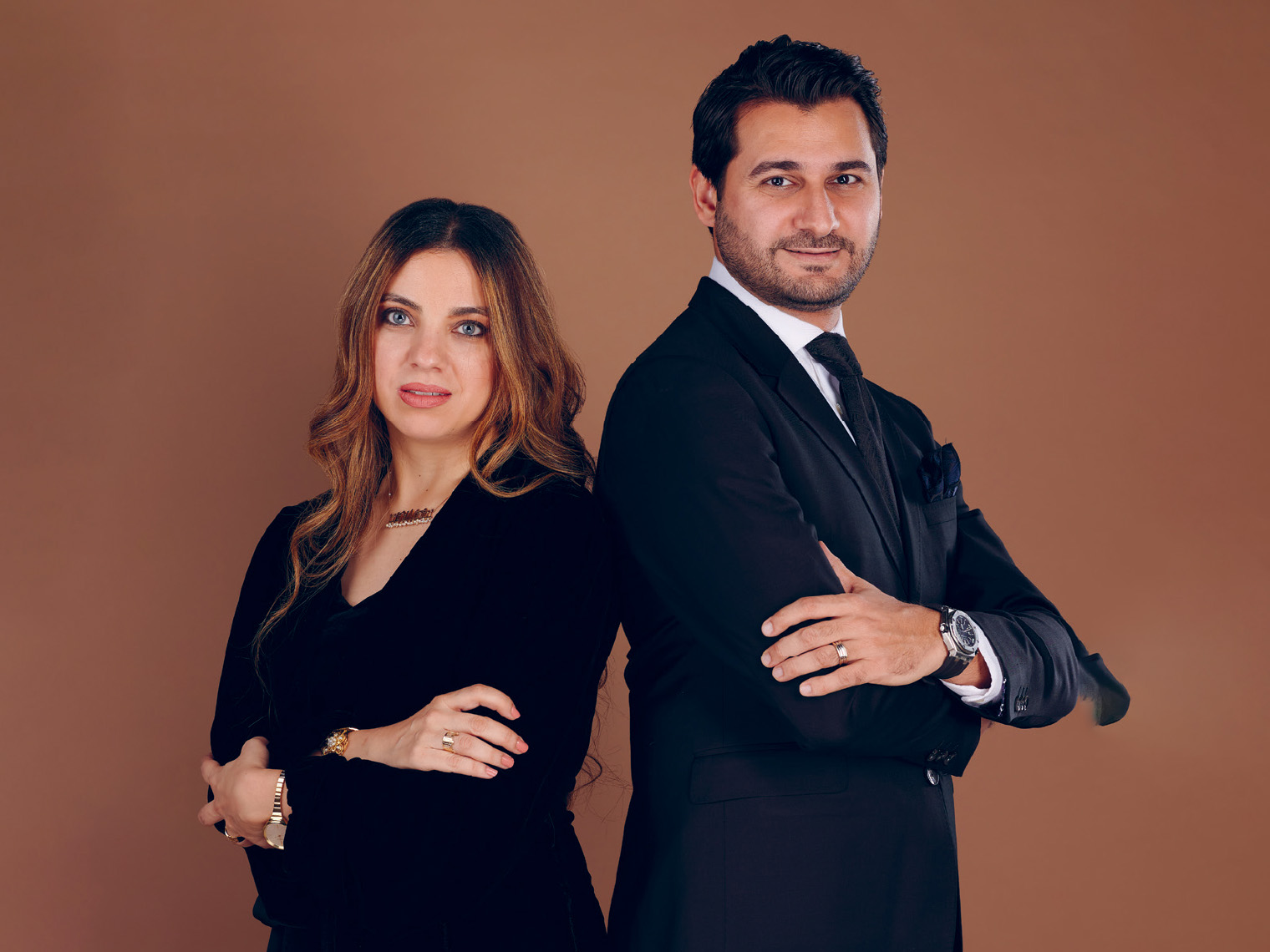 Sehteq's Co-founders Noor AlKamil and Saif AlJaibeji have been married for 13 years.
Sehteq's mission is to provide consumers with affordable and easily accessible insurance plans, using a tech-enabled platform that helped to automate much of the process. The idea for Sehteq came to Saif when he was attending an insurance conference in Singapore in the Fall of 2016. Saif was a Regional CEO for an American health insurance company operating in the Middle East at the time. "I had an a-ha moment when I was presented a slide at the conference that showed that less than 3% of insurance company P&Ls invested in technology, while the banking sector invested 7% of their P&Ls on technology." After checking and confirming this figure with many of his insurance sector peers, the seed for Sehteq was planted.
Sehteq uses its AI platform to digitize the distribution of insurance coverage for drastically accelerated and entirely automated sales and post-sale services. Providing this service would not only benefit customers by providing an easy-to-use comparable marketplace to shop for insurance, but it also provided insurance companies a strong digital sales channel without much investment and technological development requirements on their side.
As one of the first insurtech startups in the region, the first hurdle Sehteq faced was one with licensing. The only option available in 2017 was to be licensed as a generic technology company, or to be licensed as an insurance company. Saif explains, "We didn't want either of these options, because we wanted to be relevant and precise; we wanted to be the intel processer of all insurance companies and bring them the muchneeded innovation without increasing their 3% technology budget." Saif continues, "we had 3 options; we either buy an insurance license which would cost us millions, or get a brokerage license – and become one of more than 300 players, or acquire a TPA license (insurance management) – of which there were 15 in the market." TPA acquisitions was the route Sehteq took, and within a year of its establishment, Sehteq had acquired its first TPA (third party administrator) for a licensed health insurance provider. By 2020, Sehteq had acquired 7 out of the 15 TPAs available. The company now holds 12 acquisitions as one of the big 3 health insurance providers in the United Arab Emirates and one of the top 10 insuretech companies worldwide. Most importantly, Sehteq have made their technology available to 100+ partners, showing that the company values transparency, trust, and stability with clientele over exclusivity in the brand.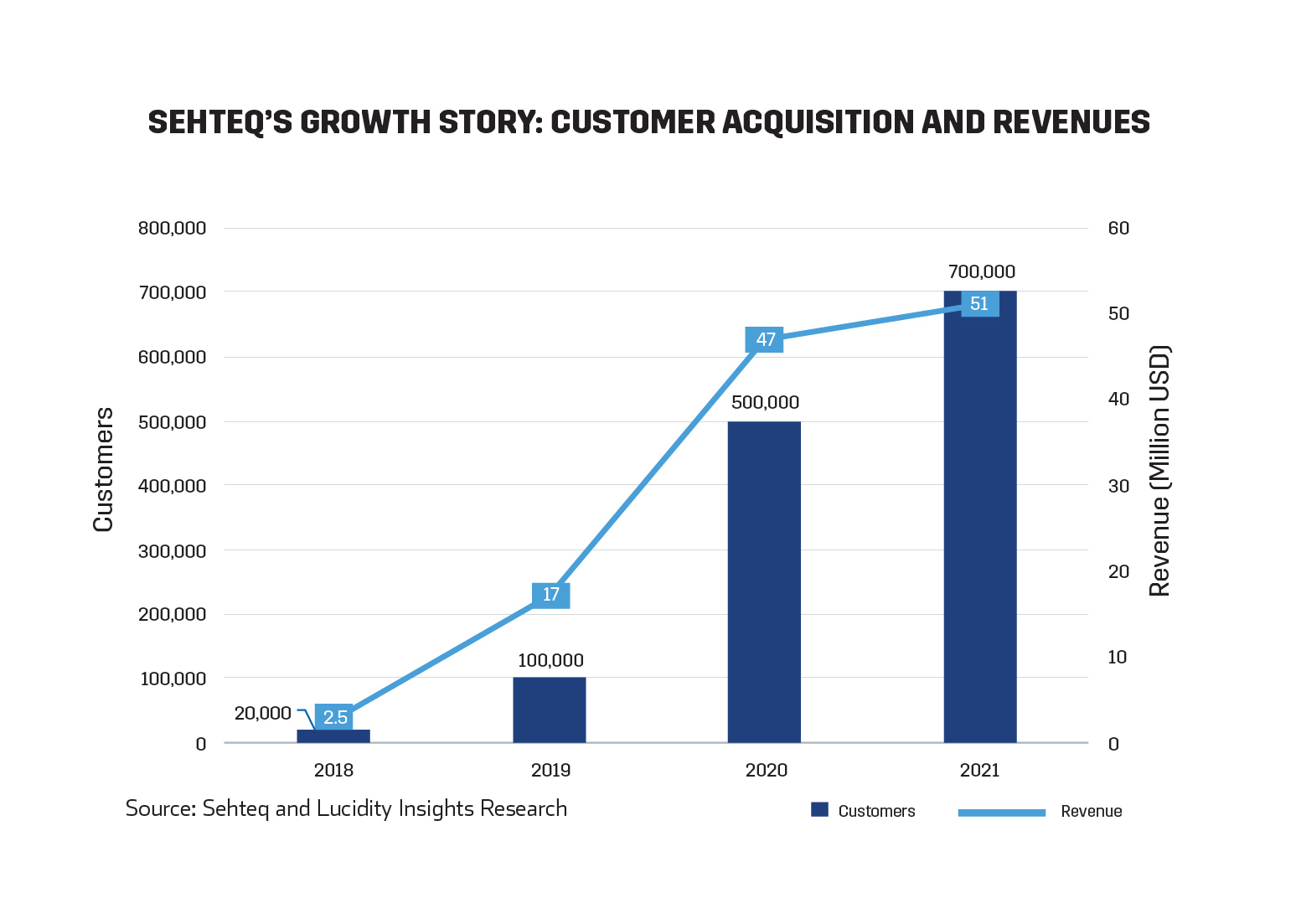 Sehteq officially began operations in February 2018 and closed the year with 20,000 customers and US $2.5 million in revenues. Customers grew by 5X in 2019, amounting to $17 million in revenues. Noor explained, "2020 was another year of hypergrowth, we grew customers again by 5X, and $47 million in revenues poured in. But 2021 was our toughest year. We couldn't quite maintain the same pace of growth as the previous years; but we still closed out the year serving 700,000 customers and US $51 million in revenues."
Sehteq had intended to secure $50 million to finance its series B funding round and expand into new markets in 2021 but was forced by the covid-19 pandemic to change course and sell the business.
Despite the challenges faced during the pandemic, Sehteq managed to raise over US $23 million in funding for its series A round from 971 Capital and acquired Dawa Express that same year. "We didn't do a good job with funding and investors management, that's the ugly truth," says Noor. "Yet we raised $23 million in series A and made it to the top 50 most funded startups in 2020, then raised an additional $3 million and maintained our rank in the top 50 most funded startups by Forbes." Sehteq also ranked 4th highest in MENA for "first-time fundraising", falling behind STCpay, Sweetheart Kitchen, and Jahez; the insurtech startup was also the 11th most funded startup in MENA overall in 2020.
Twice now, Sehteq has made it to the list of top 10 health insurance startups in the world, ranking 5th and then 4th largest health insurance provider in the region in 2020 and 2021, respectively. The money was used to accelerate Sehteq's tech plans, a key success factor as the company soon grew so large that it had startups within its startups and a range of offerings from technology to insurance, to home healthcare and digital health.
As of 2020, the Sehteq team had grown to 180+ staff, business had expanded by 3000%, and profitability had reached double digits. 971's investment furthered their plans of expanding into Oman, Iraq, Egypt, and Saudi Arabia among other countries in the region and facilitated the development of their fully automated insurance project, Techcelerate. Sehteq's marketing had also expanded its services past health insurance into other lines of coverage including car, home, life, and travel insurances to cater to a larger clientele worldwide.
2021 saw Dr. Hazem Al Madi join the Sehteq team as the company's Managing Director. "It's unheard of that a startup acquires half of the market, and pushes out other players from the marketplace," Dr. Hazem says in an interview with Entrepreneur Middle East where he opens up about initial reservations concerning the business. However, he goes on to say that it was Sehteq's creative strategy and growth trajectory that inspired him to finally take on the role. By the time Dr. Hazem came onboard, Sehteq had reached 750,000 users moving towards their one-million consumer-target with impressive technical and technological assets.
In 2021, Sehteq announced its acquisition by CloudKair, a cloud computing company based in Boston. "We failed to raise a series B, and instead, the company was bought as a group and then sold into pieces," Noor explains. The separation of technology assets from operations was the right move as it increased the total assets valuation to US $70 million, and CloudKair bought the health insurance arm out of the group with the name Sehteq. Saif anticipates that CloudKair's smart-tech and expertise will allow Sehteq to become the first PaaS (Platform as a Service) player in the region. CloudKair VP, Ahmad Izzy, is now focused on making Sehteq's advanced tech services more commercially viable to small- and midsized health insurers and TPAs in the MENA region who may not have had the opportunity before.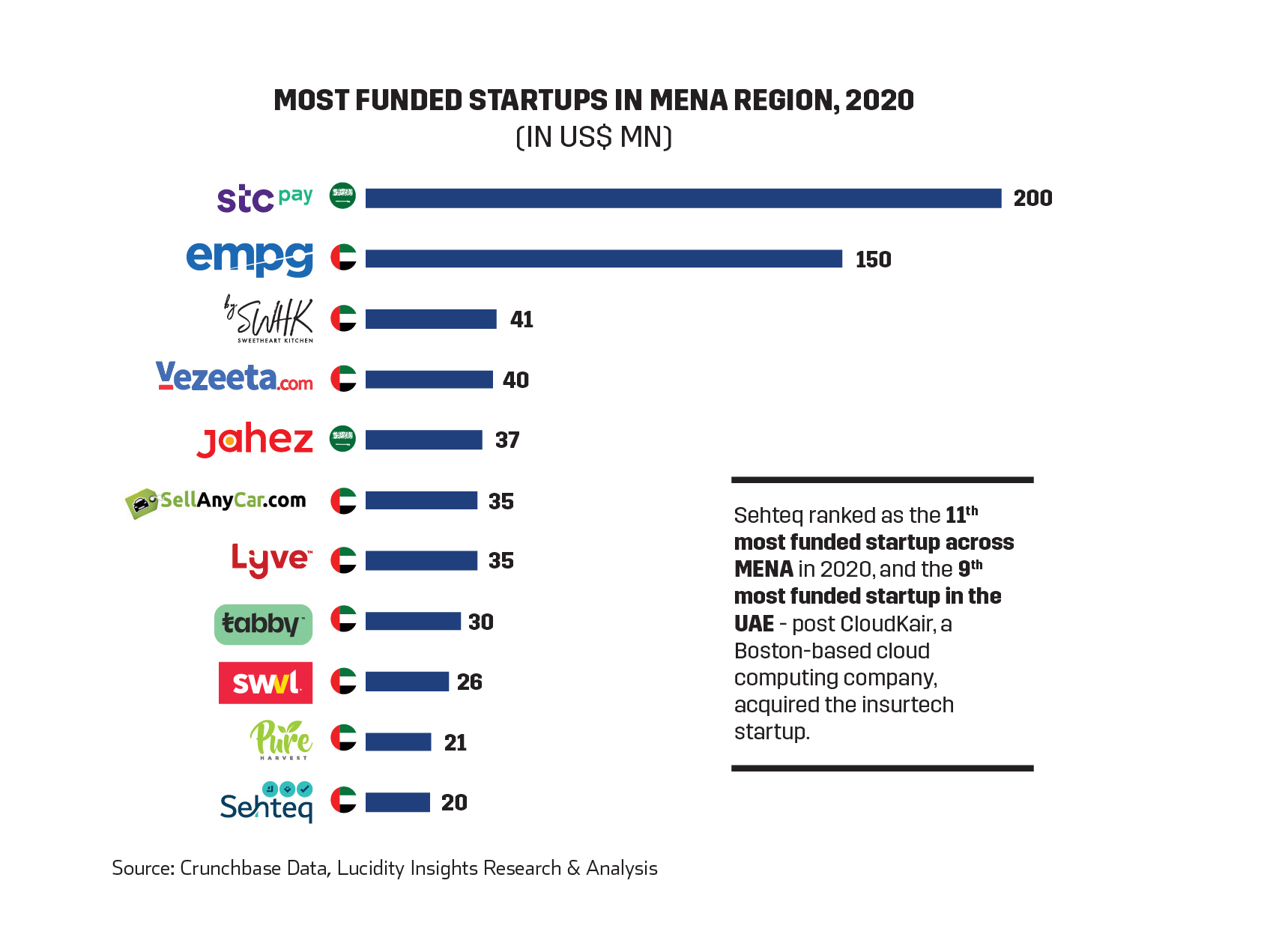 The team at CloudKair is re-engineering their technology with the support of Amazon Web Services (AWS). The solution has been used by 17 out of the 35 insurance companies in the UAE and Oman, and promises to be quicker, lighter, and more affordable.
As we ask Saif and Noor to reflect back on what role, if any, Dubai played in Sehteq's success, they said, "the shift of our business to Dubai (from Ras Al Kaimah) was a key milestone for us. Joining the Dubai Future Accelerator opened a new horizon for our startup, and it quite simply was a game changer for us.". The team received further validation of its shift to Dubai which was additionally bolstered by the recognition that Sehteq had received from the Dubai Health Authority (DHA) for being the health innovator of the year in 2018. "Dubai is truly a startup hub." Saif continues, "there is unlimited support to entrepreneurs from mentorship, networking, investment, incubation and a fantastic pool of resources available in the city."
Saif Aljaibeji exited in October 2021 and joined the leadership team of one of the largest health insurance companies in the region, while Noor, continued to lead the integration until last November. She is on a new mission to bring health to the patients' homes in the UAE leveraging technology.
Learn more about Dubai's Expanding Digital Startup Ecosystem in our latest special report here.