Chalhoub Group's Venture Studio: Nurturing the Next Generation of Entrepreneurs In-House
Chalhoub Group has been a leading investor in MENA's large cap retail, distribution, and marketing since 1955. The Chalhoub name is largely synonymous to many of the luxury fashion brands it carries and manages in the region, such as Louis Vuitton, Sephora, Louboutin and Dior Couture, to name but a few.
The retail conglomerate has also launched its own successful retail concepts, such as Level Shoes, a multi-brand luxury retail experience launched in 2012. The latter is a clear example of the Group's move towards bolder entrepreneurial ventures, coming up with both new concepts, products, and retail experiences.
More recently, Chalhoub Group has shown major interest in directly playing a role in developing Dubai's entrepreneurial startup scene. The Group launched The Chalhoub Greenhouse Startup Studio in 2018. A Startup Studio, or Startup Factory – is exactly how it sounds: it's a studio-like company that builds several entrepreneurial ventures in parallel. It's a new form of startup development, that gathers the best part of incubators and accelerators, but the investor becomes the "other founder" that sees the startup journey from start to end. As the Venture Director, Benoît Jonniaux, puts it: "Startup Studios or Venture Builders are unique companies that co-create and launch high-traction ventures by creating repeatable pathways while reducing risk to create strong outcomes. There are various business models a Startup Studio can take, but they all share a search for efficiency and frameworks for replicability." The first Startup Studio was IdeaLab, built in 1996 – so not an entirely new concept; but it seems that studios have only recently gained in popularity; according to Benoît, 90% of the startup studios around the world were created within the last 4 years.
Chalhoub Greenhouse was launched as part of the Group's North Star Vision of transforming itself from a traditional distributor and retailer for luxury in the Middle East, to a hybrid retailer bringing luxury experiences to the fingertips of customers everywhere. The Greenhouse is led by a small team: Venture Director, Benoît Jonniaux; Finance & Operations Director, Joanne Marie Bassoul; and Product & Marketing Director Rafi Dikranian. Their mission is to build an ecosystem that turns ideas into unique ventures, fostering the next generation of successful founders in the MENA region. Benoît is a French serial entrepreneur and investor who co-founded 4 startups of his own before moving to venture capital where he focused on backing ambitious entrepreneurs. After seeing the success of Startup Studios in Europe, he came to Dubai just a year and a half ago to launch The Greenhouse Startup Studio alongside Joanne and Rafi. Benoît says, "Startup Studios have proven that they make lots of sense globally, but they are even more strategic in newer ecosystems because they build capabilities in-house that the maturity of the ecosystem can't provide yet."
With a mission to build the next generation of successful founders in the MENA region, The Greenhouse Startup Studio has built an ecosystem that turns ideas into unique ventures. As Benoît puts it, Chalhoub Group provides more than the financial investment, but also access to resources and shared services that young entrepreneurs need in the market. In young startup ecosystems – and even in more developed startup markets like Dubai, it can still be tough for young entrepreneurs who might not have the capital or know-how needed to get visas, office space, health insurance, corporate bank accounts for payroll and hiring, as well understanding how to navigate the multitude of licensing and regulatory requirements around events and similar. Chalhoub can provide all that, plus a wealth of experience in content creation, event management, customer services, warehousing and fulfillment, to name but a few of the tools that the Group is equipping its entrepreneurial war-chest. Meanwhile the studio supports recruitment, research, and helps entrepreneurs with their day to day business and growth. "It's quite a powerful combination," Benoît says. As Chalhoub Group considers itself a co-founder to all of these startups, Chalhoub retains 33% equity in each of their startups. "This ensures we have skin in the game, and we are invested in supporting and steering our cofounders and startups to success."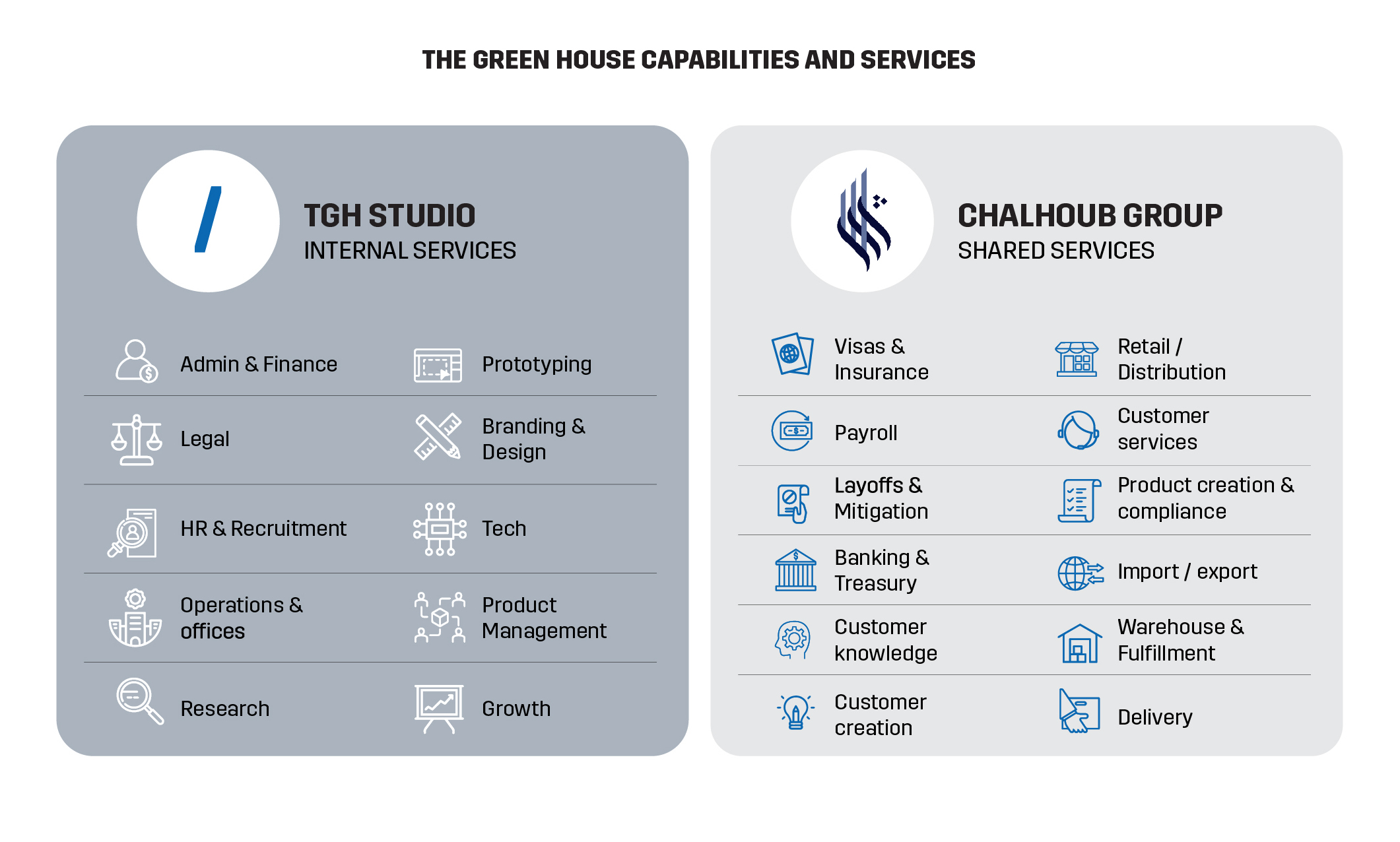 In the past 18 months, the Greenhouse has already ventured into digital styling, furniture production, talent recruitment and brand-as-a-service (BaaS), as well as a wellness and beauty 'natural remedy in a subscription box' concept called The House of Wisdom. Greenhouse has also invested in an on-demand tailoring startup, AbayaLab, which offers tailoring and customization of abayas for consumers in the GCC. The startup brings convenience, experience, cultural fit, and better communication with just a few clicks where a consumer could "build your own abaya in under 3 minutes".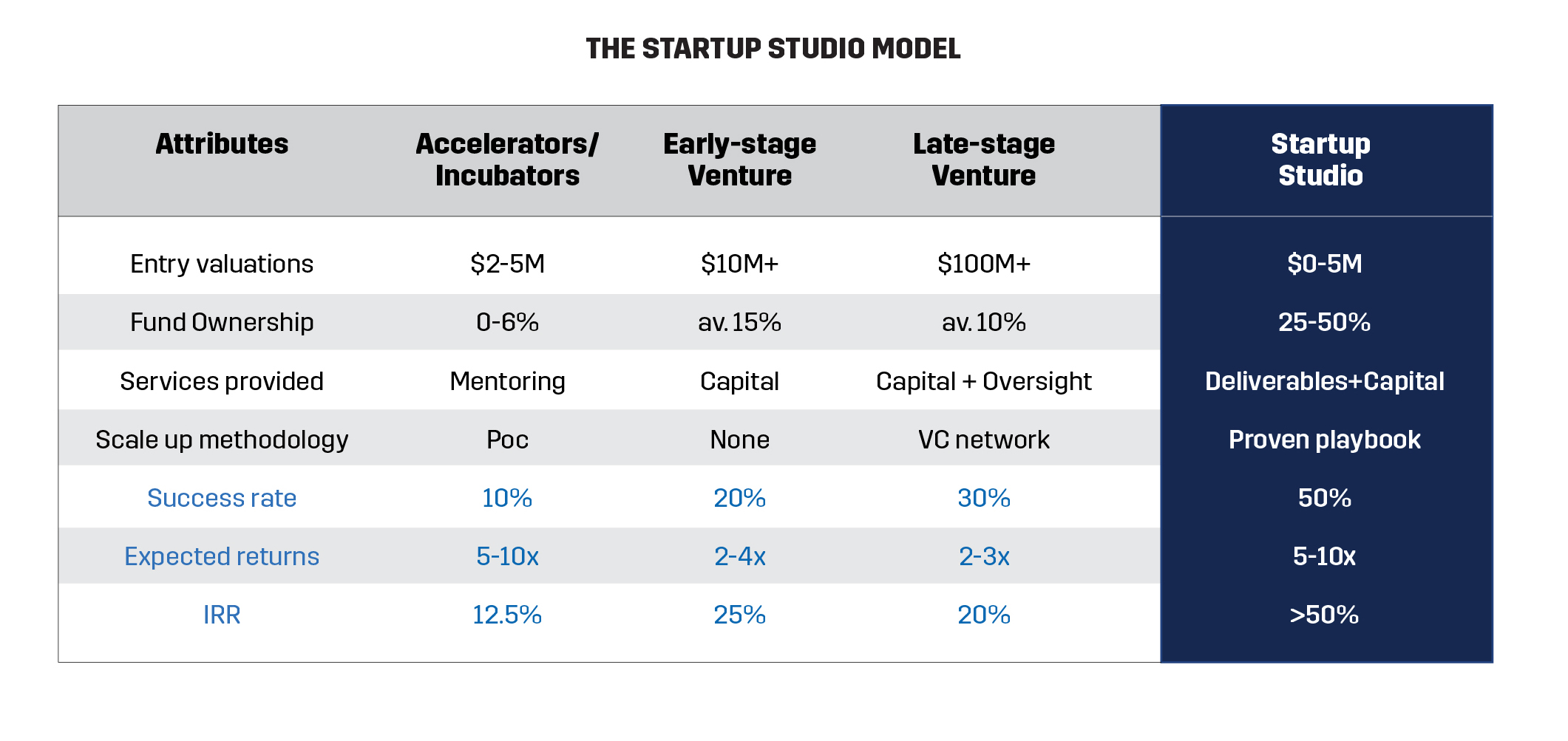 We speak to AbayaLab Founder and CEO, Musfira Saleem, who said, "Four years ago after I graduated university, I chose The Chalhoub Group as my place to start my career. I still dreamt of launching my own fashion business one day, but the opportunity came true far sooner than I even imagined when Chalhoub launched The Startup Studio. When employees were encouraged within the Group to start their own entrepreneurship journeys, it was a no-brainer for me!" Musfira tells us that being a part of The Chalhoub Greenhouse has certainly given her access to numerous "unfair advantages", but it's the camaraderie and having a partner and true cofounder who cares and prioritizes the success of her business that she's most grateful for. She adds, "Being an entrepreneur can be a lonely journey."
Benoît explains, "it took 20-30 years to build a startup culture in the US, and 10-15 years to replicate it in Europe, but with everyone pushing in the same direction, Dubai is halving Europe's timeline." He continues, "considering Europe's current economic woes, Dubai is an attractive place for many global entrepreneurs to come, with its unwavering momentum, competitive talent advantages, and large access to capital, I think the Emirate is the ideal economy for startups today." He breaks down the comparison from a European's perspective. The tax benefits for funds, entrepreneurs, companies, and employees alone are a major incentive. There is also significant amounts of capital from Funds of Funds in the market for firsttime funds, and in general appetite, commitment and energy level that's brewing in Dubai as well as the wider region as a whole. Benoît is unwavering in his viewpoint that Dubai has all the assets necessary for building its startup culture like that of the US and Europe. For many Europeans, it seems, the country itself was born a startup. The UAE being a country that is only 50 years old, it's unfathomable the amount of progress seen in the past 50 years here, compared to what European companies developed over centuries. Perhaps Dubai will carry that same 'can-do' attitude into the development of its startup ecosystem.
Learn more about Dubai's Expanding Digital Startup Ecosystem in our latest special report here.