MBRIF Innovation Accelerator Program Graduates 6th Cohort, Calls for Applications for 7th Cycle
The sixth cohort of the Innovation Accelerator program by Mohammed Bin Rashid Innovation Fund (MBRIF) -an initiative launched in 2016 by the UAE Ministry of Finance to foster innovation in the UAE- officially graduated on May 15, 2023 at an event hosted in Dubai.
The occasion also saw MBRIF open applications for the seventh cycle of its Innovation Accelerator Program, which will be accepting entries until July 13, 2023.
The Demo Day for the sixth cohort, which included entrepreneurs from the UAE, UK, Canada, Tunisia, KSA, Lebanon and the USA,whose ventures are at various levels of business maturity (from prototype to growth stages), was kickstarted by a welcome speech from Shaker Zainal, Head of MBRIF and Chief Business Officer at Emirates Development Bank. Following this, H.E. Dr. Tariq Bin Hendi, Senior Partner at UAE-based international venture capital firm Global Ventures, gave a keynote address.
The highlight of the graduation ceremony, however, was all 14 graduating startups pitching their business ideas to a panel of investors and venture capitalists. The three-minute-long presentations by the startup founders showcased innovative and disruptive solutions across a number of sectors, including health, transport, education, technology, clean energy, water and space technology.
Three awards -Best Pitch, Best UAE Homegrown Business, and Most Impactful Business- were handed out at the end of the Demo Day to the following three startups:
-Sinterex, a UAE-based 3D printing startup that solves supply chain mismanagement issues for UAE companies, won Best Pitch award.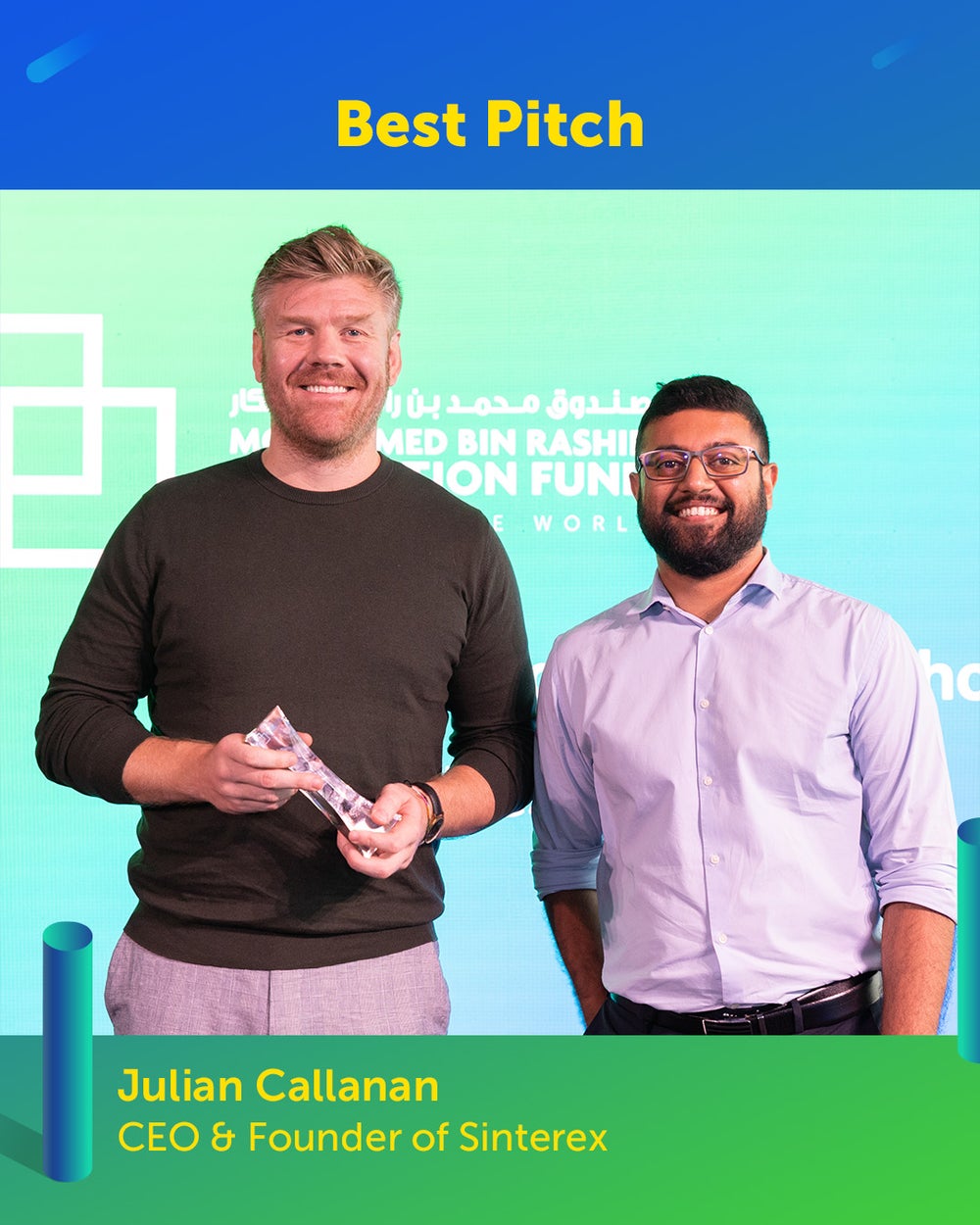 Julian Callanan, founder and CEO of Sinterex, with the Best Pitch award. Source: MBRIF
-Lisan, a UAE-based artificial intelligence-powered proofreading platform that guarantees error-free Arabic writing, won Best UAE Homegrown Business award.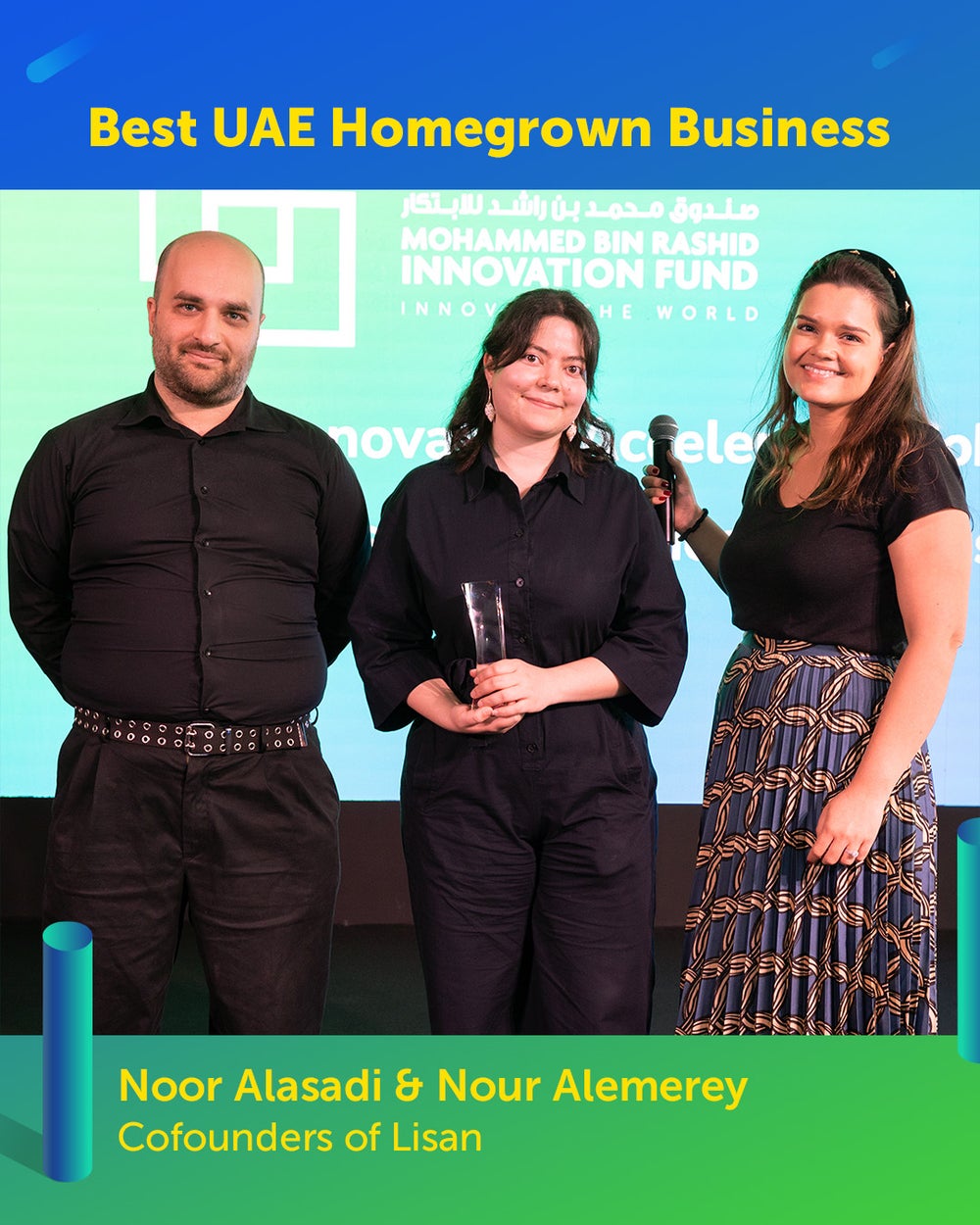 Noor Alasadi and Nour Alemerey, co-founders of Lisan, with the Best UAE Homegrown Business award. Source: MBRIF
-Mruna, a Lebanon-based urban resilience solutions firm, won the Most Impactful Business award.
Ziad Hussami, co-founder of Mruna, with the Most Impactful Business award. Source: MBRIF
"MBRIF is proud to have facilitated the growth and development of some of the most innovative and promising startups in the world through tailored solutions, expert mentorship, meaningful connections and access to investors," said Fatima Al Naqbi, Chief Innovation Officer at the UAE Ministry of Finance and MBRIF, in a statement. "The Demo Day showcased the talent, depth and ingenuity of the graduating cohort, and MBRIF is excited to see where their businesses will go next. We would like to congratulate all the members and award winners, and wish them the best of luck for the future. We will continue our unwavering support to our members and alumni as an integral part of the innovation ecosystem in the UAE, and in support of the UAE's National Innovation Strategy."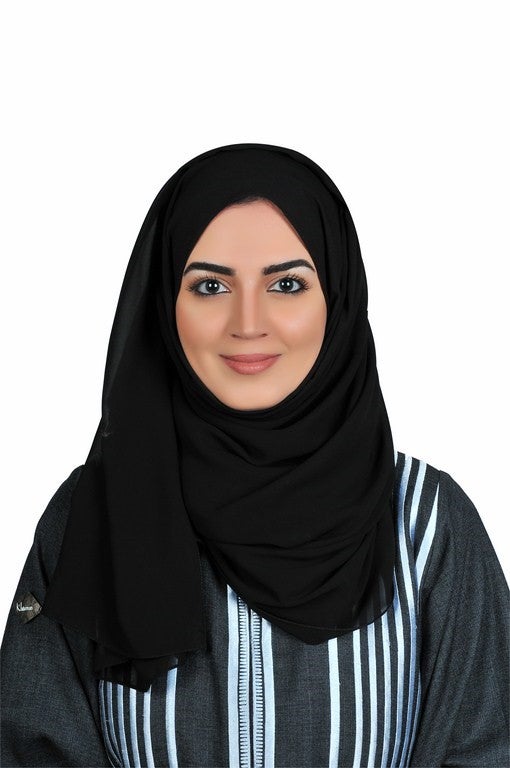 Fatima Al Naqbi, Chief Innovation Officer at the UAE Ministry of Finance and MBRIF.
Source: MBRIF
Here's the complete list of all the other startups from the sixth cohort that also presented at the MBRIF Demo Day:
-Sav, a UAE-based hyper-personalized money management app that enables users to achieve goals-based savings.
-Verofax, a UAE-based traceability-as-a-service solution.
-stonAI, a UAE-headquartered tech platform that automates document-related tasks for construction companies.
-Amaly, a US-based social enterprise with a mission to unlock funds for charitable organisations using a blend of technology, asset management and a social innovation studio.
-Klaim, a UAE-based healthcare fintech that solves delayed and/or rejected insurance claim payments for medical providers.
-DarDoc, a UAE-based home healthcare services provider.
-Digital Energy, a UAE-based artificial intelligence-driven firm that helps energy intensive companies track, trace and then sustainably optimize their resources.
-Skillplay, a UAE-based platform that helps students build their skills in a gamified approach, and find internships and jobs.
-Reedz, a Tunisia-headquartered mobile app that offers audiobook summaries of global best-selling books in Arabic.
-AI Supply Chain Sensing (AISCS), a UAE-based tech startup that offers solutions to predict and prevent supply chain disruptions.
-Clutch Space Systems, a UK-headquartered space technology startup that specializes in satellite communications solutions.
MBRIF's Innovation Accelerator program is a six-month-long course designed to offer innovative startups with access to industry insights, the market and other key resources that can help them scale regionally and beyond.
Applications for the seventh cohort of the MBRIF Innovation Accelerator Program are now open until July 13, 2023. Commenting on the new cycle, Al Naqbi said, "MBRIF aims to empower innovative businesses by providing access to the tailored resources, expert mentorship, meaningful connections and affordable funding they need at every stage of their growth, from startup to scaleup, in order to achieve sustainable growth and impact. Our Innovation Accelerator program has supported some of the most innovative companies globally in accelerating their growth trajectories. With the opening of applications for our new cohort, we look forward to welcoming the next generation of entrepreneurs to our network."
For more information on applying for the MBRIF Innovation Accelerator program's seventh cohort, click here.