EU Hits Meta with Record €1.2 Billion Fine Over US Data Transfers
Photo: Johannes Simon | GettyImages via Entrepreneur.com
Facebook owner Meta Platforms Inc. (META) has been fined a record €1.2 billion ($1.3 billion) by the European Union for violating privacy regulations, as reported by Bloomberg. The European regulators have given Meta a deadline to cease the transfer of users' data to the United States due to concerns over the inadequate protection of personal information from American security services.
The Irish Data Protection Commission, on Monday, stated that Meta's ongoing data transfers to the US fail to address the potential risks posed to individuals' fundamental rights and freedoms. In addition to the hefty fine, surpassing the previous €746 million penalty imposed on Amazon, Meta has been granted a five-month period to suspend any future transfer of personal data to the US. They have also been given six months to halt the unlawful processing and storage of transferred personal data in the US.
While the ban on data transfers was expected, the impact has been tempered by the transition phase and the anticipation of a new EU-US data flows agreement, which could come into effect as early as mid-year.
This latest decision marks the continuation of a long-standing dispute that has entangled Facebook and numerous other companies in a legal quagmire. In 2020, the top court of the EU nullified an EU-US agreement that regulated transatlantic data flows, citing concerns about the safety of citizens' data once it reaches US servers. The movement of vast amounts of information between the EU and US for various business purposes, ranging from sales and marketing to payroll processing, faced potential disruption due to legal barriers.
Meta Dominates the List of Top 5 EU Privacy Fines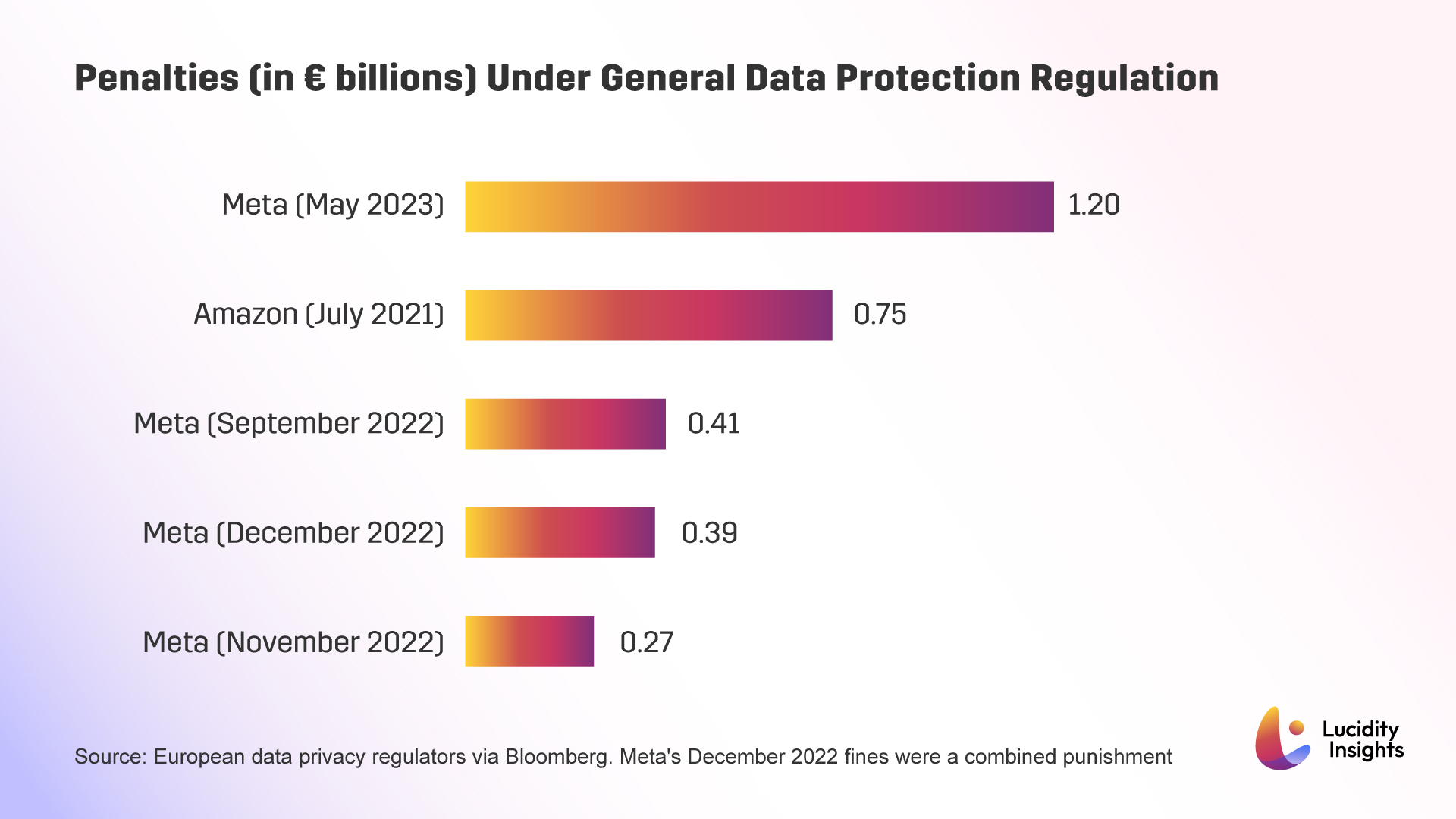 Although an alternative tool based on contractual clauses was not invalidated by the judges, their reservations about American Data Protection prompted a preliminary order from the Irish authority, prohibiting Facebook from transferring data to the US using this method as well.
In December, EU regulators unveiled proposals to replace the defunct "Privacy Shield" agreement, following extensive negotiations with the US. These discussions resulted in an executive order by President Joe Biden and US commitments to ensuring the safety of EU citizens' data during transatlantic transfers.
Meta has expressed its intention to appeal the Irish decision, labeling it as "flawed" and "unjustified." The company has also vowed to immediately seek a suspension of the banning orders, citing potential harm to the millions of people who use Facebook daily.
The restrictions on data transfers carry the risk of fragmenting the internet into national and regional silos, impeding the global economy and limiting access to shared services that have become integral to daily life, according to Nick Clegg, Meta's president of global affairs, and Jennifer Newstead, chief legal officer.
The appeal process will require Meta to file in Ireland, and a final decision could take several months or even years. Amazon's appeal against its previous record GDPR fine is still pending in the Luxembourg courts.
Read Next: TikTok for SMEs and Startups: Don't Make Ads. Make TikToks