TikTok for SMEs and Startups: Don't Make Ads. Make TikToks
You'd be hard-pressed to find someone who hasn't heard of TikTok today, but let's go back to a time before the videosharing app had taken over the internet. It's 2016, TikTok has just been released to the public and two years later, it has become the most downloaded app in the US. Fast-forward an additional 2 years in the midst of a pandemic, and TikTok is now the most downloaded app in the world!
Today, TikTok is the 7th most used social platform worldwide with offices in Los Angeles, New York, London, Paris, Berlin, Singapore, Jakarta, Seoul, Tokyo, and of course, Dubai.
The UAE has been a prominent player in the global technology sector since big tech companies first put down roots there in the early 2000s. Dubai has recently established itself as the ideal hub for thriving talents and businesses of all sectors and sizes, and TikTok's presence in the Emirate is a testament to its long-term commitment to the tech ecosystem both in the UAE and across the region.
Oman and Qatar had the highest percentage increase in followers among their top three influencers from 2020 to 2021, and the top 10 GCC TikTok influencers showed 120% increase in followers from 2021. As of January 2022, Saudi Arabia and the UAE had the highest TikTok reach worldwide. "Globally, more than 1 billion people come to TikTok to be entertained and we're excited by how fast TikTok continues to grow in popularity across the region," says Talal Alfayez, Head of Government Relations and Public Policy at TikTok MENA. This year, TikTok MENA saw a growth in content across a variety of categories including food, fashion, sports, and education.
Dubai specifically has invested heavily to unlock the full potential of its digital economy and transform the Emirate into an international technology hub. Several initiatives have been introduced over the last few years as Dubai continues to attract the best talent from across the globe. "We have a diverse and talented team here at TikTok and the efforts and investments that Dubai has made have been key to enabling us to build this stellar team who not only support our work here but across the region and beyond," says Talal.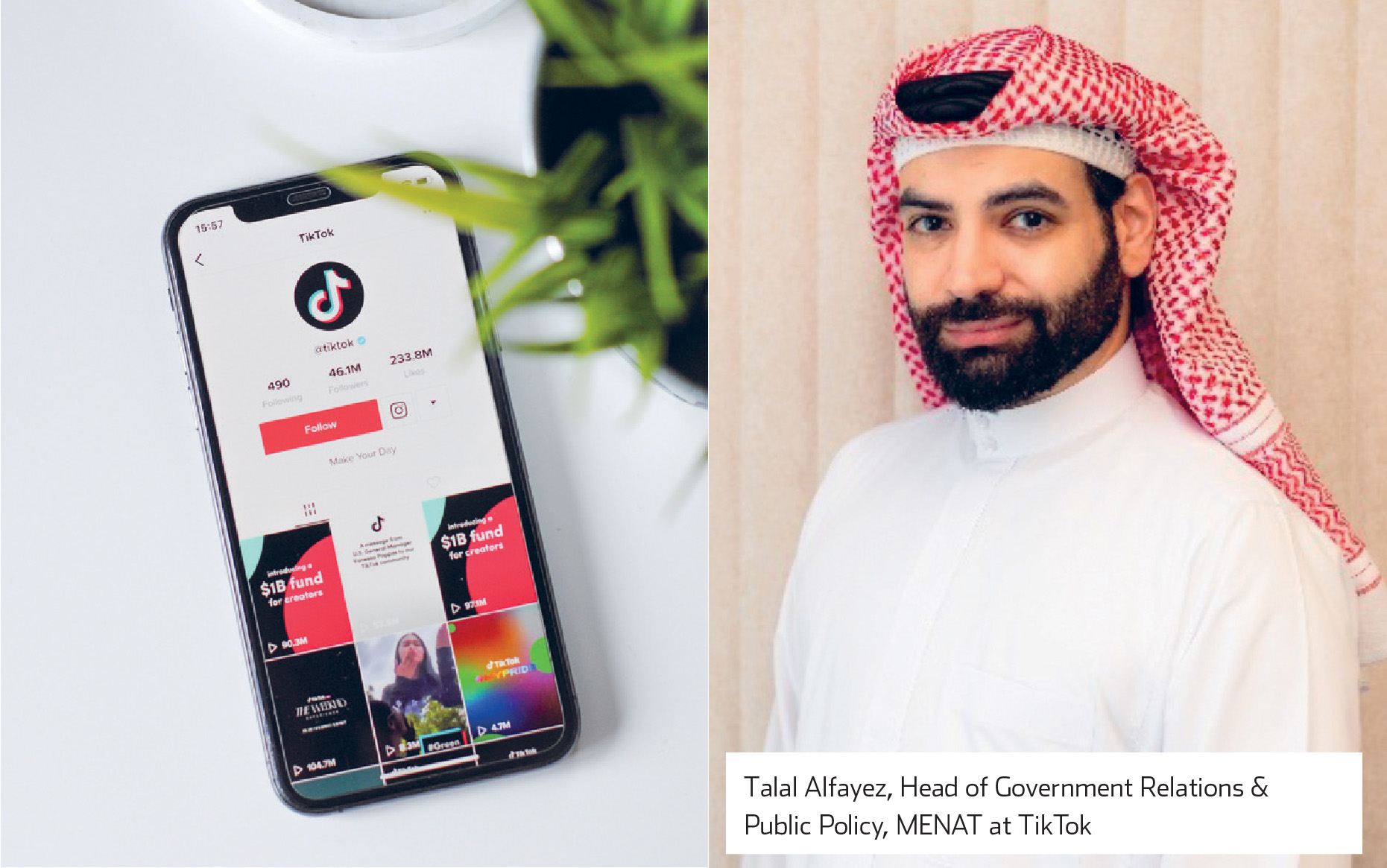 TikTok in collaboration with the Dubai Chamber of Digital Economy (DCDE) launched their Dubai Chamber TikTok Academy in 2021. The program focuses on 1,000 startups and SMEs across MENA to help validate and grow their businesses through the content creation platform. The partnership aims to:
encourage adoption of the best digital practices for businesses
share knowledge and experiences in serving and engaging SMEs
jointly and exclusively deliver workshops for startups and SMEs
accelerate innovation in the SME community.
Academy participants receive access to a dedicated online training portal that offers modules accompanied by dedicated business canvassing sessions for startups. This includes knowledge sharing sessions from industry experts at TikTok and Dubai Chamber, and mentorship from the Dubai Chamber as well as the chance to win prizes for best TikTok video submission and best campaign. 
Those conducting the training modules and knowledge sharing sessions are diverse and talented members of the Dubai Chamber and TikTok teams. They are experts when it comes to everything SME as well as TikTok - the product itself, creativity on the platform, and how to make the most of advertising on the platform for businesses to reach and engage with their audience. These tools help businesses build their presence on TikTok and leverage it to grow their brand power, while expanding outreach to relevant audiences across the MENA region as Dubai moves towards its digitally dominant economy.
As of 2022, the Dubai Chamber TikTok Academy has helped several entrepreneurs and start-ups develop their digital growth strategies across a variety of industries including tech, art, health, construction, and sustainable energy. Talal says, "SMEs and start-ups are a key driver of economic growth across the region and valued members of our TikTok community. We want to ensure they are set up for success by providing them with the tailored support and knowledge needed to optimize the benefits they can generate through our platform to meaningfully engage with their audience and express themselves creatively."
TikTok also launched its inaugural TikTok MENA Creator Hub in September this year. The program connects the next generation of content creators with the right mentors to upskill their talents, encourage them to contribute to raising awareness of pressing issues, and add their voices to the budding creative economy. Each year, the program will highlight a global cause that presents a significant challenge to humanity and invite participating creators to produce creative content ideas around the specific topic. This year's theme was climate change, chosen because of the crucial discussions around sustainability taking place in the region, spurred by COP27 in Egypt and COP28 in the UAE next year.
"TikTok's mission is to inspire creativity and bring joy. We are keen to nurture talents and provide them with a platform to inspire, engage, create, and connect." Seeing as a quarter of TikTok users are aged between 20 and 29, aka millennials and "Gen-Z", the company is dedicated to promoting connectivity, empowerment, social justice, and sustainability even through its educational training programs as their clients and users in the region exhibit the perfect balance of maturity and "wokeness". Big things are in store for TikTok MENA, says Talal, and we're sure you won't want to miss it!
Learn more about Dubai's Expanding Digital Startup Ecosystem in our latest special report here, and tap the follow button of our new TikTok account!