NEOM: A City of the Future
NEOM is Saudi Arabia's most audacious development project, with a preliminary price tag of over $500 billion USD. NEOM sets out to envision what a "future city" might look like, and build it out from scratch. It is meant to be both a destination, as well as a home for people who dream big and want to be part of building a new model for sustainable living, working and prospering. To top it all, the city will be 100% powered off of renewable energy. 
NEOM literally can be translated to mean "new future"; it can be read as NEO-M. Neo is the ancient Greek prefix for "new". M stands for Mostaqbal, an Arabic word meaning "future". NEOM is strategically located in the North west of the country, based along the Gulf of Aqaba on the Red Sea. The area for development covers an astonishing 25,500 km2, an area roughly equivalent to that of the Republic of North Macedonia.
The "new city of the future" is being built upon forward-thinking principles, including but not limited to:
• Sustainability: the city will be powered exclusively on 100% renewable energy 
• Humanity and Walkability: the city will be built from the ground-up, ensuring both a physical and digital infrastructure layer contributing to essential utilities and ensuring all needs of an individual are met within a few minutes walking distance. In essence, the city will be built around people, not cars. 
• Innovation Economics: the city aspires to attract global businesses and emerging players that will look to research, incubate and commercialize groundbreaking technologies that will accelerate human progress.
NEOM is such a large project, it's hard to wrap your head around what it entails to build a brand new city on such a scale. As such, it was only fitting that there have been several mega-projects within NEOM that have been launched. So far, sub-projects within NEOM include THE LINE, OXAGON, TROJENA, and SINDALAH. 
"Neom is not about building a smart city; it is about building the first cognitive city, where world-class technology is fueled with data and intelligence to interact seamlessly with its population." 
— Joseph Bradley, NEOM Technology & Digital (TONOMUS) CEO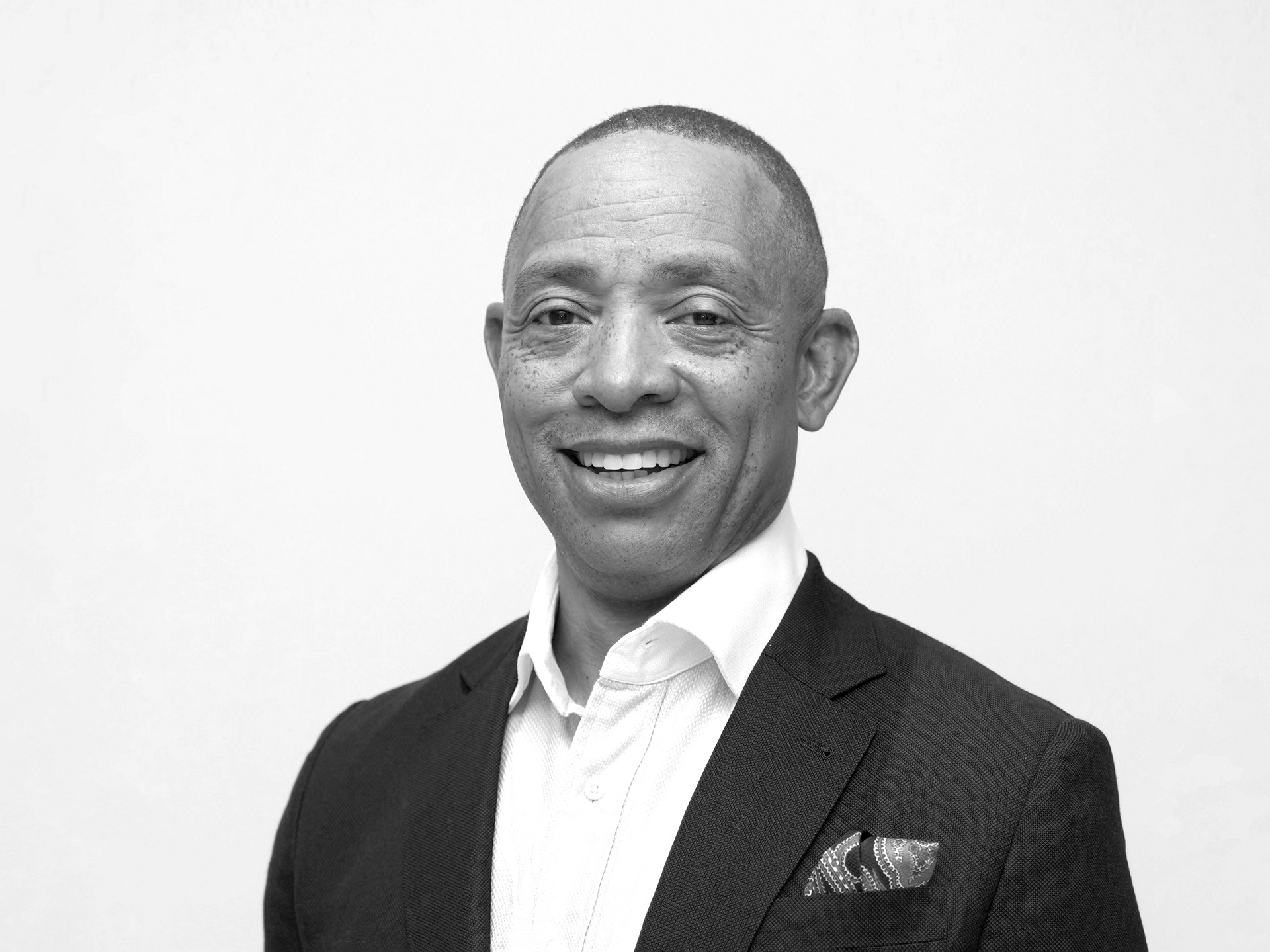 Image courtesy of Joseph Bradley
The Line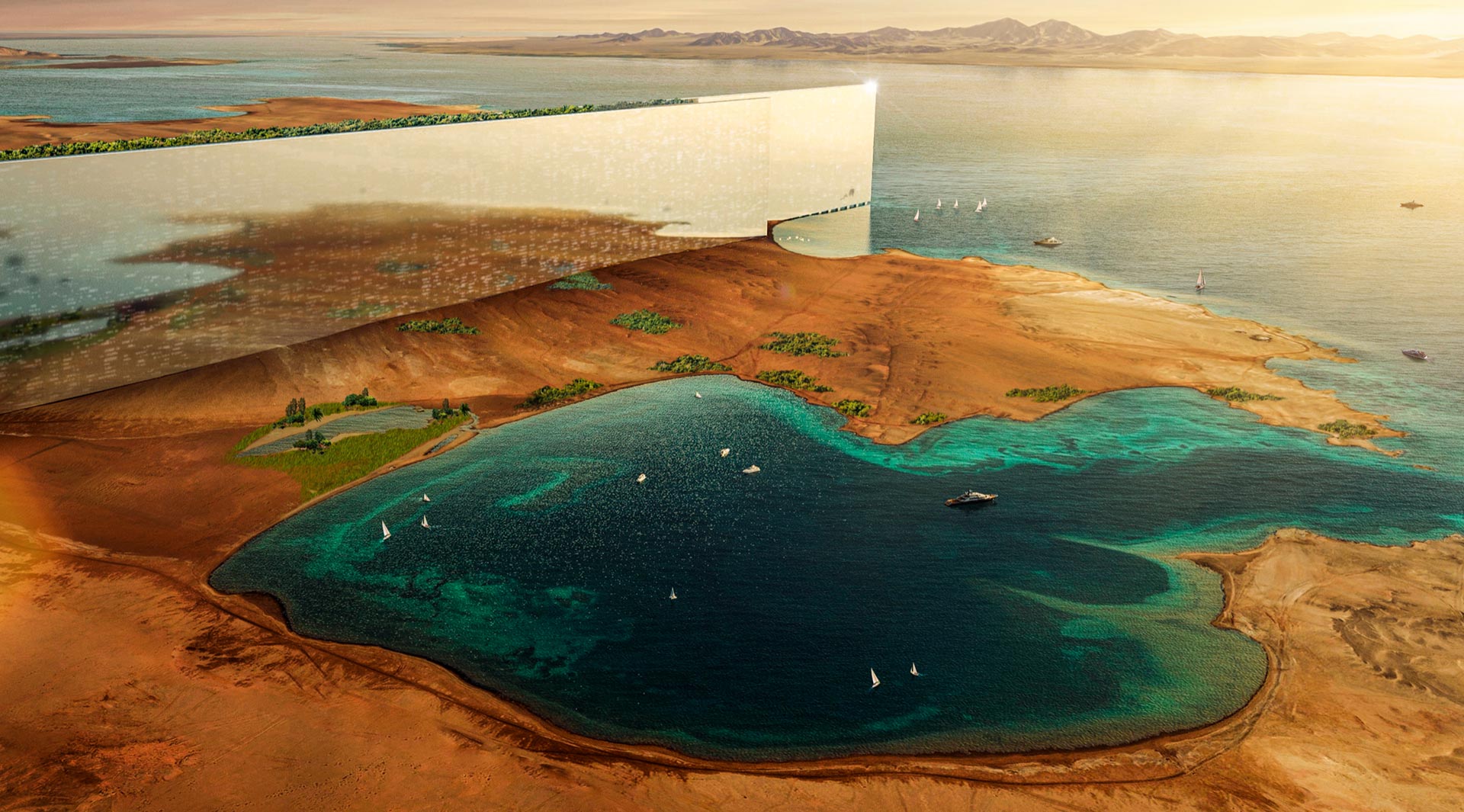 Images courtesy of NEOM
THE LINE is a never-before-seen approach to urbanization. It is a 170 km long linear urban development of multiple hyper-connected communities, expected to be home to 1 million inhabitants when finished. THE LINE is designed in a fashion to ensure walkable neighborhoods integrated with public parks and natural landscapes; there is great emphasis on restoring this connection between city dwellers and nature within the NEOM project. 
THE LINE has a no cars policy, which also translates into no streets, and thus no carbon emissions. Meanwhile, THE LINE promises that everyone living and working within the city will have no more than a maximum 20 minute commute to wherever they need to go. It seeks to achieve this by building the city in layers. The spine-layer will house ultra high-speed transit underground. One layer above will include the "service layer", moving goods and materials around the city using robotics and autonomous vehicles. The top layer of the city will be the pedestrian layer – where inhabitants would live and work on.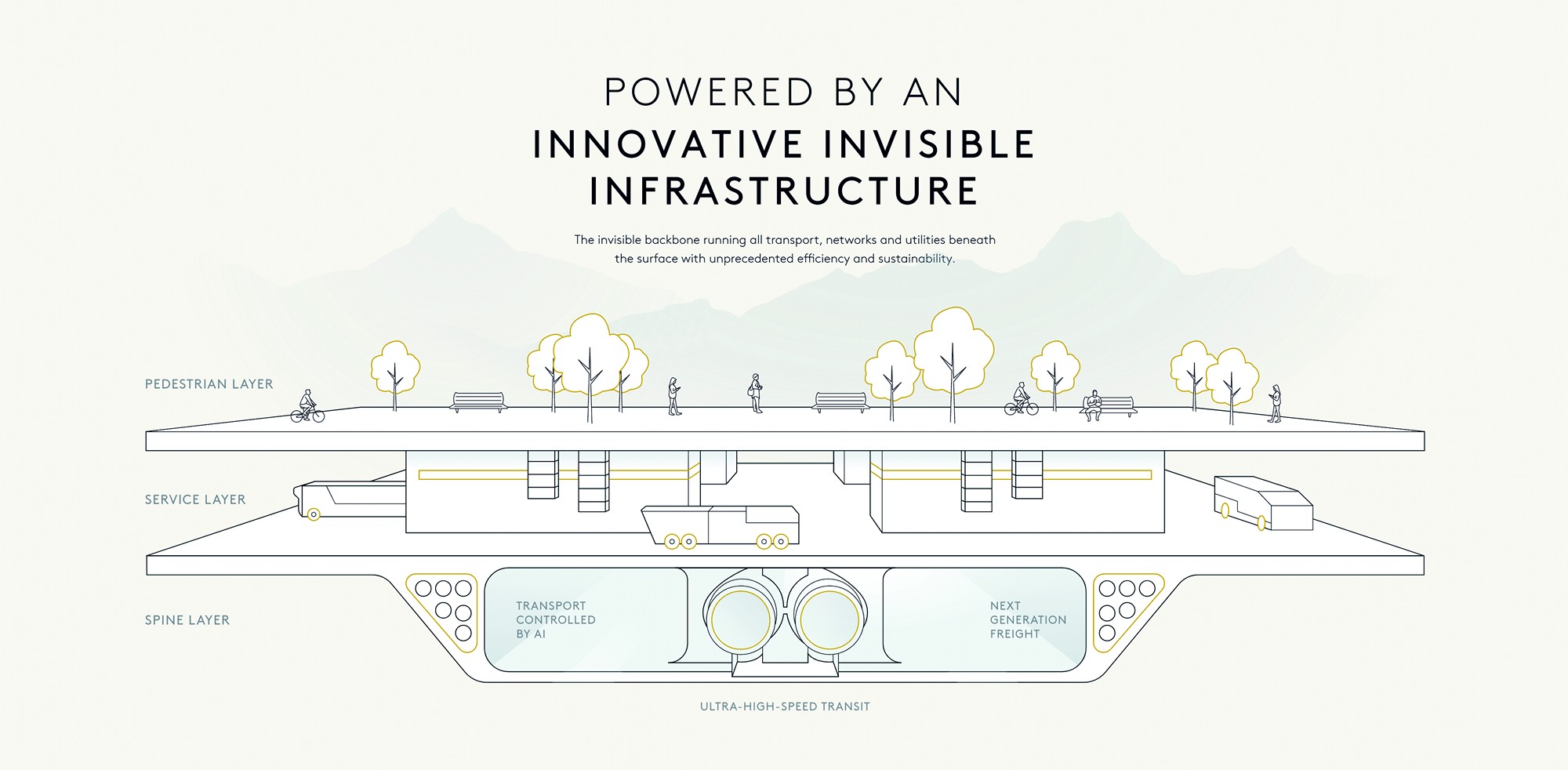 The project also has ambitious plans to implement the latest AI and predictive technologies so that it is used to continuously learn and improve city life. THE LINE connects four distinctive ecologies from the Red Sea coastline to the west and transitions through coastal desert, then the mountains of Jabal al-Lawz (the almond mountain), and finally rocky upper valley. THE LINE project alone expects to generate 380,000 new jobs and contribute $48 billion USD to domestic GDP by 2030.
"NEOM is growing rapidly and development is happening very fast, as we work around the clock to deliver on all projects, especially after the launches of THE LINE, OXAGON and recently TROJENA. This requires sourcing more expert talent at all levels, including for the top management team, where all will collaborate to achieve NEOM's vision, and to contribute to creating a better future for our coming generations." 
— Nadhmi Al-Nasr, CEO of NEOM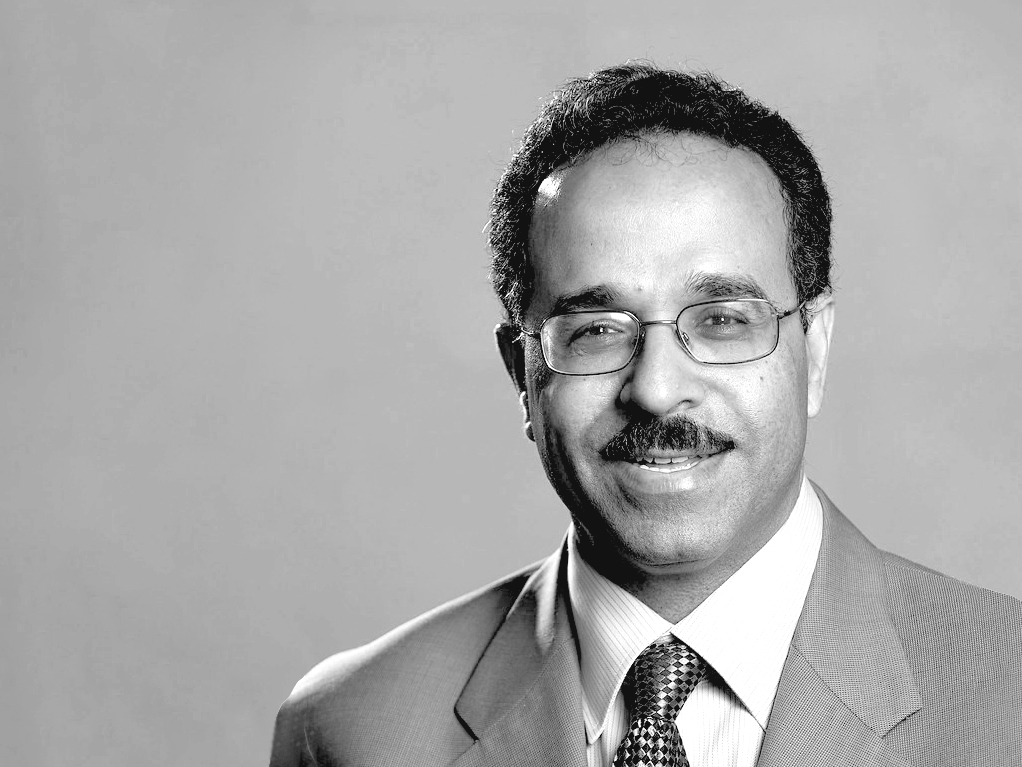 Oxagon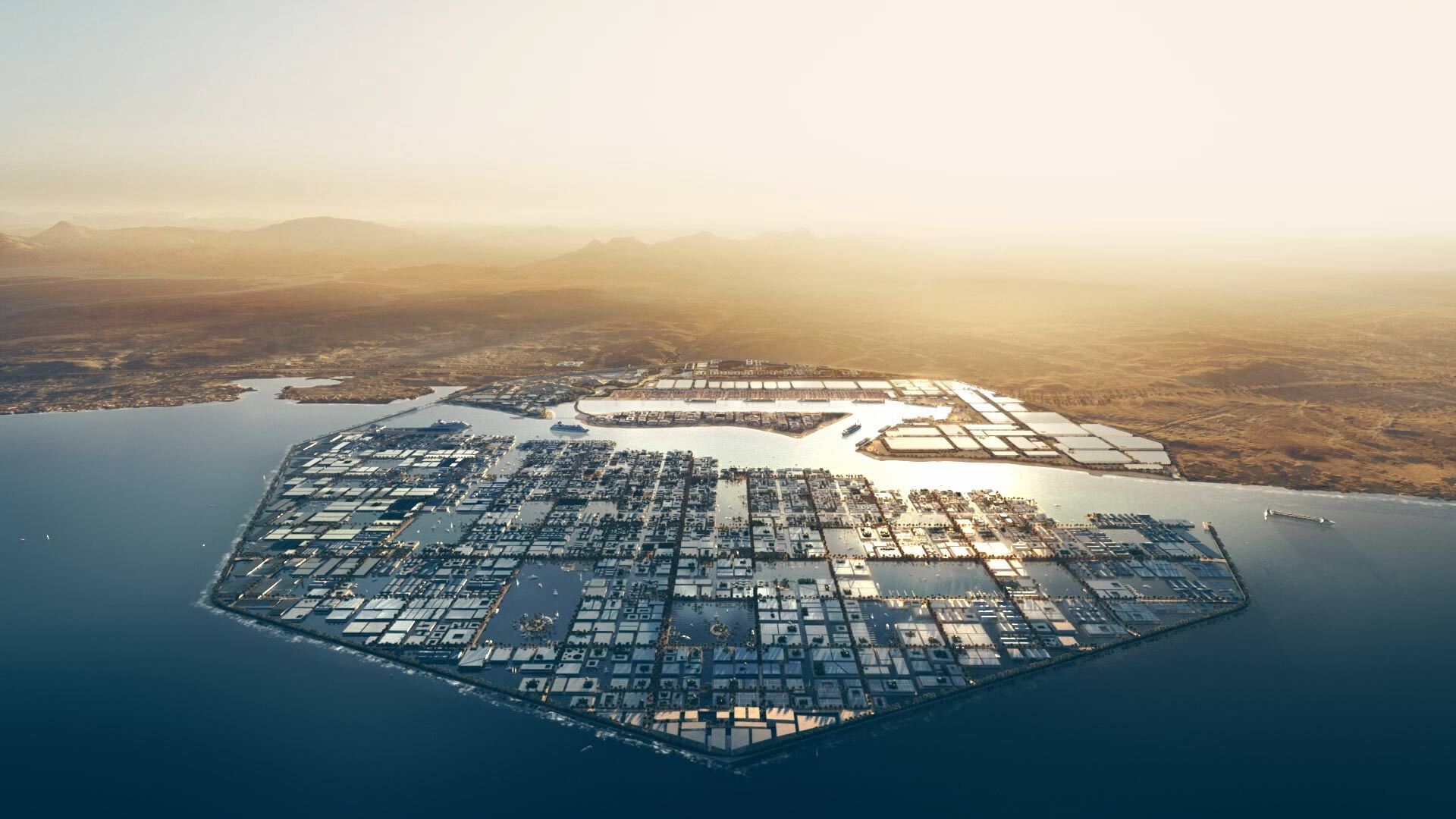 OXAGON is the masterplan for the industrial and commercial engine of NEOM. OXAGON envisions becoming home to the world's most forward-thinking and visionary companies, and building the most advanced port city in the world near the mouth of the Suez Canal, where 13% of world trade passes through daily. OXAGON seeks to become the blueprint for the future of work, living and sustainability. It will essentially be the economic engine and industrial hub of NEOM as a whole, contributing an integrated port and logistics facility. OXAGON is expecting its first set of residents to move in by 2024, its logistics solutions to be in place by 2025, and the totality of the project to be completed by 2030.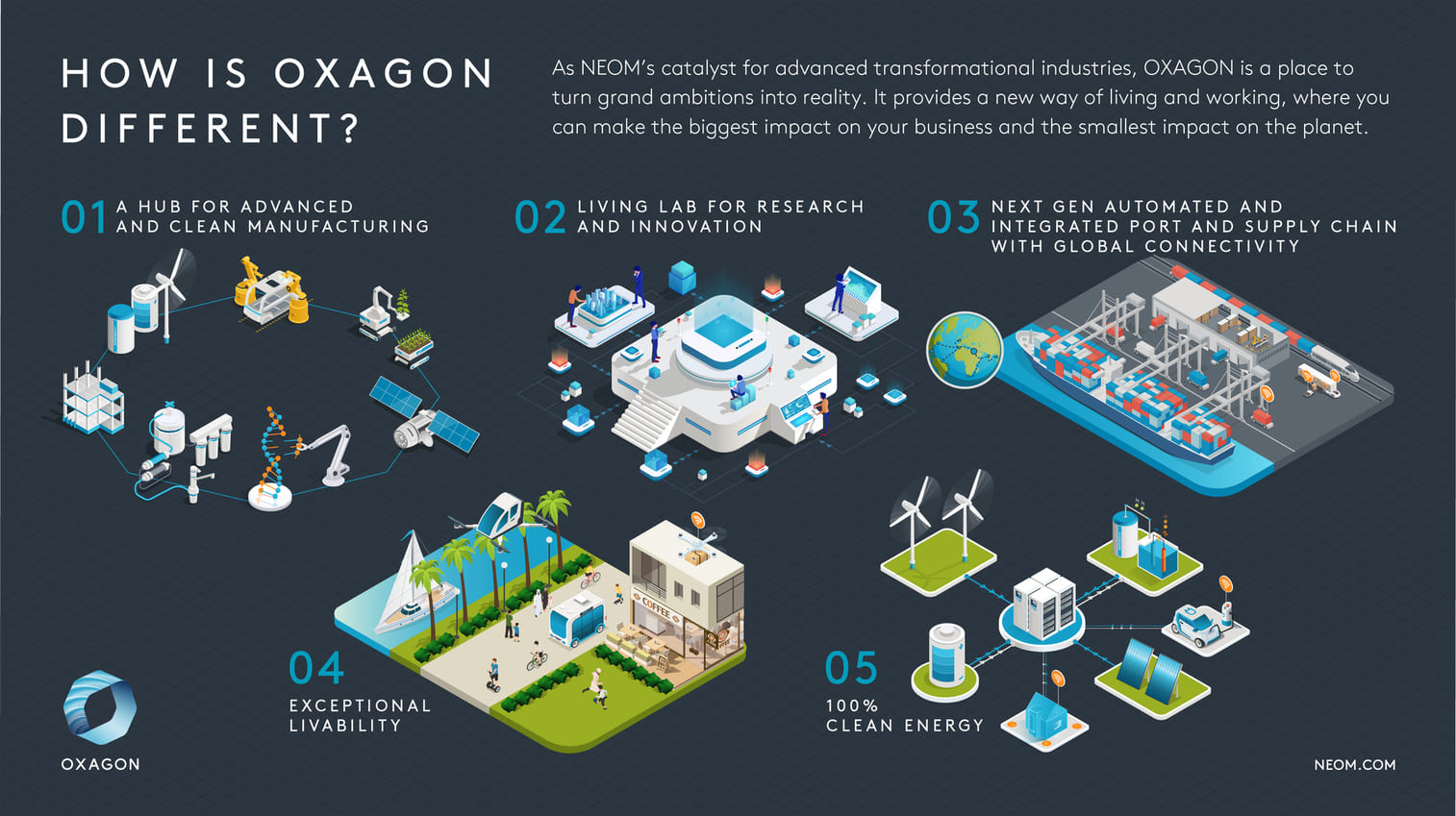 "We are expecting our first residents at OXAGON in 2024. All of the onshore development will be complete by 2030 and the beginning of the offshore development will be very much underway at that point. Our logistics solutions will be in place by 2025 and we will continue to progress as we deploy new technologies such as stateof-the-art-high-speed rail and aerial taxis. The containerization of our port is already underway and we will begin building our advanced integrated port logistics facilities soon." 
— Joshua Steiner, Development, Partnerships & Investments Executive Director OXAGON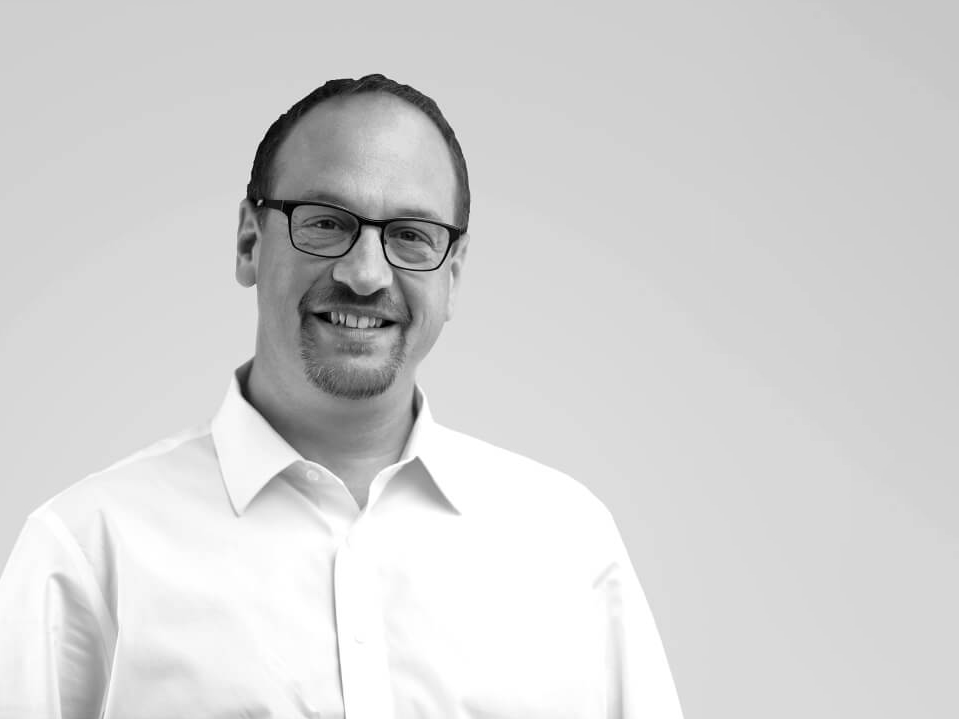 Trojena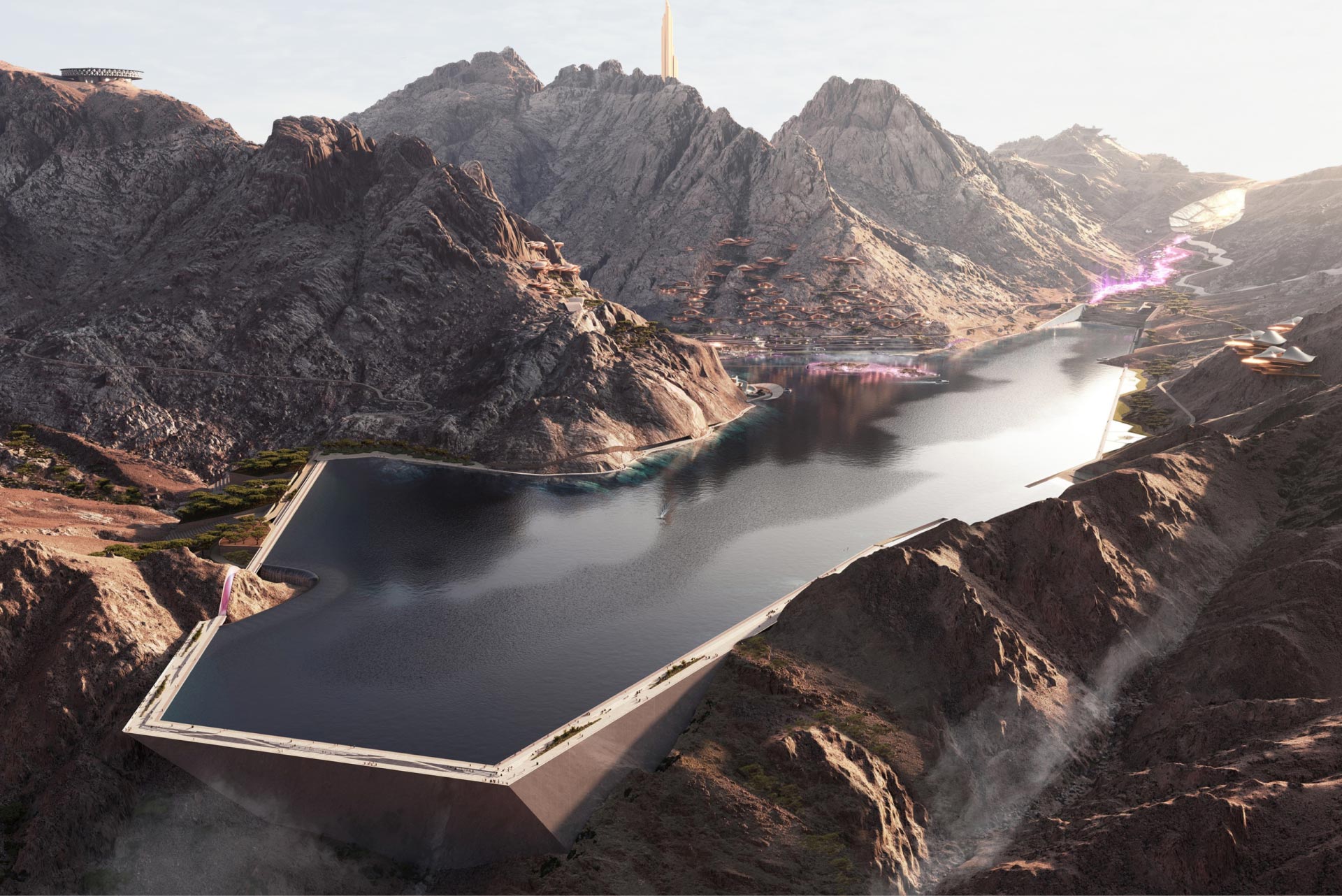 TROJENA is a unique year-round mountain destination within NEOM. TROJENA will house six developed landscapes, offering human-centric experiences for both residents and visitors with elevations ranging from 1,500m to 2,600m. The various developed landscapes will include a lake, ski village, a vertical village, an astronomical observatory, health and wellness retreats, and a protected nature reserve.
TROJENA envisions a mountain lifestyle with various activity-based seasons covering an area of 60km2. The Wellness Season will run September to November with alternative medicine summits, yoga retreats and artist residencies. The Winter Season will run from December to March and include skiing, snowboarding, ice-skating, and various winter festivals. The Adventure Season will run from March to May and will welcome high-altitude training, adventure triathalons, yoga retreats, mountain biking and climbing and paragliders. The Lake Season will run from May to September and will be accompanied by various music festivals, food festivals, art fairs, cultural events and the like. TROJENA envisions itself as not just a magical place to visit but also a magical place to live and work. 
Once completed in 2030, TROJENA will be home to 3,600+ hotel rooms, over 100 indoor and outdoor experiences, including 30km of planned ski slopes and a 3000 seat mountainside auditorium. The masterplan envisages 2,200 homes being built for 7,000 permanent residents, along with 10,000 new jobs. By 2030, TROJENA expects to welcome 700,000 visitors annually.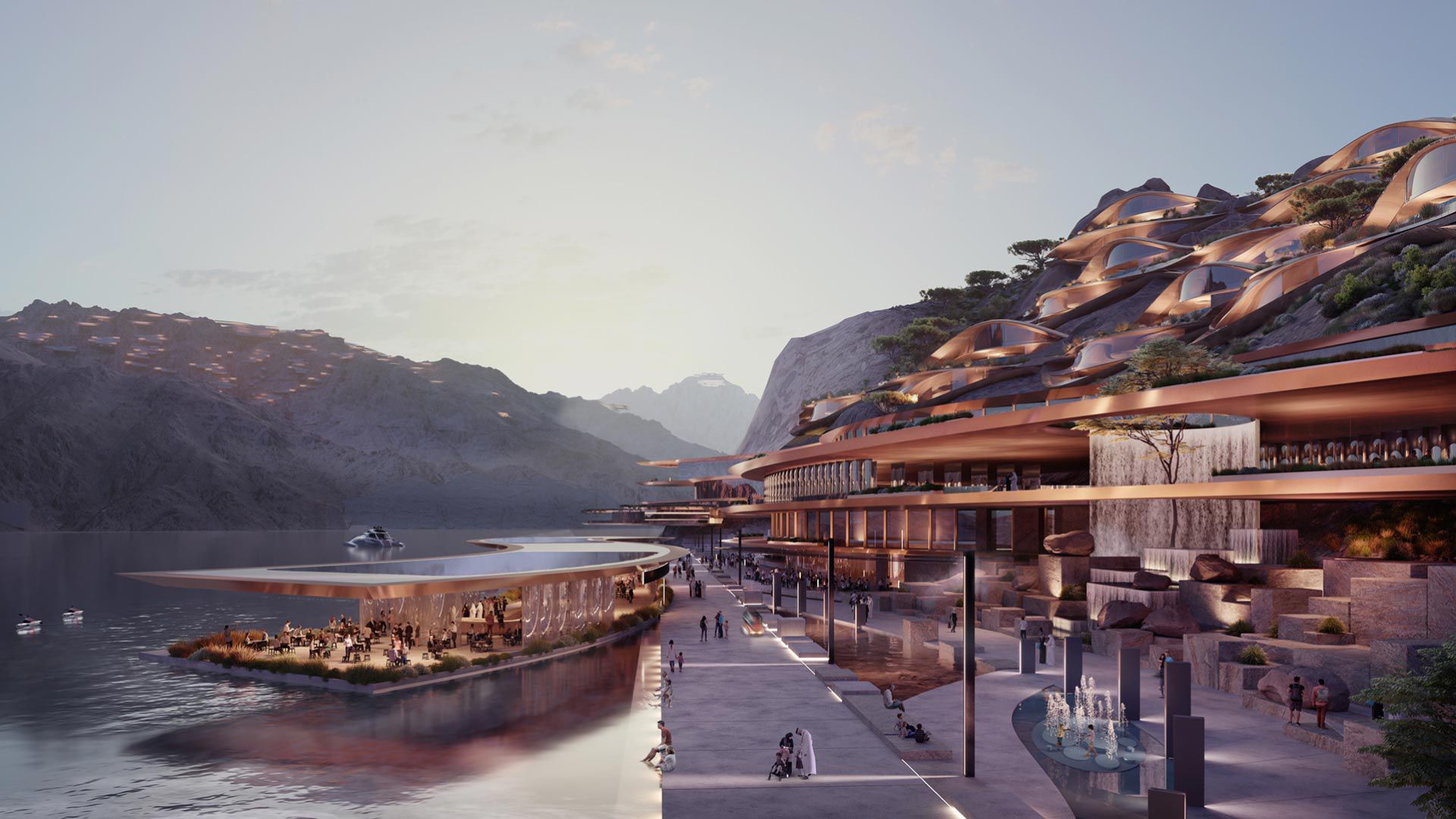 "TROJENA will be an important addition to eco-tourism in the region, a unique example of how Saudi Arabia is creating destinations based on its geographical and environmental diversity. This forward-looking vision will ensure that mountain tourism will be another revenue stream to support the Kingdom's economic diversification while still preserving its natural resources for future generations."  
— His Royal Highness Mohammed bin Salman, Crown Prince and Chairman of the NEOM Company Board of Directors
Image courtesy of SPA
Sindalah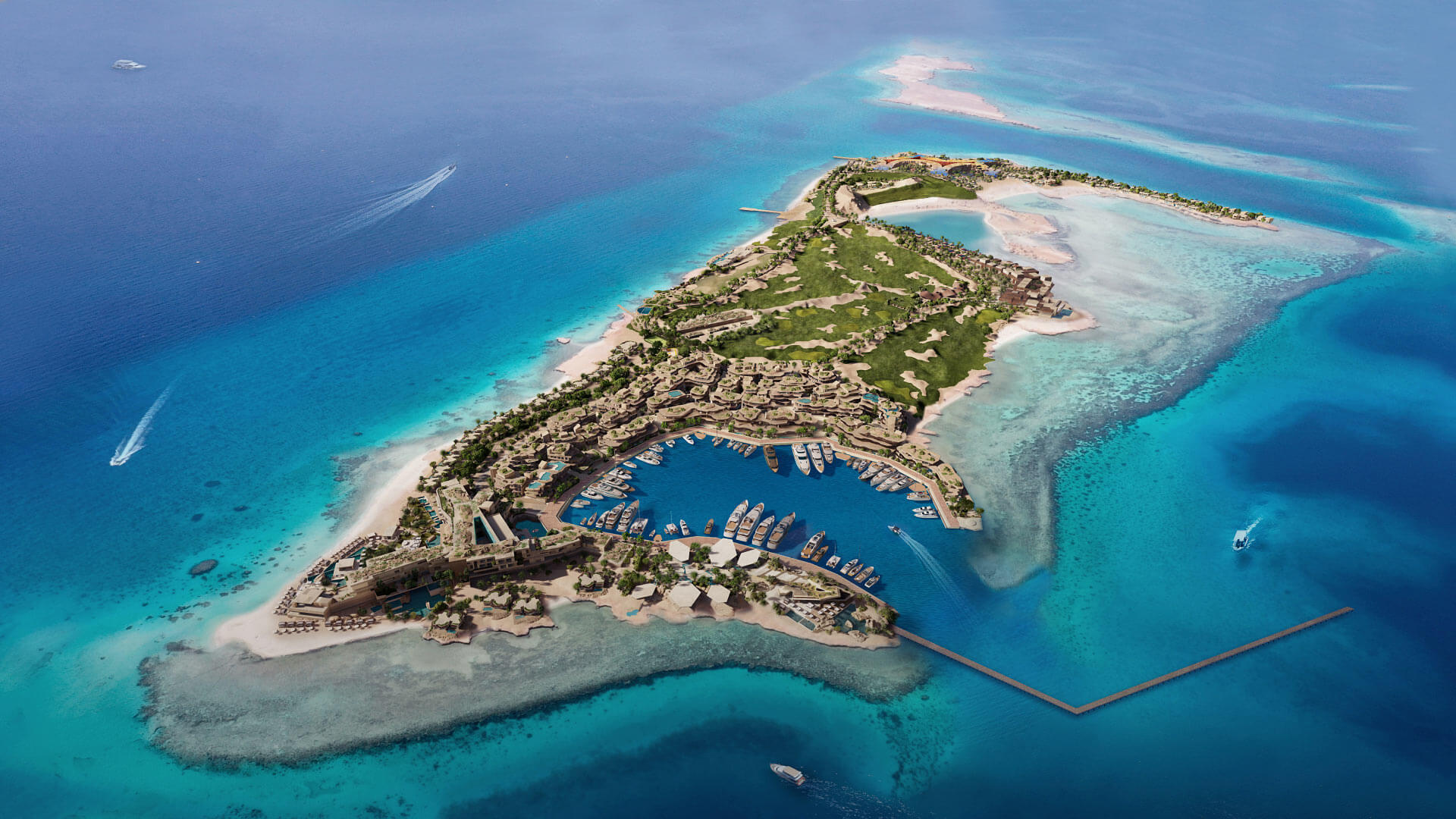 The latest addition to the NEOM giga project is SINDALAH, a luxury island destination in the Red Sea. SINDALAH is a breathtaking destination that seamlessly blends nature, design, technology, and architecture, offering unforgettable experiences both above and below the water. Spread over an area of 840,000 square meters, this island promises year-round delights due to its perfect climate and great connectivity to the nearby Mediterranean.
SINDALAH is designed to take high-end tourism to new levels, offering a range of amenities, including a beach club, yacht club, spa and wellness center, 51 luxury retail outlets, luxury hotels, and a large marina. With SINDALAH, visitors no longer have to worry about their enjoyment being dependent on the seasons, as Sindalah's perfect climate ensures a great experience all year round.
SINDALAH is slated to open in 2024, and expected to receive 2,400 visitors per day by 2028.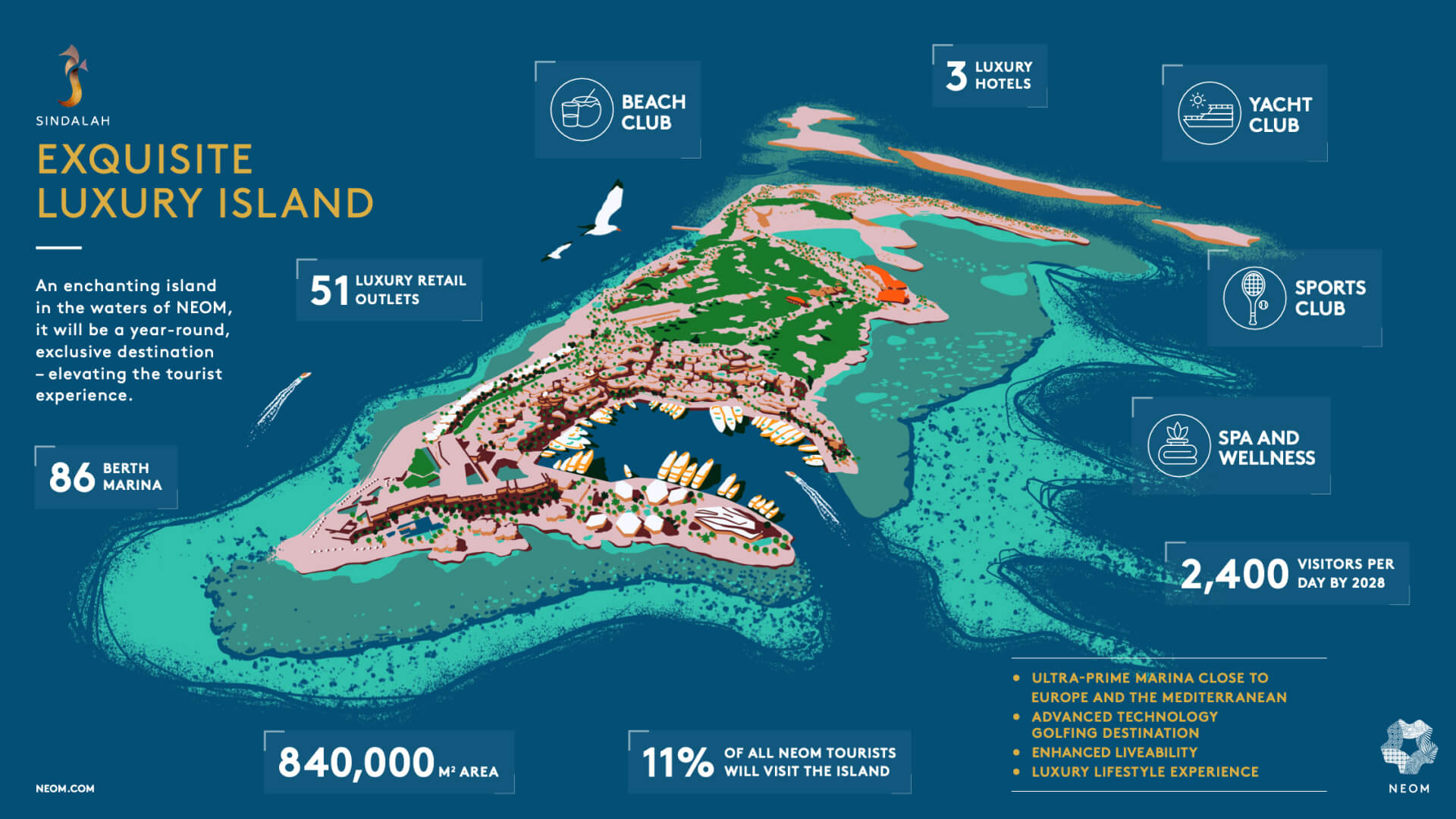 Read Next: Explore Saudi's Mega and Giga Projects that are Changing the Kingdom's Tourism Landscape