Global Fintech Adoption
The global fintech industry has seen widespread adoption, consistently doubling every two years from 2015 to 2019. 64% global consumers adopted fintech services in 2019, compared to 16% in 2015, a cumulative annual growth rate of 43%. 
What's most intriguing about the growth of Fintech worldwide, is that leading markets in Fintech adoption, measured by the percentage of a country's population that has used at least one fintech service, are predominantly emerging markets. Places such as China (87% consumer adoption), India (87%), South Africa (82%) and Mexico (72%) blow developed markets like the USA (46%), Canada (50%) and Japan (34%) out of the water. In fact, the bottom 11 countries are all developed markets (Western European and North American markets, Australia and Japan), and 7 out of the top 10 countries for Fintech adoption (that participated in the 2019 market survey comprising 27 countries) were all emerging markets. When we consider which markets were the fastest improvers in between 2017 and 2019, South Africa jumped 47% (from 35% to 82%), the Netherlands jumped 46% (from 27% to 73%), and Ireland jumped 45% (from 26% to 71%); these explosive rates in adoption have garnered all 3 of these markets a top 10 position. Despite Japan and Belgium & Luxembourg (Belux) jumping 20% and 29% respectively in Fintech adoption since 2017, both countries remain at the very bottom of the pack – indicating the rapid pace to which markets are adopting Fintech. The 20 markets surveyed in both 2017 and 2019 had an average fintech adoption growth rate of 30%.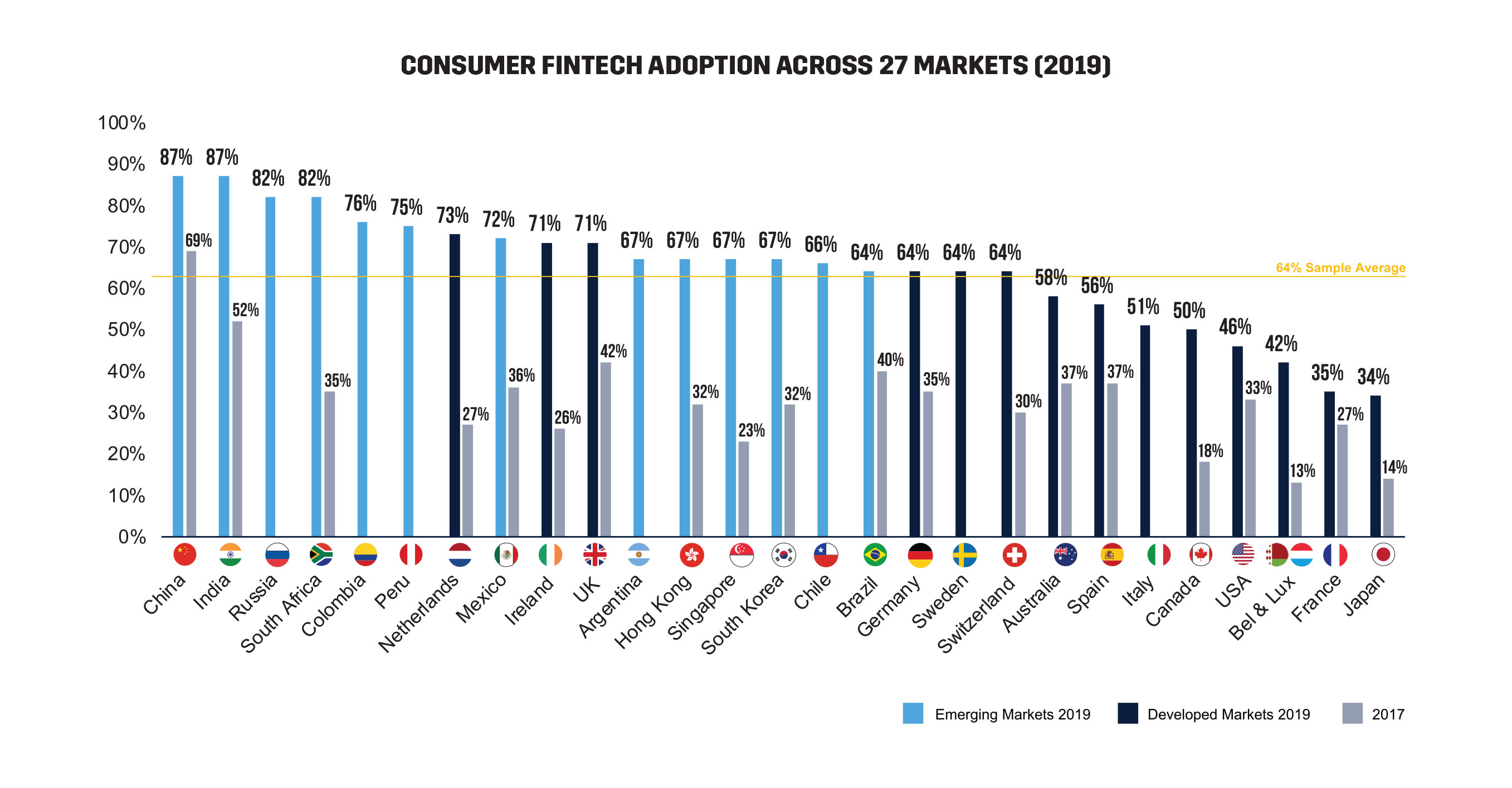 Pandemic Boosts Fintech Activity
Despite the pandemic affecting populations and economies worldwide, or perhaps because of it, fintech has seen a surge in 2021 like never before, breaking records in the number of IPOs, fundraising raised to date, number of deals, deal sizes, and the number of unicorns born. At the end of 2020, there were 65 fintech unicorns worldwide. Today, at the end of Q3 2021 there are 206 fintech unicorns worldwide; 119 of them (58% of the global total) were born in the first 3 quarters of 2021. It is safe to assume that there will be hundreds more in the coming years.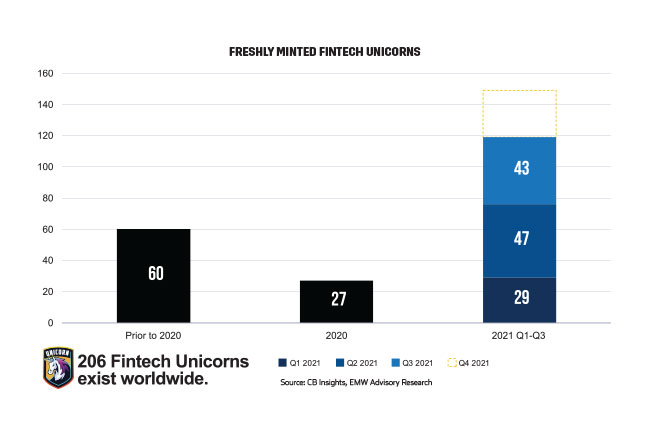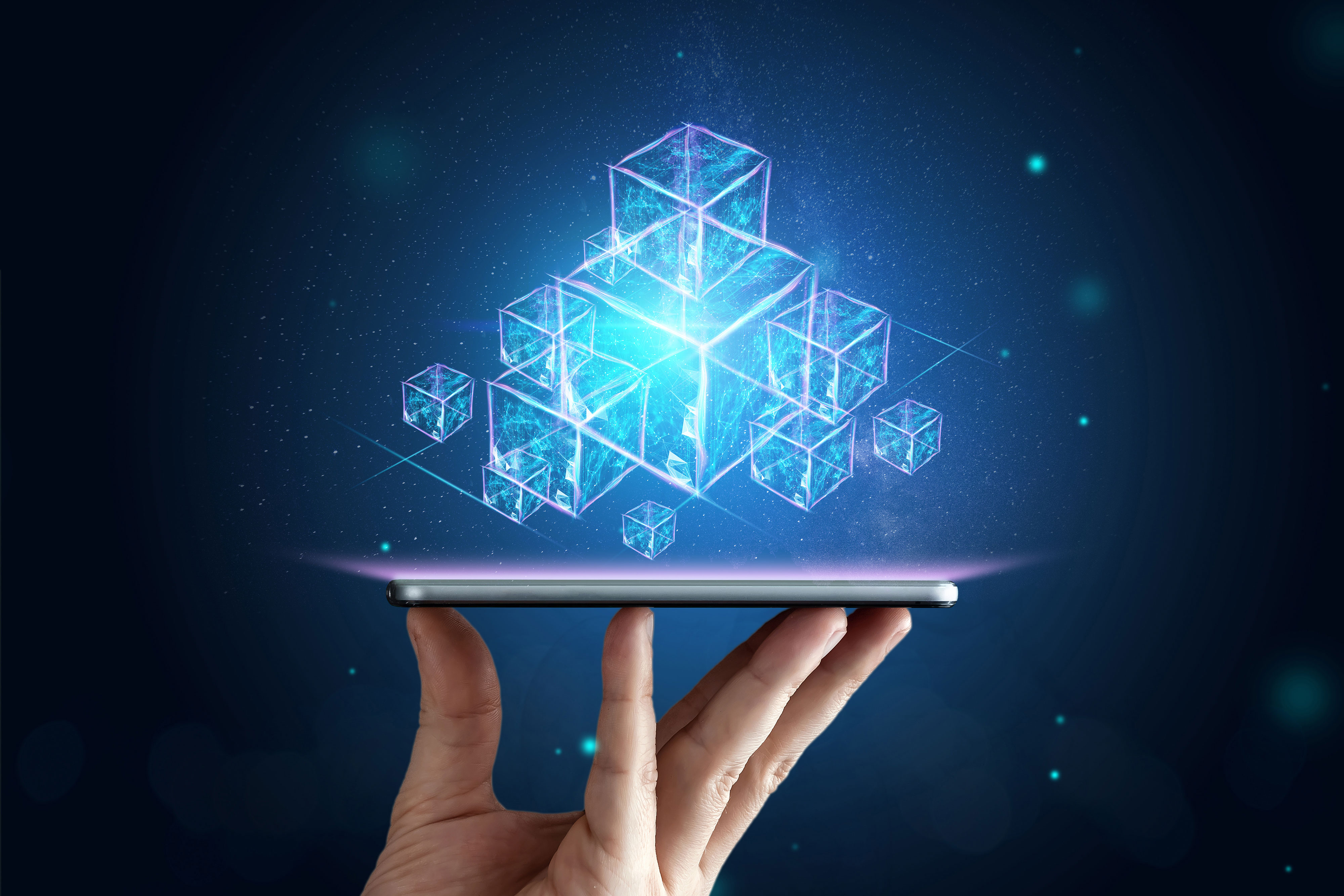 In 2020, the world was hit with the Global Covid19 Pandemic that drove the world economy into the greatest recession seen in 9 decades. Despite many industries struggling to survive, and the entire banking system being put to the test, the Fintech segment not only survived – but several fintech verticals, including digital asset exchanges, digital payments, digital savings and wealthtech witnessed average year on year growth of ±19%. The only fintech segment that saw a significant contraction was digital lending. In Q4 2020, after four consecutive quarters of declining deal activity in the fintech space, Venture Capital (VC) firms started to fund Fintech again posting 11% YOY growth (102 deals inked) compared to Q4 2019. And that growth has continued at a feverish pace breaking records in funds raised. Nearly $132 Billion USD was fundraised by fintechs globally in 2021, with 343 fintechs raising over $100 million. Every quarter in 2021 has broken funding records from all previous years' quarters.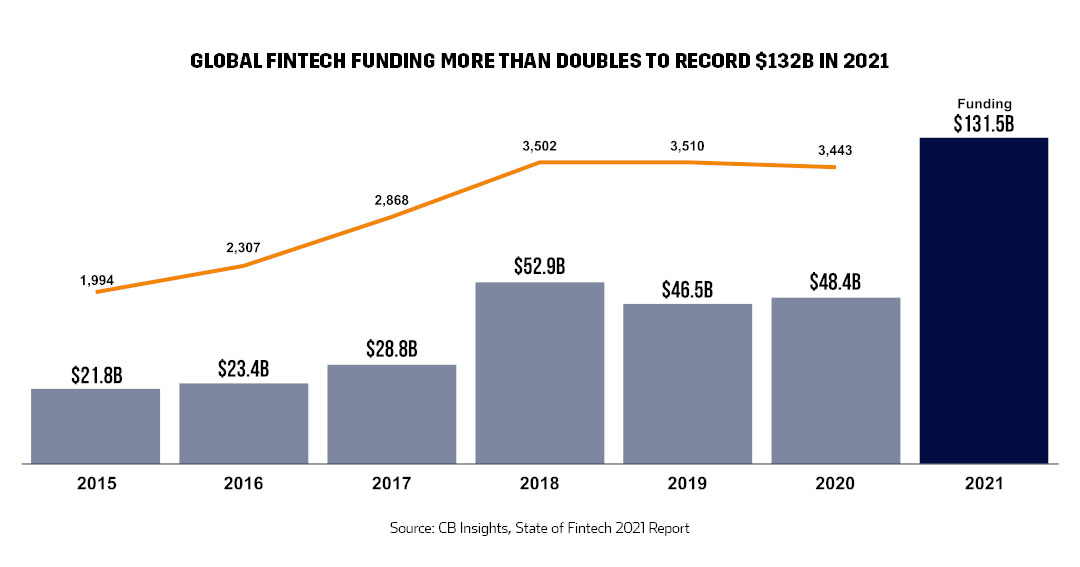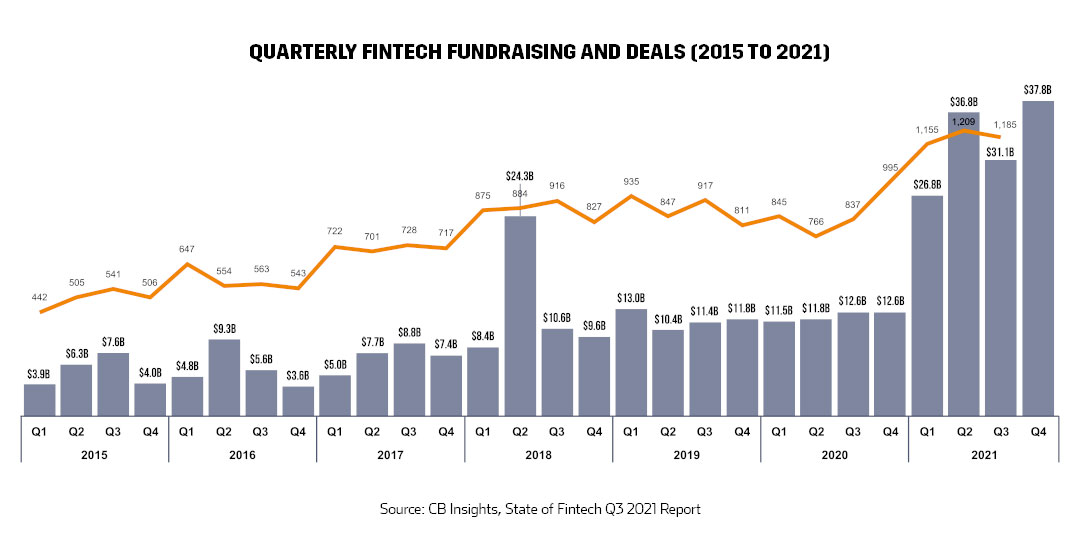 And in every fintech vertical assessed, fintechs have raised more capital in the first half of 2021, than they had in 2020 in total. In many cases, Q3 YTD fundraising values more than double the total amount fundraised for some verticals in 2020. The following chart showcases the leaps made by fintech verticals. Digital Payments and Digital Banking lead the way in fundraising, with $23.4 billion USD and $20.4 billion USD raised respectively. All verticals except two grew by triple-digits year-to-date. Digital Lending was the poorest performer in 2020, but in 2021 has made a comeback posting 137% growth YTD; Digital Payments follows close behind with 125% YTD fundraising growth. Slowest growth in fundraising was seen in InsurTech at 27% YoY growth.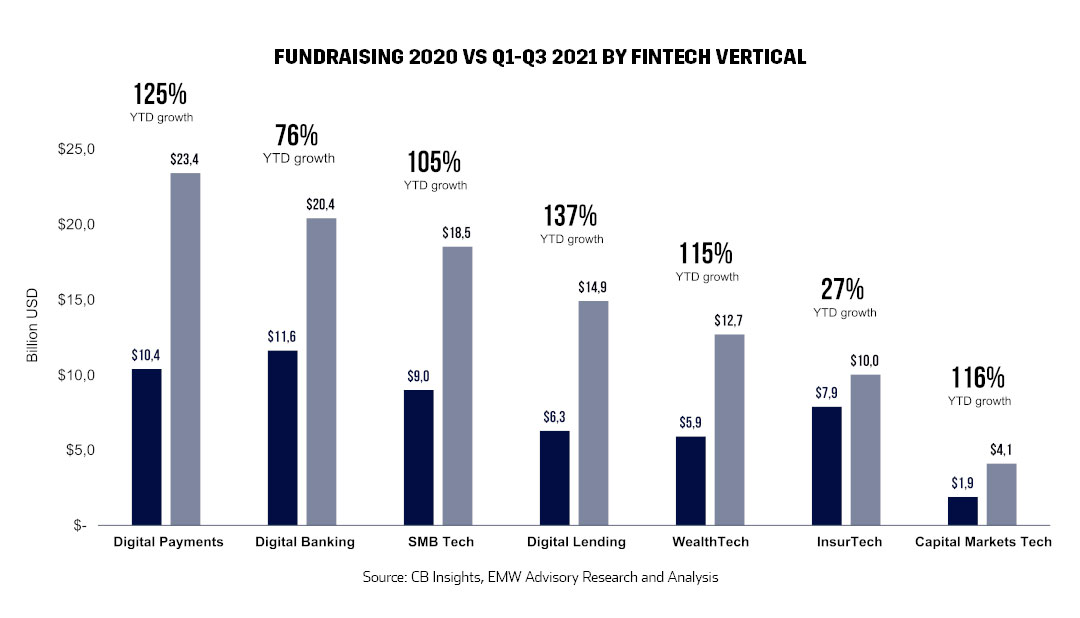 Though the pandemic's economic impact lead to the first overall decline in global payments revenue in 11 years in 2020 (in absolute value), the Europe Middle East & Africa region (EMEA) experienced the smallest contraction of -3% (versus -5% in North America, -6% in Asia Pacific, and -8% in Latin America) . Cash payments, declined by 16% globally in the same year; although the temporary shuttering of businesses for a portion of the year due to pandemic restrictions had a large role to play in this decline. Now, just one year later, the picture is unexpectedly positive, with a rebound in payments across the globe, despite being geographically uneven.  Meanwhile, while payments decreased globally in 2020, the number of non-cash transactions grew by 6% from 2019 to 2020. Digital Wallet usage surged, driven by contactless payments and pandemic-driven removals of contactless purchase limits. Overall, the pandemic has helped to drive consumer behaviour away from cash and towards fintech solutions, especially in digital payment solutions, and digital or neo banking. The question still remains – which of these behavioural changes are expected to last for the long term? Judging from the global investment going towards these start-ups around the world, the outlook for sustained behavioural change is strong.