Tesla Has Been Leading the EV Market in the US and Is the Largest Company in the World in Terms of Units Sold
The company has inspired technological innovation in the e-mobility industry, with many of its engineers and executives branching out and launching their own start-ups in the sector. Peter Rawlinson was the vice president and chief engineer for Tesla Model S for three years but is now CEO and CTO of Lucid Motors and determined to beat Tesla. Lucid Motors is a California-based start-up that manufactures electric vehicles. It was established in 2008 and originally focused on producing electric vehicle battery packs and powertrains for other manufacturers.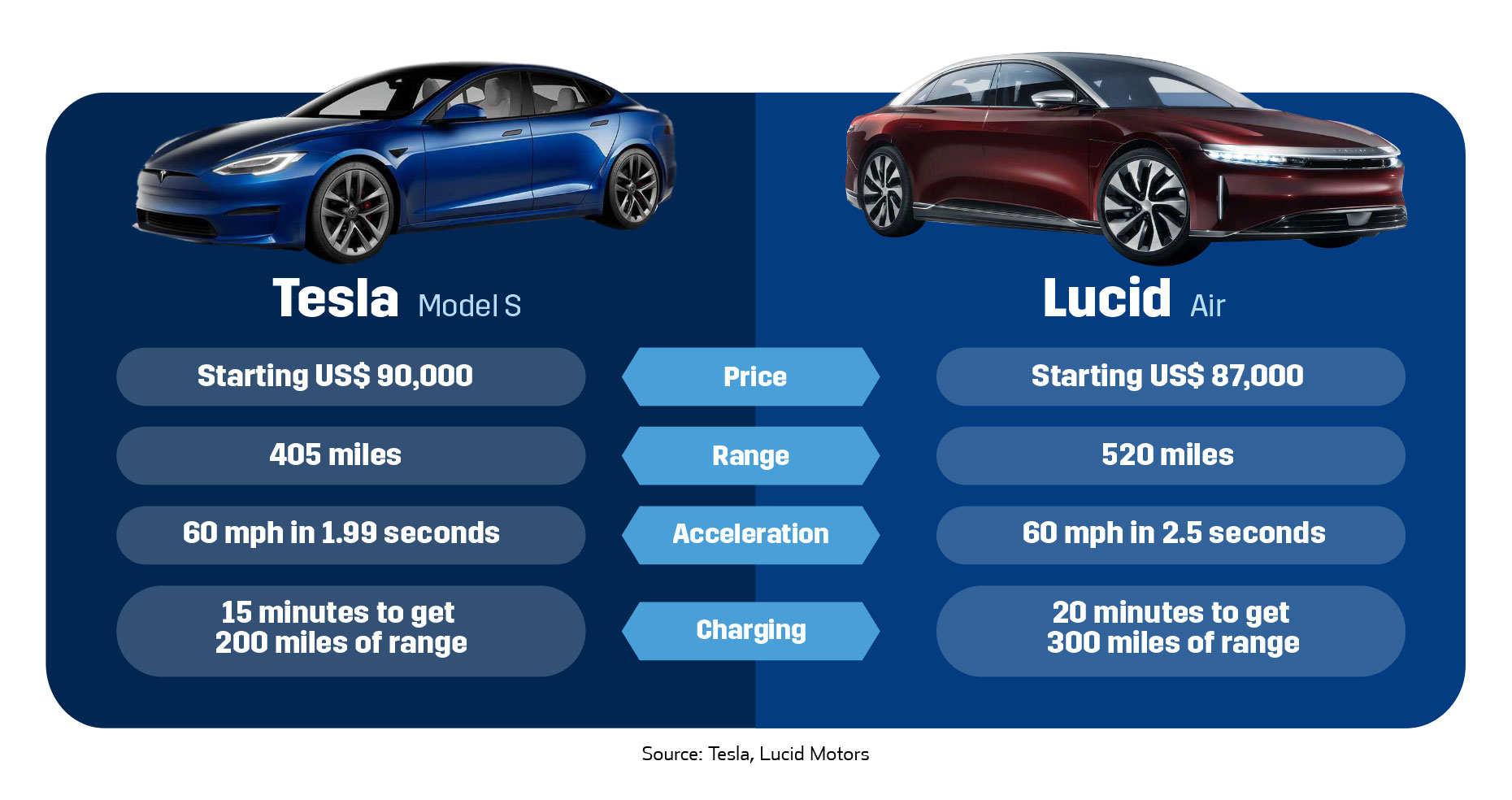 In 2016, Lucid Motors decided to start manufacturing their own electric luxury cars, but production only started in 2021. Along the way, the company had issues with funding but secured a US$1 billion investment from Saudi Arabia's Public Investment Fund in 2018. In 2021, it completed a US$4.5 billion merger with Churchill Capital IV and later became a publicly listed company on Nasdaq exchange and started trading as Lucid Group.
Lucid Group is setting new standards with its car performances and charging technology. The company has delivered 300 air sedans in total to date, of which 125 were delivered in 2021. Its target for 2022 is 12,000 to 14,000 vehicles. It plans to build its second factory in King Abdullah Economic City in Saudi Arabia in 2022, where it would be able to produce 150,000 vehicles a year.
Lucid's charger, Wunderbox, can charge 300 miles in 20 minutes making it the fastest charging system. It is compatible with every public charging station and has just formed a partnership with Electrify America with over 700 stations across the US. The Lucid Connected Home Charging Station has bi-directional charging and is able to power a home if there is an outage.