studiolibani: The Importance of Designing Cities to Be More Sustainable and Resilient
The industrial revolution shifted the world from an agrarian economy to a manufacturing economy, bringing with it a great many benefits such as increased production of goods, with greater levels of efficiency, improved wages, some level of deflation (lower pricing of goods and services), a stampede migration from rural areas to urban cities, and significant overall economic growth of the world. The industrial revolution also brought about significant environmental degradation and for short bouts of time, negatively impacted the health of our society. Economists argue that the economic gains of the industrial revolution assisted the human population to achieve greater health overall with greater access to healthcare; but, many will also argue that the industrial revolution has increased the pollutants in the air we breathe, created an accumulation of plastics in our oceans, exponentially increased the CO2 emissions exacerbating climate change, and has impacted our societies time and again, through the spread of diseases due to the burdens of acute urbanization, poor sewage, waste and water management.
Our cities have gotten better at managing our waste and sewage, and providing clean drinking water across the world as our cities have gotten bigger, more populated, and more complex. A lot of that progress can be attributed to key stakeholders putting a greater focus on sustainable urbanism, which is urban planning with sustainable development in mind, and smart city applications. The first urban planning conference was held in New York in 1898 by a British planner who questioned whether his plans should revolve more around the physical form and aesthetic design of urban spaces, or the functionality required by the same space. At the time, horses were the main means of transportation, and the issue of removing horse manure which increasingly covered the streets, got planners thinking about developing a structured way of dealing with growing populations. That same year, Harvard founded a school of landscape architecture, but graduates were mainly trained on design, which failed to tackle issues faced by vulnerable populations. Urban planning was then birthed in the 20th century and has evolved into the development of urban areas, which include both design and regulation, to meet the needs of local communities.
Landscape Architecture is concerned with the design, planning, and management of outdoor spaces in urban areas. But it's not just about planting green spaces in cities to make a neighbourhood look more beautiful; landscape architecture carefully analyses the climate and ecology of the surroundings to provide customized solutions, target environmental issues and promote healthy living. It is about creating sustainable landscapes as well as protecting already existing natural areas. It strengthens ties between communities and their natural surroundings. If you live in New York for example, green spaces like Central Park not only provide a sense of countryside and some relief from the concrete city, but also a form of green infrastructure to the city.
studiolibani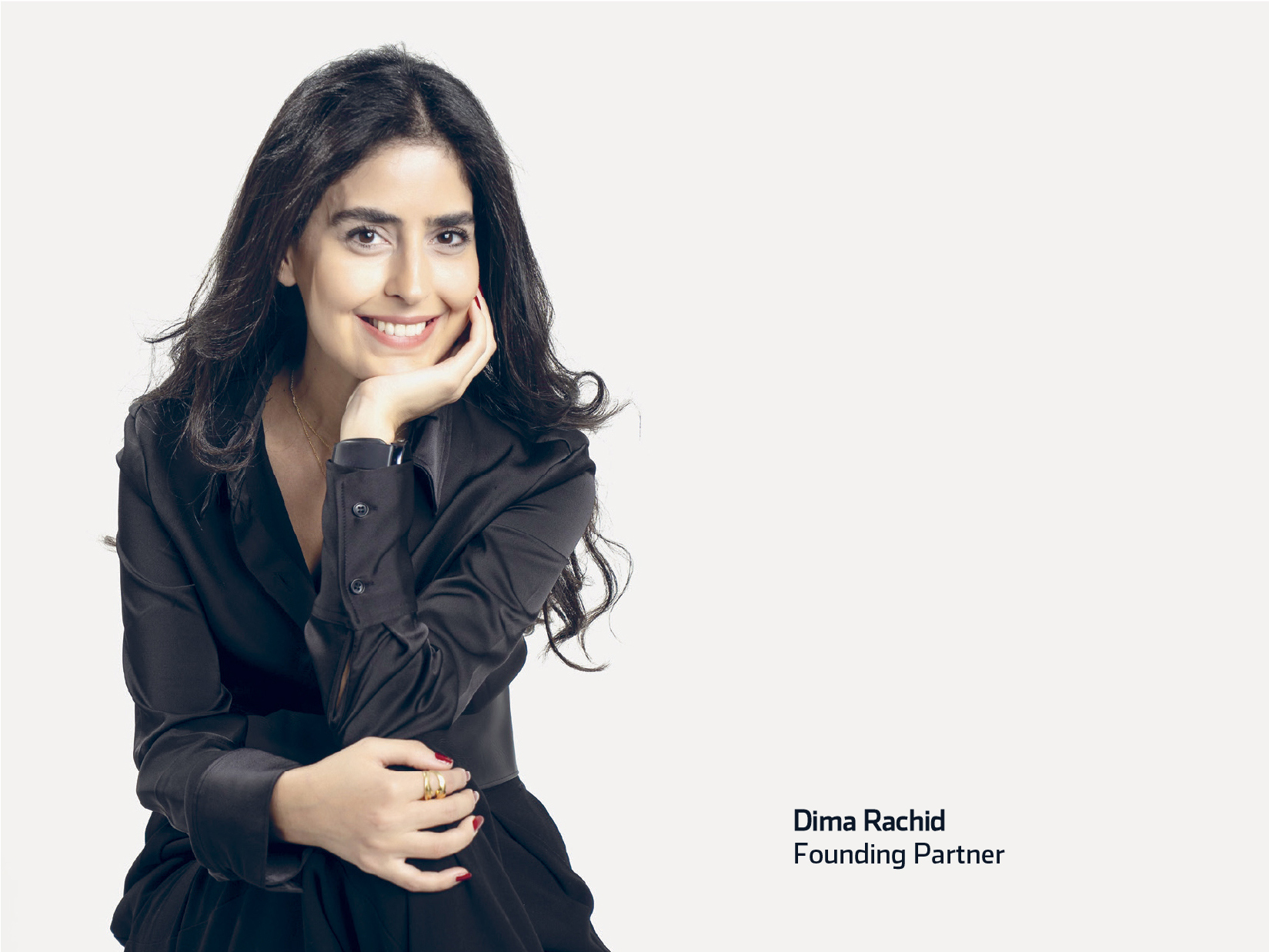 An award-winning agency of landscape architects and urban strategists has invested its work in different areas of the MENA region. Dima Rachid, co-founder of studiolibani explains that it was born out of a lack of landscape architecture and urbanism approaches fit for the region's contemporary challenges. studiolibani has worked on projects in West Africa, Jordan, Lebanon, Saudi Arabia, Qatar, and the UAE. Leah Moukarzel, co-founder, adds "There is no limit as to what geographies we can cover as long as we are teaming up with like-minded, professional, driven, and future-looking partners."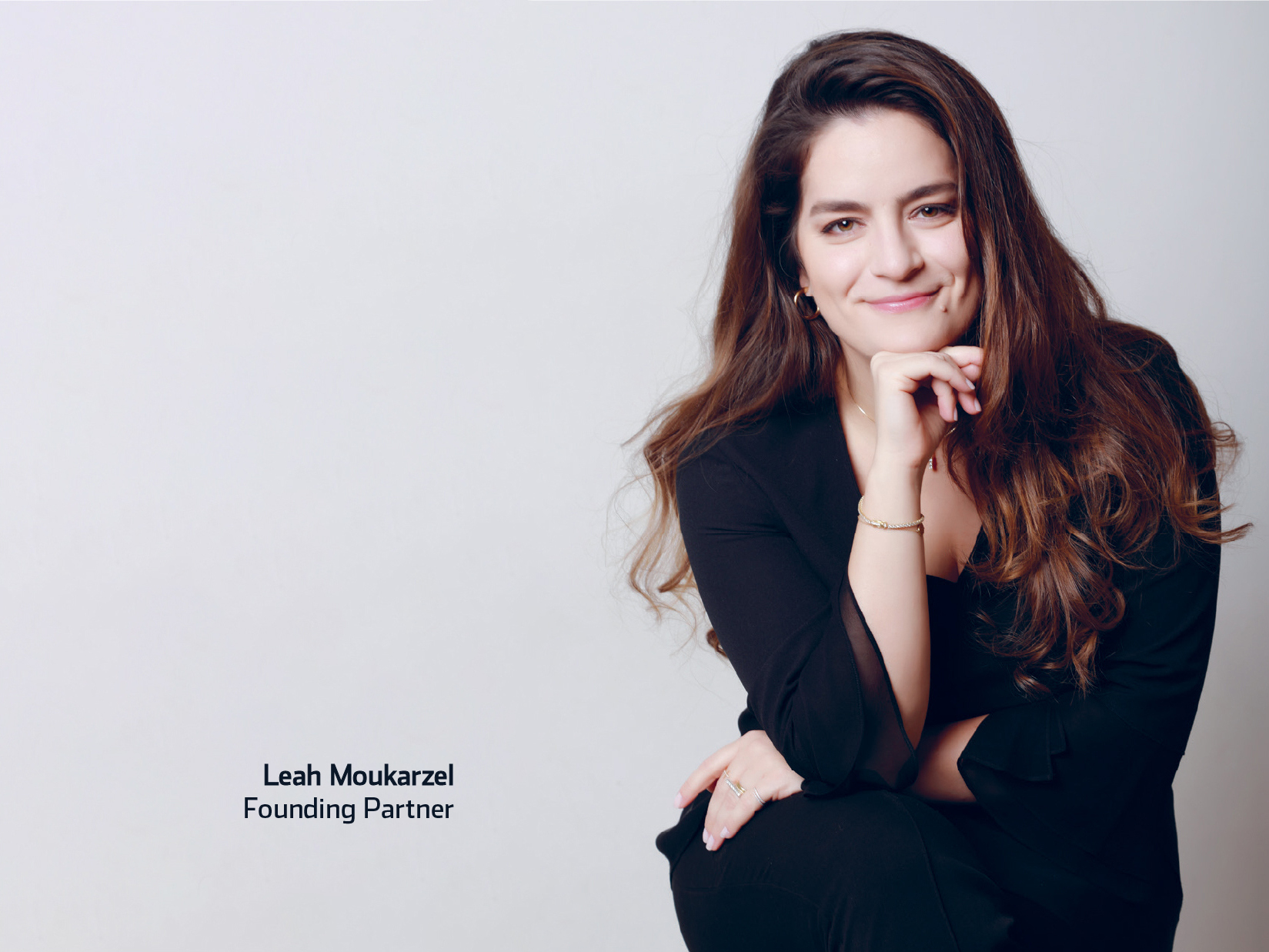 The purpose of smart urban planning is to respond to the impacts of climate change through mitigation and adaptation strategies and policies. Climate change impact in the GCC particularly means more prolonged periods of drought, harsher temperatures, frequent flash floods, and the like. A shared thought that both co-founders emphasize is the importance of smart urban planning and an understanding of the urgency of the situation; the reality we must face is the fact that we have finite resources, and we must consciously design our cities and lives to use them wisely. The intent is to minimize impact at all scales. Dima explains, "smart planning starts from within existing city fabrics deploying hybrid infrastructures – ecological, hydrological, and social – that can support urban life in light of environmental, demographic, and climatic shocks. More importantly, it is one that invests in data to do so more effectively, while also focusing on green and alternative mobility, providing infrastructure for walkability, biking, and car-sharing, for example, rather than just individualized transport by electric vehicles."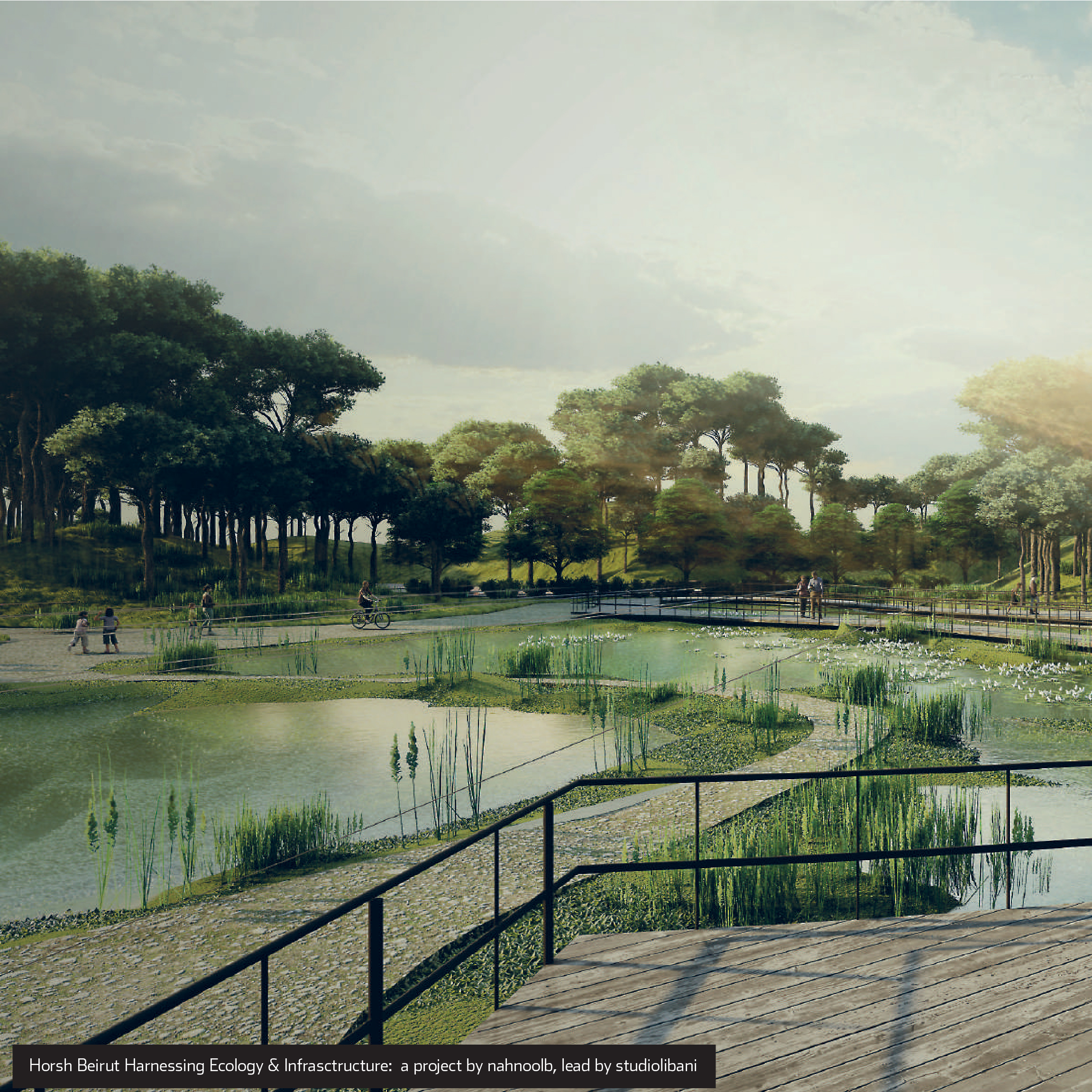 studiolibani works across scales, using geo-spatial data and heat data alongside local tech partners, to ensure that any urban intervention and any future development/city addresses the climatic challenges, while remaining true to its context, and providing its people with an enjoyable urban spatial experience. One of studiolibani's projects on climate resilience strategies is a master vision for Horsh Beirut, the only remaining urban pine forest in Lebanon's capital, Beirut. studiolibani led the proposal, alongside Nahnoo NGO, to address urban issues using landscape approaches that are focused on low-cost, high-efficiency nature-based solutions. Beirut has been a troubled city, having gone through a revolution, a pandemic, an economic crisis, and a massive explosion all within a 12-month period.
Dima elaborates, "When planning the living environment, it is inevitable to address questions on urban resilience, climatic resilience, social equality, economic growth, and emergency response. The intention was that the forest, being the only remaining one, reclaims its infrastructural role and provides ecosystem services at the neighborhood and city scale. We proposed the punctual integration of green infrastructure for flood control along its perimeters, the connection to fragmented public spaces, the introduction of food production spaces, of social spaces, and the park as a platform for humanitarian emergency response in times of crisis."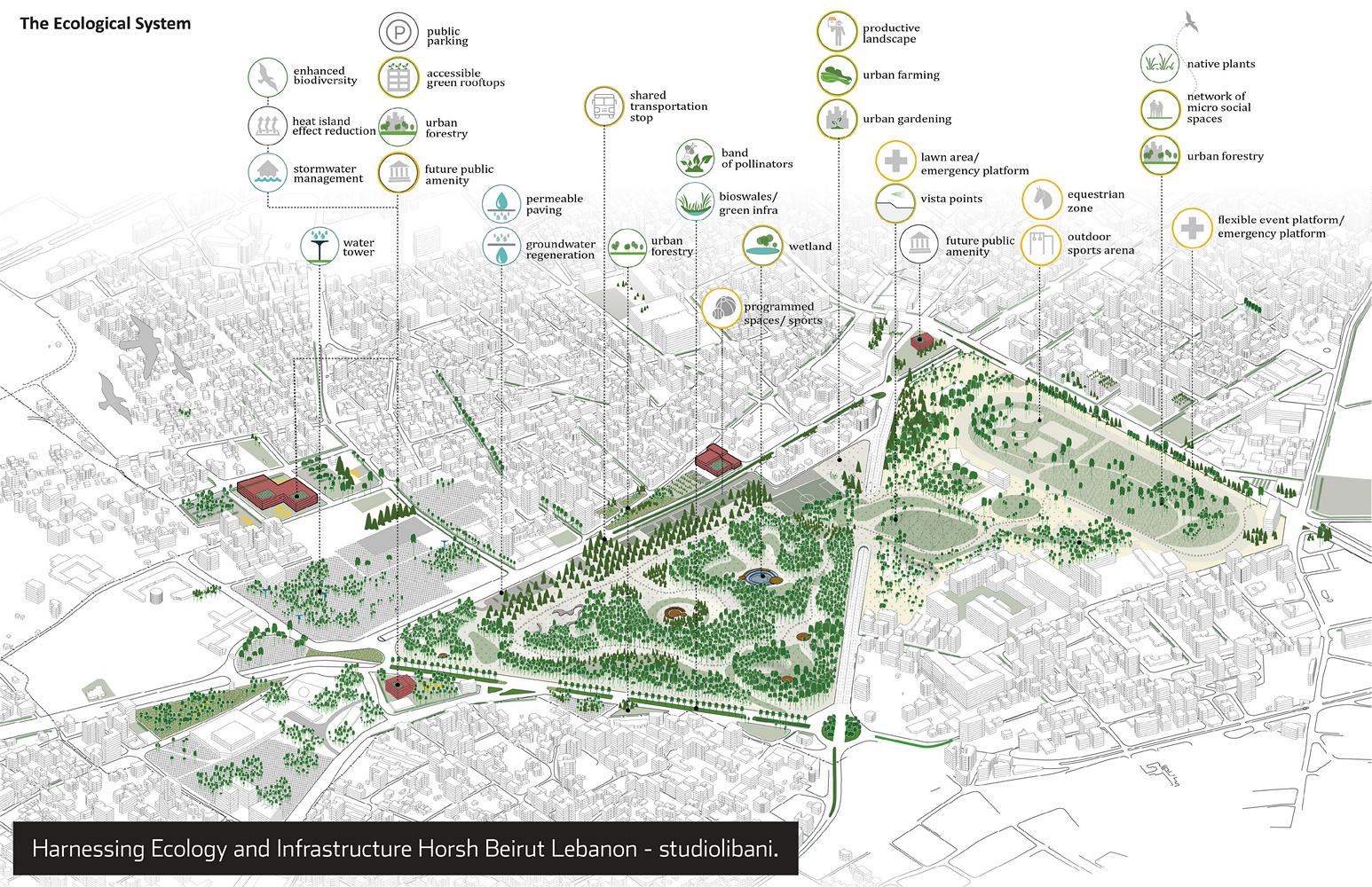 Another notable project that studiolibani has worked on in the region was in Jordan in 2019. studiolibani collaborated with Civil Architecture to create "Minor Paradises", a week-long public installation, at Amman Design Week. The installation was a provocation on the issue of drought and the challenges of imagining garden spaces in MENA, one of the most water-scarce regions in the world. The installation used locally sourced sands, gravel, and rocks to replicate a territorial mineral landscape in artificial geometries.
Climate change and environmental issues cannot be stopped nor impacts reverted, but it can be slowed down and impacts dampened; Today the urgent obstacle facing professionals in the field is the race against time. Governments, institutions, the private sector, education system and key stakeholders need to collaborate and work together to implement sustainability principles at every level. Agencies such as studiolibani focus on data-informed design- using geo-spatial data, to provide best practices in sustainable development and urban resilience. studiolibani is trying to get landscape architects a bigger seat at the table of policy and decision making in matters of sustainability, and to work more closely with developers and the government to institute change today.
studiolibani's ambition is to deliver urban resilience strategies and spatial design solutions that are data-informed
Read more about Sustainable Innovations and Startups in the MENA region in our comprehensive report here.