Radisson Hotel Group on Working Towards Sustainable Tourism
Sustainable tourism is defined by the UN World Tourism Organization as "tourism that takes full account of its current and future economic, social and environmental impacts, addressing the needs of visitors, the industry, the environment and host communities." Tourist attractions worldwide have been finding innovative ways to ease their impact on the planet and become more sustainable. Some hotels operate entirely with sustainable materials such as using solar panels as their main source of energy, using water from nearby springs, or staffing local families in more rural areas and procuring local goods. Others operate as social enterprises, investing up to 100% of profits back into local sustainability causes.
Travel & Tourism: An Economic Driver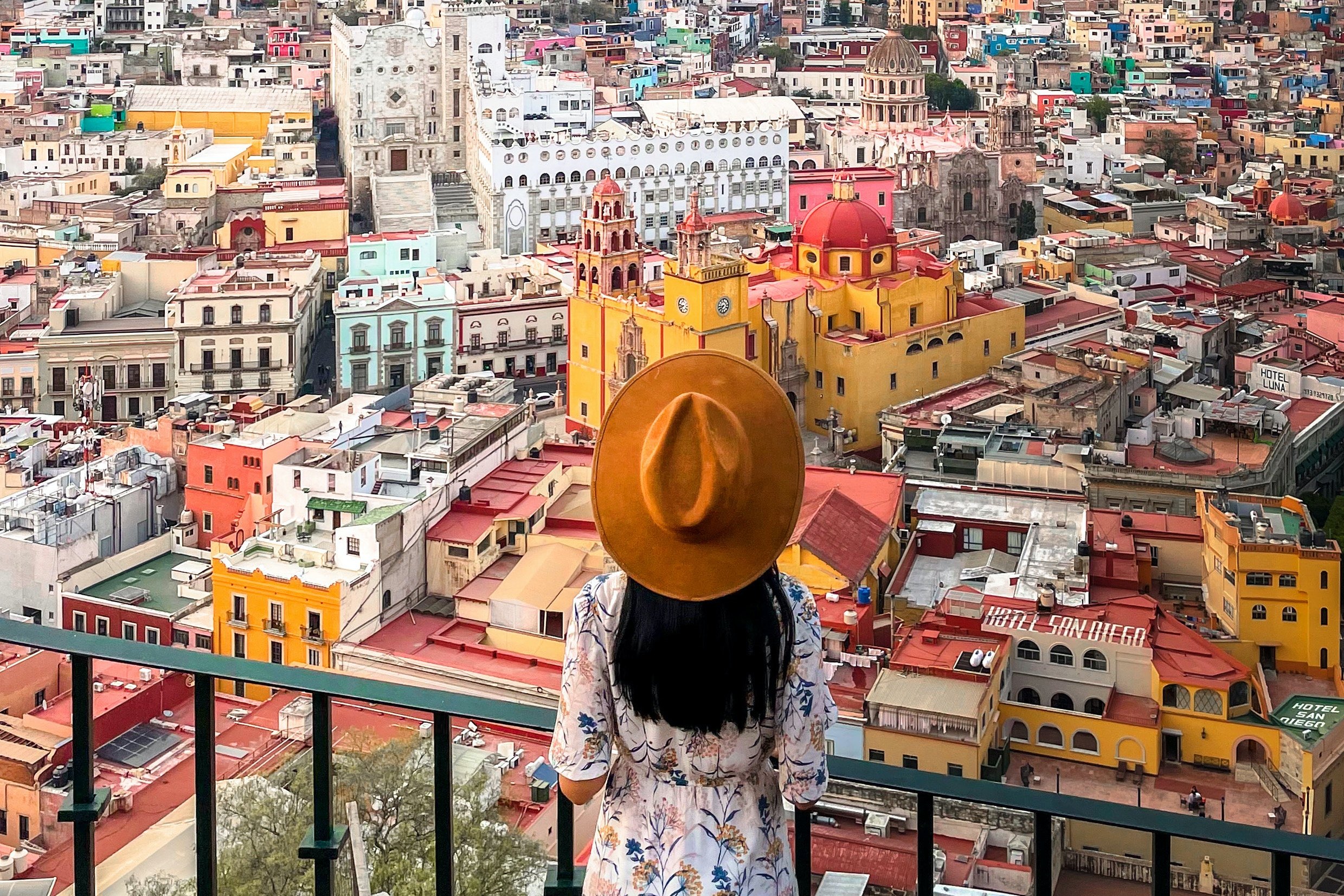 In 2019, travel and tourism formed 10.3% of the global GDP. That means that $1 out of every $10 spent in this world is spent on travel and tourism. This figure subsequently dropped to 5.3% in 2020 due to the global border closures and stay-at-home orders brought on by the Covid'19 pandemic; but considering the extraordinary circumstances the world was under, it's remarkable that $1 out of every $20 spent in 2020 still went towards travel and tourism. Later travel and tourism rebounded and increased to 6.1% of Global GDP in 2021 as restrictions started to ease, but it still has a ways to go until the sector is fully recovered to pre-pandemic levels.
The sector is also a major employer globally, having generated 330 million jobs in 2019. Just think of all the travel consultants, pilots, air hostesses, cruise ship captains, hotel concierges, chef's, restaurant staff, travel and tour guides, security guards protecting museums and UNESCO world heritage sites, small shop owners, shuttle bus drivers, limo drivers, masseuses, hotel room cleaners, vacation rental home managers and cleaners, theme park attendants, entertainment staff and more, powering this industry. Travel and tourism are sustaining many families' livelihoods around the world.
Middle East Tourism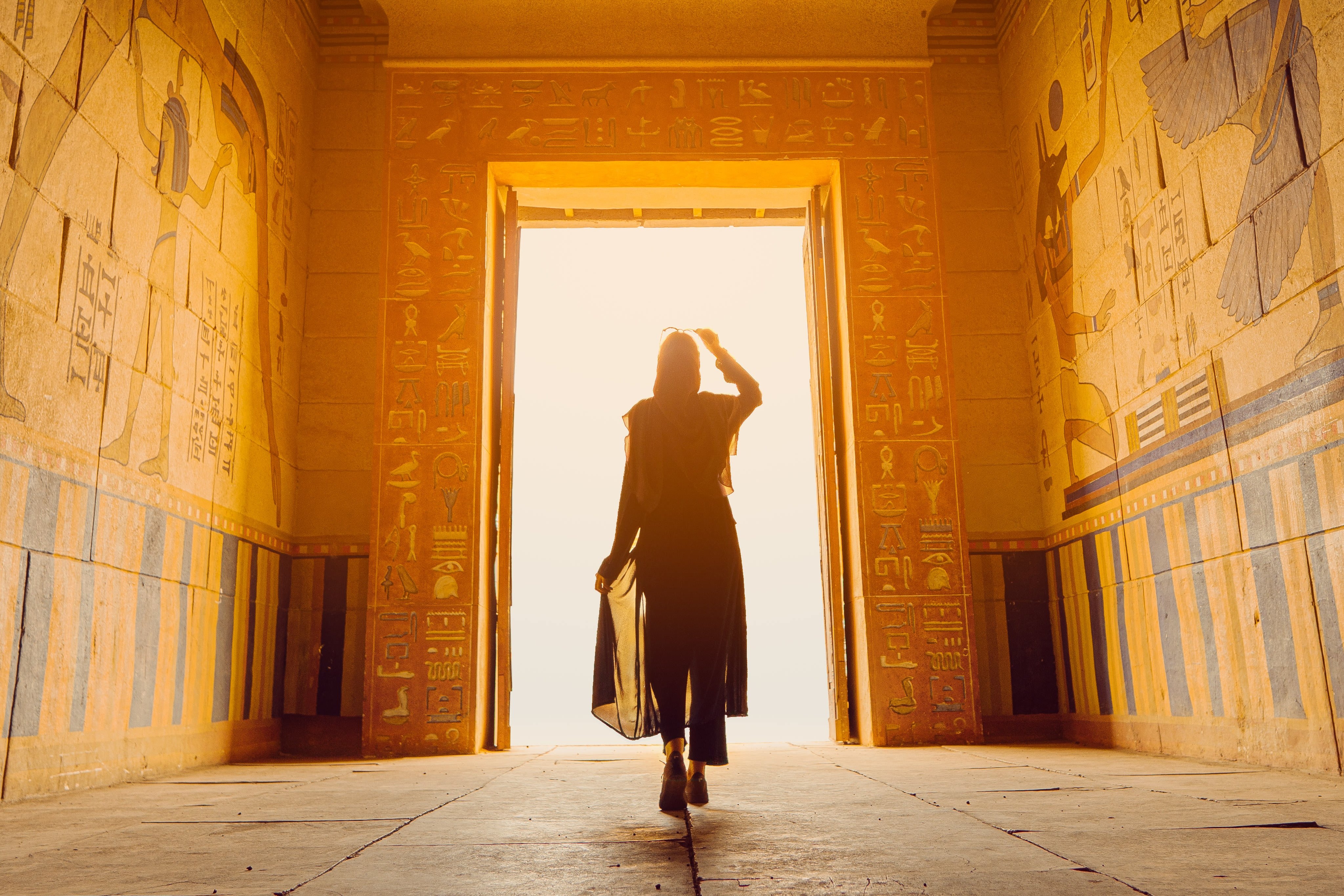 The Middle East's high-income countries have been turning to tourism as one critical industry to help them diversify their economies away from oil-dependency. Saudi Arabia has announced over US$1 trillion worth of tourism development projects, off the back of their Vision 2030; most of these projects are in the leisure tourism sector, involved with not only the development of hotels and resorts, but also UNESCO world heritage sites, and transport infrastructure such as airports, tramways, roadways and similar. Much work is underway in the Kingdom, as general tourism was not open in Saudi prior to 2019. Only religious tourism with the Hajj and Umrah pilgrimages, and business travel was accommodated in the Kingdom prior to its recent reforms opening Saudi borders to the world. Despite this long history of being closed to the outside world, the holy Saudi city of Mecca was the 13th most visited city in the world in 2019 due to 20 million annual pilgrims the city plays host Tim Cordon, Chief Operating Officer, Middle East & Africa to each year. The Kingdom tourism sector contributed 4% in 2021 but is forecasted to contribute 7.2% of GDP by the end of 2022; Saudi Arabia's tourism sector is also expected to be the fastest growing tourism sector in MENA over the next decade.
The UAE has also invested heavily into its tourism sector over the past few decades, which contributes 12% to the country's GDP. Dubai is not just a regional tourism heavy weight, but a global tourism champion; Dubai was the 4th most visited city in the world, behind Bangkok, London, and Paris in 2019. There are a lot of tourism dollars that flow through the UAE as well. International visitors to Dubai spend on average more per night in the city, than visitors spend on average in New York city and Paris combined.
Other notable tourism hotspots in the region include Cairo, Egypt and Amman, Jordan. Every year, tourism makes up 20% of Jordan's national economy, attracting millions of tourists each year looking to check out experiences such as hiking through Petra, sleeping under the stars in the Wadi Rum desert, exploring old castles and Roman Ruins, and floating in the Dead Sea. Similarly, 12% of Egypt's economy comes from its tourism industry, with millions of tourists each year keen to float down the Nile River, explore the Giza Pyramids and take a photo in front of the Sphynx; Egypt has also become a popular scuba diving and free diving destination, as the Red Sea provides much to explore under the Sea, beyond the explorations available on land from the Valley of the Kings to the various tombs, museums and temples that are scattered across the country.
Sustainable Tourism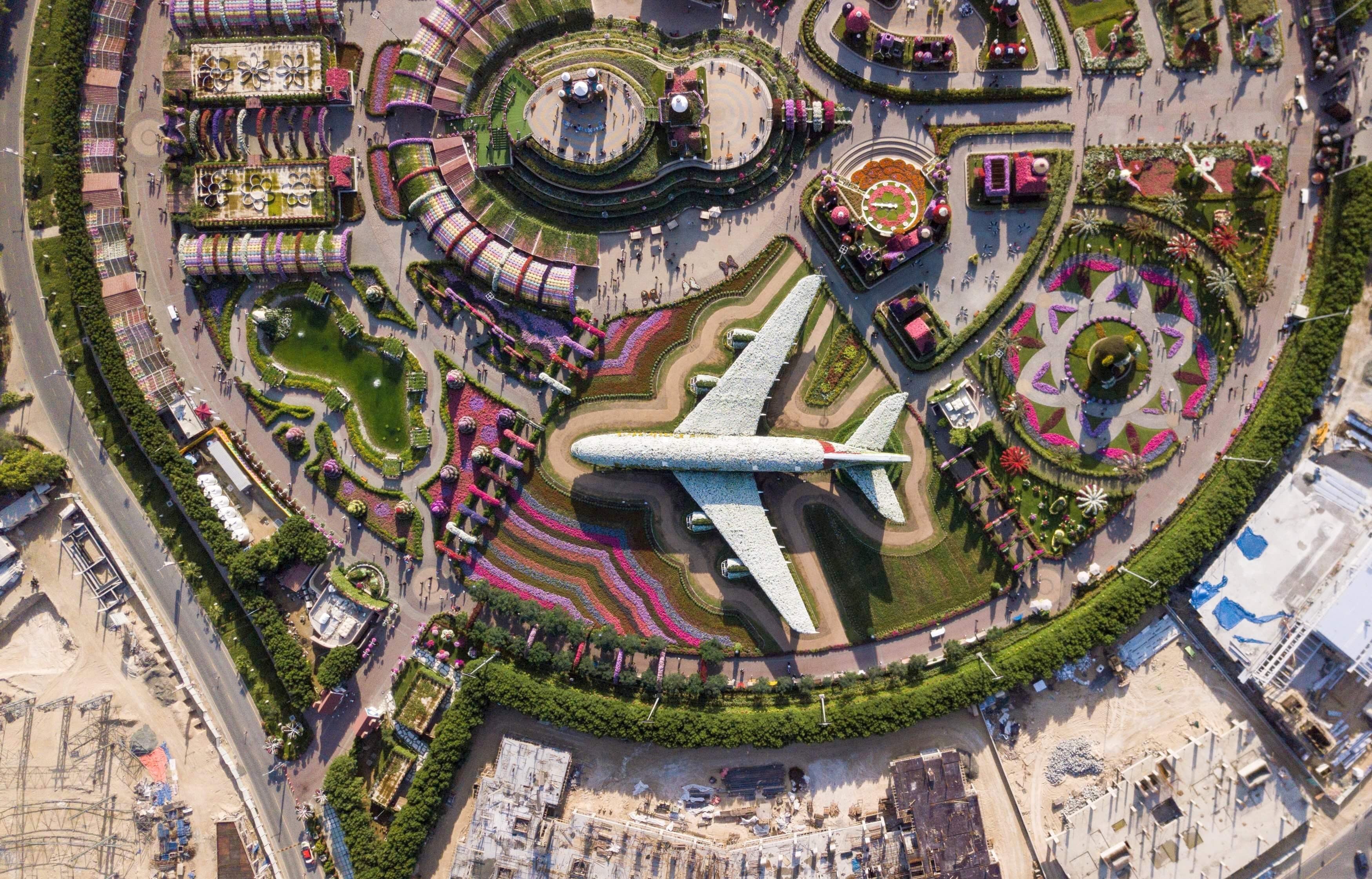 As climate change and environmental sustainability becomes an increasingly urgent global issue, the travel and tourism industry is also embracing ways in which it too can become more sustainable. According to Booking.com's 2021 Sustainable Travel Report, 83% of global travelers think sustainable travel is important and 61% state that the pandemic has influenced their decision to want to travel more sustainably and that Covid'19 has increased their environmental awareness. Eco-friendly hotels are those that implement decisions that are beneficial for the hotel, the community, and the environment such as embracing initiatives, policies and processes that reduce plastic waste, automate energy control, cut food waste, save water, switch to sustainable mobility, and support the local community. According to the Global Hotel Decarbonization Report 2017, hotels will need to reduce their GHG emissions per room by 66% annually from 2010 levels by 2030 to meet the 2-degree Celsius cap set out in the Paris Climate Agreement.
To do so, each hotel room will not only have to implement state-of-the-art energy savings solutions that have the most efficient heating and cooling systems and energy-saving light fixtures, but also utilize renewable energy that does not produce carbon emissions at time of energy production or generation.
Not only is tourism important for regional economies, but sustainable tourism in particular, is even more relevant in this part of the world where water scarcity, food security, and extreme heat are just some of the issues that are top-of-mind. The Middle East has 1% of the world's fresh-water reserves, making it an even more precious resource in this part of the world. Much of the potable water in the region comes from desalination plants, which further begs for innovative water-saving initiatives and programs. Extreme heat is also something that plagues this region, which means high electricity and air conditioning bills to operate in the summer months. This leaves hotel operators like Radisson Hotel Group, which has 52 hotels in operation and over 25 hotels under development across the Middle East region, continuing to drive social and environmentally sustainable impact.
Radisson Hotel Group's Sustainability Journey
The Radisson family of brands can be found around the world in more than 120 countries, with currently over 1,700 hotels in operation and under development. Radisson Hotel Group operates the business in EMEA and APAC with over 1,100 hotels in operation and under development. It is a member of the Sustainable Hospitality Alliance, which includes 21 world-leading hotel companies that make up 35% of the global hotel industry by rooms. Radisson Hotel Group's Middle East & Africa (MEA) Chief Operating Officer, Tim Cordon, talks to us about the Group's sustainability focus and initiatives.
"Radisson Hotel Group is always looking to go beyond the usual initiatives found in hotels; we've taken a strategic approach to responsible tourism and hospitality, with initiatives that are built on 3 pillars: Think People, Think Community, and Think Planet." Cordon explains, "we credit this strategic approach to reaching several key milestones in 2021."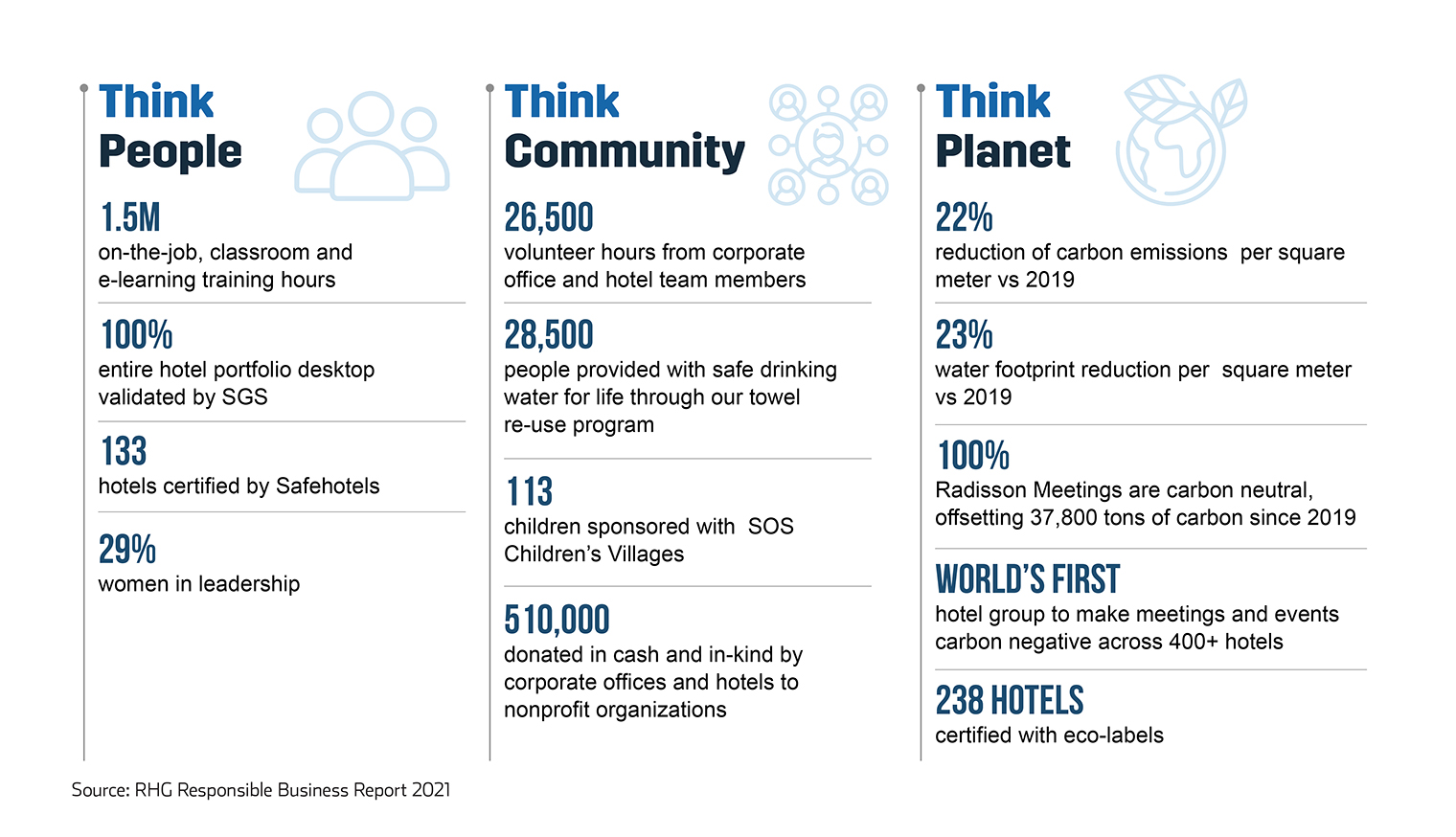 Those key milestones include 56 RHG hotels being powered by 100% renewable energy, 238 of them being eco-labelled and having 513 electric car charging stations across the group's properties. Radisson Hotel Group's main eco-label partner is Green Key, one of the largest international environmental certifiers offering programs designed specifically for the hospitality industry. Green Key's criteria include 13 areas such as installation of eco-friendly lighting, treating of wastewater, and separating waste and recycling. It has set water initiatives, such as the Towel Reuse Program and the Green Housekeeping Program and has taken specific actions to reduce water consumption by installing water-saving technologies. 37% of water used by RHG hotels is consumed in extremely high water-stressed areas. In one of its hotels, it has drilled two water wells and installed an irrigation system which will save 60,000 cubic meter of water and €40,000 per year. Moreover, RHG has committed to abolish the use of plastic straws, plastic stirrers, plastic water bottles.
In Germany, RHG announced its first ultra-fast Electric Charging Hub in partnership with Allego, a leading European EV charging network provider, to expand its network of over 500 chargers across the EMEA region.
Closer to home, in the Middle East region, the Radisson Blu Hotel in Dubai Deira Creek started using hydroponic farming at the end of May 2022 at the hotel's much loved seafood restaurant, Fish Market. Hydroponic farming is a method of growing plants in water and not in soil. Its benefits include saving up to 95% in water consumption, reduction in transportation and the use of protective sprays, more rapid plant growth, and significant long-term cost saving for the hotel. Jan Hanak, the Managing Director of UAE, Oman, Bahrain & Qatar for Radisson Hotel Group, got the idea while visiting the Dubai Expo 2020 where RHG was an official catering partner of the Expo. As a Czech national, Hanak was invited to attend the Czech Pavillion at the Expo, where he met Greeentech, a Czech startup that was showcasing its hydroponic farming technology. After the Expo, Hanak was keen to continue the legacy of the event and invited Greeentech to collaborate and launch its hydroponic farm in Radisson Blu Dubai Deira Creek.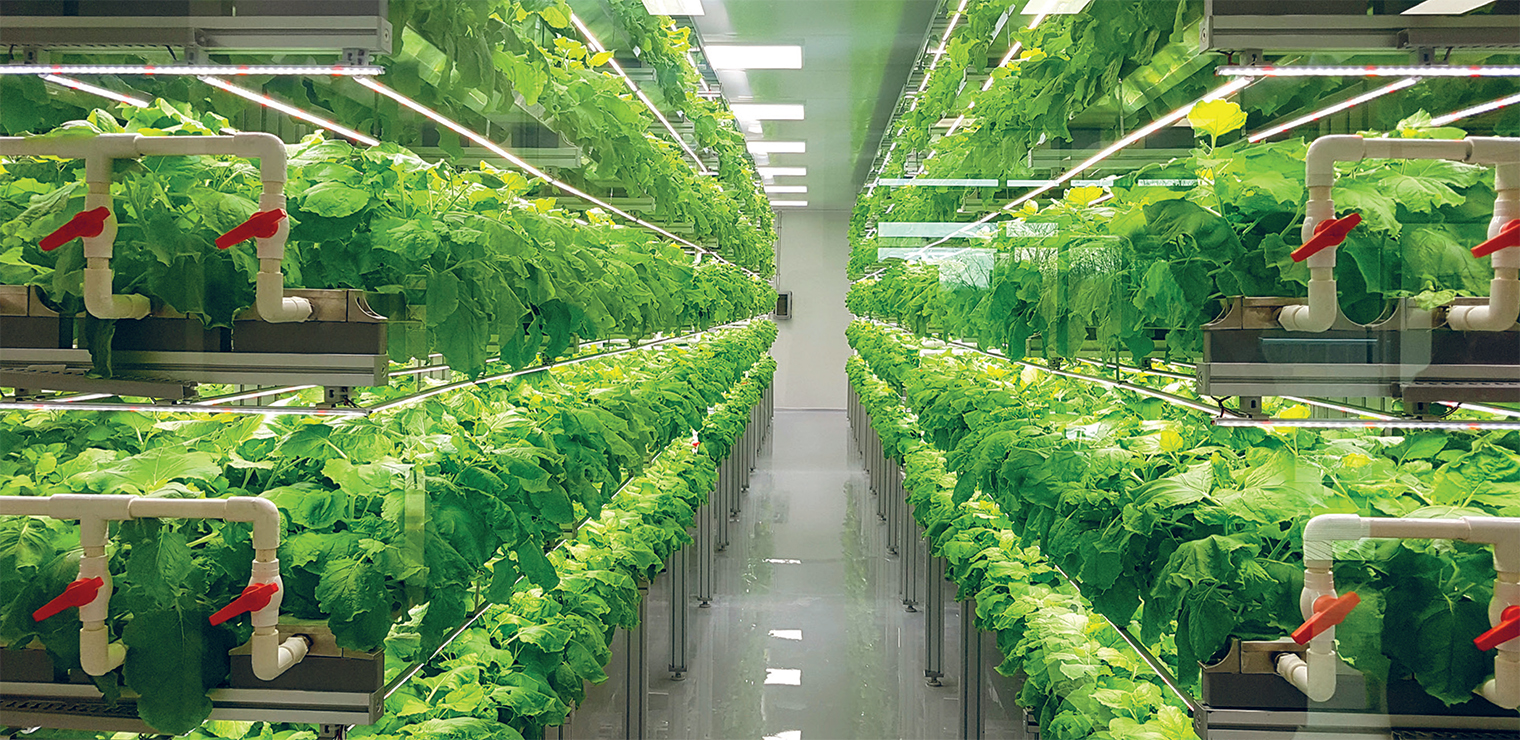 This partnership between RHG and an up-and-coming Czech hydroponic farming startup has ensured that all products produced on RHG's own hydroponic farm are fresh and ethically sourced. The containers can produce local cultivation of vegetables, micro greens and small fruits with room to grow in the future. The hotel now uses 100% of the micro greens produced on the rooftop hydroponic farm as garnishes in its' restaurant's dishes. This has helped the hotel reduce procurement orders of lettuce and radishes by 20% - another positive impact on less carbon from deliveries. On this hydroponic farm initiative, Cordon says, "Radisson Hotel Group believes in a thriving, sustainable, and responsible business that supports our people, communities, and the planet with ethical business procedures, carbon reduction, sustainability practices, and employability programs to build better futures. We as a company already have a strong responsible business heritage and sustainability program in place, which is built around three Pillars: Think People, Think Community, and Think Planet and this initiative has been a great example of just that."
As hotels start to adapt to sustainability demands and transform their operations, Radisson Hotel Group has been a leading player in sustainability in the hospitality industry, thinking outside the box and going the extra mile to ensure the satisfaction of their environmentally aware guests and having a positive impact on the community and the planet. It is finding ways to break new ground in different parts of the world and leading the change, from being the first to make meetings and events carbon neutral worldwide and one of the first hotels in the Middle East to launch a hydroponic farm.