Dubai and DP World's Growing Role in International Trade
Dubai has always been an important constituent of the United Arab Emirates and even what was formerly known as the Trucial States in the 1890's, which referred to the Sheikhdoms along the Coast of the GCC States lining the Arabian Sea. Dubai has always been an important trade hub. In the early 1900s, the city became the main port of the Trucial states with the British-India Steam Navigation Company starting regular service to Dubai.
The 1970s is when trade completely changed for the UAE with the inauguration of Port Rashid in 1972, followed by the inauguration of Jebel Ali port in 1979. Prior to 1970, the total trade in UAE (imports and exports) was less than US$ 1 billion each year and only from 1971 onwards, did the total trade cross US$ 1 billion. By 1980, trade had ballooned to over $30 billion, by 2000 that figure was $85 billion, and by 2020 the UAE traded $744 billion worth of goods.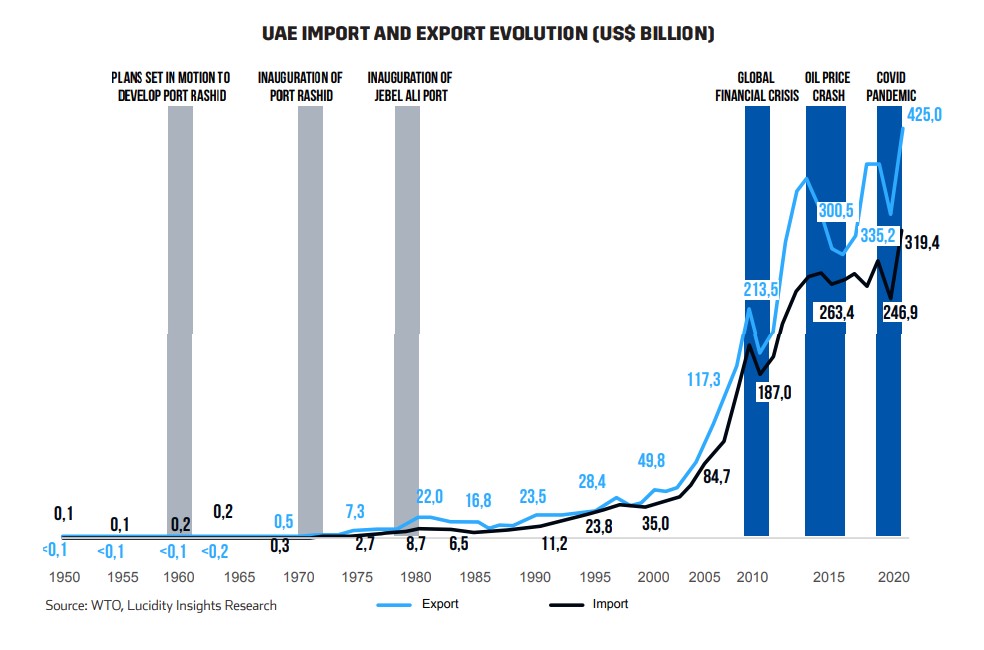 The UAE has only had three occasions where trade fell and this was in the past 15 years starting with the global financial crisis in 2008-09, followed by reduction in trade due to the fall in oil prices from over US$ 100 per barrel in 2014 to less than US$ 40 per barrel in 2016 and then the due to the impact of the global lockdowns caused by the Covid'19 pandemic.
The UAE has 12 commercial ports besides oil ports. It has 310 berths, with 80 million tonnes of cargo. Some of the major seaport includes 2 ports each in Abu Dhabi, Dubai, Sharjah, and Ras Al Khaimah and 1 in Fujairah. Additionally, there are two onshore petroleum ports and one offshore petroleum port. Jebel Ali Port, which was inaugurated in 1979, became one of the main cargo gateways for the Gulf region, and now has become a prominent port for re-exports to the Middle East, Africa, and South Asian economies. In fact, re-exports account for anywhere between 44 to 47% of total exports each year since 2018. 2018 re-exports stood at 44.2%, while the same figure in 2019 and 2020 was 44.8% and 46.5%. There are numerous reasons why the UAE is an attractive re-export hub, however the most important contributor to the growth of re-exports has been the free zones.
Free zones offer numerous advantages including zero customs duty to import into the free zones thereby allowing companies to take warehouses to store items for re-exports. Dubai's location is also an advantage for companies, who can manage inventories and coordinate shipping activities from the free zone. There are 44 free zones in the UAE, with over 30 free zones in Dubai itself. Jebel Ali Free Zone, JAFZA, a flagship free zone of DP World, is the largest free zone in the UAE, with over 8,700 companies which contributes to ~24% of Dubai's GDP.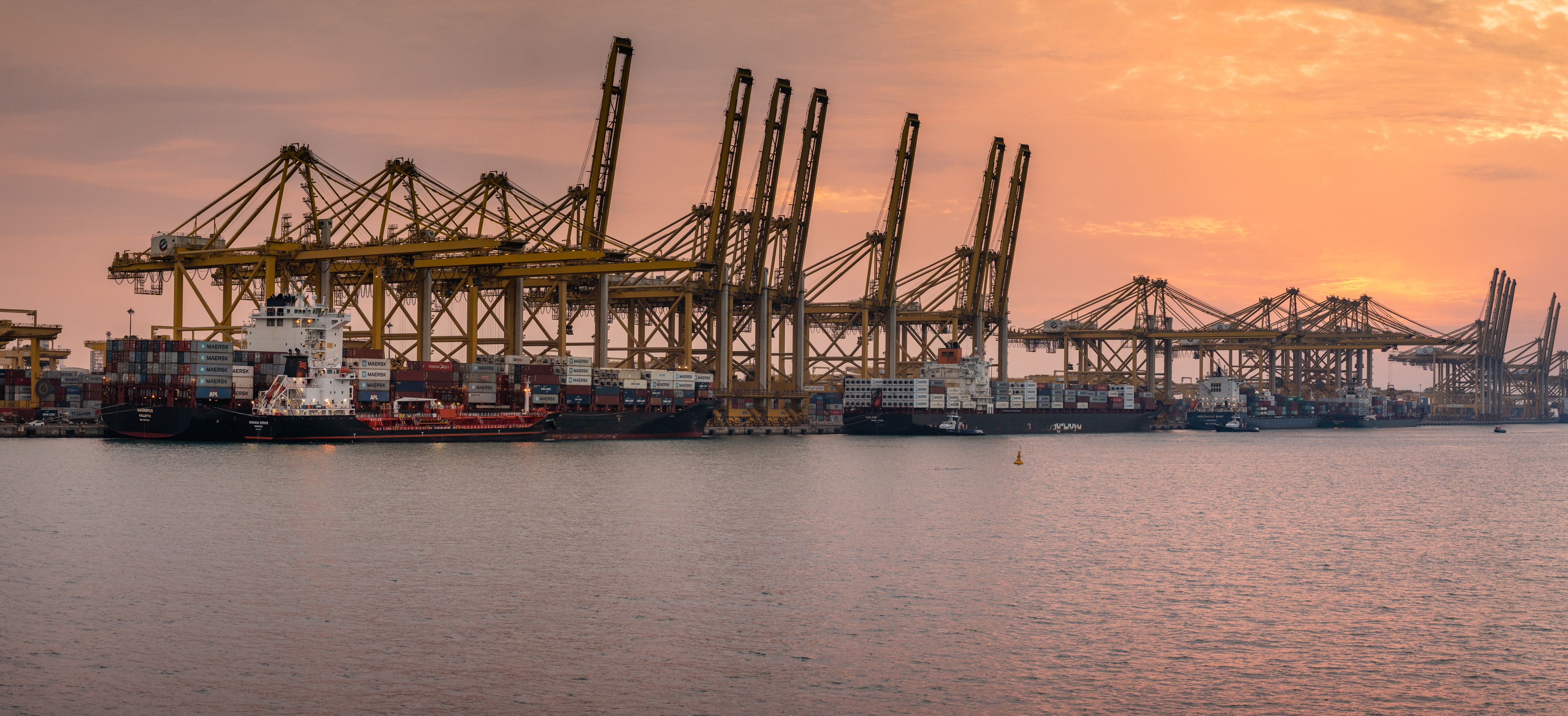 The port of Jebel Ali consistently ranks in the top 15 ports in the world and is the only Middle East based port which ranks in the top 20. The Jebel Ali port is operated by DP World, which is ranked as a top 5 port operator in the world, handling over 69.4M TEU (twenty-foot container equivalent) in 2019 and further growing to 77.9M TEU in 2021. Of DP world's global operations, Jebel Ali port alone accounts for ~17.6%. This is highly significant give that DP World operates close to 100 ports globally.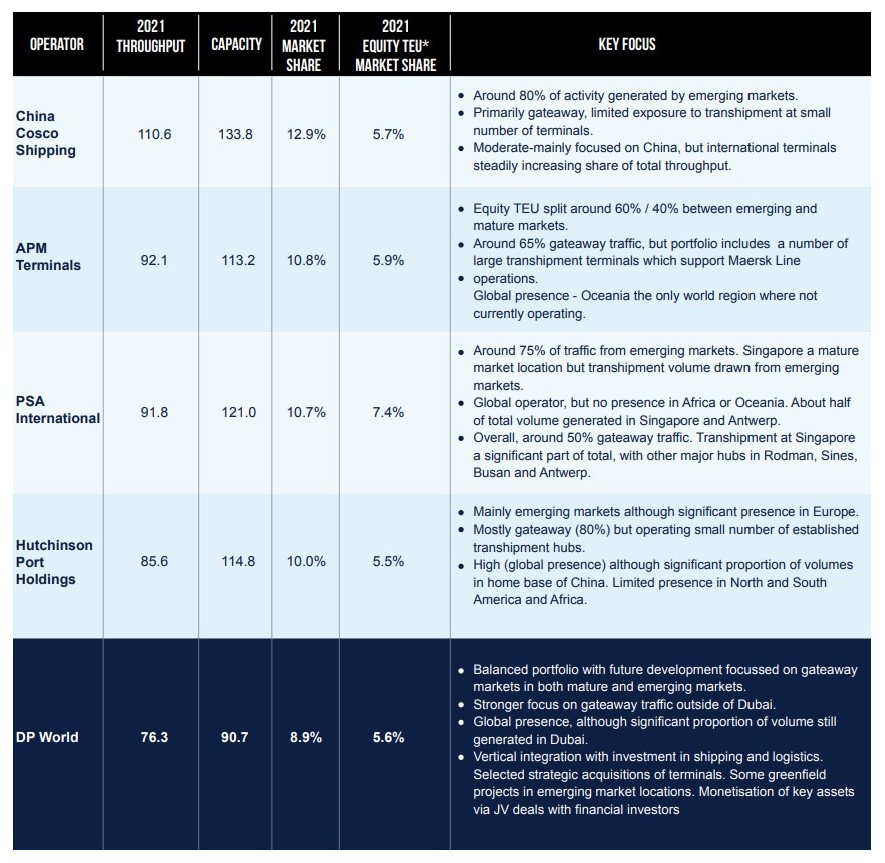 Story of DP World: From a Small Port Operator to a Large-Scale Supply Chains Solutions Provider
DP World, officially, was formed with the merger of Dubai Ports International (DPI) and Dubai Ports Authority (DPA), in 2005. DPI was founded in 1999 and its first project was in Jeddah, Saudi Arabia. It further moved to other countries and developed operations in Djibouti, Vishakhapatnam (India) and at Constanta (Romania). In early 2005, DPI acquired CSX World Terminals and then later DPI merged with DPA in September 2005.
DP World engages in international marine terminal operations and development, logistics and related services. The company employs more than 97,000 people from 158 nationalities in a global network of 295 business units in 78 countries across 6 continents, with a significant presence in both mature and high growth economies. Besides operating ports and terminals, the company offers maritime solutions, logistics solutions and leverages digital solutions through multiple platforms.
The company has continually grown its revenue since its founding. In 2006, the consolidated throughput it reported was 20.6 million TEUs which has grown by more than 2x in 15 years to 45.3 million TEUs. During the same period, both revenue and EBITDA have witnessed above 5x growth. EBITDA margins are at a healthy 36%, as of 2021, and it had reached 54% in 2016.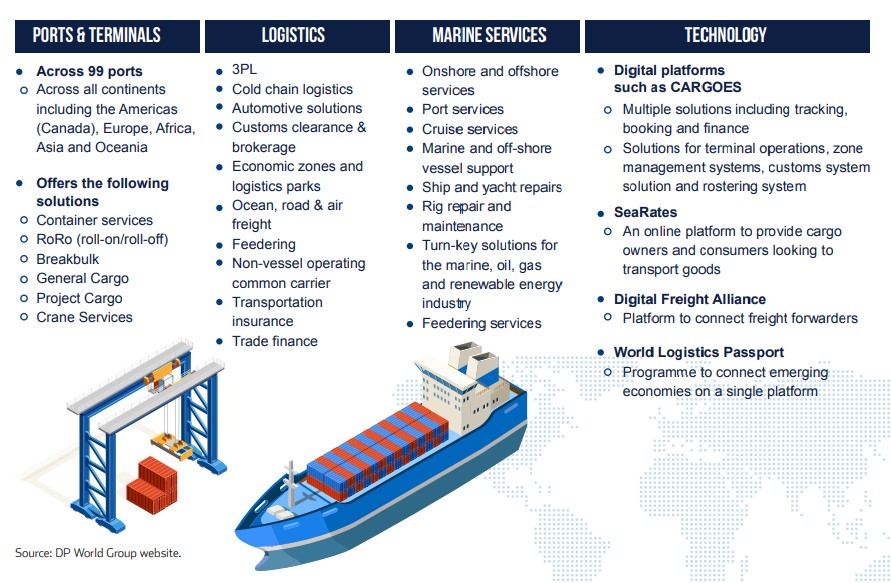 DP World has consistently seen growth year on year in both revenues and EBITDA and this growth has largely been due to its acquisition spree over the past few years. Through more than 25 acquisitions, the company has become both a significant global logistics player, as well as a substantial cornerstone of the UAE's economic power, that can be felt on a global scale. DP World is the most geographically diverse of the global terminal operators with a network of close to 100 terminals spanning six continents. The slate of acquisitions started soon after the formation of DP World Group, when in March 2006, the group acquired The Peninsular and Oriental Steam Navigation Company (P&O) for ~US$ 7 billion. P&O, then, was the world's 4th largest ports operator. Post that, the Group's strategy of expansion has been a mix of both concession agreements (operation and development of terminals) and acquisitions (established operators).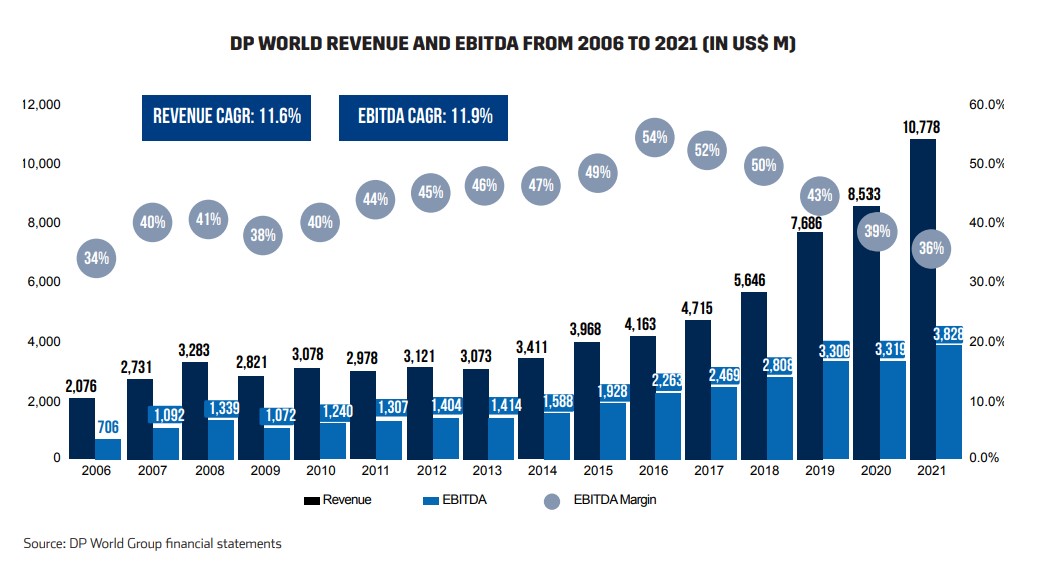 Given the various developments through the years and the flurry of acquisitions especially in the past 4 years, the group has completely transformed itself from a port operator, primarily in 2014, to what is now a company that is becoming a complete end-to-end supply chain solutions provider. The company is continuously focused on offering end-toend services to cargo owners, taking a product from inland manufacturing plants, loading and transporting goods to the port into containers and container ships, and transported across the world.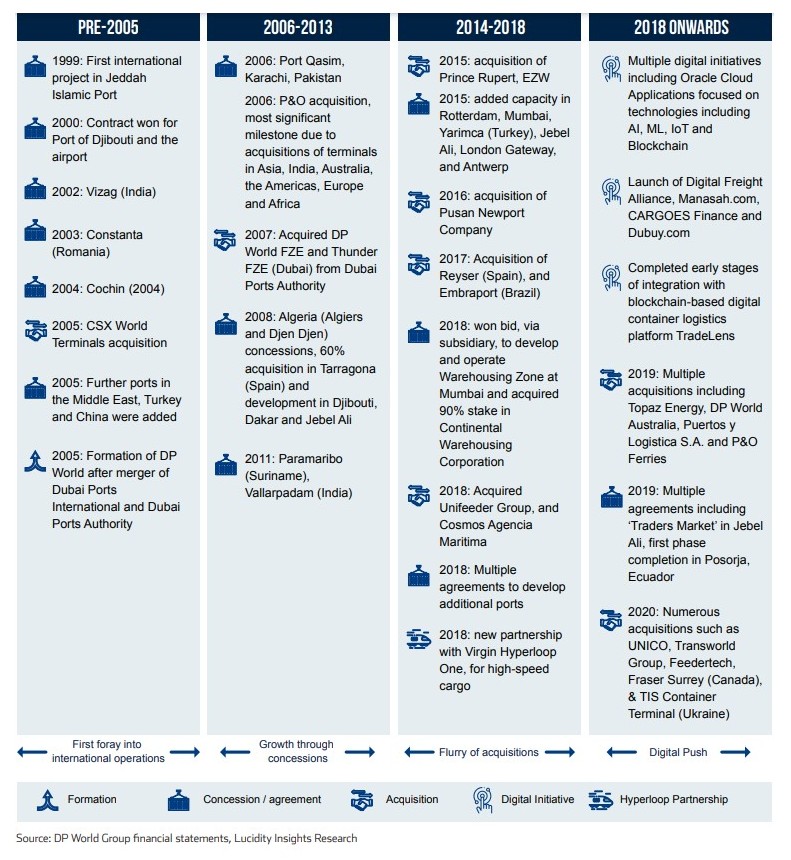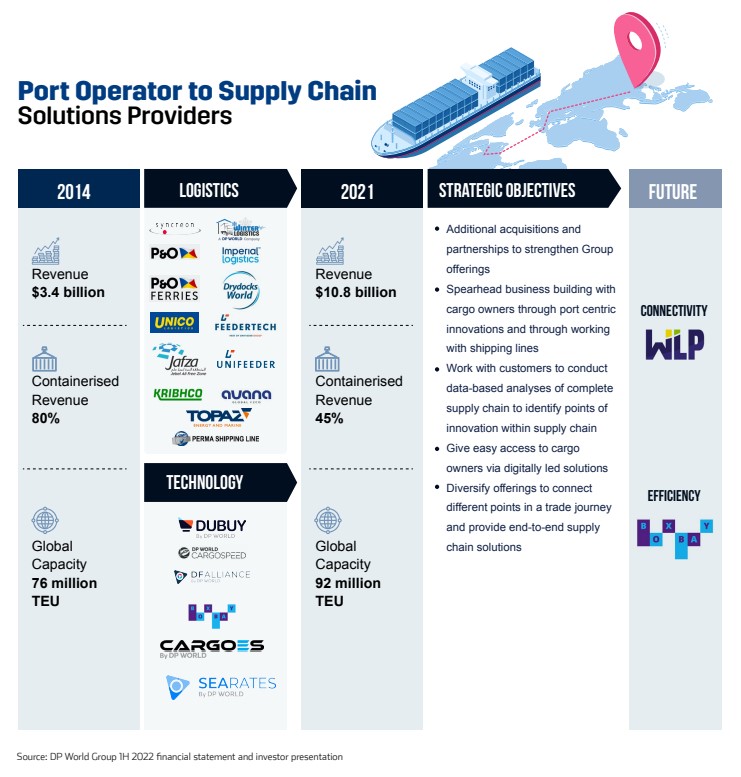 "Encouragingly, cargo owners continue to respond positively to our end-to-end product offering and we are focused on integrating our recent logistics acquisitions to further drive revenue synergies. We continue to invest in high growth verticals and markets to offer compelling supply chain solutions, and by leveraging our best-in-class infrastructure across logistics, ports & terminals, economic zones, digital and marine services, DP World aims to lower inefficiencies and improve connectivity in key trade lanes."