DP World's Digitalization Journey to Level-Up with TradeTech
It cannot be stressed enough how important and impactful digitalisation is going to be in trade. The growth of merchandise trade since 2000 has tripled from US$ 6.5 trillion to US$ 22.3 trillion in 2021. DP World has been busy innovating and transforming itself from a port operator into an endto-end supply chain solutions provider, with the help of numerous acquisitions along its value chain across multiple continents. In this transformational journey, DP World's focus on digital and technological advancements has been key in becoming the end-to-end supply chains solutions provider it has set out to become.
DP World Group's major push to digitalisation and embracing new technology started in 2016 when it put innovation at the centre of its plans to expand and become a global supply chains solutions provider. In 2016, the group implemented a range of innovations in its operations including security drones, automated quay cranes and driverless trucks. The group recognized early, the role that innovation would play in the world of international trade and setup an innovation committee that works closely with the Chairman & CEO.
Even before DP World launched its digital platforms, the group was already working on multiple initiatives inhouse. As early as 2017, it introduced a company-wide online portal "innoGate" to collect ideas from its 38,000 employees from around the world and launched its "innoReach" campaign, which is a global campaign to focus on ideas from employees working in the field, who have limited access to computers, preparing hackathons where they get to present their ideas and get feedback and funding for the implementation of promising ones. In the 2nd half of 2017, the group implemented hackathons across the Americas, the Indian subcontinent, and in DP World Djazair (Algeria) and DP World Dakar (Senegal).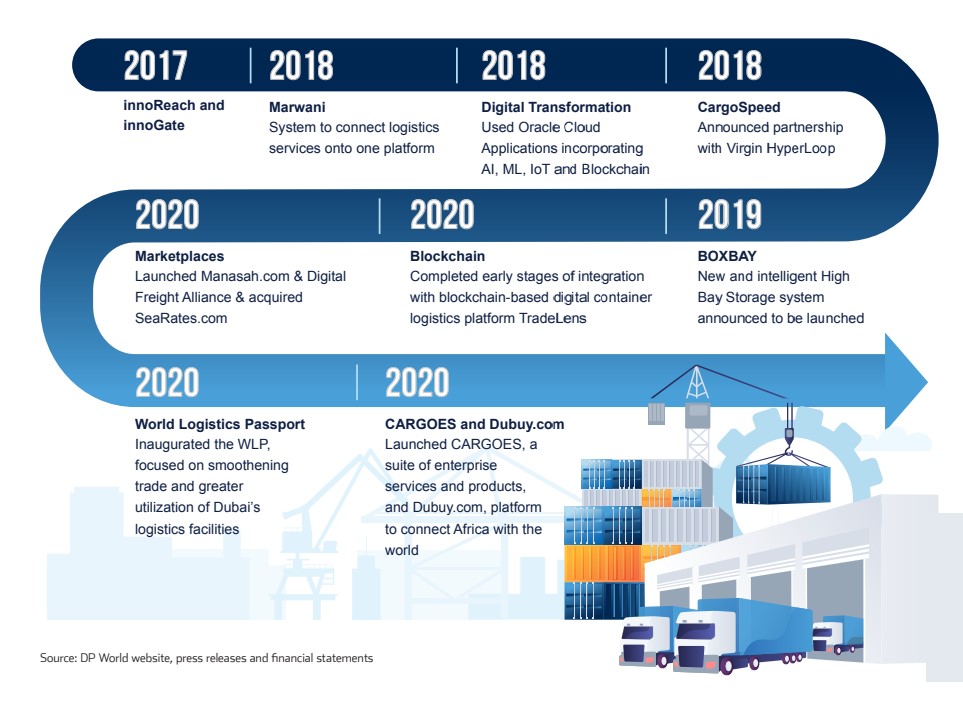 The group also started exploring the use of Hyperloop technology for carrying goods from an inland container terminal in Dubai to Jebel Ali port and eventually announced a partnership with Virgin Hyperloop One in 2018, for its high-speed transport system, Cargospeed. It has launched multiple digital initiatives, thereafter, including Digital Freight Alliance, CARGOES (a multitude of offerings under the CARGOES umbrella) and SeaRates. com. Additionally it is a part of the Dubai-led World Logistics Passport, a brainchild of Dubai's Customs World, DP World, and global aviation firm Emirates Group.
The World Logistics Passport (WLP) is the world's first logistics loyalty program for freight forwarders and traders, designed and launched in 2020. The program is free and accessible to everybody. The intention is to smooth the flow of global trade, unlock market access through the creation of new trade routes and provide economic efficiencies to members. WLP overcomes nontariff trade barriers through the offering of financial and non-financial benefits such as fast-tracking of cargo movement, reducing administrative costs, advancing cargo information, and facilitating trade across borders. The program already accounts for 47% of global trade wants to account for 75% by 2025.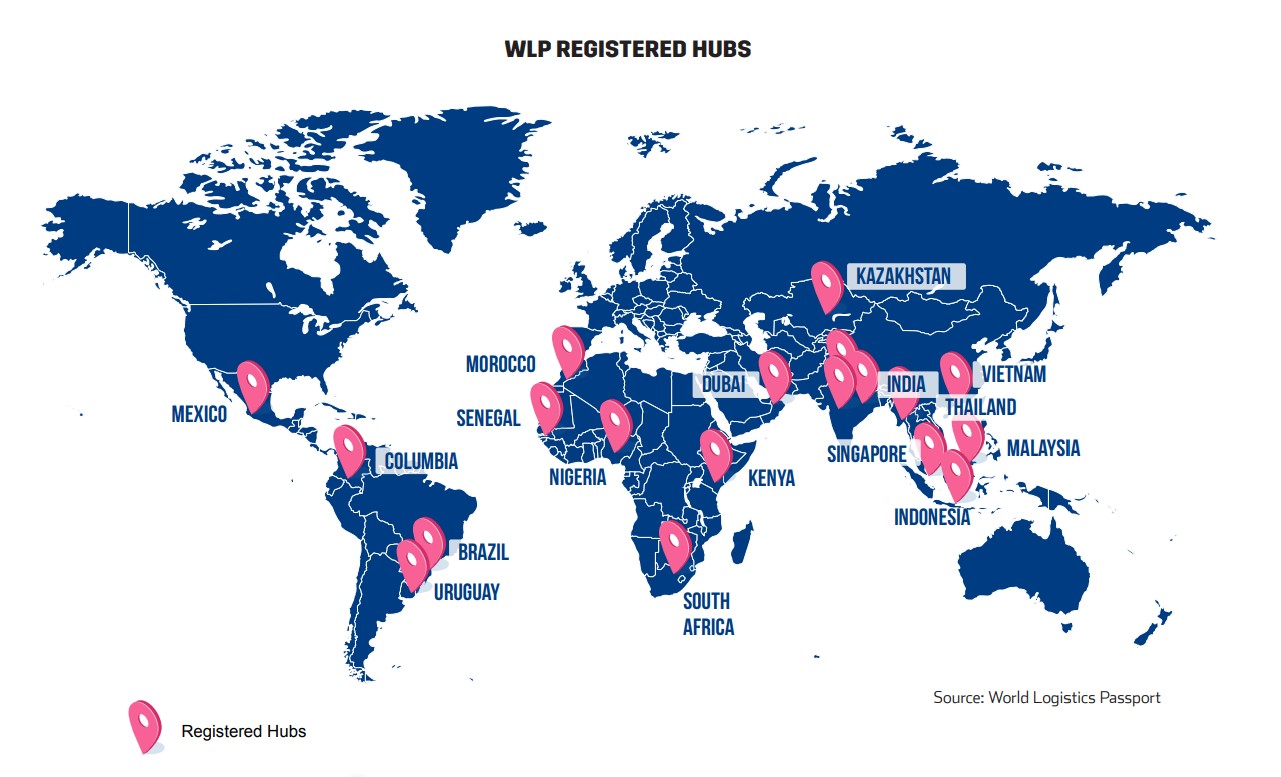 Another digital initiative is the CARGOES suite of enterprise services and products to help businesses book freight through DP World locations, raise finance, track intermodal shipments, and run their back-office operations more efficiently. For freight forwarders, DP World has SeaRates. com and Digital Freight Alliance. SeaRates has quickly grown to be considered the primary marketplace for freight forwarding companies, as the search engine offers innovative tools, a seamless booking experience, and 24/7 support. There are also LandRates and AirRates and all three are members of the Digital Freight Alliance (DFA), an online association that brings freight forwarders globally onto one platform, giving them access to new tools, routes, and services, and enabling them to do more business anytime, anywhere. The DFA connects freight forwarders and NVOCCS around the world by providing online web-based tools business opportunities from DP World's own marketplace and a comprehensive ERP system. The DFA is already at 4000+ members and covers more than 190 countries.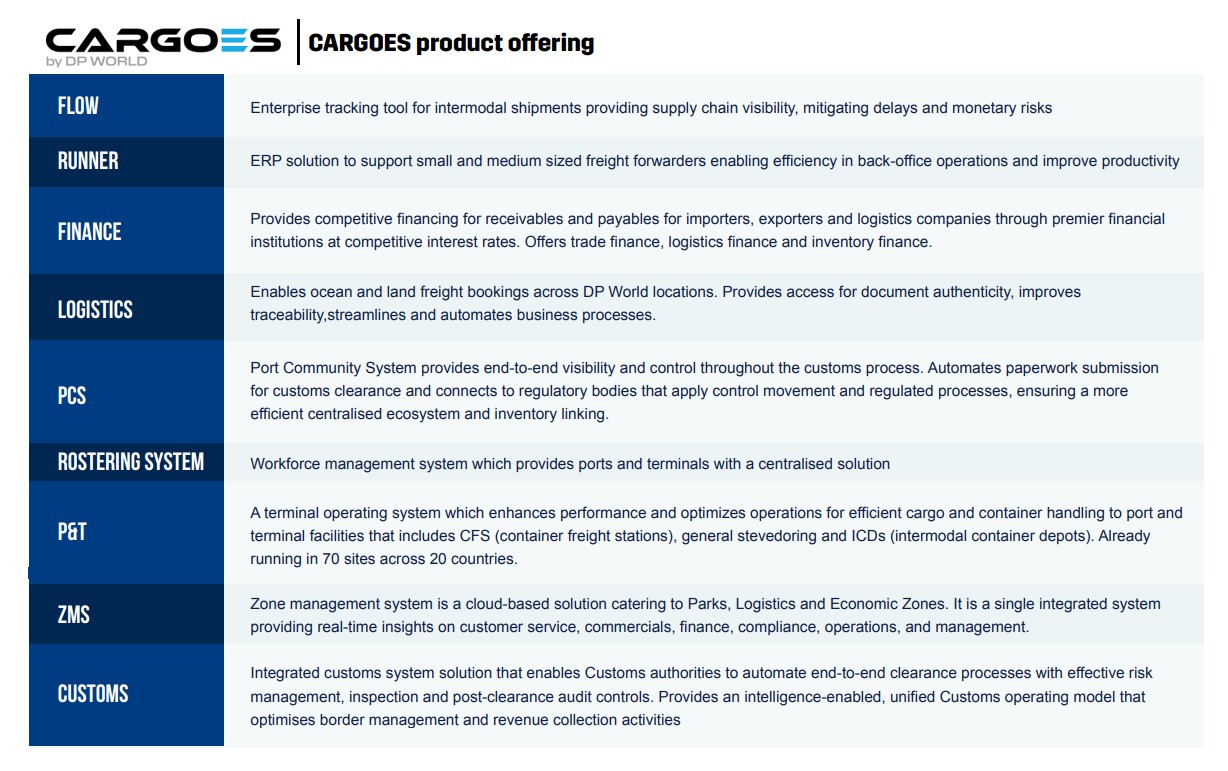 Due to the push for digitalisation, DP World has been aggressive with its technology development and, in 2022, has already setup two offices in India, one in Hyderabad and another in Bangalore, both being technology centres in Southern Indian states of Telangana and Karnataka respectively. At the beginning of 2021, the Group had only 50 employees in the country and has grown to more than 450 employees with the opening of the two offices. Headcount is expected to reach up to 800 by mid-2023. A third technology centre is expected to open at Gurugram, near the Northern Indian city of Delhi as well. Exciting roles and challenges await employees as they get to work on cutting edge applications of heavy automation, AI/ML and robotics, as required for the Group's unique proprietary Box Bay technology and CARGOES suite of enterprises products.
"What makes us different at DP World is that the ownership of the product is here with us. We are conceptualizing new products to offer our customers. This means our developers, managers and analysts are involved in co-creating solutions from the ground up and owning the software development process from the beginning to the end. Engineers will get to work on exciting technologies like Blockchain, IoT, AI and ML, all of which are heavily used in automating trade flows."