Conversation with Issam Kazim, CEO of Dubai Corporation for Tourism and Commerce Marketing
How has DET helped foster Dubai's tourism recovery?
Dubai's remarkable resurgence is inspired by the vision and guidance of our leadership that allowed us to successfully pass through the pandemic swiftly and further solidify Dubai's position as a global hub for economy and tourism. Our decisive leadership encouraged us to look at how we can capitalise on this unprecedented situation to fast-track our competitiveness and attractiveness from a tourism perspective, essentially by transforming challenges into opportunities. While the Department of Economy and Tourism plays a pivotal role in the implementation of our recovery strategy, we are thankful for the total commitment and continuous support extended by our stakeholders and partners.  Throughout the pandemic, DET worked closely with other government entities, key stakeholders, and a global network of more than 3,000 travel partners to create a clear pathway to full recovery.
Dubai's approach from the start of the pandemic has been one of preparedness, agility, and consistency. We took assertive measures from the start, becoming one of the first cities to close, then became one of the first to open and stay open by May 2020 domestically, and July 2020 for international travellers. Once the Government of Dubai established an effective process for managing the pandemic, the focus shifted to leading the global re-start of tourism and events.
In tandem with our efforts to position Dubai as one of the world's safest destinations, we also launched a series of global marketing campaigns to ensure that Dubai retained its global appeal and to encourage international travellers to make the city their destination of choice. Together with our partners, we continue to take steps to instill confidence and trust in global travellers and reassure them that the city remains open, safe and accessible and they will be able to enjoy a well-rounded destination experience. Today, Dubai's successful rebound continues to inspire global tourism recovery with awareness of Dubai around the world increasing at a steady pace over the past two years and its international standing further elevated.  Evidence of this growing momentum is reflected in the 7.28 million visitors who visited Dubai in 2021, representing a 32% YOY growth. This is further validated by the 6.17 million global travellers who arrived in the city in the first five months of 2022. Dubai was also chosen as the No.1 global destination in Tripadvisor Travellers' Choice Awards 2022.
Dubai has done well during the pandemic and continues to recover tourism at breakneck speeds. Now that Expo 2020 is over, what is being planned to increase Dubai's attractiveness to the world, for more visitors, both for business and leisure in the future?
Since reopening the city to international tourists in 2020, Dubai has never looked back and continued to build on the momentum year after year, culminating in the hugely successful Expo 2020.  The steady growth in international visitors has reinforced tourism's role as a key driver of economic growth and reflects the resilience of Dubai in overcoming the odds, its successful diversified market strategy, the sustained attractiveness of Dubai's multi-faceted tourism proposition, and the strong public-private partnerships, a rare model of collaboration that is a key reason for the strength and stability of our tourism sector.
Expo 2020 has truly marked the start of an incredible new era for Dubai's tourism industry, leaving a lasting legacy that is a stepping-stone to building an even more resilient and sustainable future shaped by innovation, international cooperation, and a more competitive and diversified economy.  The mega event has had a massive impact not just on tourism, but across other sectors such as business and finance, transportation, healthcare, and retail. After Expo, we are now focused on achieving the ambitious goal inspired by our visionary leadership of making Dubai the most visited destination and the city of the future that will be the best place in the world to live in and work. A game-changer in this direction will be the Expo City Dubai, the dynamic Dubai development that has evolved from Expo 2020, and which is due to open in October this year. This will be a futuristic destination driven by sustainability, innovation, education, and entertainment.
With the continued support of our stakeholders and partners, Dubai is committed to always offering something new, unique, and world-class for the discerning global traveller. These developments will be largely through the Dubai 2040 Urban Master Plan, which includes the expansion of tourism attractions by over 100%, enabling new areas for investment, as we increase the diversity of attractions and experiences for residents and visitors. Dubai also continues to ease barriers to entry by launching and leveraging several initiatives to support tourism growth including visa categories like the Golden Visa and Five Year Multi Entry Visa and programmes such as the Retire in Dubai programme and Virtual working programme which have seen a significant upswing in people choosing to live in Dubai and make the city their home, which in turn has an exponential effect on visitation.
Why is Dubai a great place to live, work and visit?
The unparalleled quality of life in Dubai, its position as a global investment centre strategically located on the crossroads of the East and West and the diverse destination offering have enhanced the city's position as a global liveability hub. The continuous cooperation extended by our stakeholders and partners has also helped further reinforce Dubai's appeal as the best place to live in and work and make the multicultural city that is home to over 200 nationalities even more attractive to global travellers. entrepreneurs, creative and cultural talents, multinationals, and investors.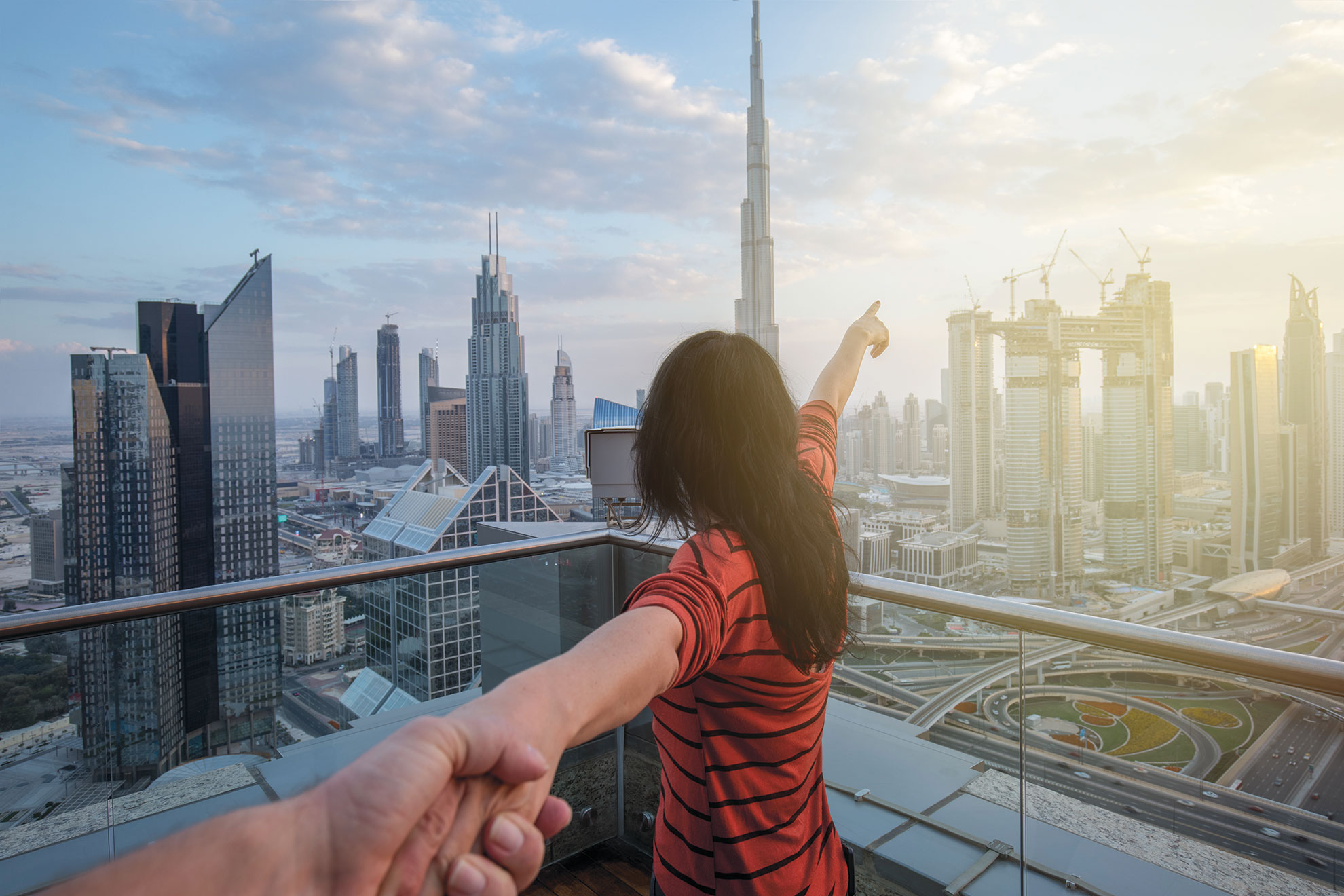 Dubai continues to score high across international indices. In 2021, Dubai was placed No.1 in the MEASA (Middle East, Africa, and South Asia) region and No. 12 globally in Julius Baer's Global Wealth and Lifestyle Report 2021 while in the Global Talent Competitive Index Dubai ranks the 3rd most desirable destination to live and work.  The UAE was also voted the 4th best for expatriates to live and work in on HSBC's 14th annual Expat Explorer Survey 2021, up 10 places from 2020. The Gallup Global Law and Order 2021 report ranked the UAE as the No.1 country in the world for walking at night safely while the same report also ranked UAE as the No.2 safest country in the world. In addition to being picked as the world's most popular destination, Dubai was voted the world's No.1 destination for 'City Lovers' and No. 4 destination for 'Food Lovers' in Tripadvisor Travellers' Choice Awards 2022, which were based on independent destination reviews and ratings from travellers across accommodation, restaurants, and activities over 12 months from 1 November 1, 2020, to 31 October 2021.
We also saw in June the launch of the Michelin Guide for Dubai, further boosting our global recognition for the amazing culinary scene on offer here. As its first launch, Michelin proudly announced 69 restaurants that have been included in this inaugural guide. Two of these establishments have been recipients of 2 Stars and 9 have received 1 Michelin Star. Moreover, one restaurant also received the recently released Green Michelin Star; this highlights restaurants at the forefront of the industry when it comes to their sustainable practices.
Lastly, I would like to touch on Dubai as a city for entrepreneurs. In 2021, UAE-based startups raised $1.2 billion across 232 transactions1 – which was the highest in MENA and the region as a whole, witnessed $2.6 billion VC funding in 2021 — the highest we have ever seen. This is down to the support and infrastructure Dubai continues to invest in to make Dubai a global hub for entrepreneurialism and we have seen many companies scale up and grow from Dubai to the world and I expect that to speed up even more going forward.
We also launched a series of global marketing campaigns to ensure that Dubai retained its global appeal and to encourage international travellers to make the city their destination of choice
Dubai has also not been standing still at all over the last two years, and we have introduced a raft of exciting new initiatives such as the world's first-of-its-kind regulated zone to house the global Virtual Assets ecosystem in Dubai; introduced the Food Tech Valley, which includes R&D labs, Agri Tech and Engineering labs and of course, launched the Museum of the Future - the 'World's Most Beautiful Building on Earth' which stands to showcase the city's vision of the future to bring together the latest ideas, innovation and futuristic technologies.
These business enablers have also been supported by multiple legislative reforms, among the biggest in the country's history, as part of its commitment to move forward over the next 50 years building on the foundations to nurture a competitive and efficient society.
Key changes include flexible work conditions, salary, and employment contract structures, leave, recruitment costs, end-of-service benefits, and regulations on workplace harassment. Also, bringing in line with other global competitive cities, we have introduced longer maternity leave, approved part-time work, job sharing, and work permits for 15-year-olds which all add to the attractiveness of the city and country.