What's a Cloud Kitchen, Anyway?
No fancy décor, no tables, no chairs, no waiters, in fact nothing at all apart from a kitchen preparing food for delivery. 
If you're familiar with restaurant kitchens, you might be surprised at how these cloud kitchens are some of the quietest and cleanest kitchens you've ever seen, with a surprisingly sparse number of cooks on hand – when considering the hundreds of orders they are preparing each day. Orders come in, and food is prepared, cooked, packaged, and then immediately picked-up by a delivery driver and whisked off to the delivery destination; hundreds of thousands of meals are prepared like this every day around the world.
Much like we have seamless access to files stored on cloud servers around the world, cloud kitchens offer us a way for us to have access to even more food options via delivery. No longer do we have to drive 40 minutes across town to grab take-away or dine-in at our favourite restaurants; many of them are setting up "dark kitchens" in our neighborhoods preparing meals that can be delivered to us within 15 minutes - and quite often we won't even know that it isn't coming from the restaurant itself. This concept of professional food preparation and cooking facilities set up for delivery-only meals, with no dine-in option, has opened-up a world of virtual restaurants, menus and brands that are able to operate in a new way. New "online-only" restaurants can launch brands and menus overnight without the need to invest in any brick-and-mortar set-up, except for an effective kitchen or two. Existing restaurants can expand their reach to consumers across the entire city by subscribing to a kitchen-as-a-service (KaaS) offering that prepares the same meals in cloud kitchens operating in new neighbourhoods (and even in new cities and new countries). Some restaurants will choose to subscribe to a KaaS just to move the disruptive "delivery orders" out of their restaurant kitchens (can you blame them? Ever gone out to eat at a restaurant to see a barrage of delivery boys picking up orders at the front door?). The reality is that food being prepared to be eaten in a restaurant, and food being prepared to be delivered on the back of a motorcycle require very different processes, and certainly different speeds. 
The growing global trend of food delivery is showing no signs of waning. The global cloud kitchen market size was valued at $43.1 billion USD in 2019 and is estimated to reach $71.4 billion USD by 2027, with a CAGR of 12.0% from 2021 to 2027. The United States is expected to hold the largest cloud kitchen market share during this forecast period.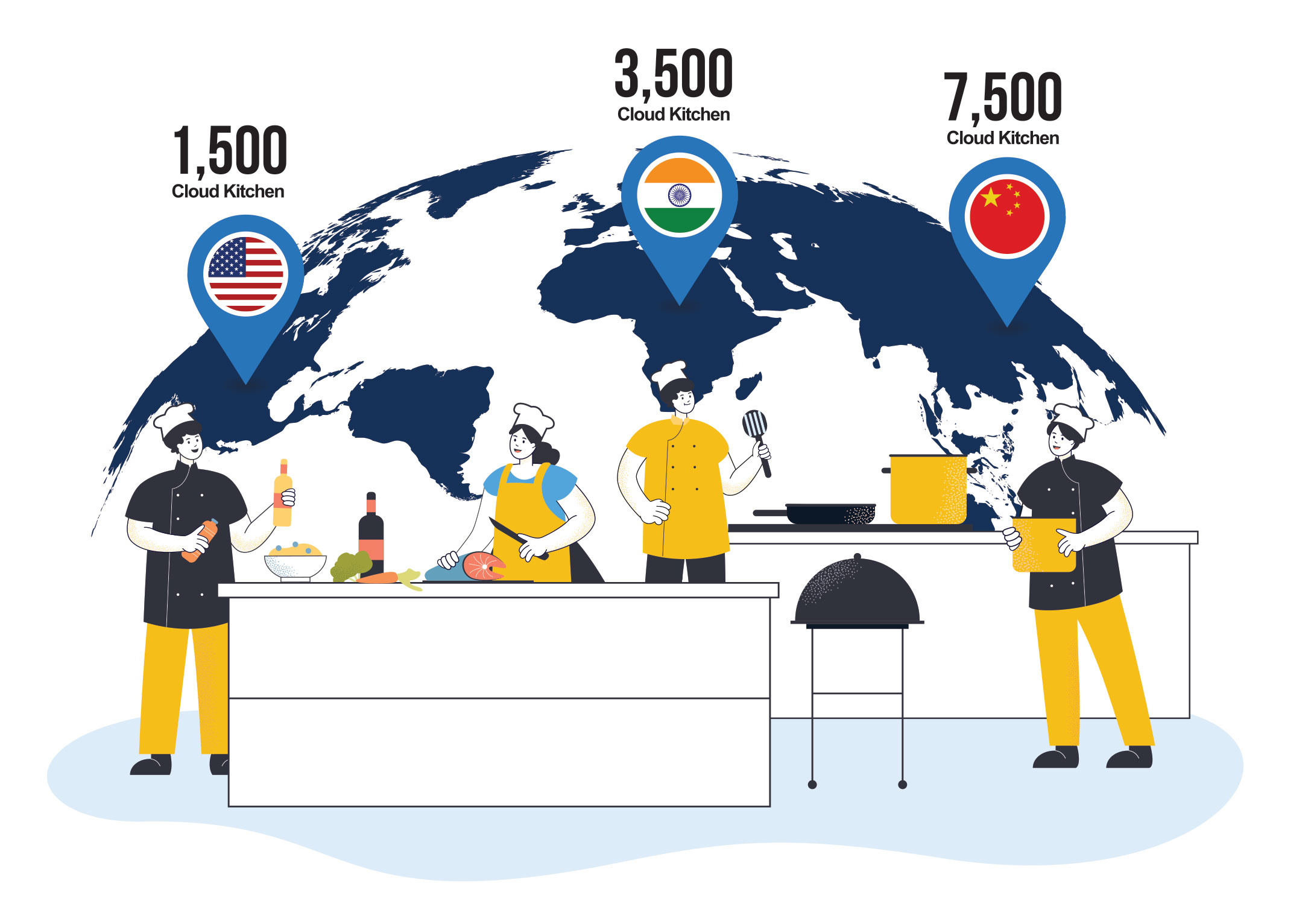 America dominates due to its' large 330 million population size, 87% of which both own a smartphone and have access to internet – and general improvements in lifestyles and buying-power across the country. 
The latest data show that there are currently over 7,500 cloud kitchens in China (catering to a population of 1.40 billion), more than 3,500 in India (pop. 1.38 billion) and around 1,500 in the USA (pop. 330 million). The GCC region being the wealthiest region in the Middle East is also a hotbed for cloud kitchens; the UAE has become ground zero for FoodTech start-ups in the region, and the city of Dubai alone has over 400 cloud kitchen brands operating out of 80 locations across the city.
So why are these cloud kitchens growing at such a rapid rate? They typically operate with standard overheads, minimal running costs and a somewhat reduced business risks – especially compared to the traditional restaurant model. When you combine this with the ever-growing demand for food delivery, it is easy to see how it is quickly becoming the business model of choice. Global food delivery company, Deliveroo, who also has operations in the GCC, announced recently that orders as well as transaction values in the first half of 2021, doubled across the board compared to the same period last year.  
Globally, the rapid growth of the market has also been fuelled by the pandemic lockdowns which led to many restaurants being forced to close, and even when they re-opened, they were operating under partial capacity and covid-safe regulatory requirements. In many cases, restaurants simply had no choice but to try and switch to some sort of delivery offer in order to keep customers. The pandemic also changed consumer behaviour and preferences, as many people became accustomed to having meals delivered home regularly.  This alongside the increasing demand for international cuisine, higher social media engagement and internet penetration, means that it is a trend that is here to stay in a post-covid world too. And thus, cloud kitchens have become a means to serve this delivery-only market.
So how does the set-up and operations of a cloud kitchen stack up against a traditional restaurant?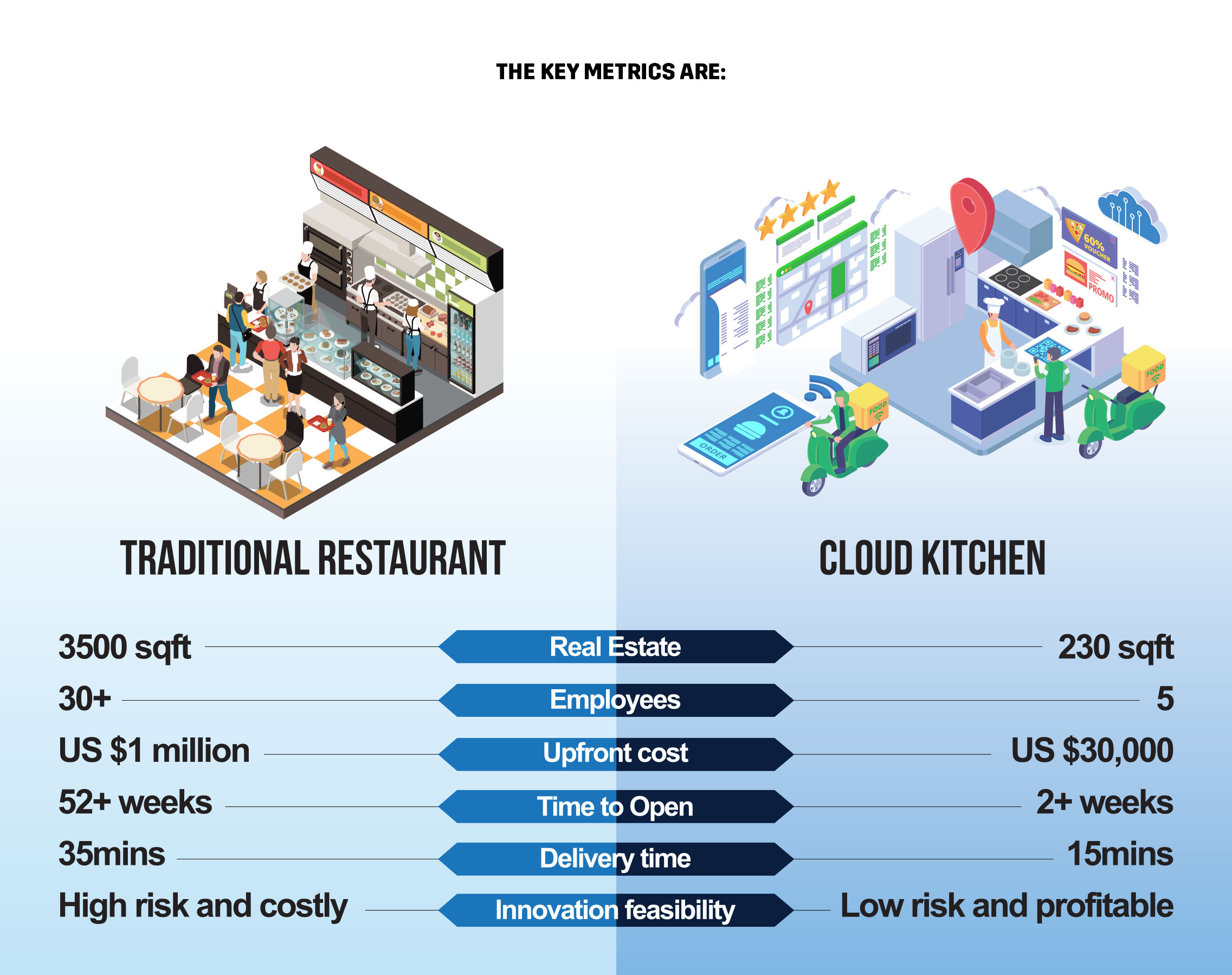 It's clear to see that the barriers to entry are much lower for cloud kitchens compared to the traditional restaurant set-up. This makes it attractive to both start-up restaurants as well as established restaurants. Start-ups with new food concepts can benefit from the cloud kitchen model when A/B testing menu items and solidifying their offering to consumers in the market. More established restaurants can benefit from the cloud kitchen model by being able to expand their "tried-and-true" menu to larger populations of people, far from the main restaurant. 
Although the concept of a commercial or industrial kitchen is not a brand-new phenomenon, as they have existed for food catering and manufacturing for some time – technology is now the key differentiator. It's no longer just about good food, delivered fast but the cloud kitchens of today are technology-led and data-driven. Given that the only way to get customers is through technology and often through the online aggregated food delivery apps, cloud kitchens are required to not only understand but to also respond to customer likes, dislikes, and feedback. It is ultimately these reviews that determine how a cloud kitchen will be rated, ranked, and viewed on a delivery app platform. A huge benefit of having access to this data is that cloud kitchens can optimize and streamline their offering based on ordering patterns. For example, they can predict which items will be in higher demand at different times of day thereby allowing them to prepare in advance, for a faster turnaround and delivery. Another example would be analysing consumer ordering patterns to create menus specifically to cater for the demographics of certain areas of a city.