Ukraine Receives $400 Million in Humanitarian Aid from Saudi Arabia
Kyiv, February 26, 2023 - SPA – Today, Prince Faisal bin Farhan bin Abdullah, Minister of Foreign Affairs, and his accompanying delegation met with Ukrainian President Volodymyr Zelenskyy at the presidential headquarters in Kyiv, as reported by Saudi Press Agency.
The two sides discussed bilateral relations and opportunities for their development, along with regional and international issues of common concern. The Minister of Foreign Affairs affirmed the Kingdom's support for resolving the Ukrainian-Russian crisis through political means and its commitment to alleviating the humanitarian impact of the crisis.
Furthermore, the meeting marked the signing of an agreement and a memorandum of understanding (MoU) worth up to $400 million between the Kingdom of Saudi Arabia and Ukraine. This is in line with the Kingdom's announcement on October 15, 2022, to provide additional humanitarian aid worth $400 million to Ukraine. The agreement includes a joint cooperation program for providing humanitarian assistance worth $100 million, co-signed by Dr. Abdullah bin Abdulaziz Al Rabeeah, Advisor at the Royal Court and Supervisor General of King Salman Humanitarian Aid and Relief Center (KSrelief), and Oleksandr Kubrakov, Ukrainian Deputy Prime Minister for Restoration of Ukraine and Minister for Communities, Territories and Infrastructure Development of Ukraine.
The MoU also includes a grant of $300 million worth of oil derivatives from the Saudi Fund for Development (SFD) to Ukraine, signed by Sultan bin Abdulrahman Al-Marshad, CEO of SFD, and German Galushchenko, Minister of Energy of Ukraine.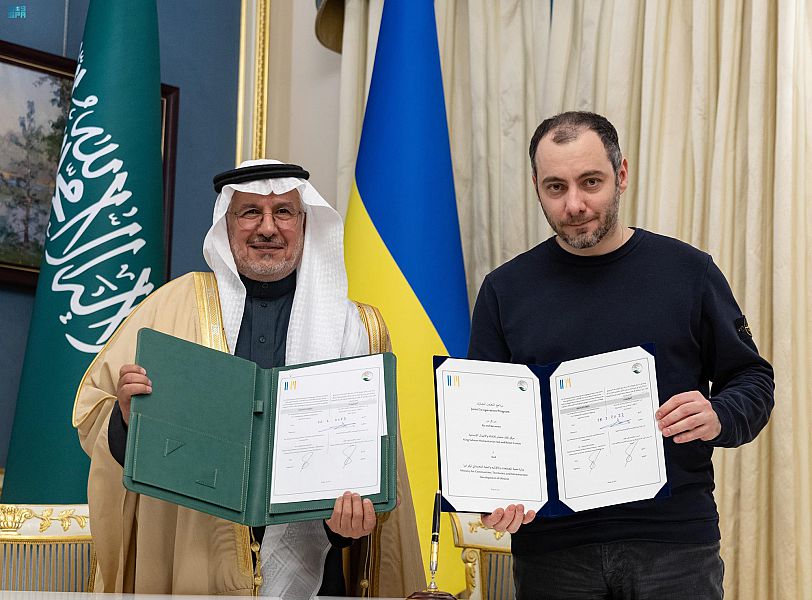 Photo (SPA): Dr. Abdullah bin Abdulaziz Al Rabeeah and Oleksandr Kubrakov co-signed the joint cooperation program worth $100 million for providing humanitarian assistance. 
The signing of the agreement and the MoU reflects the Kingdom of Saudi Arabia's commitment to supporting Ukraine and its people in facing social and economic challenges and mitigating the impact of these challenges.