Business Tourism in The Kingdom Saudi Arabia
Business tourism historically contributes 9% of Tourism visits in the Kingdom. There were 4 million tourism visits by Business travelers to Saudi in 2018. The goal would be to increase the number of tourism visits conducted by business travelers to 10-11 million per year by 2030. 
It is a common sight to board a plane departing Dubai on Sunday or Monday of each week to Riyadh or Jeddah, and be greeted by a plane full of consultants and business travelers. The aspiration of Vision 2030's tourism objectives with regards to these types of business travelers is twofold. First, they hope to increase the number of business travelers to Saudi Arabia in general through an ever-growing economy as well as through a targeted MICE (Meeting, Incentives, Conferences and Exhibitions) Strategy, making Saudi Arabia a hub for business gatherings. Secondly, they hope to turn many of these business tourists into general leisure tourists, and getting them to extend their stay in the Kingdom to enjoy the many tourism activities on offer. 
Data specifically on the Kingdom's business tourism is limited, but prior to the launch of the Vision 2030, the Ministry of Tourism (at the time, known as the Saudi Commission on Tourism & Antiquities) and the various stakeholders involved had assessed some baseline figures in 2016. In 2016, approximately 2.5 million business tourists flew into the country from abroad making up 77% of all business travelers in the Kingdom; the remaining 741,000 (23%) business travelers were domestic business men and women traveling between cities within the Kingdom.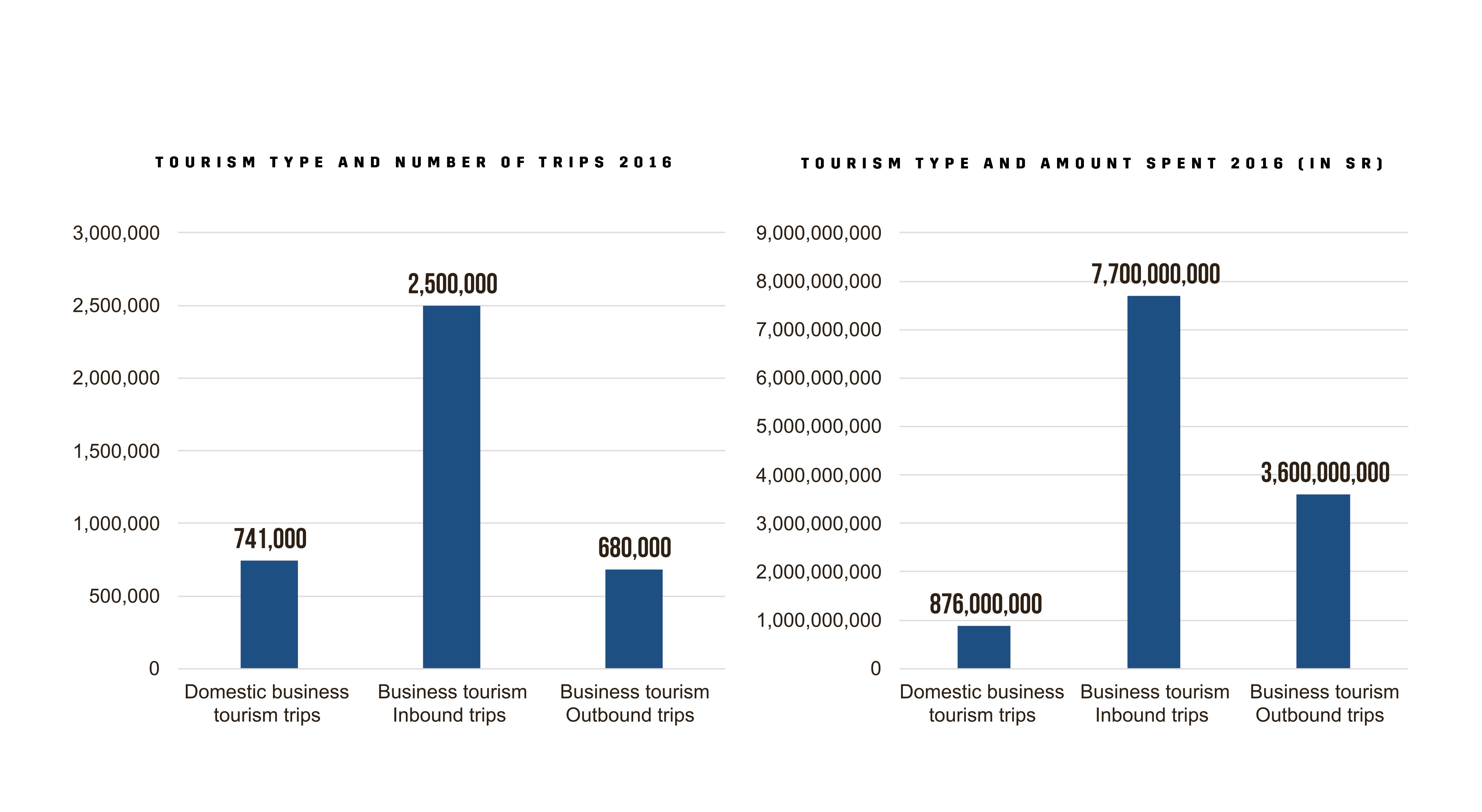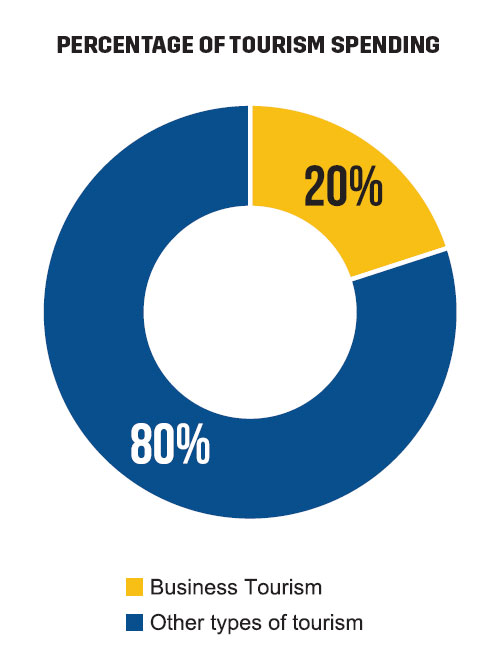 These 3.24 million domestic and foreign business men and women spent $2.29 billion USD in the kingdom, accounting for 20% of total tourism spend in 2016. 87% of business tourism spend was from foreign business travelers, of which 71% resided in hotels. For domestic business travelers, 70% resided in hotels or furnished apartments, and the majority (61%), travelled by land in a vehicle, rather than flying by air. In the same year, 680,000 outbound Business Trips were logged by Saudi residents travelling outside the Kingdom, spending approximately $960 million USD.
In line with this expected growth, Saudi Arabia is developing hotels at an unprecedented rate. By the end of 2023, Saudi Arabia expects to have 30% more hotel rooms online than it had at the end of 2021. The vast majority of these hotel rooms are in Makkah and Madinah, once again showcasing the strength of the religious tourism sector and its needs. Riyadh, Jeddah and Dammam – as commercial centers of the country, are also growing, with the fastest growth in hotel keys coming from the city of Jeddah within the next 24 months. With growth in tourism, comes growth in hospitality and F&B offerings, and the economics of trickling down to individual restaurant owners, taxi drivers, tourism operators and more.